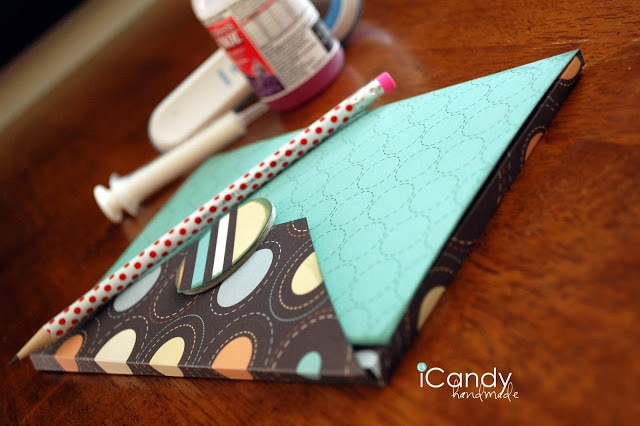 Hey guys! Autie here, from
iCandy handmade
! I'm so happy to be able to help Kristyn get settled with her new home and her new baby. Today, I thought I'd share with you a fun and simple paper craft that my sister showed me a few years ago. A friend of hers, Emily Moody, whipped this pattern up, and I LOVE it!
This is a very simple pattern that makes a plain-old 5 x 8 legal pad into a darling, chic accessory. 🙂
This would be perfect for a teacher gift, a summer reading journal, a cute cover for a grocery list…to carry in your purse…whatever. I made them for my kids 'health journals'. It even has a front pocket to hold Rx orders or notes to remember.
(My baby was in the hospital in January for a week with something similar to RSV, and I had just recently started jotting down details such as temps, and when I had given her medicine to keep myself organized. I was so glad I had done it when we were suddenly whisked to the PICU in the ambulance, and I could tell them everything I had done!)
Anyways, this little pattern made my mini health journals not just a regular, old notepad.
Here's what you need:
2 pieces of 12 x 12 double-sided cardstock
1 5 x 8 legal pad (I got a 5-pack from Target)
glue stick, or other adhesive
1 square of adhesive velcro (both sides)
Scissors
Scoring blade
ink for antique-ing (optional)
First, print your
patterns out
on white cardstock and trace them onto each piece of your double-sided cardstock. Be sure to mark the scoring lines onto your cardstock, also.
Here is what your two cut out pieces should look like: (you can ink the edges of your pieces at this point.)
Next, score down the noted lines
Here's what you should have in all of the scored glory:
Next, Glue: First glue down the small flap on the front and fold it under, then fold the whole flap over to the edge of the paper. This will create the pocket on the front to stash any small papers or receipts.
Next, glue the underside of the larger flap on that same side of the pattern. This will attach the two pieces of double-sided cardstock together, and this flap will not be visible after the notepad is attached.
Line it up so that the ¼″ scored columns line up exactly on the edge of the other piece of paper, like so:
Time for the pad of paper. Glue all over the chipboard back of the legal pad and adhere to the pattern.
Glue and lay down the flap to cover the top, black portion of the legal pad.
Attach velcro piece to the flap. I also added a chipboard circle to the front of mine for decoration.
And, attach the other side of the velcro to the front of the pad.
done and done.
easy-peezy
Super fun and fast project that you can whip out.
Enjoy!
What else would you use this for?!
Thanks for having me, Kristyn, I hope you're loving you new life as a Texan!
—————————
Thanks for being here today, Autie!!
I just LOVE that girl. She is so great and I love her ideas. Be sure to check out her site cuz I promise you'll love it.
If you love Paper Crafts, then you'll love these ideas:
ENJOY!