A FREE Elf on the Shelf printable kit with welcome letter, goodbye letter, printable calendar, funny Elf on the shelf ideas, supplies list and more to make this one of your kid's favorite Christmas traditions.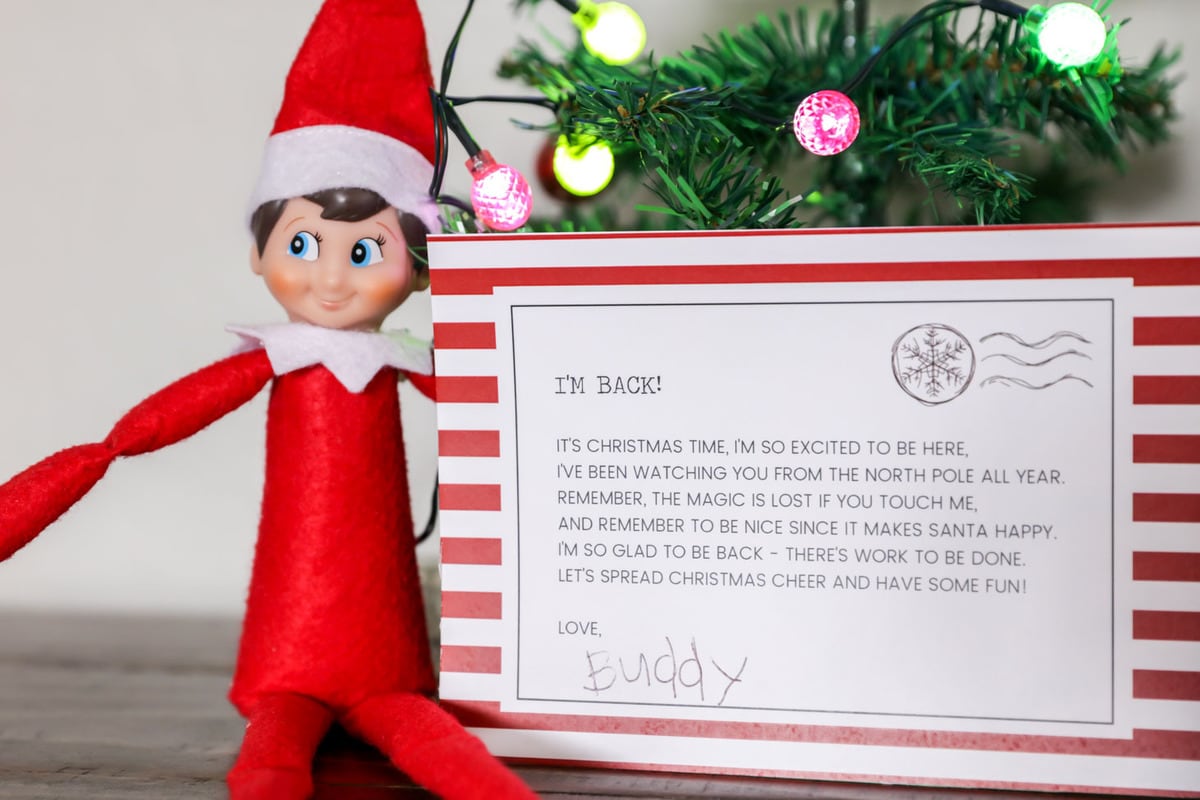 What is Elf on the Shelf?
Do you guys do Elf on the Shelf at your home? We have been for several years now, and it's something that my kids look forward to every Christmas season. But, what is Elf on the Shelf?
It's a fun Christmas tradition where one of Santa's elves comes December 1st and stays through the 24th to make sure your kids are being watched each day. Each night the elf reports back to the North Pole to report to Santa how each child is doing and sometimes gets into a little mischief at the same time.
We bought our Elf on the Shelf on Amazon years ago and have even watched the Movie so the kids have a good idea of how he works. They are now obsessed with the elf, affectionately named Buddy!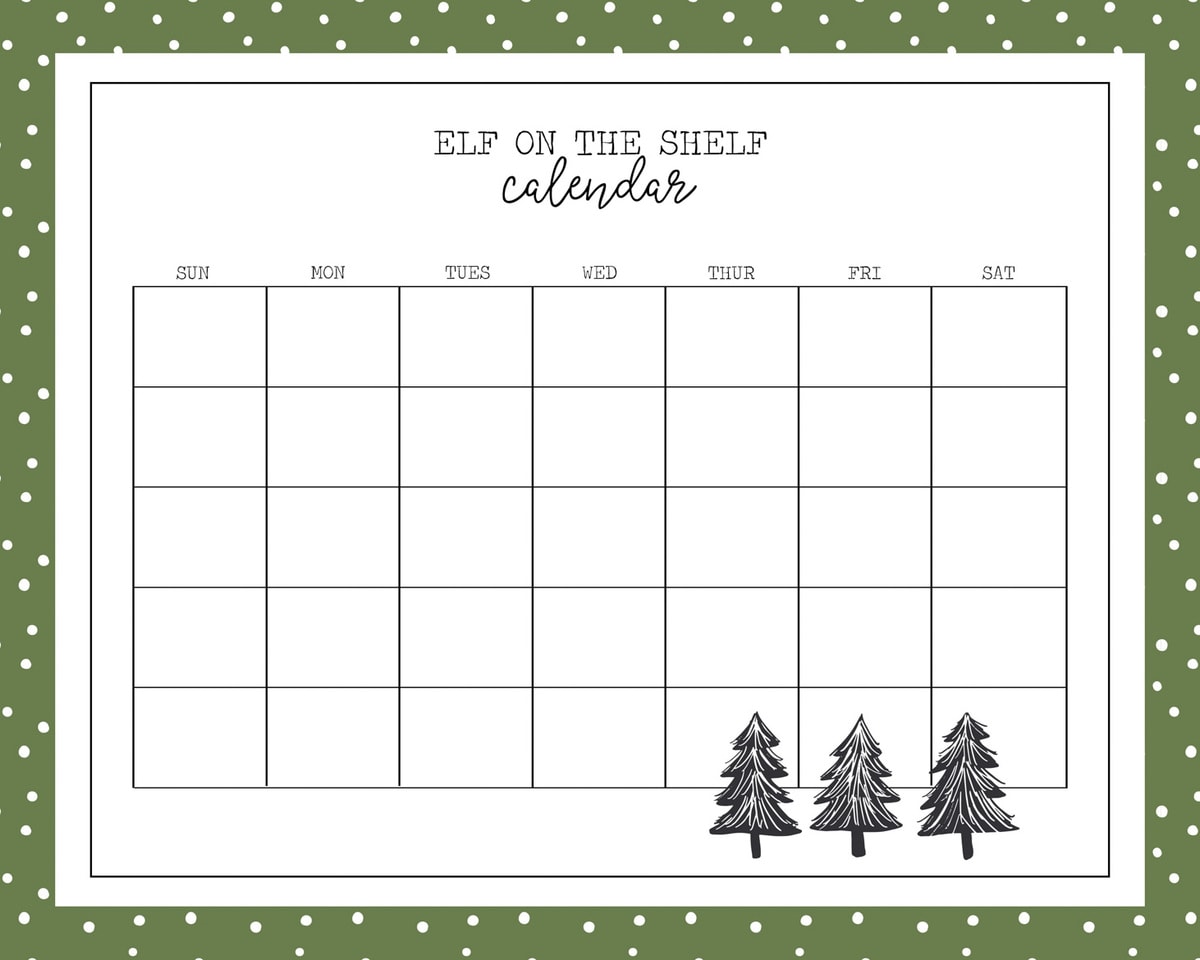 ELF ON THE SHELF PRINTABLES
Because our elf likes to be a little funny, we wanted to share some fun and free ideas for you to use this holiday season. In fact, we wanted it to be so easy for you that we put together an entire kit to help you (and to make things EVEN easier – scroll to the bottom to find out how you can purchase all the kits and supplies!), which includes:
Blank Calendar
Funny Elf ideas Calendar List + Daily Instruction Cards
Supplies List for Ideas + Free Printables to go with it!
Welcome Elf on the Shelf Letter + Elf Arrival Letter Poem
Elf on the Shelf Goodbye Letter
All of these printables are FREE and are available to download at the bottom of this post!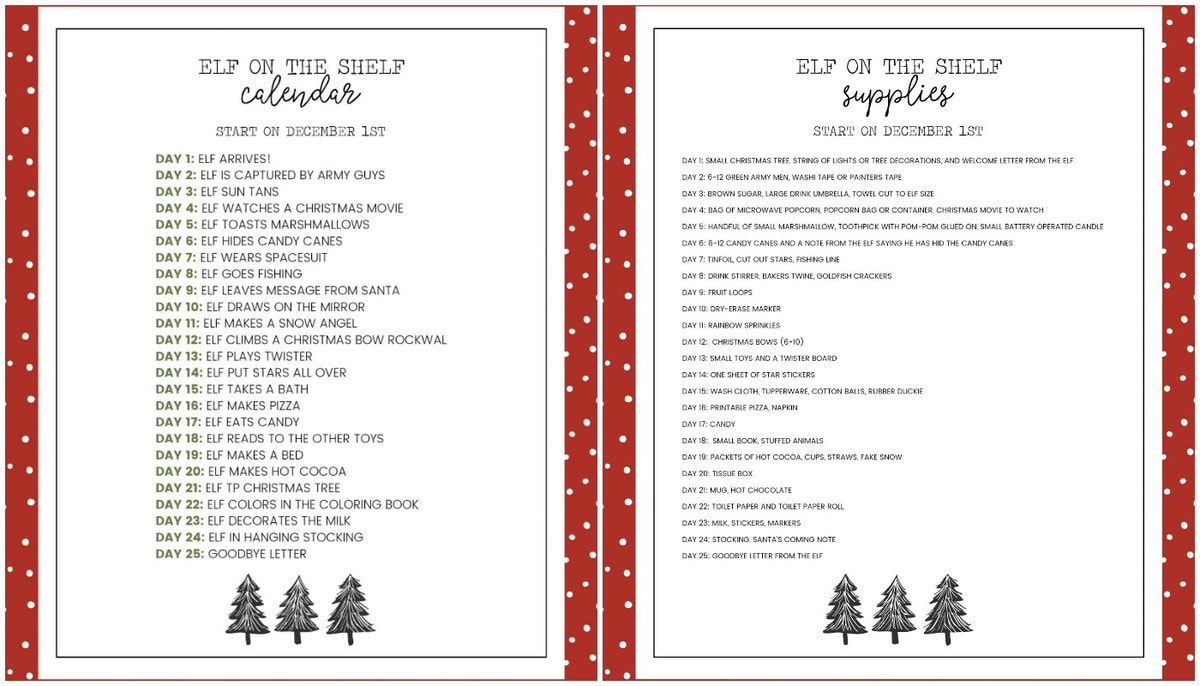 Goodbye and Welcome Letters are easy to print out and use. We put together some cute poems for a Welcome Elf on the Shelf letter and a Elf on the Shelf Goodbye Letter.
These poems explain what the elf does as well as what happens when the Christmas season ends and the elf has to return back to the North Pole. 😉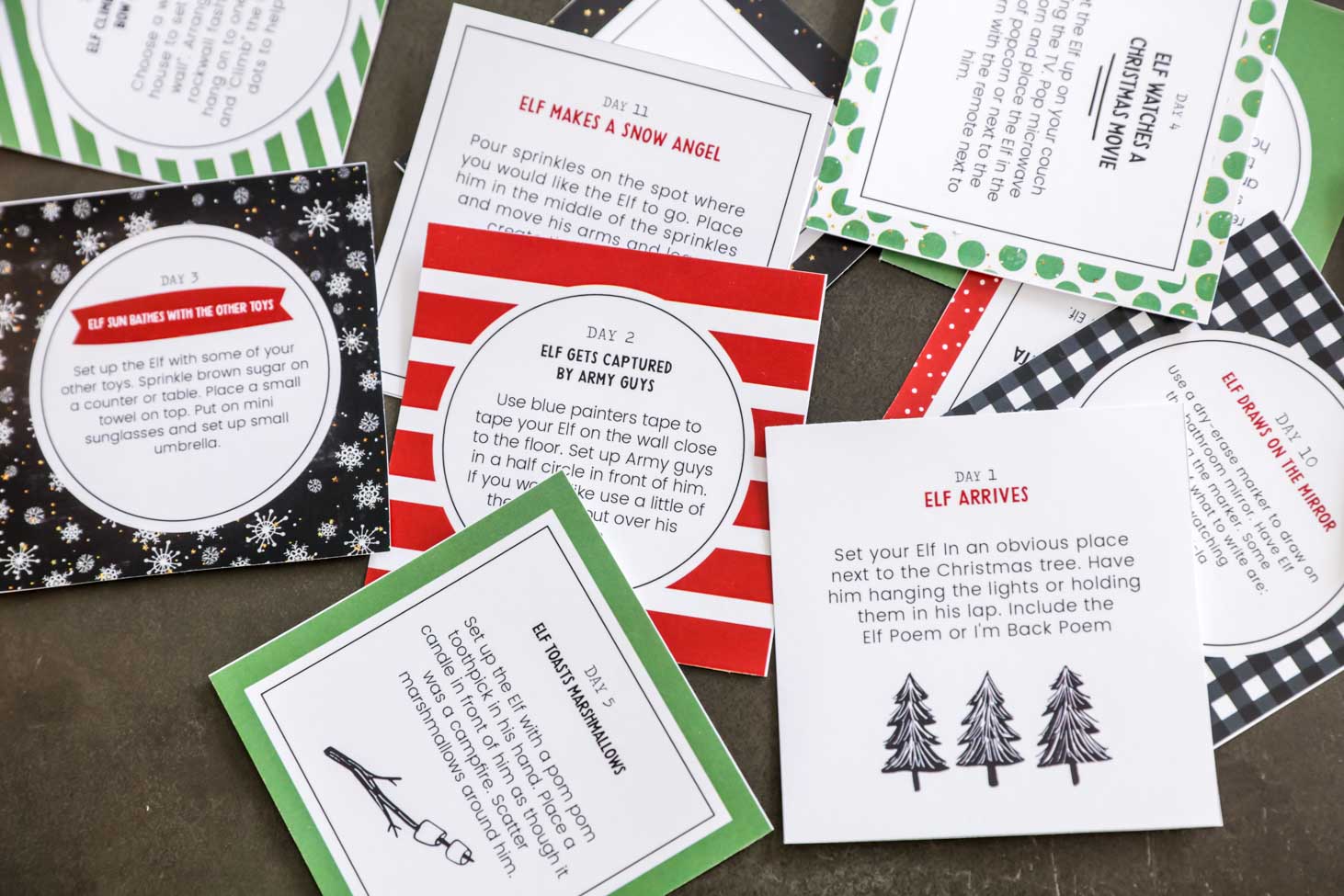 Funny Elf on the Shelf Ideas
Like I said – we wanted to make this elf experience was as easy as possible for you guys, so we put together 24 (every day in December up until Christmas Eve) funny elf on the shelf ideas for you to do with your family elf.
In our kit, we have the free printables of the ideas, along with the supplies list showing what you'd need each day.
Do you have to do funny things each day? No, it just make the tradition more fun and interesting for the kids. And since we are doing all the hard work for you, it really is quite easy. We would just set an alarm every night to go and make sure we would take care of the elf.
Another thing that helped is getting everything ready in November and making sure you had everything on the supplies list so that you were set for December. Again – not required but FUN!!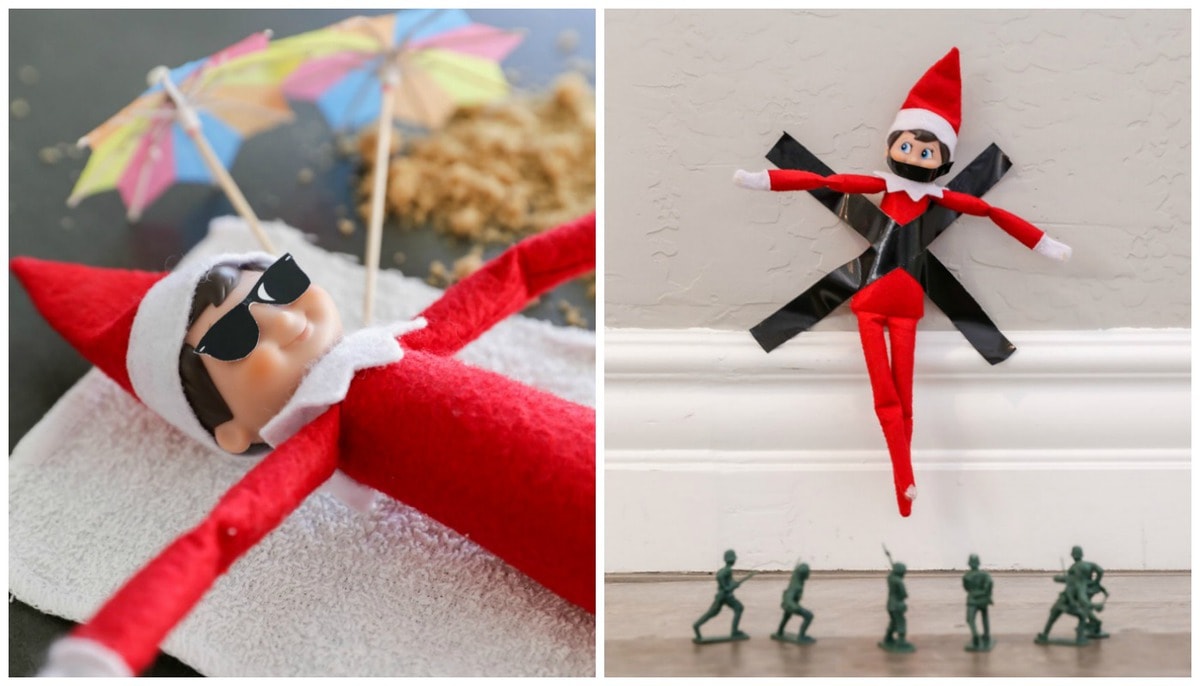 DAY 1 – ELF ARRIVES
Set your elf in an obvious place next to the Christmas Tree. Have him hanging the lights or holding them in his lap. Include the welcome letter.
SUPPLIES: Welcome letter (in kit), plus Christmas tree with small string of lights (bonus)
DAY 2 – ELF IS CAPTURED BY ARM GUYS
Use wash/painters tape to tape your elf on the wall close to the floor. Set up army guys in a half circle and put a little tape over elf's mouth
SUPPLIES: 6-12 Green army men plus washi/painters tape
DAY 3 – ELF SUN TANS
Sprinkle brown sugar on the counter and place towel on top. Put on mini sunglasses (in kit) and set up drink umbrella.
SUPPLIES: Brown sugar, large drink umbrella, wash cloth cut as towel
DAY 4 – ELF WATCHES A CHRISTMAS MOVIE
Pop popcorn and place in a bowl. Put elf in or near bowl and set him up to be watching TV with remote.
SUPPLIES: Bowl, popcorn and remote
DAY 5 – ELF ROASTS MARSHMALLOWS
Set elf up to be holding a toothpick with a mini marshmallow on it. Place it near tea light and scatter mini marshmallows around.
SUPPLIES: Toothpicks and mini marshmallows
DAY 6 – ELF HIDES CANDY CANES
Hide candy canes through out the house and set up elf with note (in kit) telling them he hid them and to go look for them.
SUPPLIES: 6 -7 candy canes and note from elf (in kit)
DAY 7 – ELF WEARS SPACE SUIT
Dress elf in tinfoil to represent a space suit. Hang him from counter or shelf with fishing line and hang stars around him.
SUPPLIES: Tin foil, cut out stars and fishing line
DAY 8 – ELF GOES FISHING
Set elf up on edge of sink or faucet in bathroom or kitchen. Make mini fishing pole and attach twine and goldfish to look like he is fishing.
SUPPLIES: Drink stirrer, baker's twine, goldfish crackers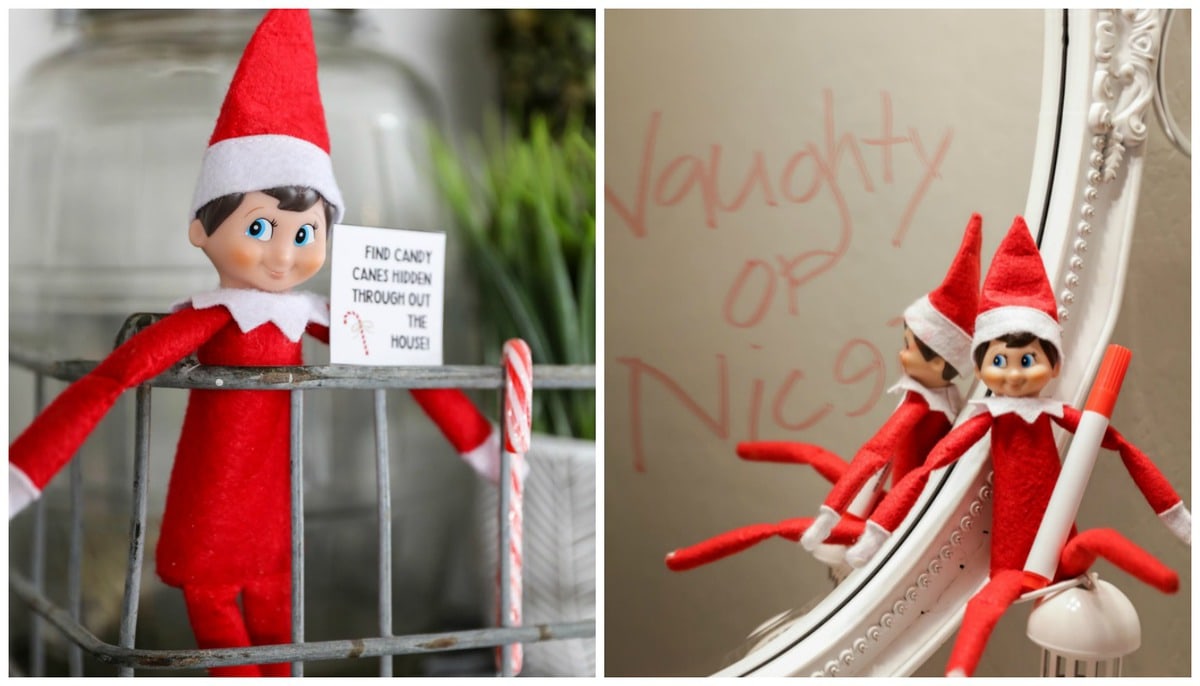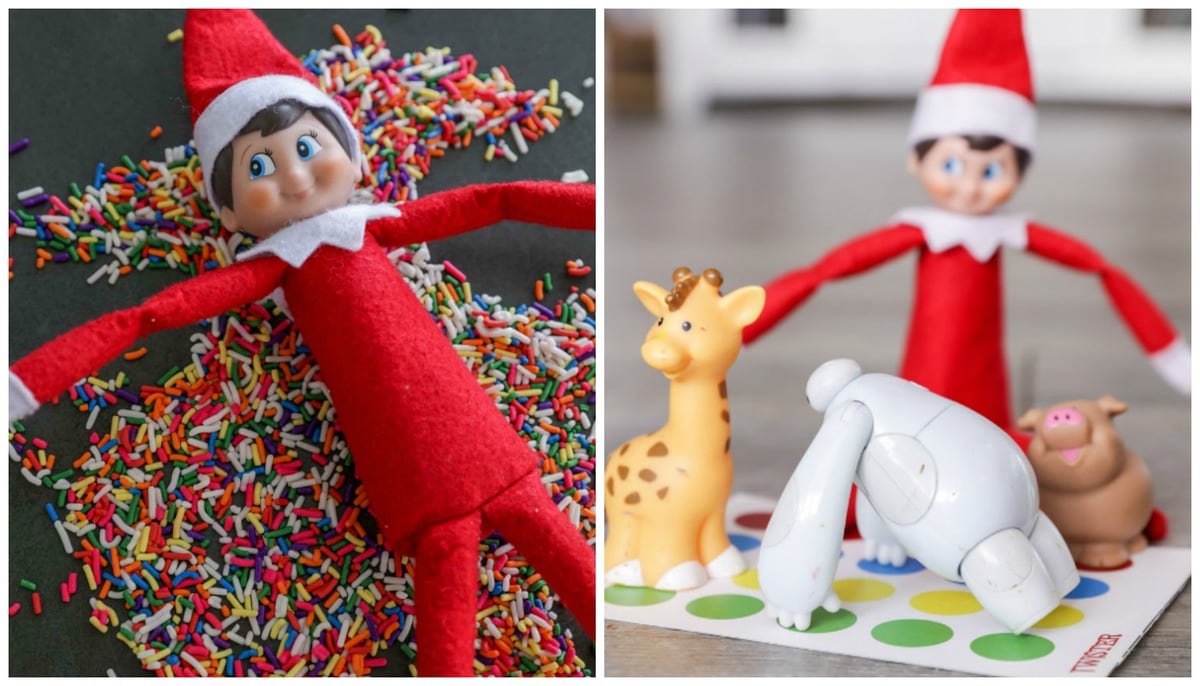 DAY 9 – ELF LEAVES MESSAGE FROM SANTA
Spell out "Santa Says Hi" in cereal on counter.
SUPPLIES: cereal
DAY 10 – ELF DRAWS ON MIRROR
Use a dry-erase marker to draw on mirror. Have elf holding marker. Ideas of what to write: "Fa-la-la-la-la", "Naughty or Nice?" "(Elf name) was here!"
SUPPLIES; Dry-erase marker
DAY 11 – ELF MAKES A SNOW ANGEL
Pour sprinkles on the spot you want the elf to go. Lay elf down and move arms and legs to create a sprinkle angel.
SUPPLIES: sprinkles
DAY 12 – ELF CLIMBS A CHRISTMAS BOW ROCK WALL
Choose a window in your house to set up "rock wall." Arrange bows like a rock wall and hang elf from one of the bows. Use Glue dots to help secure it in place.
SUPPLIES; gift bows and glue dots
DAY 13 – ELF PLAYS TWISTER WITH OTHER TOYS
Create a mini Twister board (or use the free one in the kit) and place toys around to play.
SUPPLIES: Twister board, other toys
DAY 14 – ELF PUTS STARS ALL OVER HIS BODY
Place star sticks all over elf.
SUPPLIES: star stickers
DAY 15 – ELF TAKES A BATH
Lay a washcloth down in the bathroom. Place a tupperware on top, place elf in side and fill with white cotton balls with a rubber ducky if you have one.
SUPPLIES: wash cloth, tupperware, white cotton balls, rubber ducky.
DAY 16 – ELF MAKES PIZZA
Place elf in kitchen by oven. Place napkin around his neck. Have him holding printable pizza (in kit) on his lap or have pizza toppings around him – Maybe have pizza for dinner that night
SUPPLIES: Printable pizza, napkin, pizza toppings.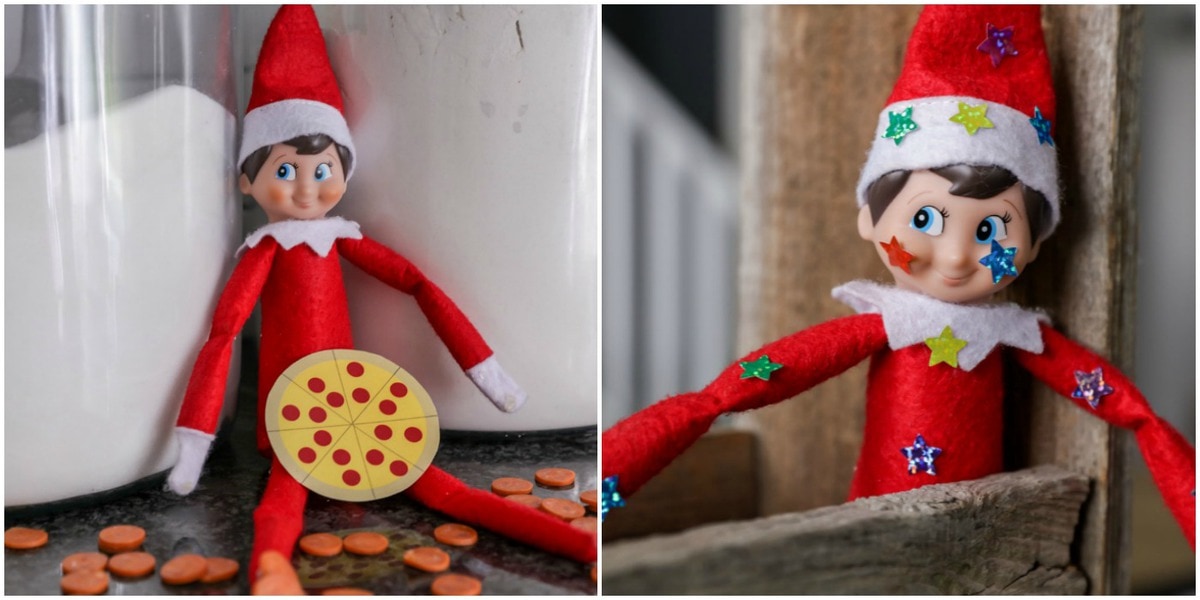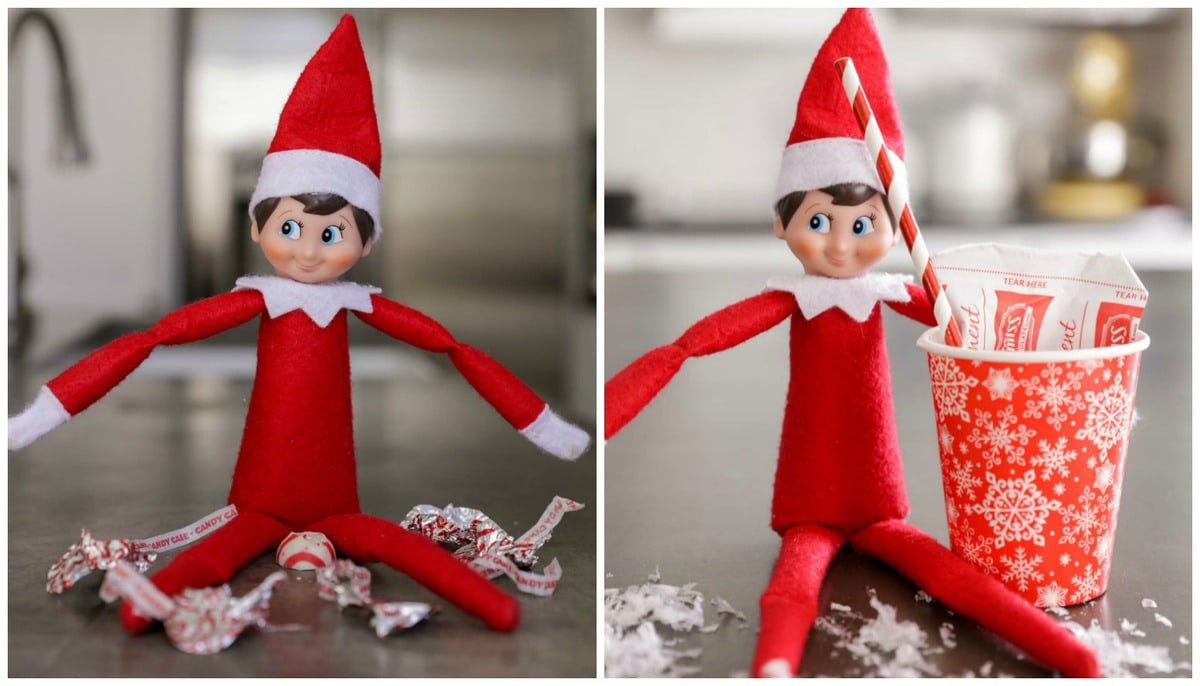 DAY 17 – ELF EATS CANDY
Have elf eating candy (half eaten candy) with wrappers all around.
SUPPLIES: Christmas candy
DAY 18 – ELF READS TO OTHER TOYS
Place elf in a circle with other toys. Place mini book in hands and have it read to the other toys.
SUPPLIES: Mini book (big book works too), other toys
DAY 19 – ELF SLEEPS
Have elf make a bed out of the tissue box. Make a pillow out of tissues and have him laying in the tissue box
SUPPLIES: Rectangle tissue box
DAY 20 – ELF SIPS HOT COCOA
Sprinkle fake snow around the area you want the elf to sit. Have elf sit next to or in mug/cup with straw, mini marshmallows and hot cocoa packets.
SUPPLIES: mug/cup, fake snow, mini marshmallows, straw, hot cocoa packets
DAY 21 – ELF TP CHRISTMAS TREE
Have elf hanging from tree with empty toilet paper roll
SUPPLIES: toilet paper
DAY 22 – ELF COLORS IN COLORING BOOKS
Have coloring book open and have elf laying on tummy. Color some of the picture and have crayons scattered around.
SUPPLIES: coloring book and crayons
DAY 23 – ELF DECORATES THE MILK IN THE FRIDGE
Decorate milk in fridge with stickers and markers. Place a bag of cookies and elf in fridge next to milk.
SUPPLIES: Stickers, markers, cookies
DAY 24 – ELF HANGS IN STOCKING
Elf hangs in stocking with note that says "Santa's coming! Santa's coming!"
SUPPLIES: Elf note (in kit)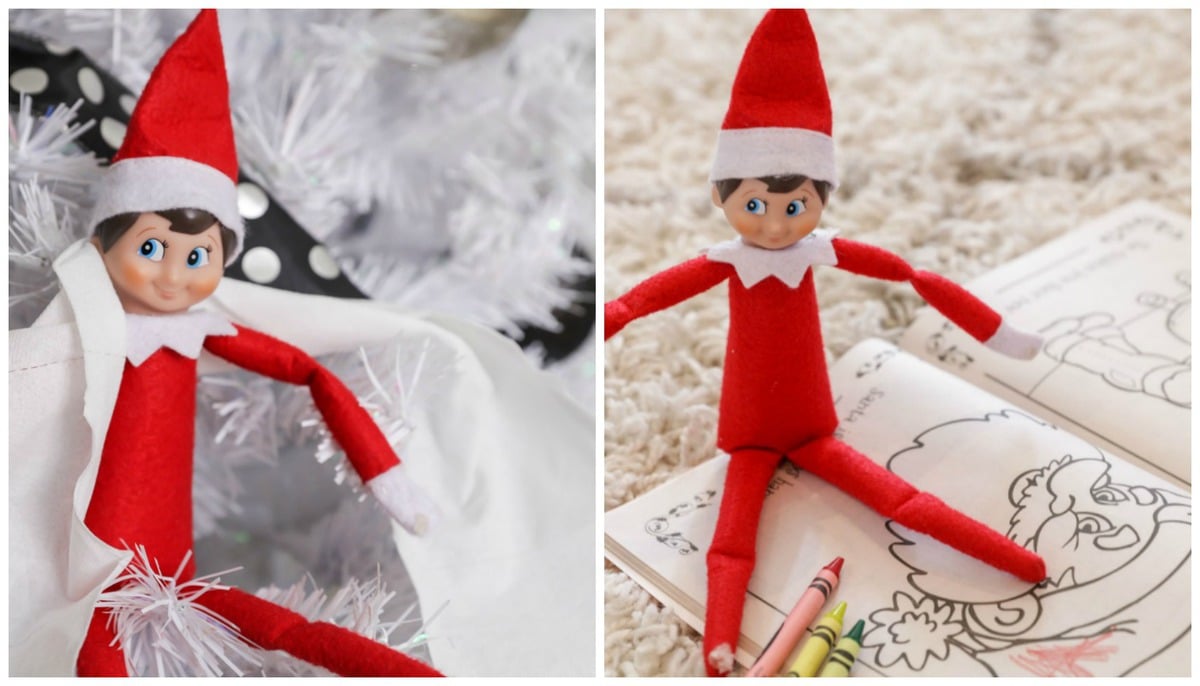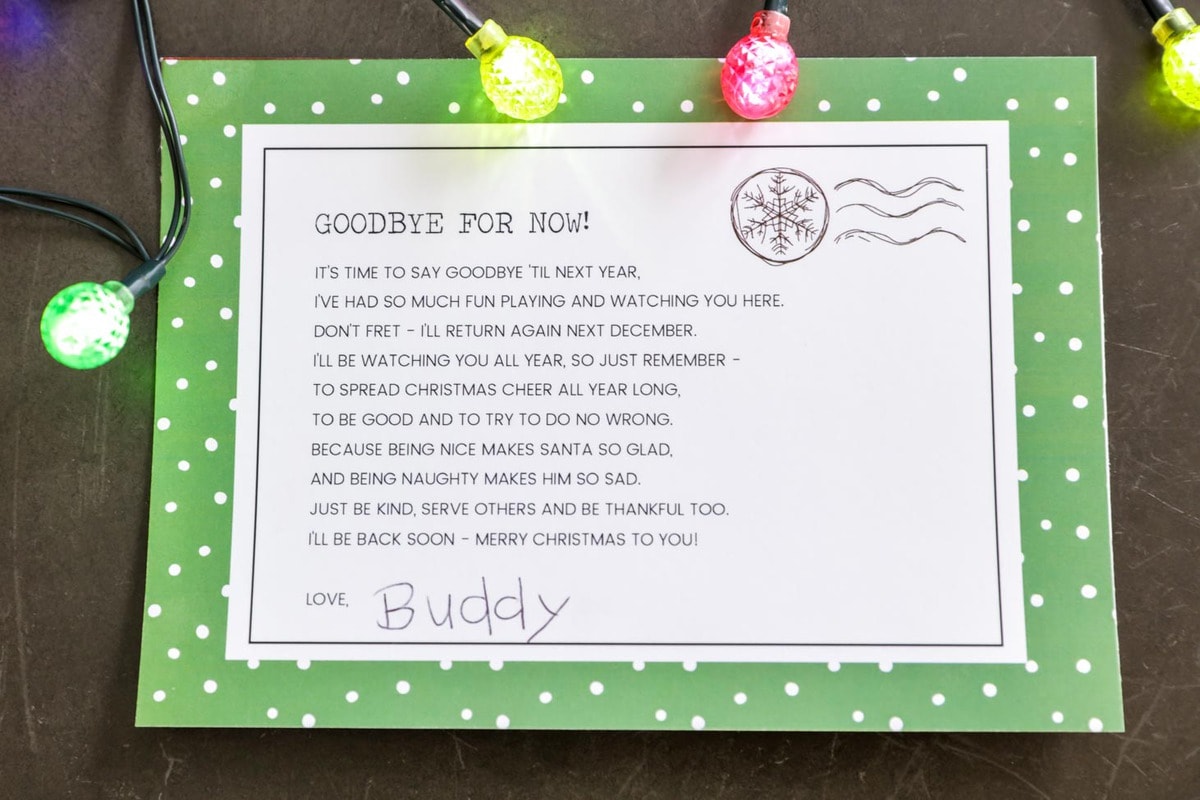 DAY 25 – ELF ON THE SHELF GOODBYE LETTER
Place goodbye letter (in kit) near Christmas tree. It will let the kids know that the elf is gone and that he will still be watching all year and will return again next December!
These are some of the best elf on the shelf ideas there are. Fun and simple and great fun for the kids!
TO DOWNLOAD – CLICK ON THE LINKS BELOW:
If you are looking to make things EVEN EASIER – you can also buy a kit from Jackie, the Elf Lady that has all the supplies and prints available!! A note from Jackie…
Are you one of those moms that doesn't have time to be the "crafty" mom that you want to be? Do you struggle with Pinterest and making your vision come to life? Let me help! I can make the Elf on the Shelf easy for you this year with this Elf on the Shelf kit! This great bag comes with all the things that you need to set up 25 days of fun for the Elf. It is packed FULL of stuff to create Elf shenanigans for your family to enjoy during the month of December!
EACH KIT COMES WITH:
A calendar of events
Cards that tell you how to set up each pose
Props needed to set your Elf for the 24 days before Christmas
Letters you can personalize for your child from the Elf
Jokes, cards and little extra surprises to add great fun for the littles!
It is a great way to help minimize the daily stresses of setting up your Elf during the crazy holiday season.
Orders will be ready for pick up after November 13th and the pick up location is on Higley and Baseline in Gilbert, Arizona. If you are out of state, please message me about shipping.
$65 Payment is due when order is placed. Paypal and venmo accepted. For more questions, email Jacke – [email protected]
ENJOY – and we hope you have a great holiday season!