This post is brought to you by El Monterey. As always, all opinions are 100% my own.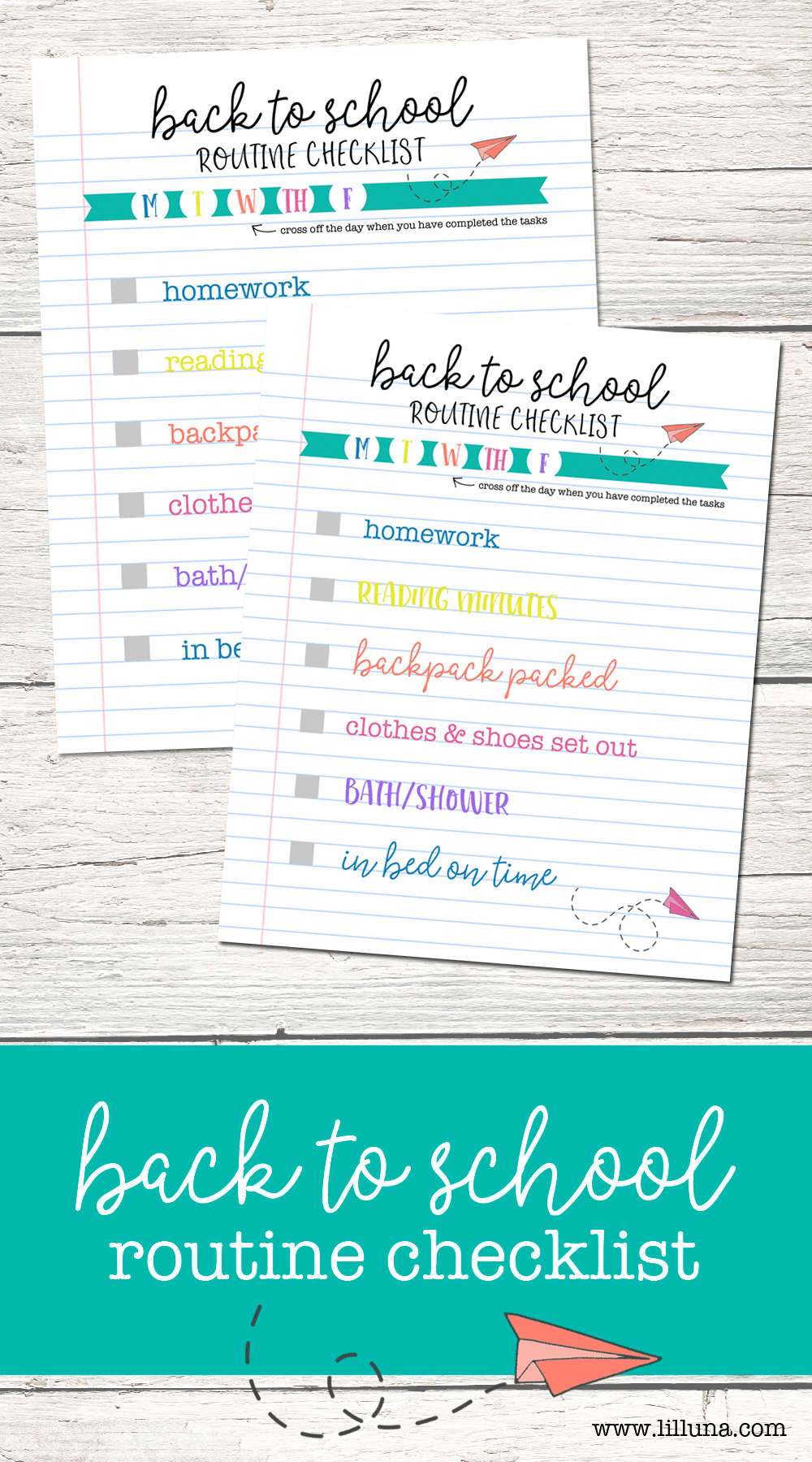 It's Back to School time! Are you ready??
Believe it or not, but we started school this past Monday. Yup – it's modified year round school which means they have a short summer and a longer fall and spring break. This year I have three of the kids in school – one in third grade, one in first grade and one in Kindergarten. With three of the five in school and two other little kids at home, things can be a little crazy around these parts. That means I am always looking for ways to make things a little less stressful. I've realized that when I'm less stressed, I'm happier and more patient which are traits, I'm sure, most moms strive for.
Over the last few years, I've learned a few tips and tricks that have made the school morning routine a little easier, and I wanted to share some of those tips with you today. It involves being more organized and making it a family/team effort but it has made things so much easier and better. The first thing we did was figure out all the things that had to be done each day (after school and before school the next day). We discussed these items with our family and talked about our rules for each task that had to be done. For example, homework. Our rule is they can get a snack after school and then they need to get all their homework done before they do anything else. Making sure we are all on the same page has made things more simple and has caused less contention for everyone.
With the list of daily tasks, we decided to make a Back to School Routine Checklist to aid our efforts of being more organized and responsible. This checklist is focused on the tasks that need to be done the night before, but I will also be sharing some morning routine tips too. Here is what the print looks like…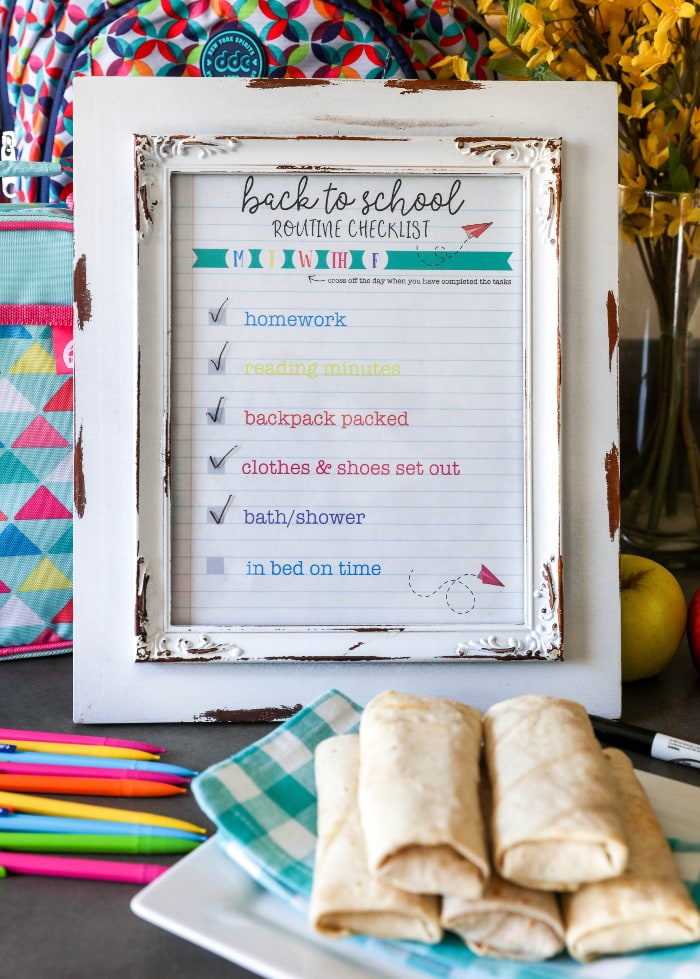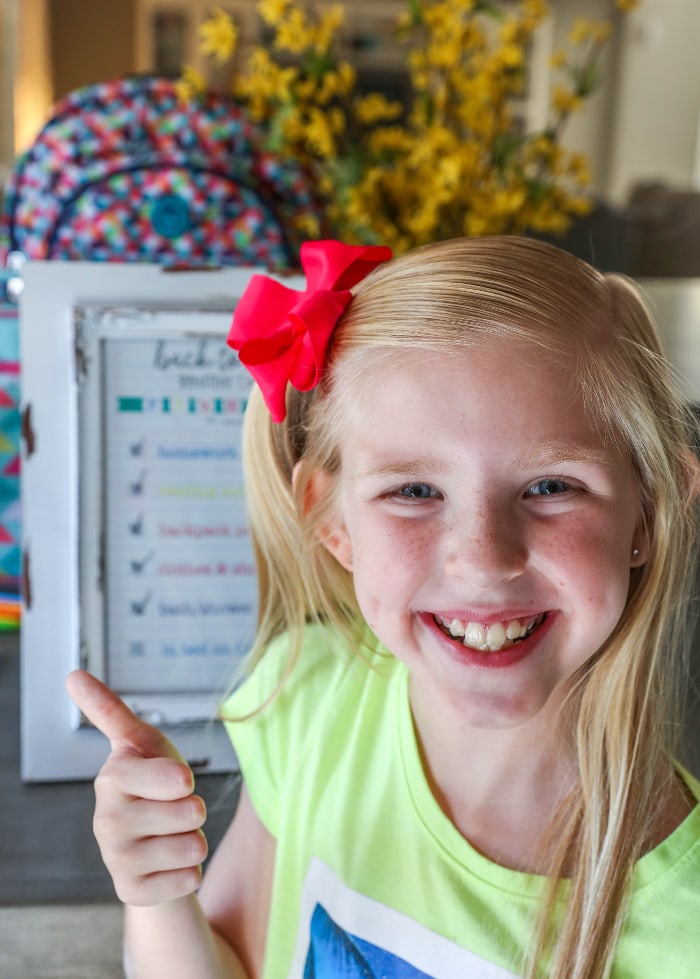 Every family is different, and this doesn't even include sports or extra-curricular activities and practices. This list includes the main things my young children need to do each night to get ready for the next school day.
AFTER SCHOOL TASKS:
Homework
Reading
Getting Back Pack ready
Setting out clothes and shoes for the next day
Bathing/Showering
All you need to do is print the list out, place it in a frame with glass and then your child can check it off with a dry-erase marker each night. You can also laminate the print and they can use a wet-erase marker to check things off each day. 😉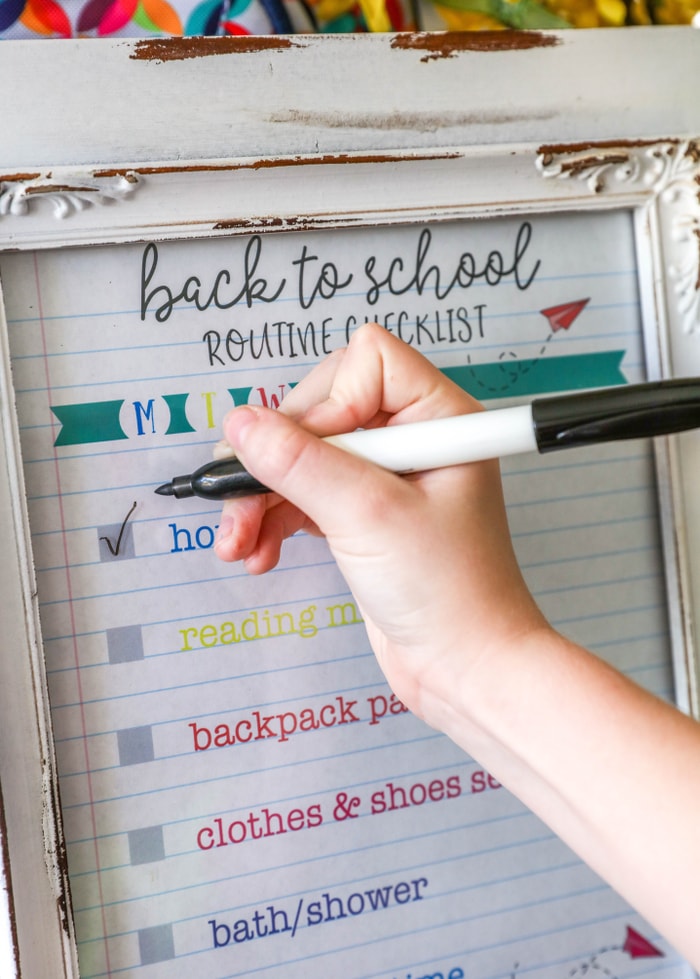 We started doing these checklists last year and it made a world of difference! Everyone was on the same page, everyone knew what had to get done each night and everyone worked as a team to make sure these tasks were accomplished. We were more organized, on task and were more productive which allowed for more play time.
Now that we've gone over the night before tasks, I want to talk about some of the morning tips and tricks that have made things less stressful in our home. Using the checklist from the night before is the main thing that has made our mornings so much easier. Having said that, there are still morning tasks to be done each day, including:
Getting dressed
Making beds
Eating breakfast
Making Lunch
Doing hair and brushing teeth
Because we discussed these tasks as a family, set up rules for each task, and did all our other tasks the day before our mornings are so much more enjoyable and don't involve crying and looking for lost shoes. 😉 The thing my kids are always looking forward to most in the morning is breakfast. They know they have to be dressed and their beds have to be made before they can eat, so they are diligent about waking up on time and doing these tasks right away. Since we usually don't have loads of time in the morning, we try to keep breakfast simple, quick and delicious. One of their favorites is El Monterey Breakfast Burritos. Have you tried them before?? They have so many varieties to choose from and are a hearty, filling way to start the day. The best part is they can be heated up very easily in the microwave – a task the kids can do on their own (yay!)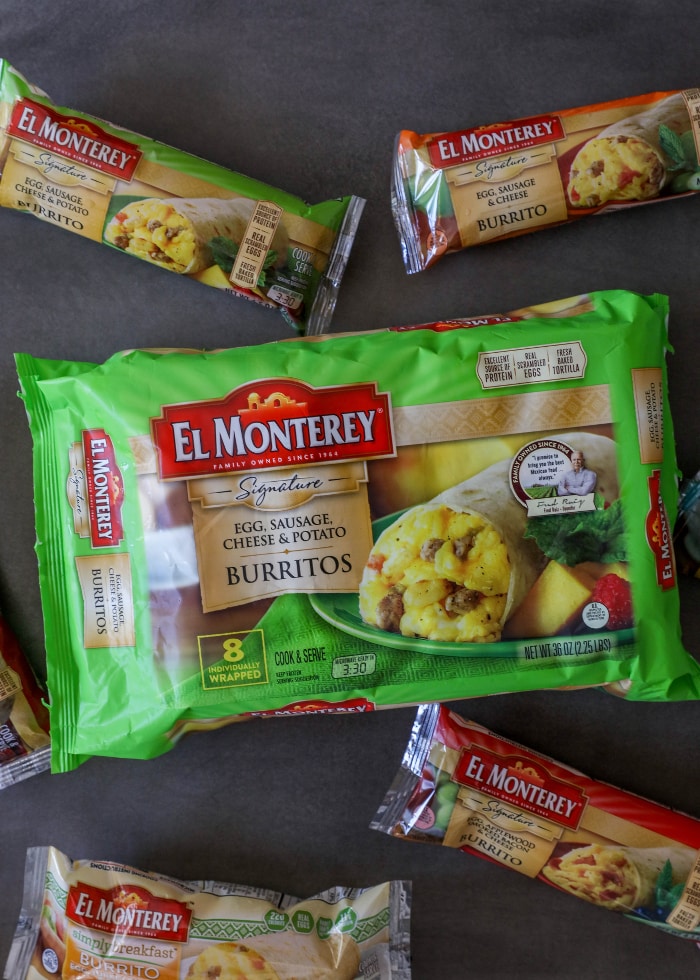 We serve these breakfast burritos with some fruit and the kids have a delicious, simple and quick breakfast – another way to make things less stressful in the morning. 😉
I was able to try all of the burritos we purchased and they were all so tasty, but my personal favorites were these two: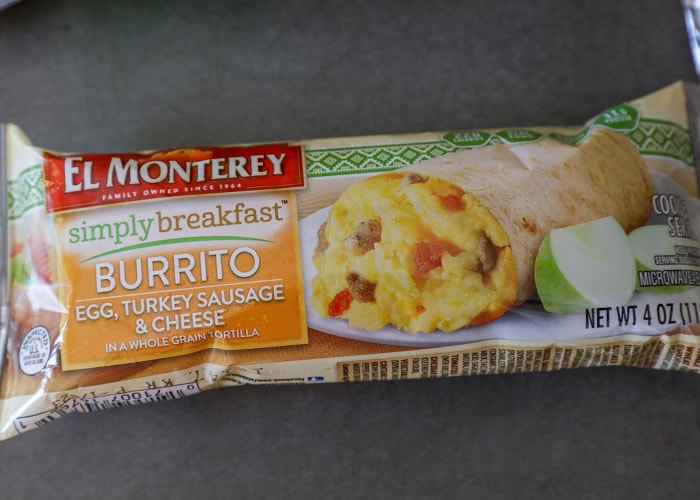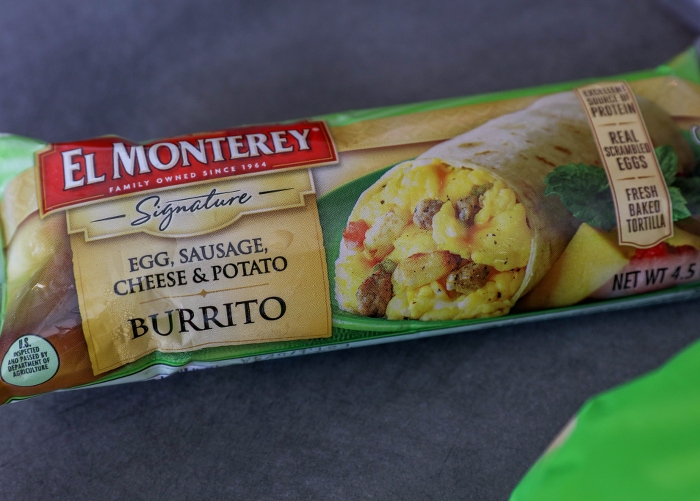 Each burrito can be heated up via microwave or the oven. For the oven, just trim off one side of the packaging, place on a cookie sheet lined with parchment paper and bake for 15-20 minutes on each side. Easy peasy and so delicious!!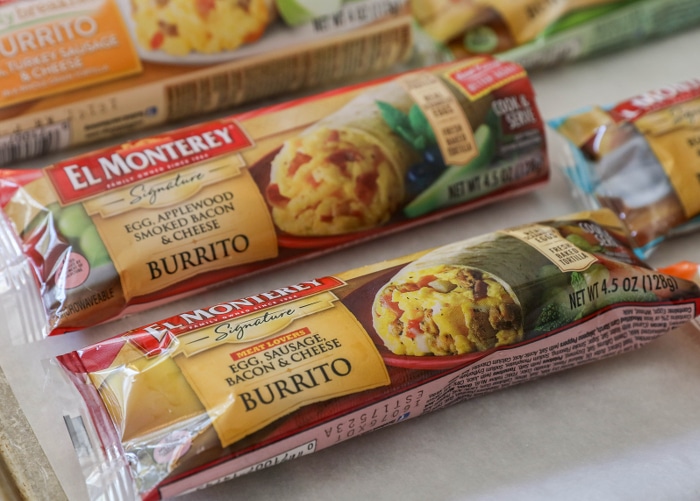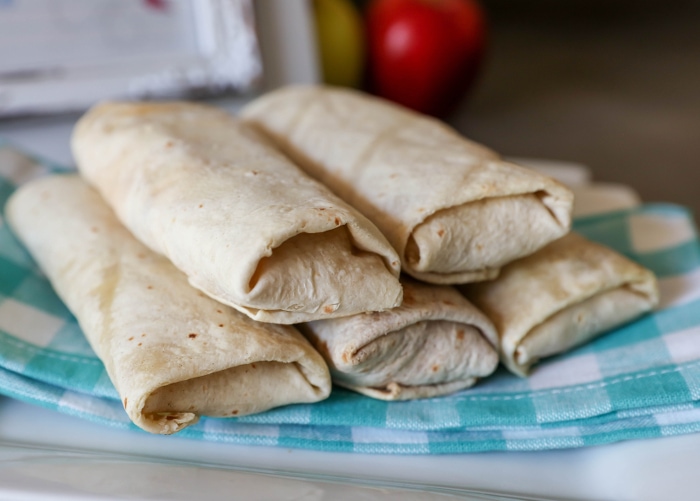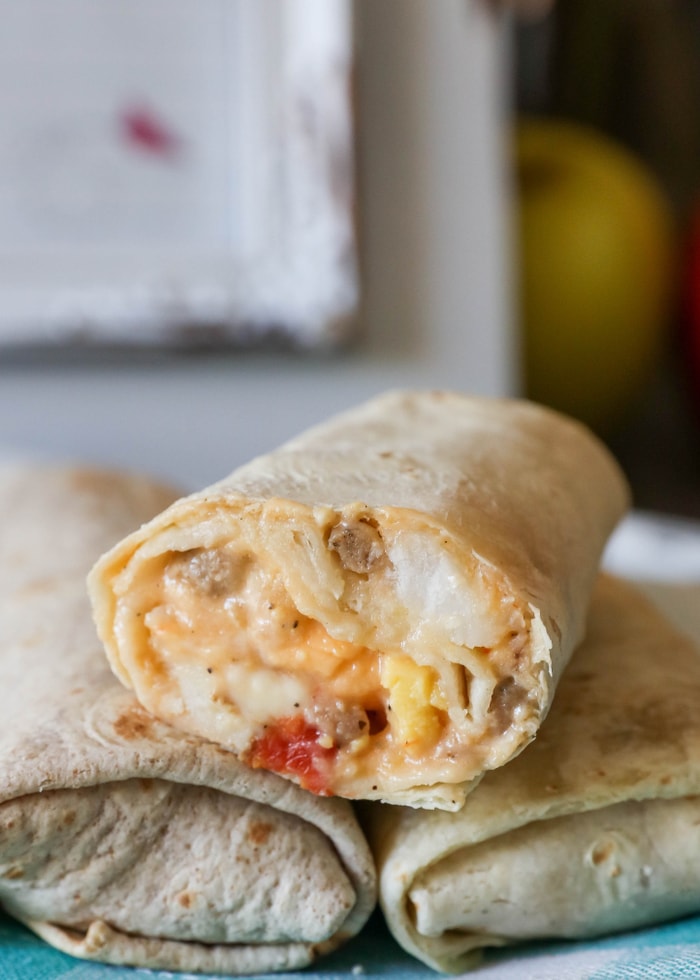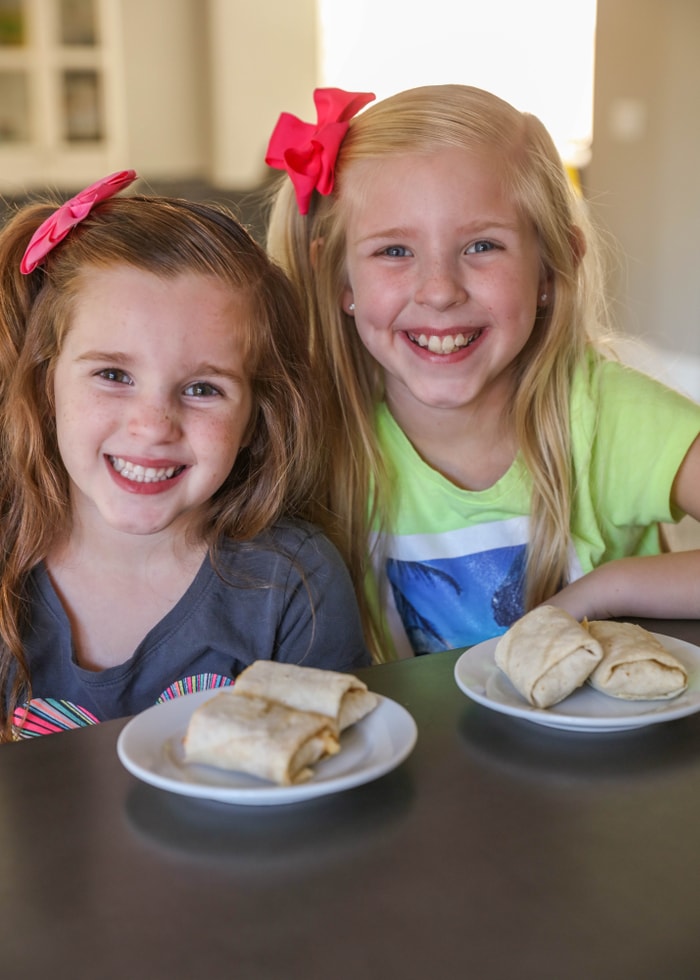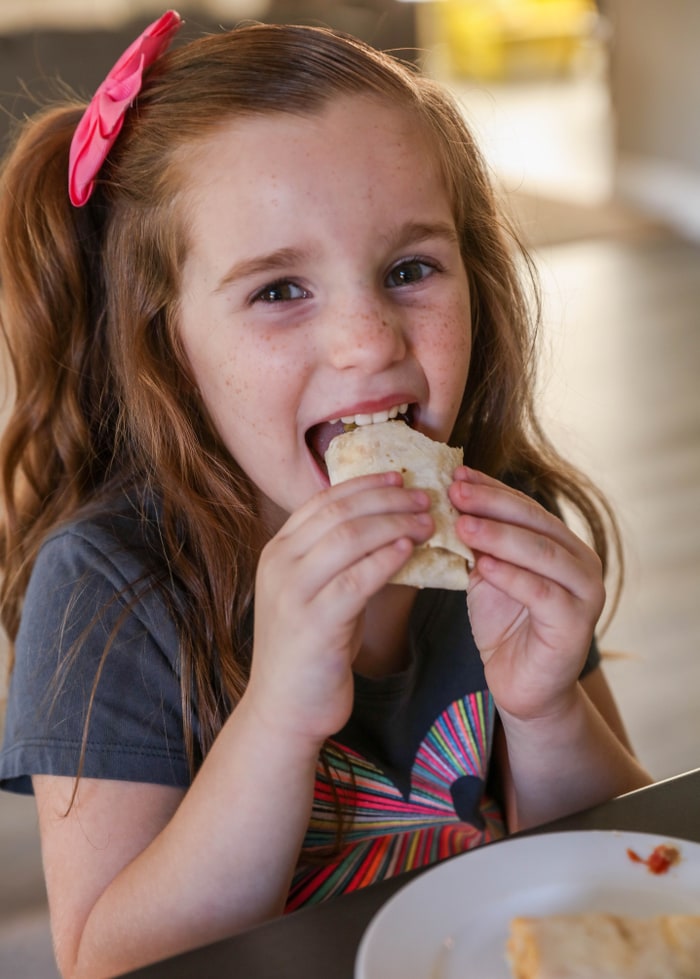 My kids love these burritos, and I love that they help make our morning less stressful. As I mentioned before, the kids loved the Eggs, Sausage, Cheese and Potato variety but my Evie (pictured above) said she loved ALL of them. 😀 For moms who are busy and have a full house, the El Monterey burritos will be a huge hit! Be sure to use El Monterey's product locator online to find the stores closest to you that carry them.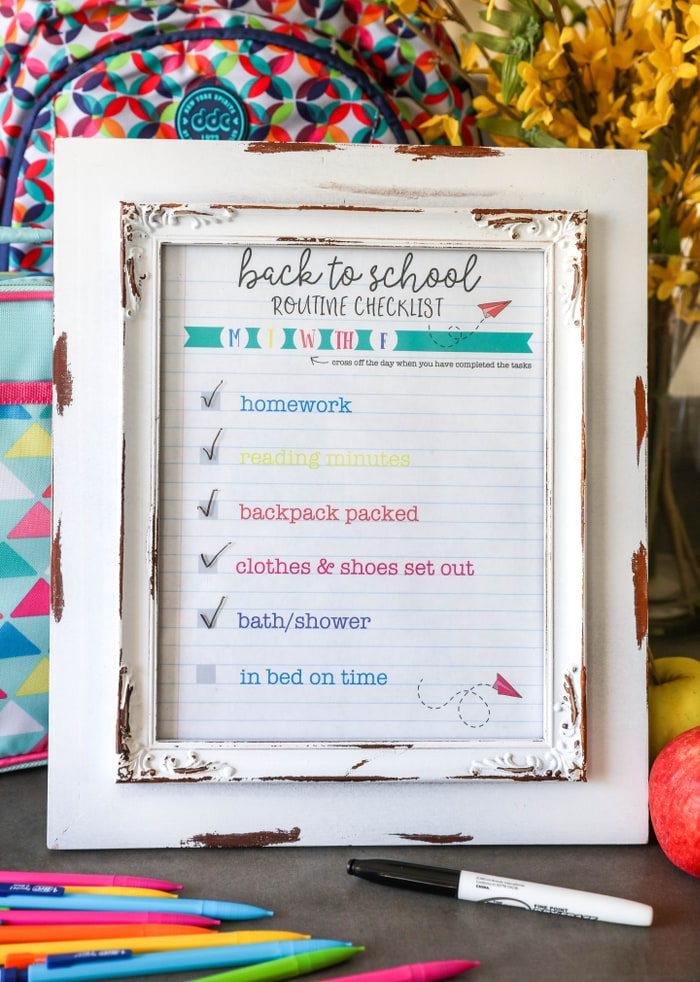 School weeks can be crazy, but these tips and tricks have really helped our school mornings to be less stressful and more enjoyable! Not sure about you, but that's a #momwins in my book. 😉 I'd love to hear of your tips and tricks for non-stressful school days so be sure to leave a comment below.
For more information about El Monterey and their delicious products, go HERE. You can also find them on Facebook – Pinterest – Instagram – Twitter – Youtube.
ENJOY!