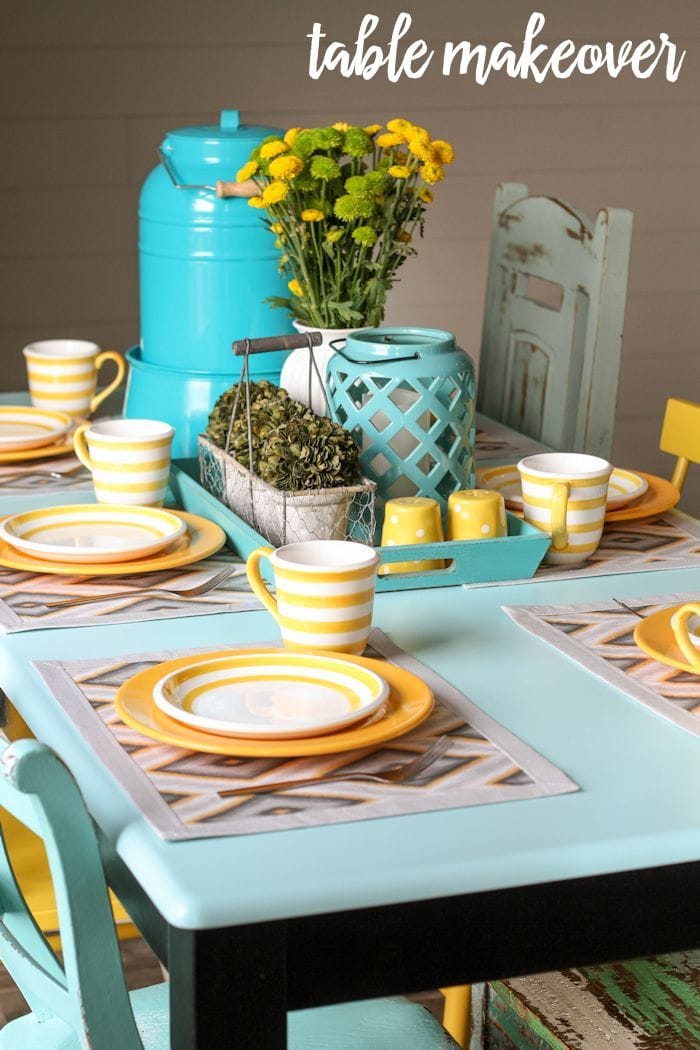 I've been wanting to get a new table for awhile now. You see, our old table was great but it had a ton of grooves on top that were constantly filled with crumbs and other items from the kiddos which sort of drove me insane. Yes, I know kids are kids, but I felt like I could never get our table clean unless I sat for half an hour cleaning out all the grooves. I really didn't have time to do that so when I saw this Better Homes and Gardens Autumn Lane Dining Table with Leaf at Walmart, I knew it would be perfect! It had a smooth and non-designed top which I knew would be perfect for our messy family. 😉
I wanted to change it up though and knew it would be absolutely perfect with a Light Turquoise top. I'm happy to say that I'm extremely happy with how it turned out!! It's perfect in our dining space and matches the hints of turquoise found in our kitchen. It also helps that I have been collecting random chairs from all over the place and have 2 turquoise ones that match perfectly!! The table is also the perfect size for our family and can be made smaller by taking out the leaf. And for $185, I thought it was a great deal for a great product!!
Here is what we did to customize the table and make it our own…
SUPPLIES:
– Table
– Sander
– Sandpaper- 150 grit and 400 grit
– Mineral Spirits
– Spray Paint – We used Krylon Cover Maxx – AQUA – purchased at Walmart
– Polycrylic Protective Finish Spray (We used Minwax Water Based Spray)
DIRECTIONS: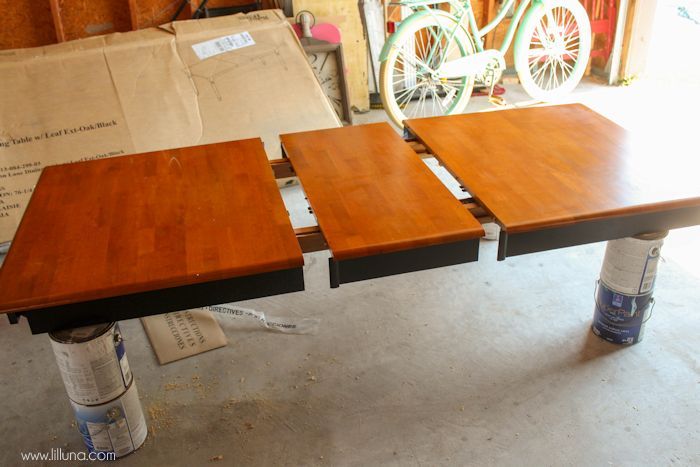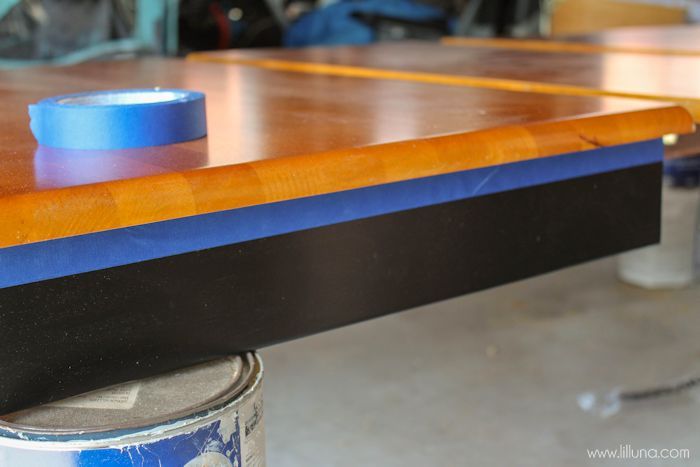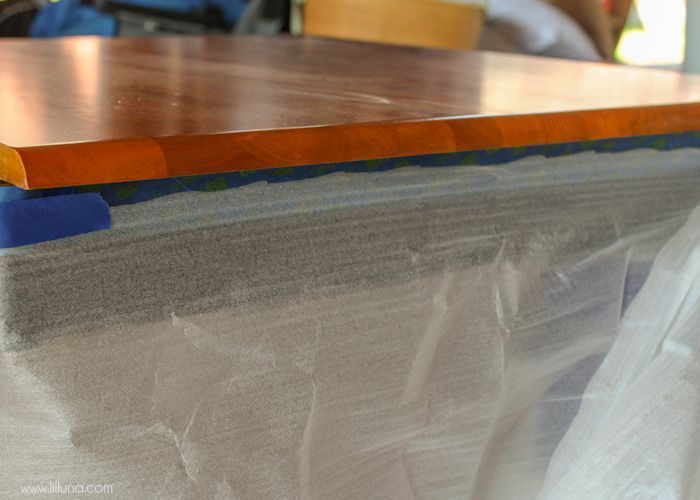 1. We began by taking the table out of the box and using the box and lining to get the table prepped. We took it apart, placed it on paint cans and taped off the black part with the inside lining to cover the black part.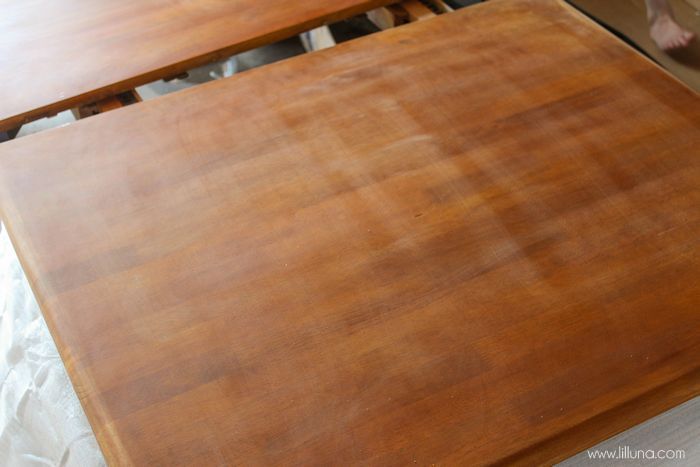 2. We then sanded the table with a sander using 150 grit sandpaper.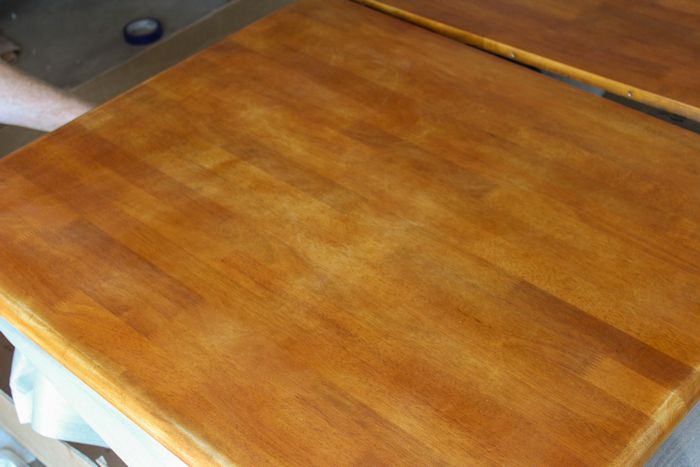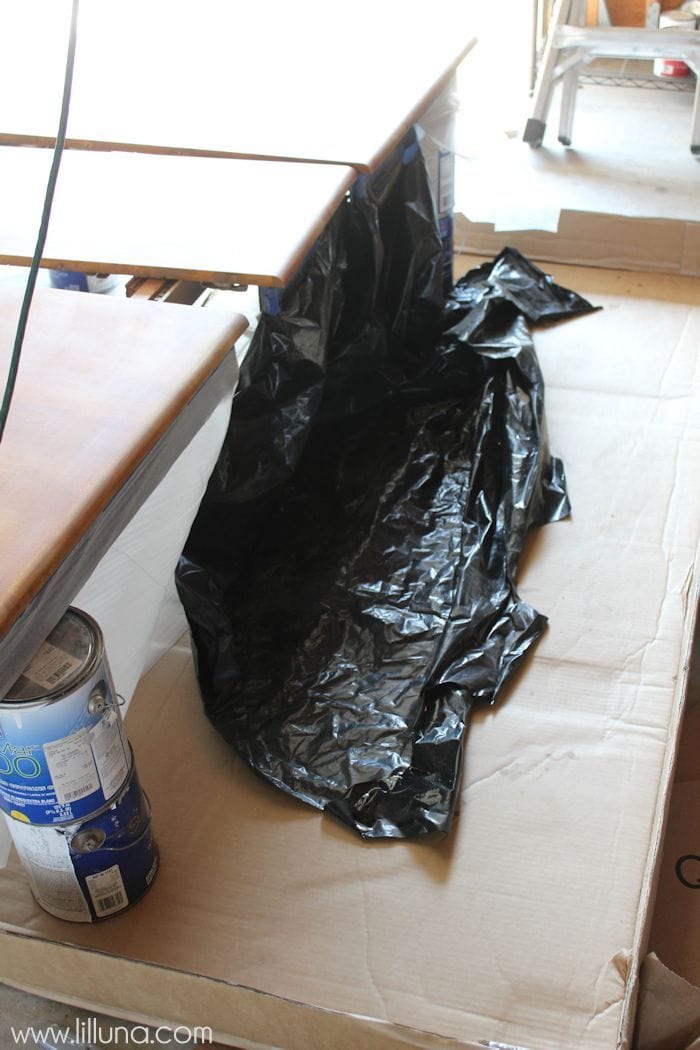 3. From there we cleaned off the table using Mineral spirits. We then prepped the table to be spray painted and laid the box the table came in under the table to catch the paint. 😉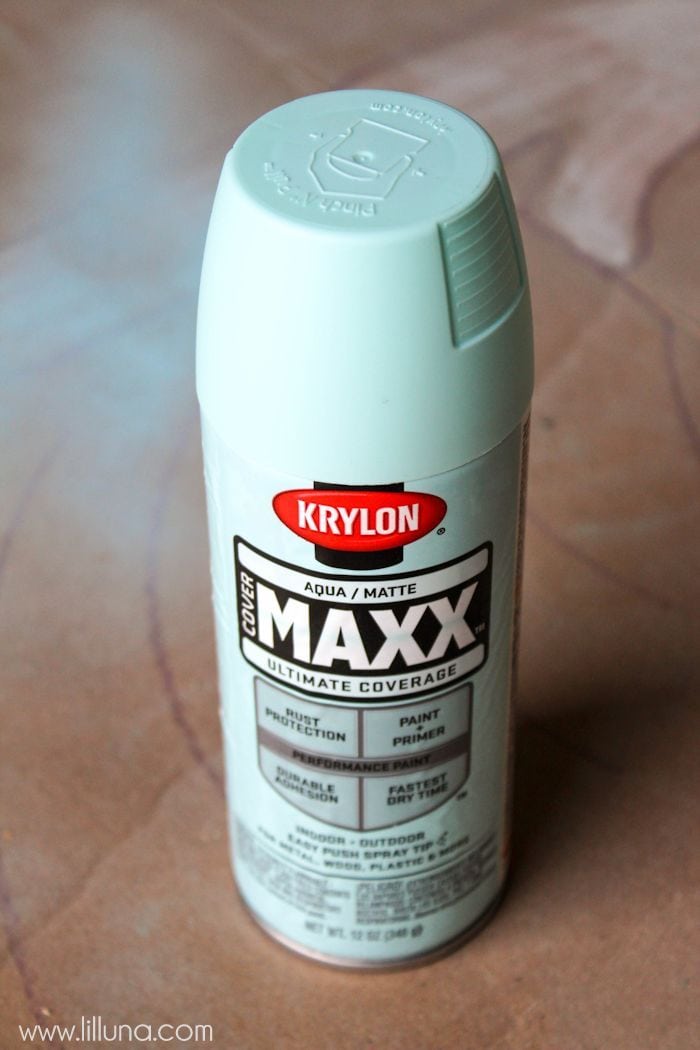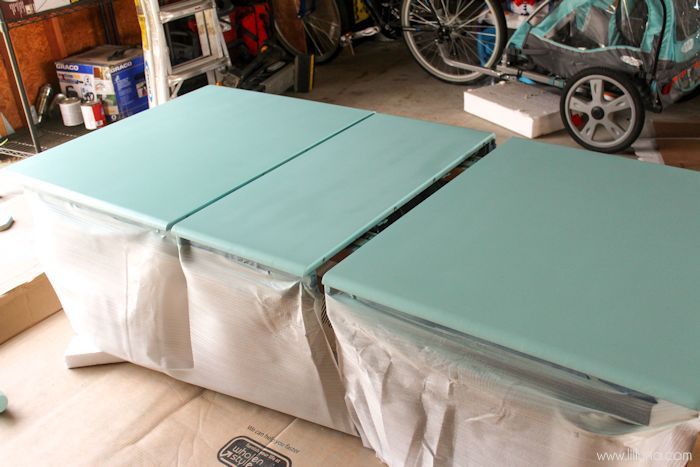 4. From there we added 3 thin coats of spray paint, letting it dry completely between each coat. To finish it off, we sanded it again by hand with 400 grit sand paper and then wiping it down with a paper towel.
5. Then we added 2 layers of Polycrylic, letting it dry between each layer. We were sure to add an extra coat around the edges since we knew they would be bumped and hit a little more often.
Let dry completely and enjoy your new table!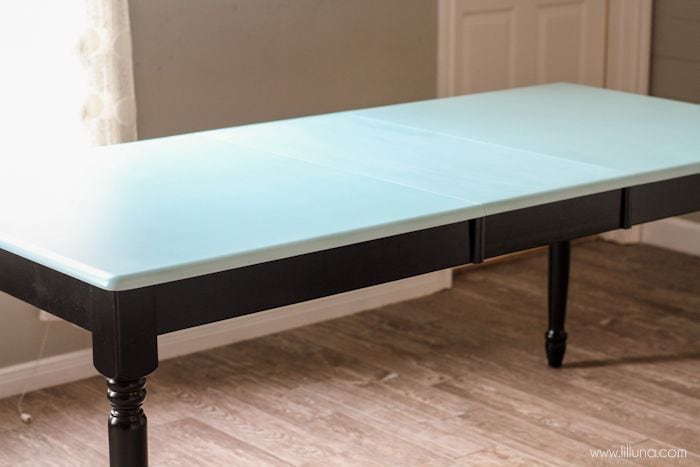 I decided to decorate my table with some of my favorite dishes (that I got from a friend) as well as a a few other items I purchased from Walmart.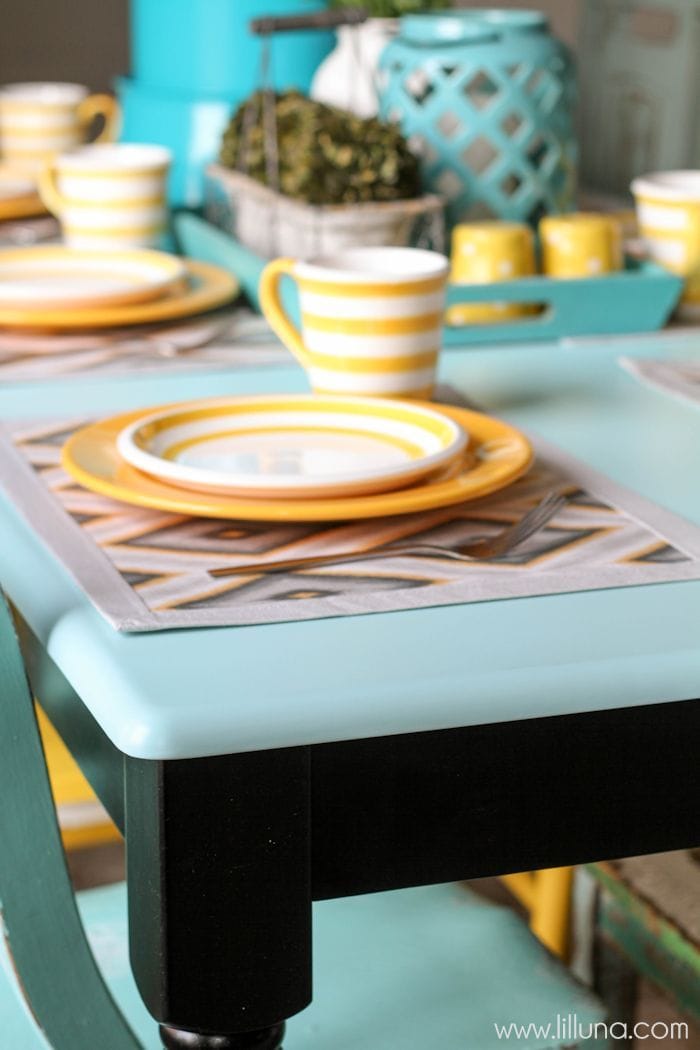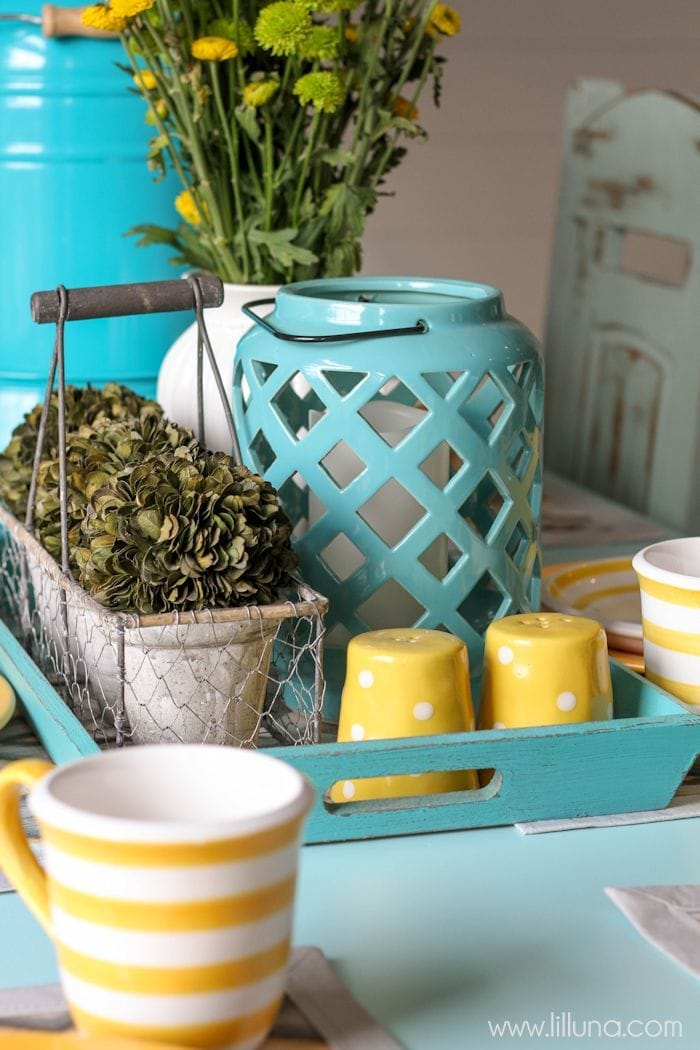 I LOVE my new candle holder that can be found at Walmart stores (not online).
I also purchased the LED candles to go in it (especially perfect since Houston is known for storms and electricity going out). 😉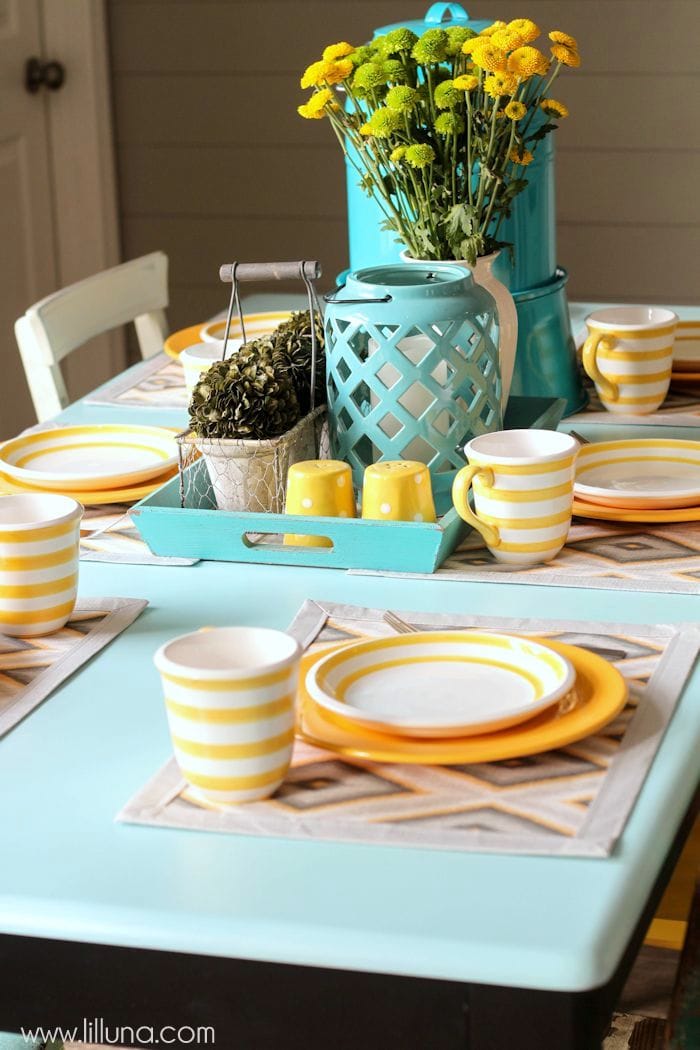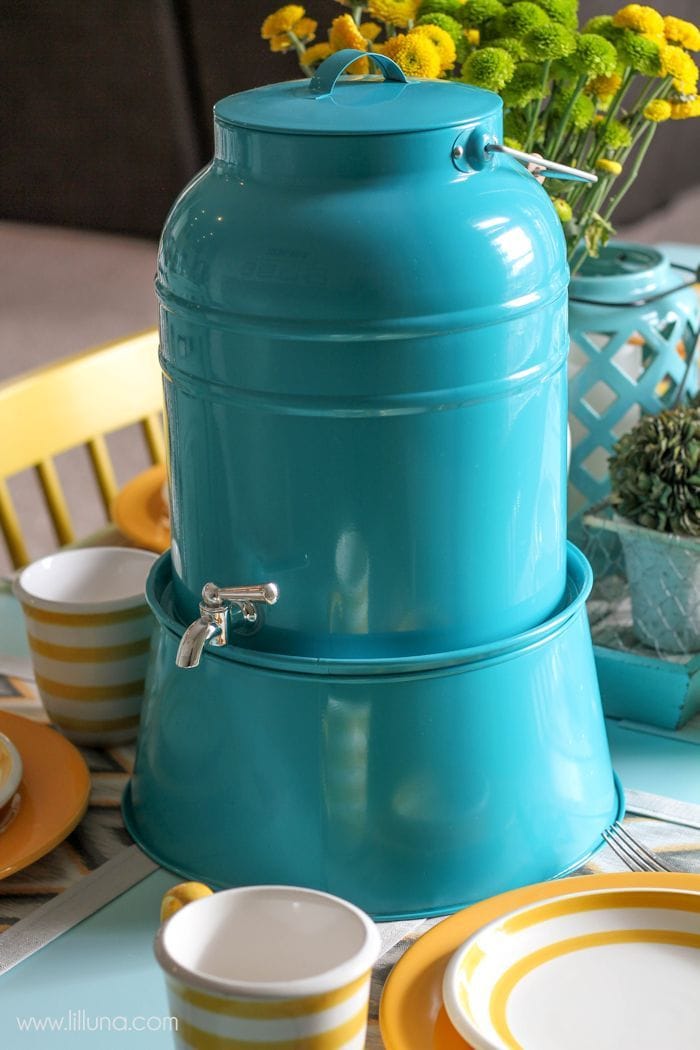 I also HAD to get this Metal Turquoise Beverage Dispenser. It's available in red and galvanized metal too. 😉 You can find the dispenser online but the base is only available in the store.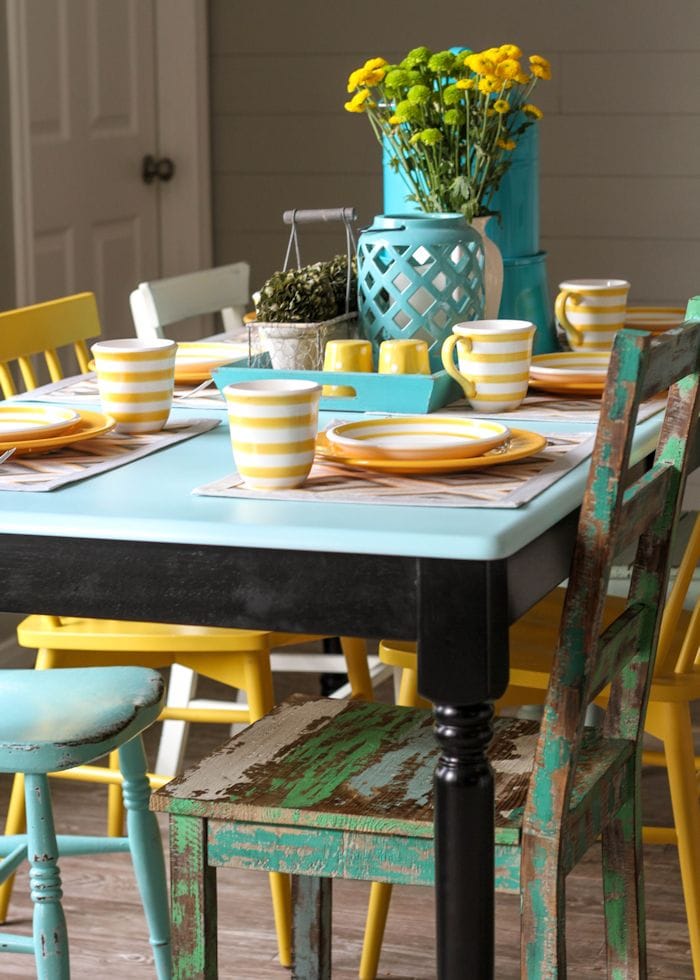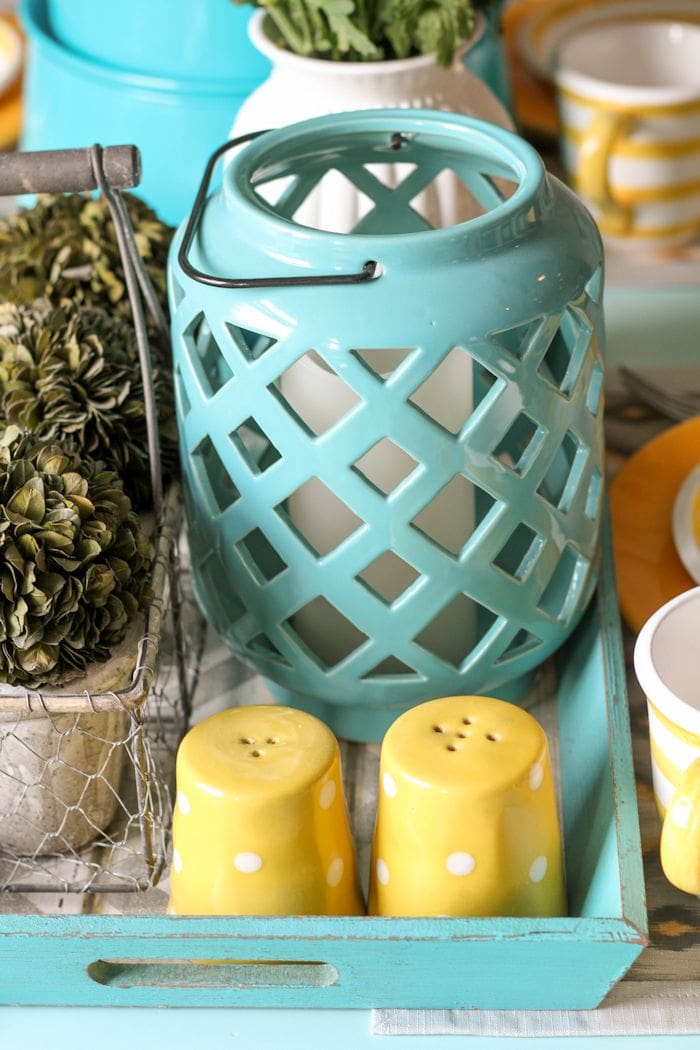 The turquoise candle holder was found at Walmart as well in the candles section.
And I especially LOVE the BHG IKAT Placemats I found in-store. They aer gray and yellow which are my main accents colors on my table and in my kitchen. 😉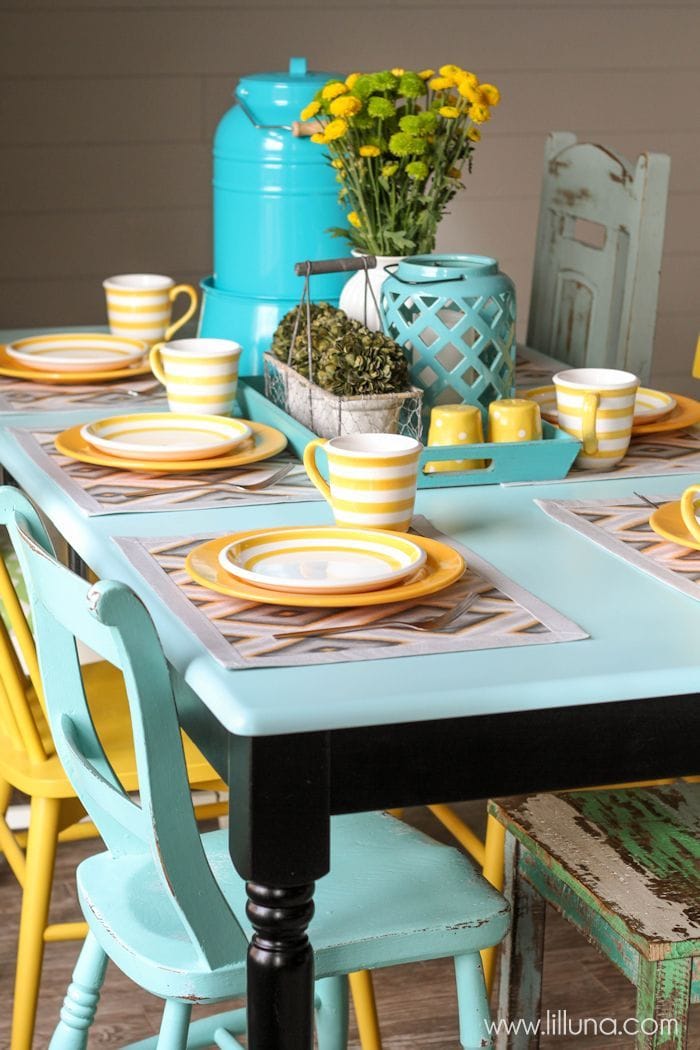 I LOVE how it turned out!! It's the perfection addition to our kitchen area, and I love that it matches the other chairs and accents we have already in that area. 😀
For more information about the products purchased:
BHG Table – Walmart online
BHG Flameless LED Pillar Candles – Walmart in-store
BHG Ikat Placemats – Walmart in-store
BHG Metal Beverage Dispenser – Walmart online (base was purchased in-store)
BHG Turquoise Candle Holder – Walmart in-store
Chairs – randomly purchased at places all over TX. 🙂
Mini 3-set Topiary – HomeGoods
Salt & Pepper Shaker – HomeGoods
I also wanted to make sure you guys knew about the BHG Live Better's Pinterest Sweepstakes that is going on through June 13th.
HOW TO ENTER:
PRIZE:
One winner will be randomly selected each day this week until
Saturday
– A total of 6 entrants will win $75 e-cards to Walmart.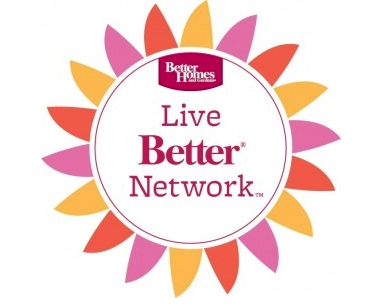 For more information about BHG Products be sure to follow them here – Instagram, Facebook, Twitter, and Pinterest.

For another great Makeover, be sure to check out my new Laundry Room!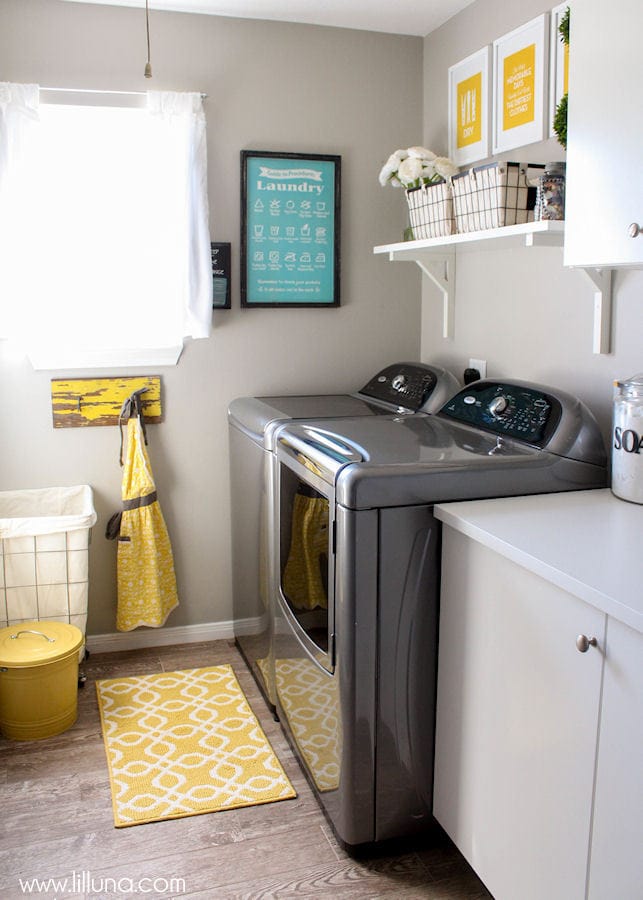 For all tutorials on the site go HERE.
ENJOY!
I received compensation from BHG at Walmart for my time and participation in the BHG Live Better Network. As always, all opinions are my own.
BEHIND THE SCENES AT LILLUNA.COM: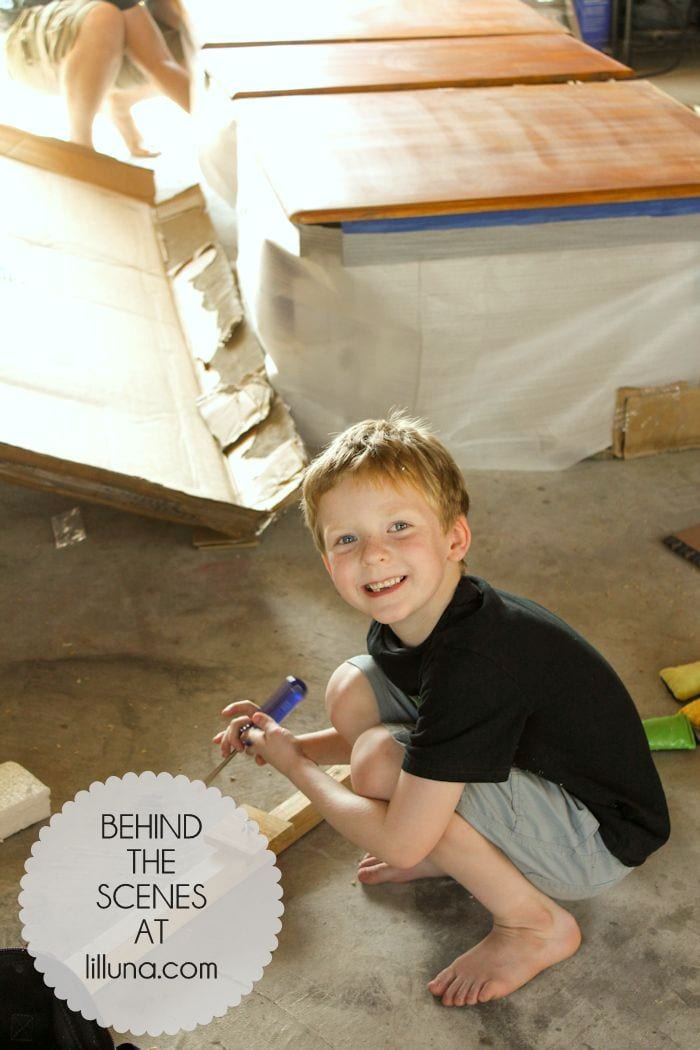 This little guy loves helping us with our projects in the garage… hoping he's as handy as daddy one day. 😉