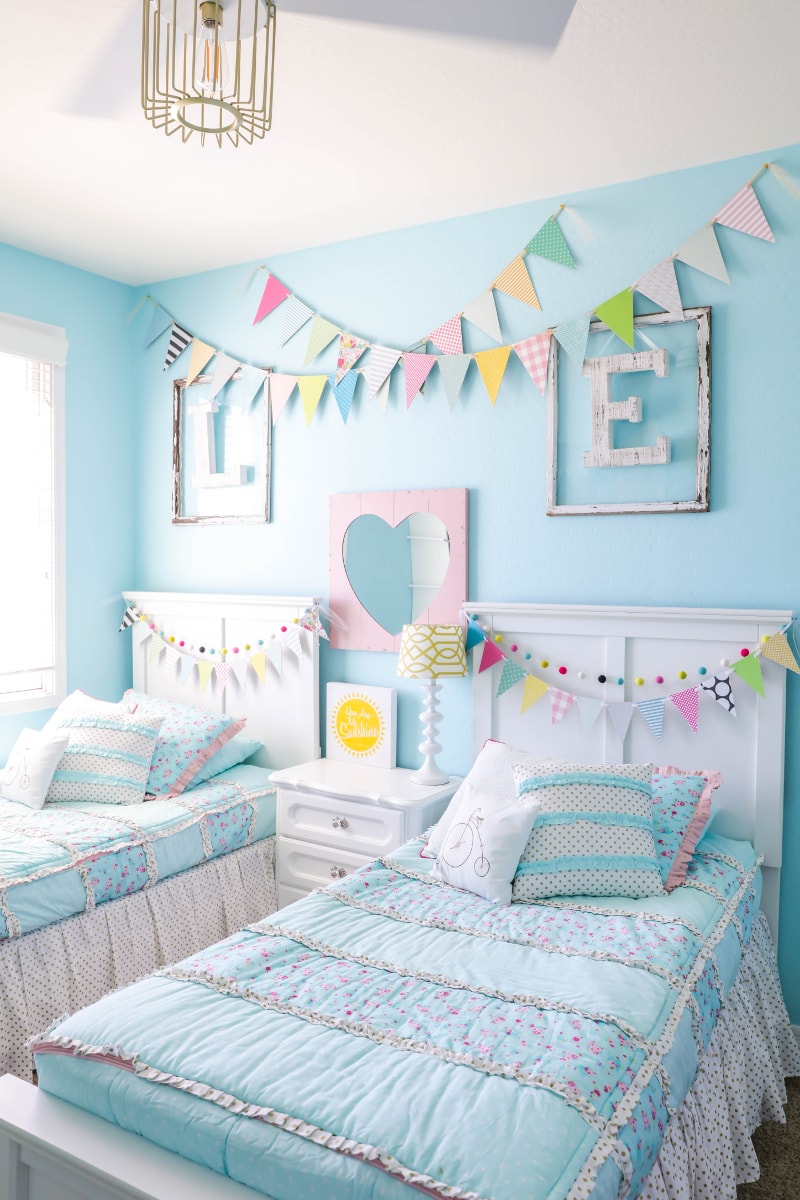 I'm so excited to FINALLY be sharing the girls' room makeover we did. We've been in the house since last summer, and although you'd think it was plenty of time to get one of the kids' bedrooms done, we've been so busy with other things. The main other thing was getting the downstairs looking nice, since that is the place we spend most of our time. Now that it's mostly done on the first level, we've slowly started working on the second level. I had hoped to have the girls' room done earlier this year, but I got pregnant and have been so sick which means all extra projects were pushed to the side. Fortunately, I am feeling loads better and cannot wait to share more details about the bedroom as well as some decorating ideas for kids' rooms.
Before we got stared, we had to assess the situation and figure out the room the girls would be in. We chose this room in the house, and this is what it looked like before we moved in: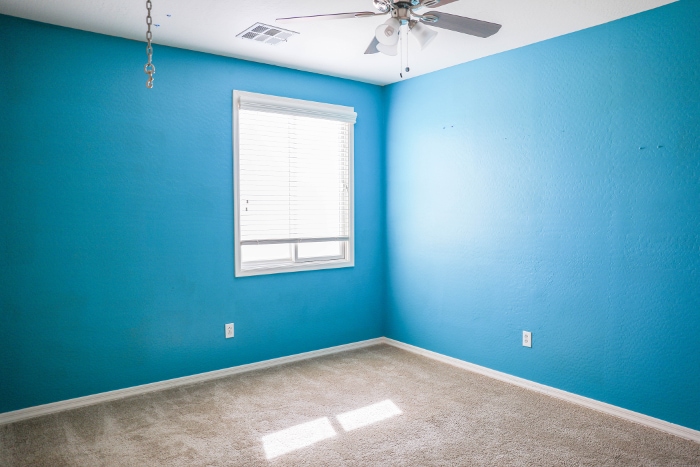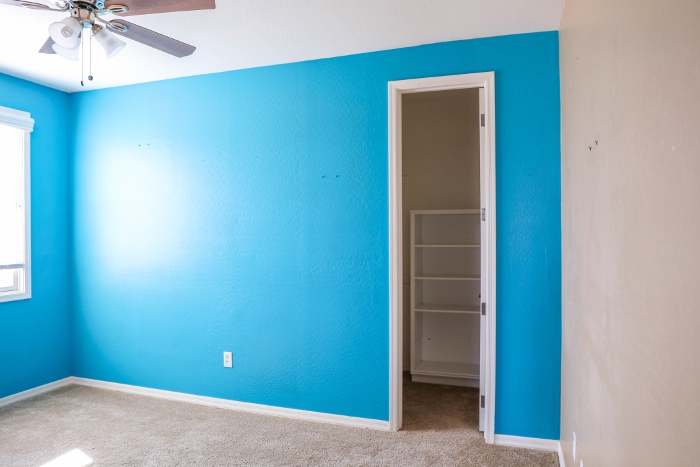 The girls wanted to have a turquoise room, but this wasn't the right shade of blue. We also wanted to get rid of the tan wall, so we ended up painting the room Sherwin Williams SPA. We had used the same paint color in their room in Texas and already knew we loved it. From there we worked on the layout and decided on having two single beds instead of bunk beds. We were able to find reasonably priced white beds at American Furniture Warehouse, which happens to be just a few miles from our home (a lot of their furniture is available online if you don't live close to one). The little stand in between the beds was from AFW as well. The desks and floating bookshelf were found on Amazon. The last piece of furniture was their dresser, which we got from IKEA.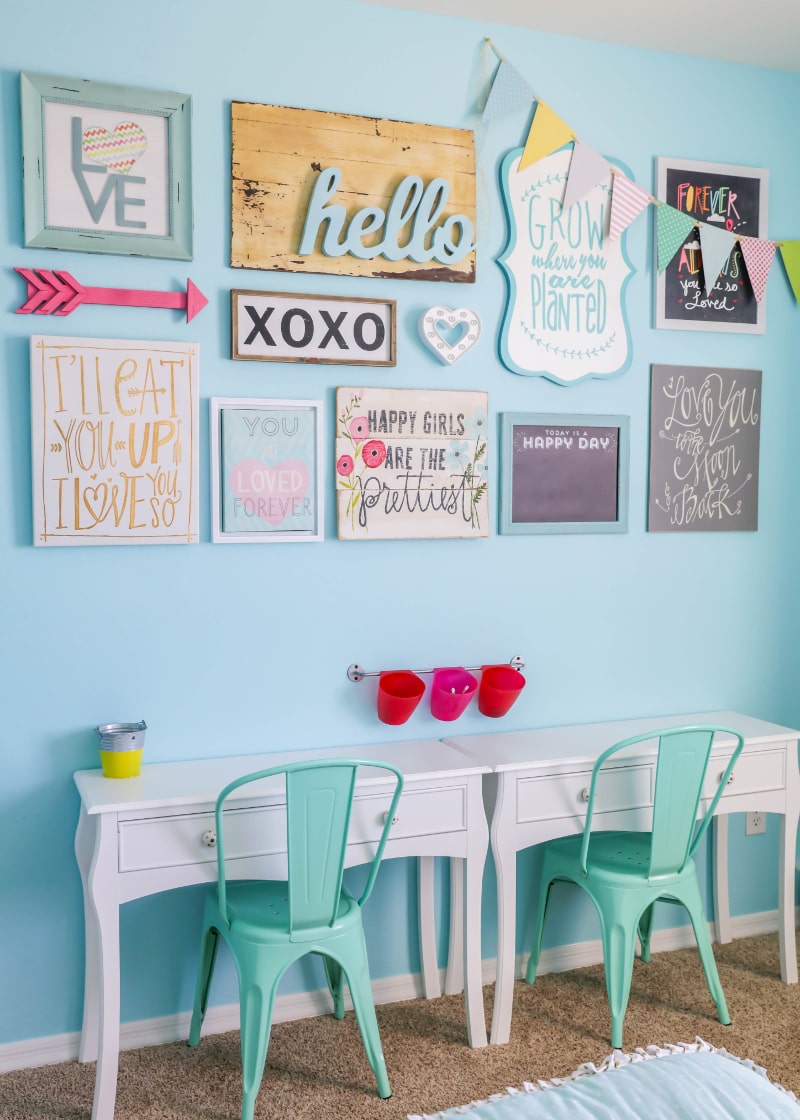 After we nailed down furniture, we focused on decor. We had the gallery wall of cute prints and signs in Texas and added another one to this room. The items were bought from all over the place and vary from free prints found via Pinterest to etsy shops and Hobby Lobby. I also found the vintage windows at a thrift market and found the letters to go on top of them at Hobby Lobby. The cork boards and chicken wire frames above the dresser were found at Hobby Lobby. I also wanted to make things a little more cherry and added the bunting banners on the beds and walls. To do that I just found coordinating scrapbook paper and Chipboard Pennant Banners at Hobby Lobby (also found on Amazon) I traced the pennants onto the scrapbook paper, cut them out and then mod podged them on. Easy peasy!! I finished off the beds with felt ball banners that I picked up from Jaxn Blvd. As you can see from the pics below we are all about bright and fun and we love how everything came together! Here are some more close-up pics of the room…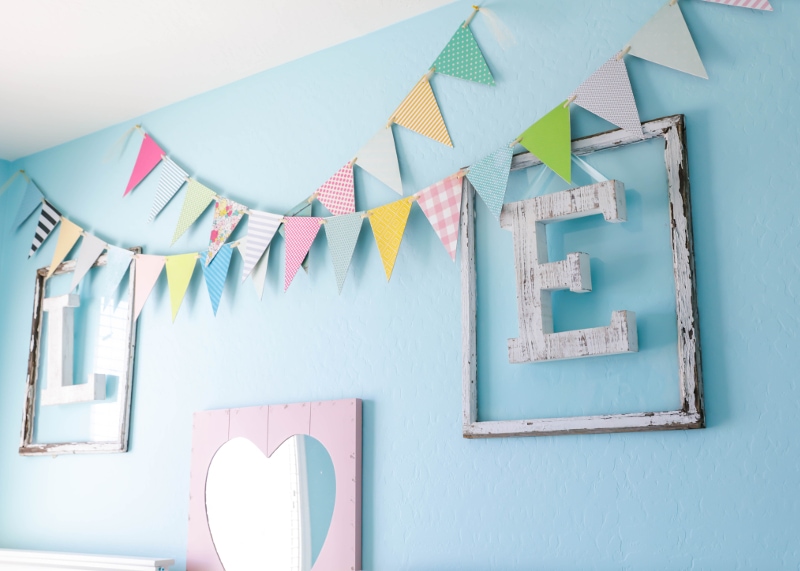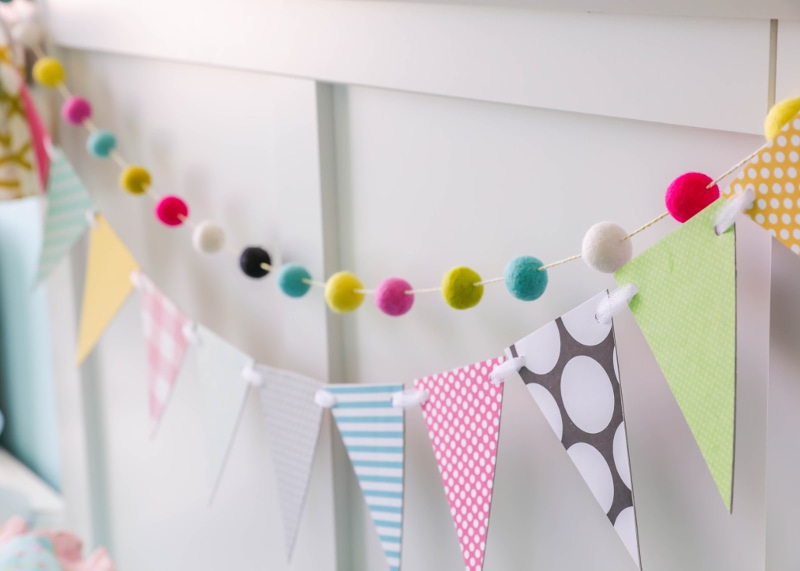 All about bunting banners!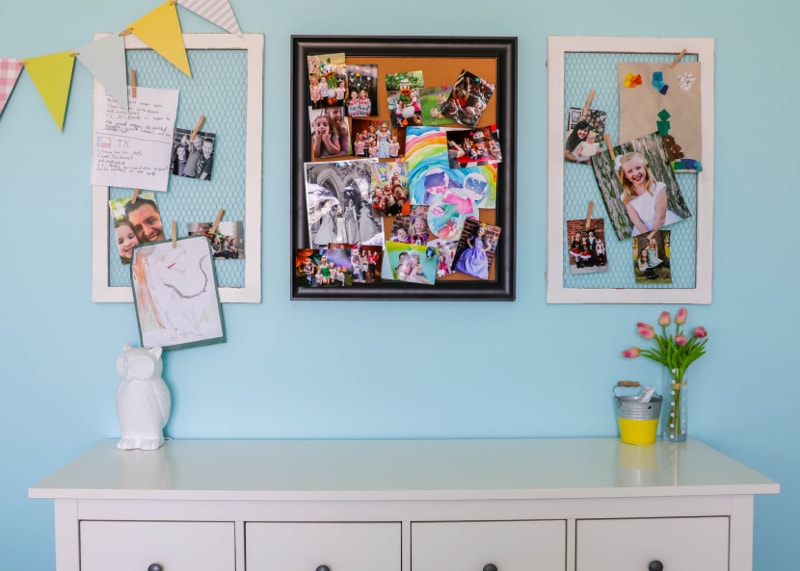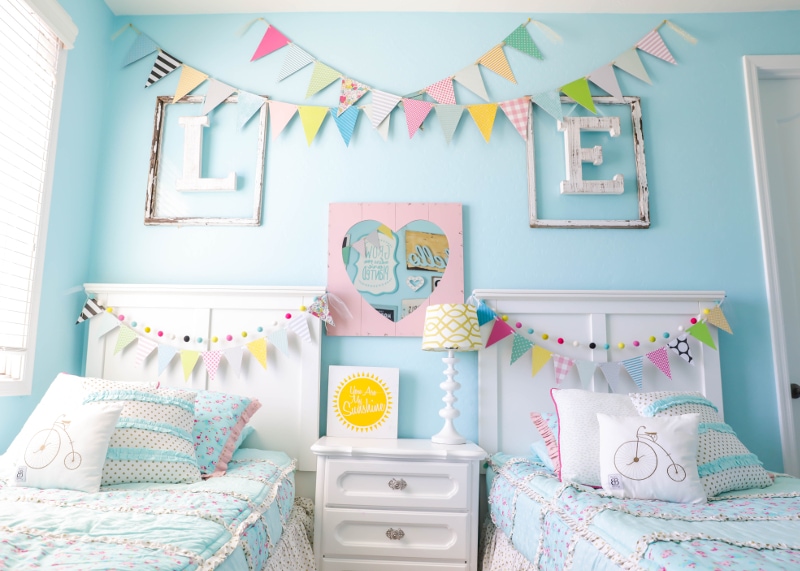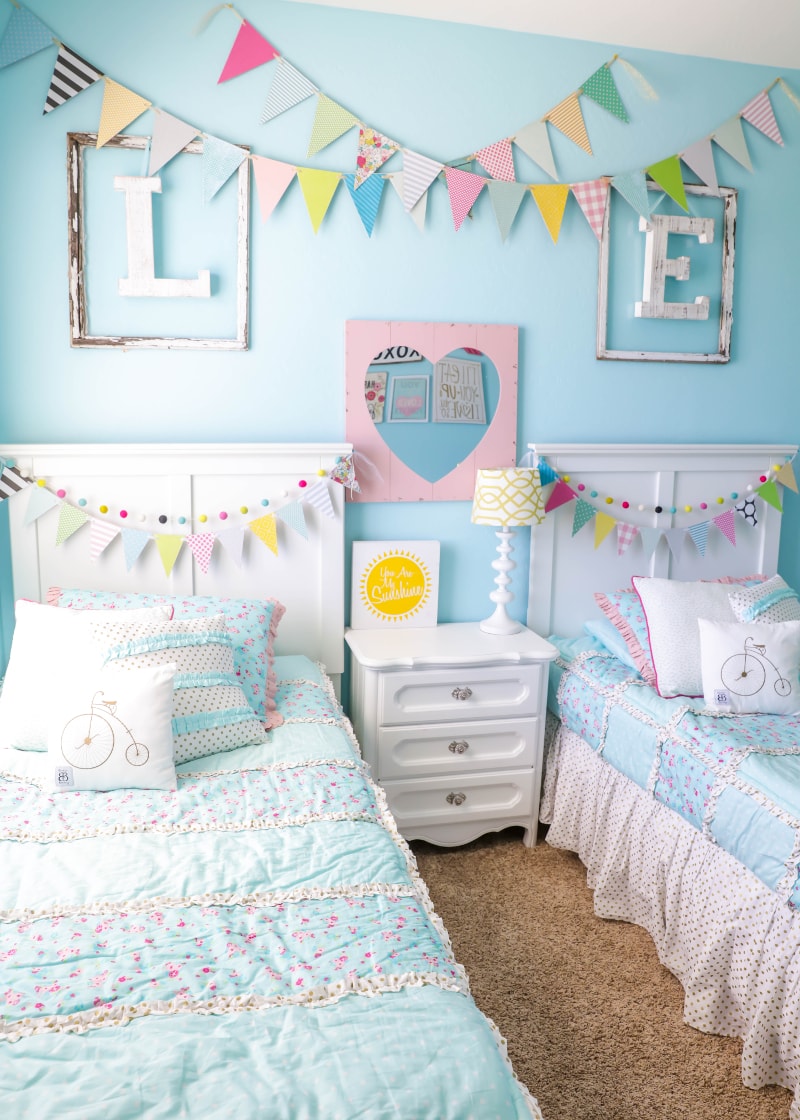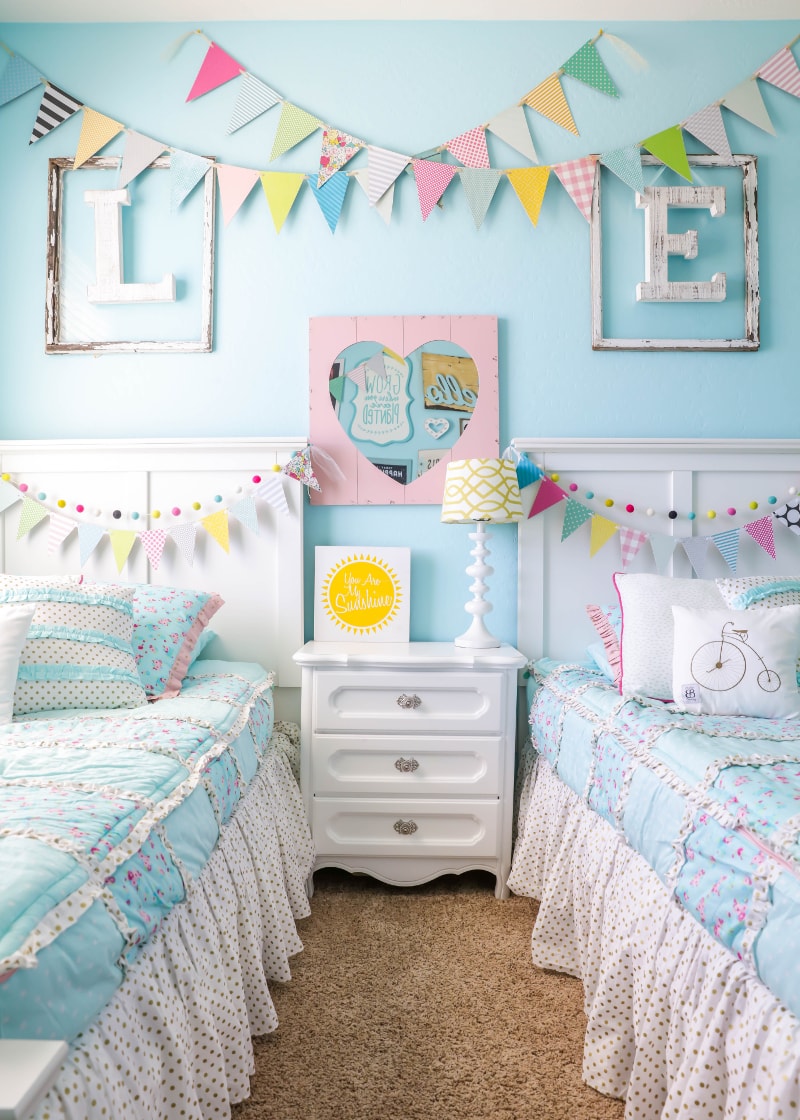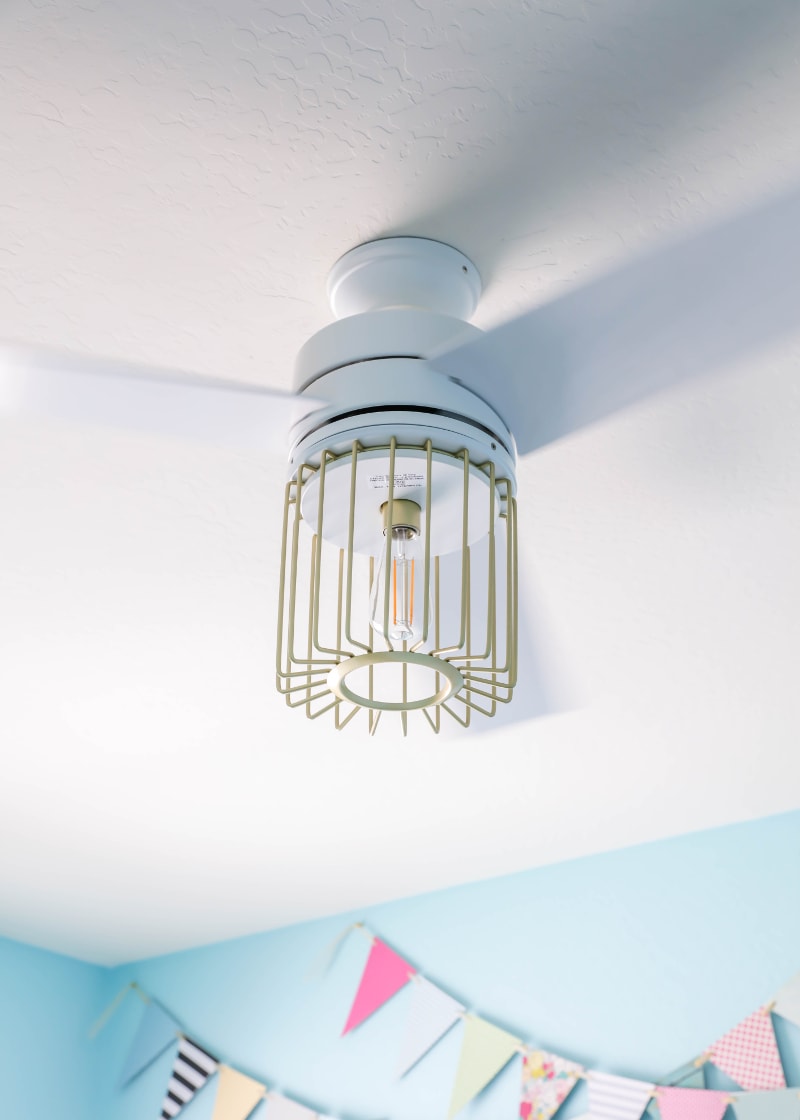 Modern White & Gold Ceiling Fan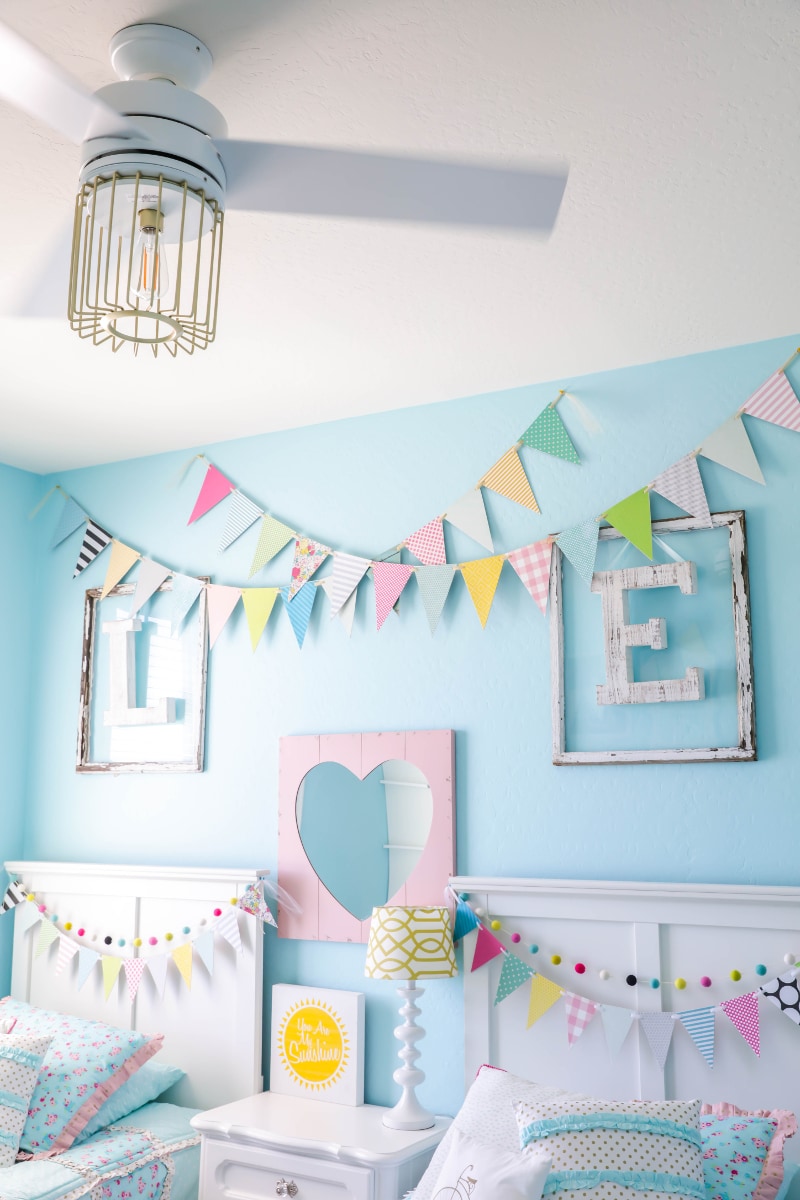 Another statement piece in the room was the fan. I spotted this Ronan 52 inch LED Indoor Fresh White Ceiling Fan on HomeDepot.com and immediately fell in love. It's been perfect for the girls' room and we loved it so much we also bought it for one of the other bedrooms. 😉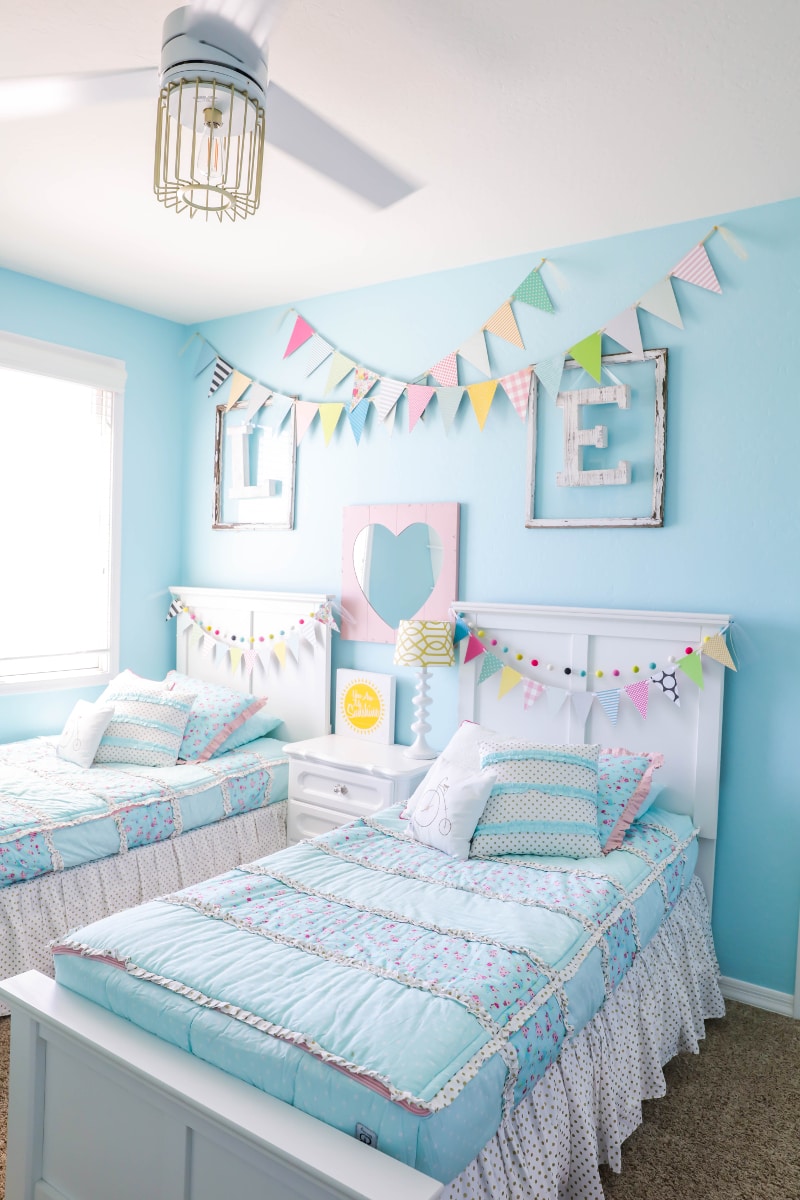 Last, but certainly not least, is the bedding. I first saw Beddy's Beds at a conference I was speaking at and LOVED the whole concept. They had so many cute designs and fabrics and were just so nifty!! They are pretty much like a sleeping bag for the bed! The kids love them, and I LOVE that the kids' beds always look made (and neat). We ended up picking out the Always Enchanting bedding for the girls' beds with the White Gold Bed Skirt. They were the perfect colors and add even more color and cheerfulness to the room. We haven't started working on the boys' room just yet but we already picked out the Game on Gray bedding for their bunk beds. I'm especially looking forward to having it on the bunk beds because they make things so easier when it comes to bedding on bunk beds!! ;D
Here is a closer look at the Always Enchanting bedding…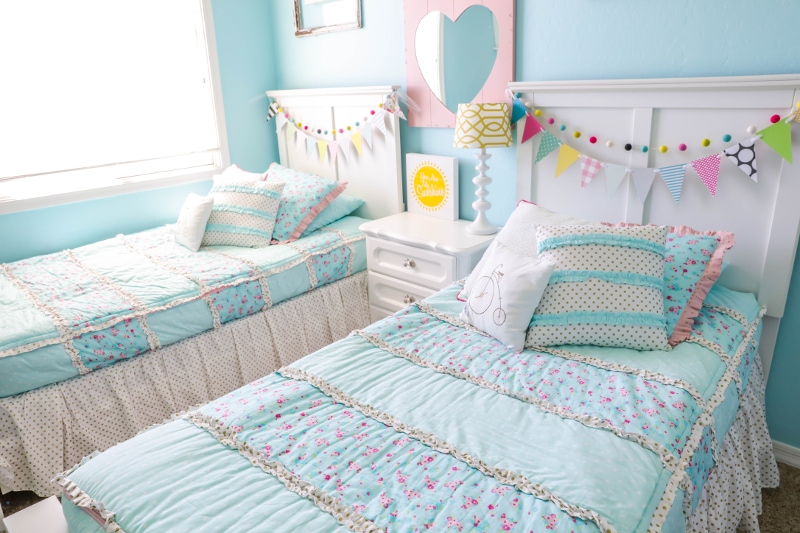 Always Enchanting bedding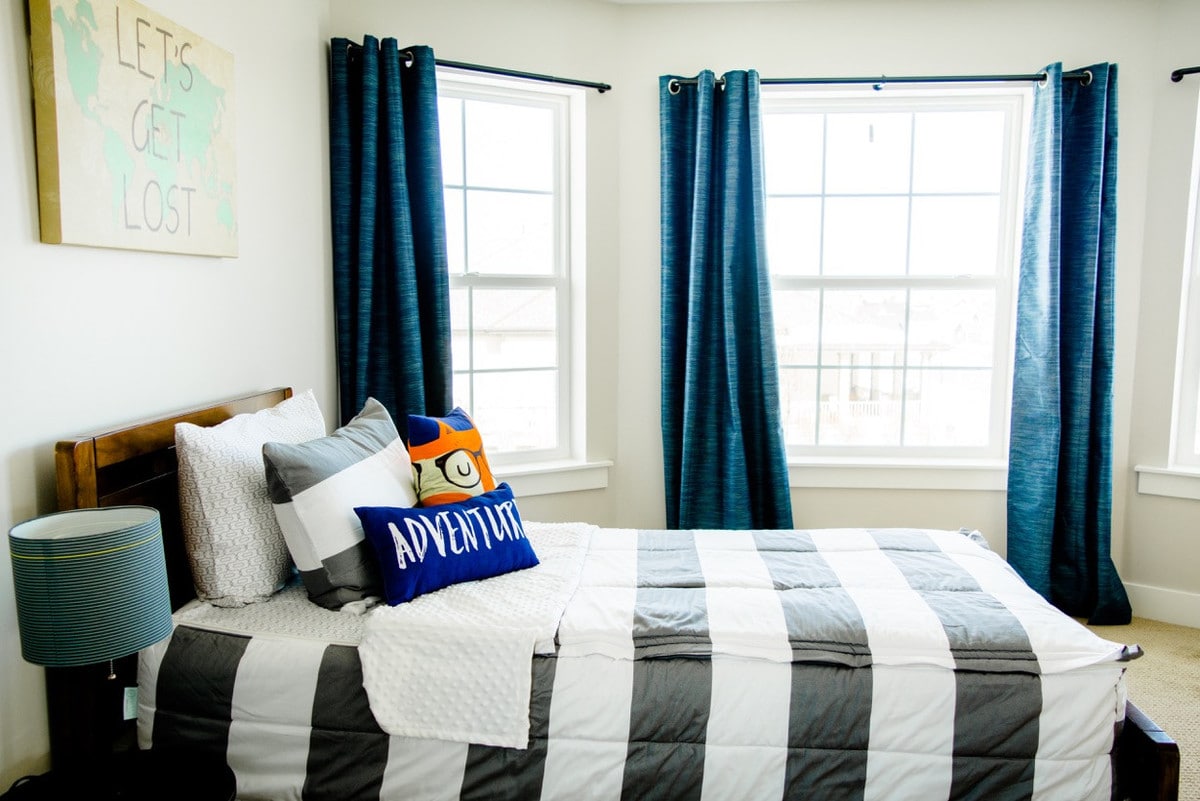 This is what the Game on Gray bedding looks like.
Beddy's recently added some new fabrics and bedding sets to their products, and I'm LOVING all of the new designs. If you are looking for convenient, awesome bedding be sure to check them out!! Here are a few of my new favorite sets…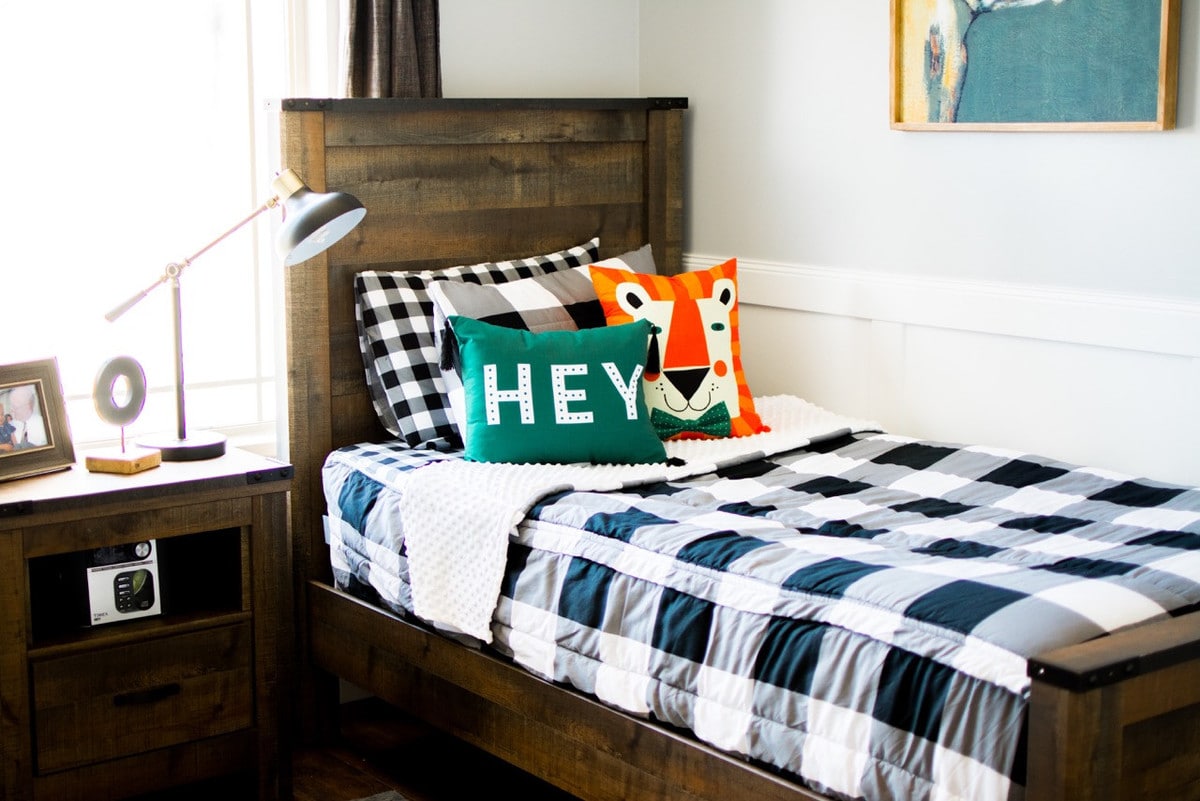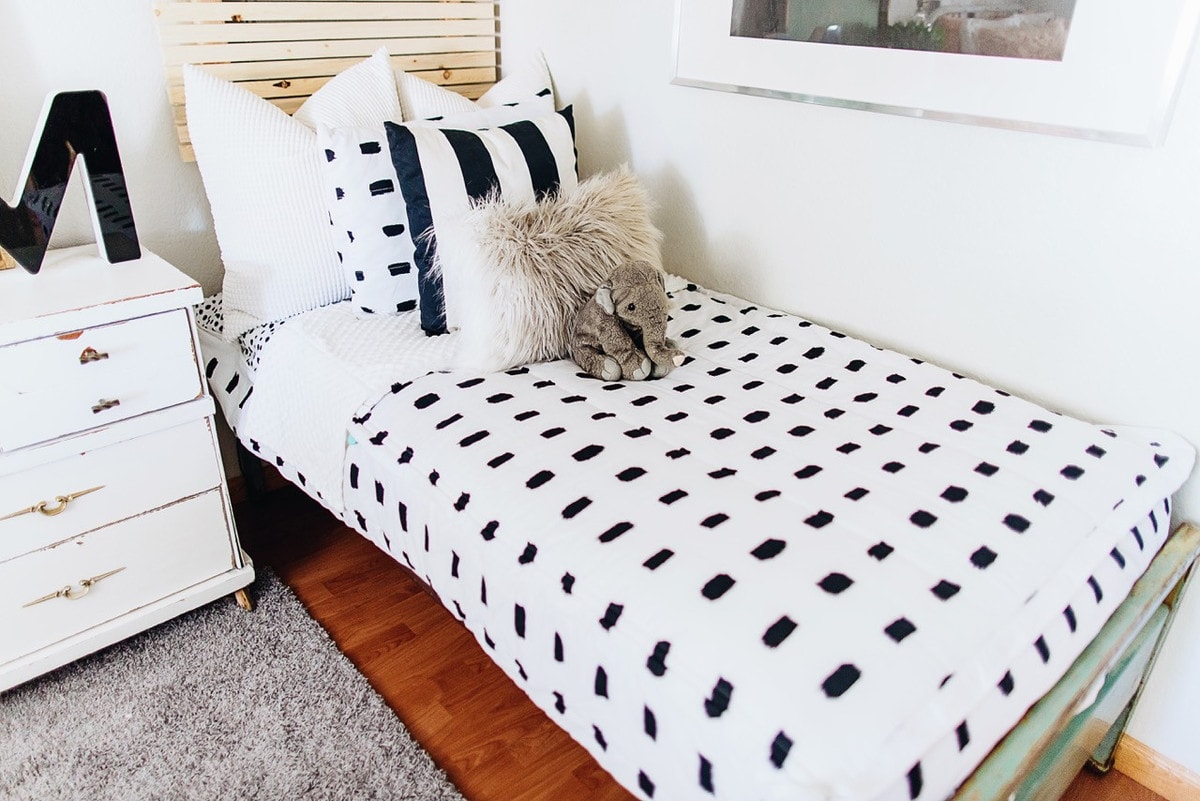 And here is just a little more info that shows just how awesome the Beddy's bedding is!!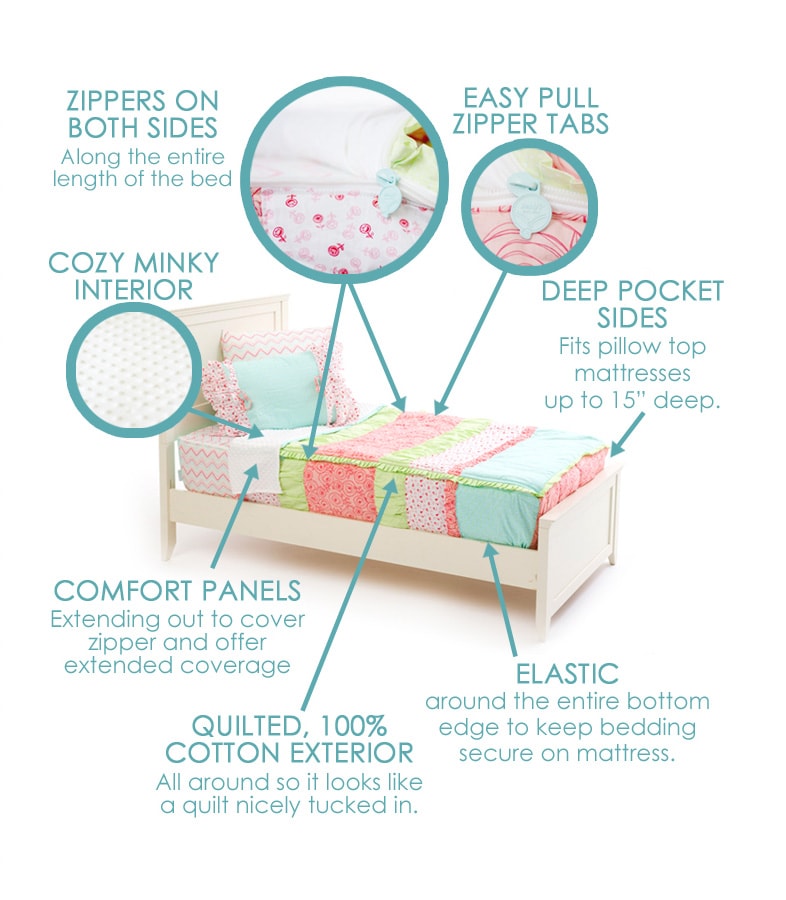 THESE ARE JUST SOME OF THE REASONS YOU NEED A BEDDY'S™:
Multifunctional This bedding works on every type of bed. From bunk beds to trundles to beds up against a wall. How about beds that have drawers under the mattress, or daybeds? Yep, this bedding works for that! It will also work in areas that are a tight fit like trailers or murphey beds where your traditional bedding won't work.
Clean Design "A clean place, brings a smile to your face." The design of our bedding is clean and streamlined. No bunching on the sides where there's too much fabric to tuck. You literally have a fitted comforter. Gone are the days of skinning your knuckles and hitting your head!
Comfort We have chosen the best fabrics for our design. It's soft to the touch and washes easily. The inside fabric is a "cuddle" fabric that kids (and adults) will love because of its softness and warmth.
Fashion The clean design and simple colors of our bedding gives you the opportunity to accessorize it in a way that fits your personality. You can go from soothing serenity to sport themes to bright designs.
Ease "Making your bed with ease one zip at a time." In a crazy, busy world we are all looking for something to make life easier. Having your child be able to make their bed with no complaining, because they CAN finally do it on their own is a step in the right direction.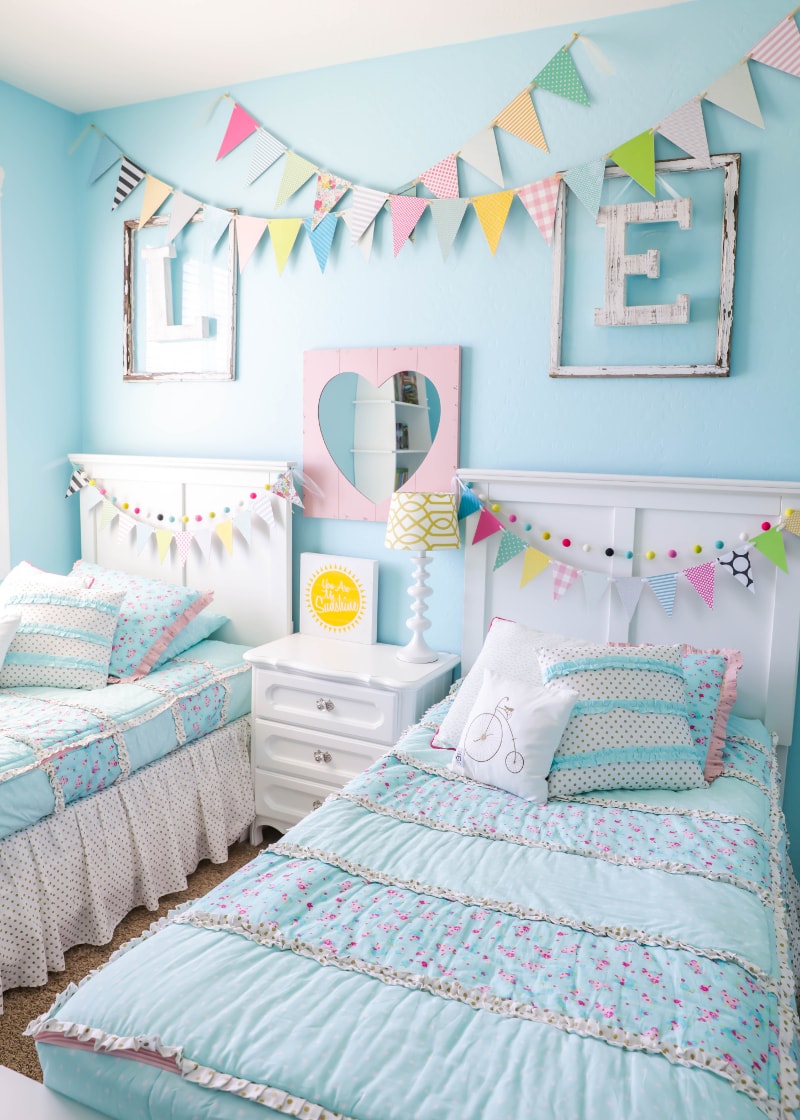 Looking at all the bright colors and pieces in the girls' room makes me so happy!! The girls love it, and I love that it is a perfect reflection of their fun and happy personalities. Having said that I wanted to share some tips for decorating ideas for Kids' rooms.
DECORATING IDEAS FOR KIDS' ROOMS:
Kids want to love their rooms too, so get their input when planning. They can help pick colors or bedding or even signs to hang up.
Make sure you add items to the room that can help your kids stay organized. We have desks, drawers and lots of bins in their closet so they can keep things clean.
If possible, have a place for the kids to create. Desks are perfect for this and give them a place to do homework, draw, color or even journal.
Keep major furniture pieces a color that will be popular for years to come. They may want the hot pink bunk bed, but they may not like the color in a few years. Go for white instead and add the hot pink with bedding, pillows and wall decor.
Kids like to collect things, so have a place for them that can help with this. Cork Boards, bins, magnet boards can all be helpful for placing all their pictures/postcards/photos.
Kids love lighting, so be sure to add this to their room for good use. We have the light from the fan, but also have a lamp for them for reading. We also have a night light for bedtime.
Hopefully these tips can help you when decorating your own children's bedrooms. 🙂
Here is a list of all the details from the room makeover:
Paint Color – Sherwin Williams SPA
FURNITURE:
LIGHTING
BEDDING from Beddy's
WALL DECOR

Etsy, Hobby Lobby, HomeGoods
ENJOY!