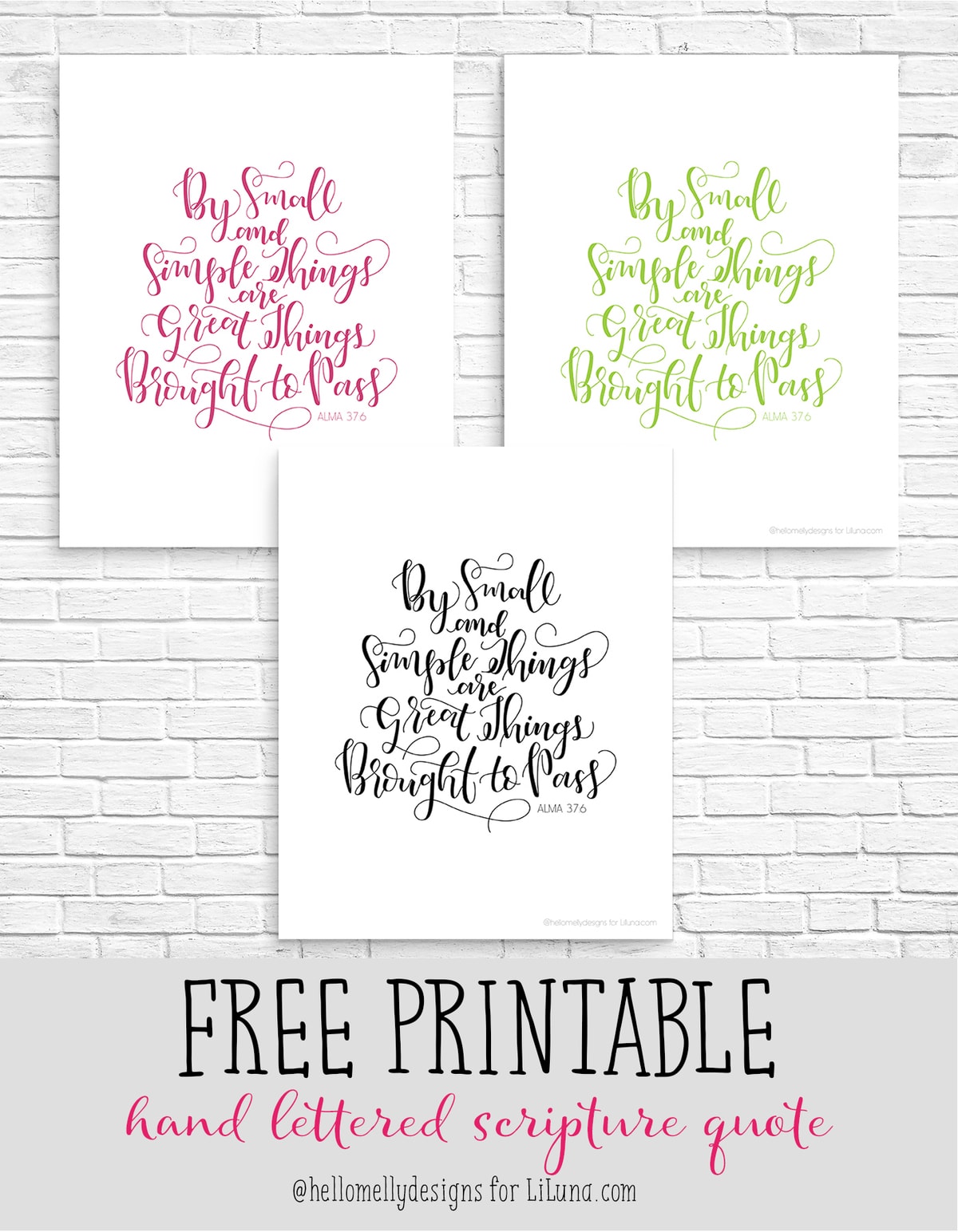 It was just a few weeks ago that I shared another quote with you that said, "Big things often have small beginnings."
You'd think the quotes are very similar, and from first glance, they are, but this quote means so much more to me. You see, the quote is a scripture verse. "By small and simple things are great things brought to pass." You could apply it to so many aspects and situations of life, but this verse has me thinking about MOTHERHOOD.
I have 5 kids. I love my children so very much, but at times, I feel like I'm not being the best mom I can be. I have a lot on my plate, and because of that I feel like I can't focus on all parts of my life that need focusing. I just can't be…
A WONDERFUL WIFE
AN AWESOME MOM
A GREAT DAUGHTER & SISTER
AN AMAZING BLOGGER
A THOUGHTFUL FRIEND
AN ORGANIZED HOMEMAKER
A SAVVY BUSINESS WOMAN
…ALL THE TIME!
Now, I know I can't do it all but the thing I want to focus on most in 2016 is being the best MOM I can be. With that in mind, I've often overwhelmed myself thinking of all the things I "should" be doing to be the perfect mom, but I've stopped that after reading this scripture. By small and simple things… that sounds way more do-able, right?!
But, what items classify as small and simple??
There are so many things I would love to be able to do, but I'm focusing on these things…
Show and tell them how much I love them.
Serve them.
Encourage them.
Teach them manners.
Read to them.
Show a genuine interest in them.
I wish I could say I ALWAYS did these things, but I don't. Sometimes I'm too busy to read them a book at night. Sometimes, I say, "ahuh" and not REALLY listen to all they are saying. I don't try to do these things on purpose, and I think most can relate, but I want to change. I want to be a "great" mom, and although I have a lot to change, I think it's possible.
"By small and simple things, are great things brought to pass."
I truly believe that by doing the simple things I listed above, it can have a GREAT impact on my family. I think we'll all be happier. I think we'll all be more loving. I think we'll be closer. Those are the things I want for my family, and I'm excited for that as I work on those simple tasks I've given myself.
SO… bottom line: Great things CAN happen because of the small things we do and the simple decisions we make each day. We just have to make sure we remember that. 😉
I'll be printing out this hand-drawn quote from Melanie of Hello Melly Designs to make sure I keep these new goals in mind. And lucky for you, Melanie made this in 3 different colors for you to choose from.
AVAILABLE IN BLACK: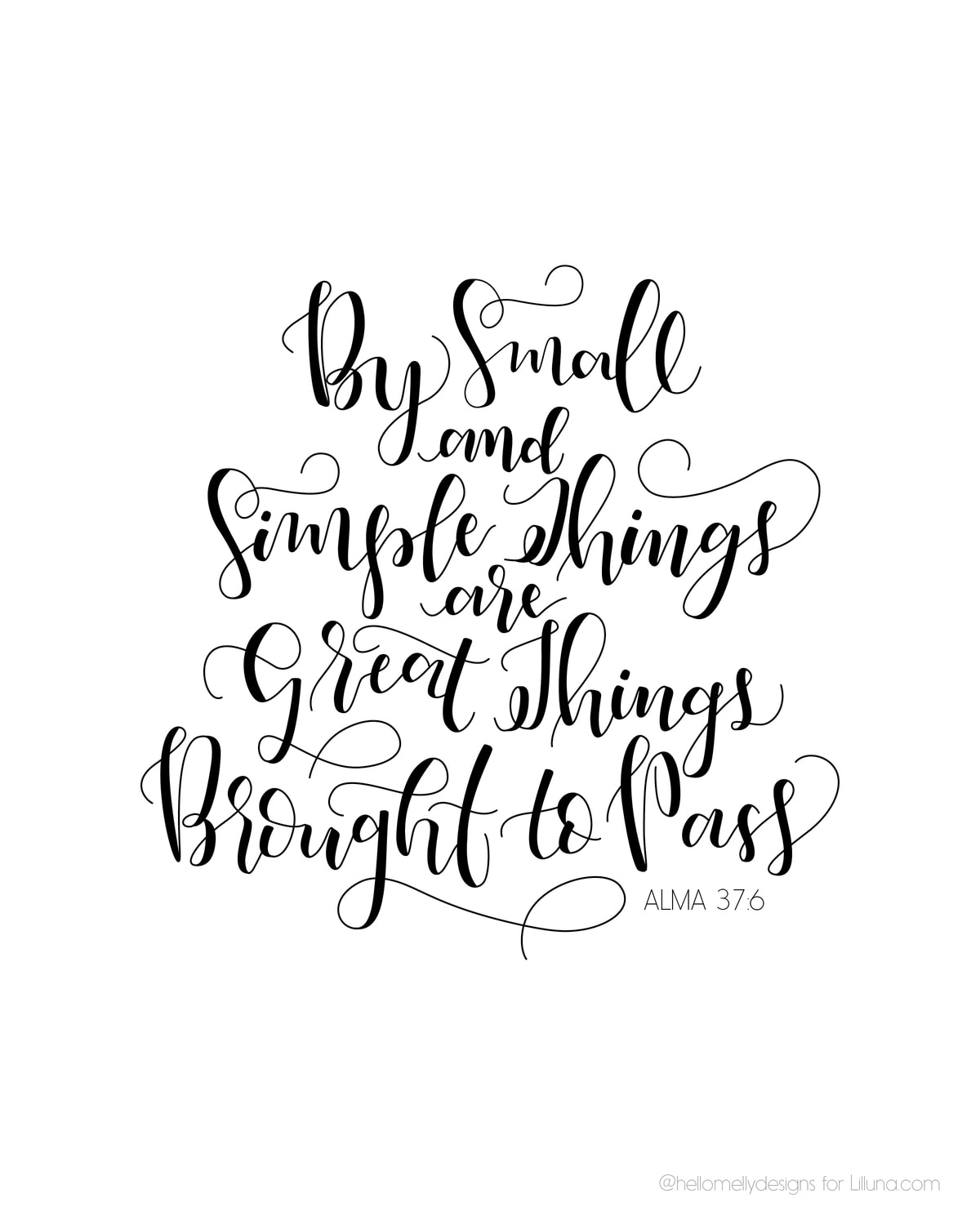 AVAILABLE IN GREEN: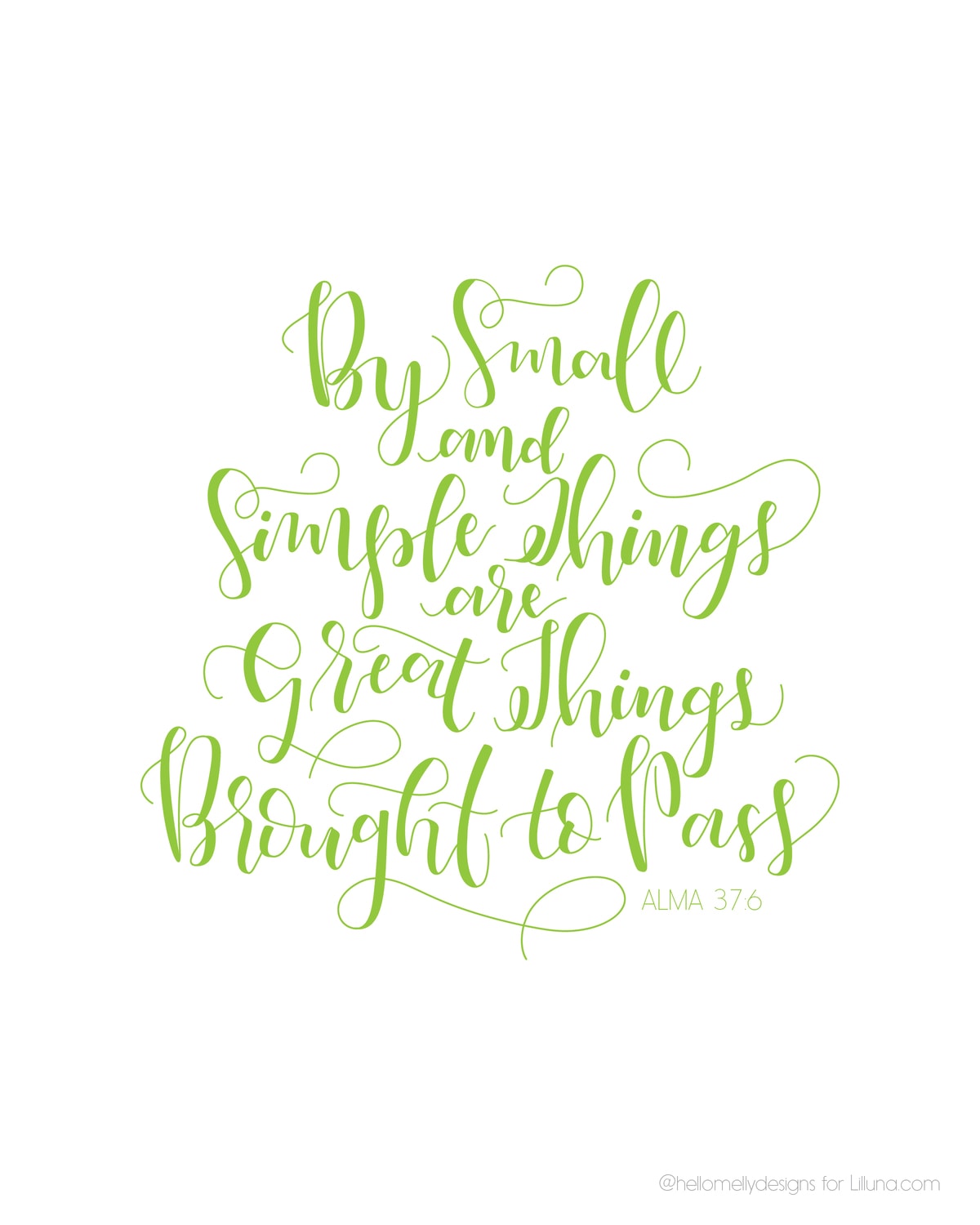 AVAILABLE IN MAGENTA: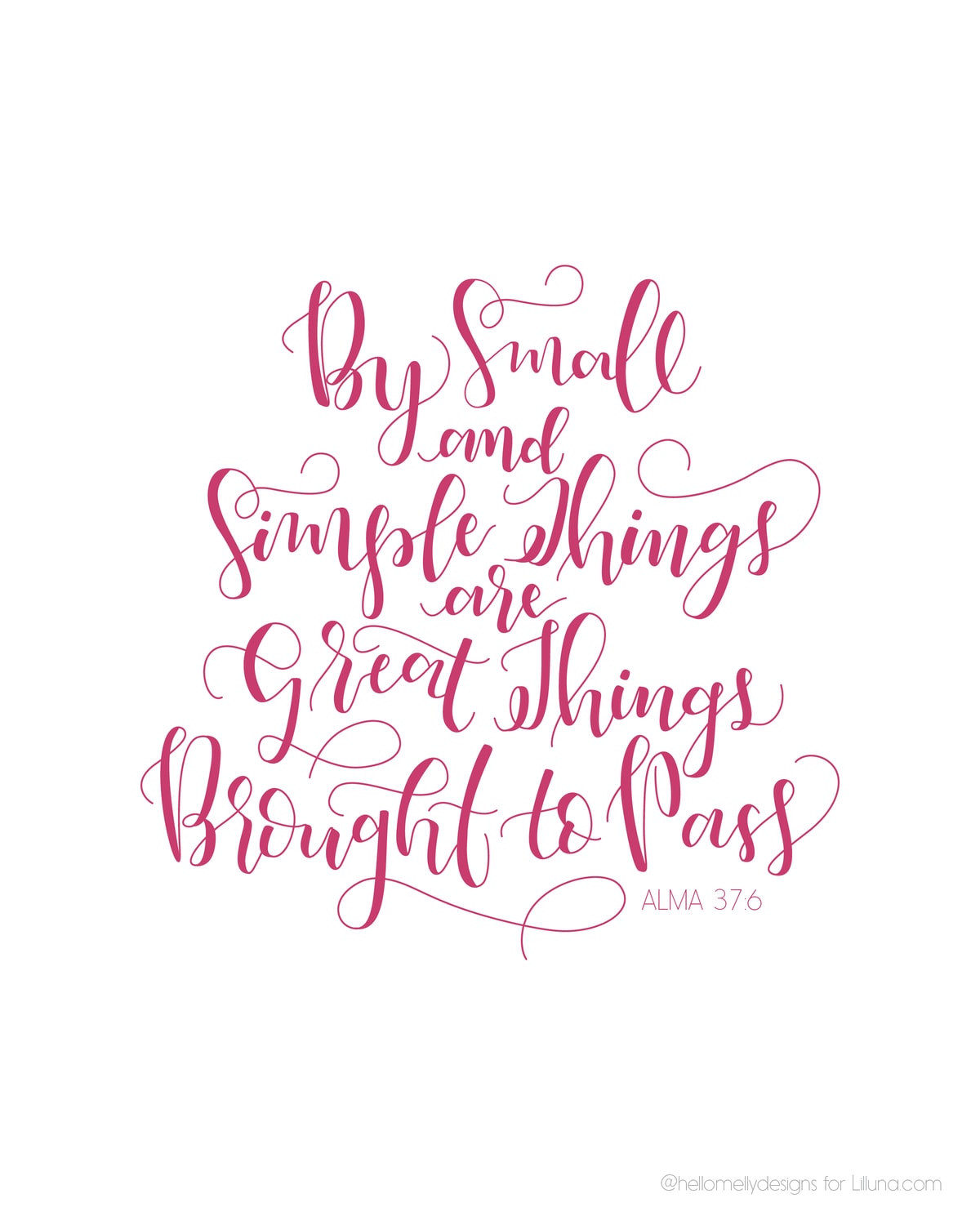 TO DOWNLOAD, CLICK ON THE LINK BELOW:
By Small and Simple Things Printable
TO PRINT AT A DIFFERENT SIZE, click on the print you'd like and then right-click and SAVE. Open it in a program like word and re-size. PRINT it at the size you'd like. 😉
For more inspirational quotes, check out: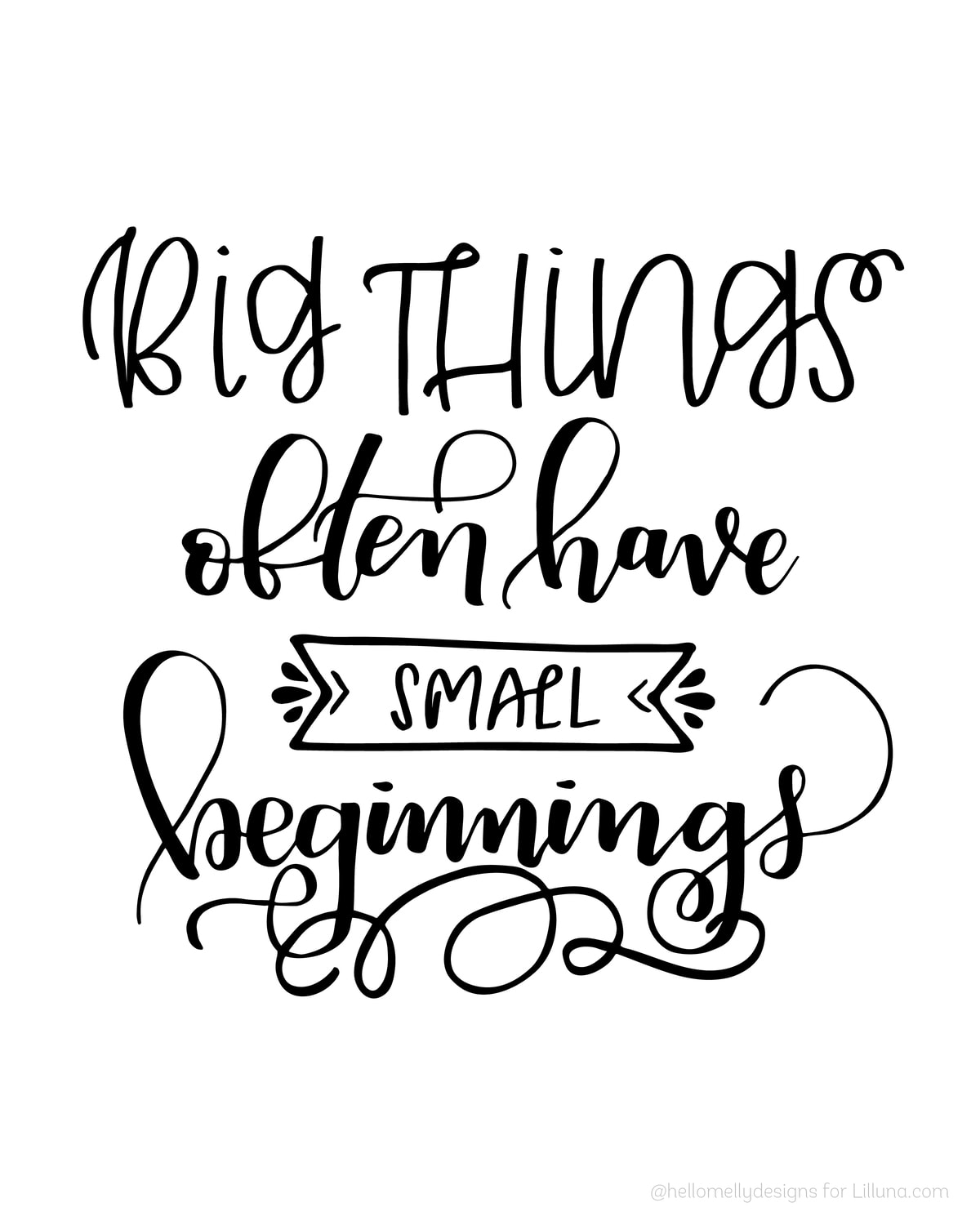 Big Things Often Have Small Beginnings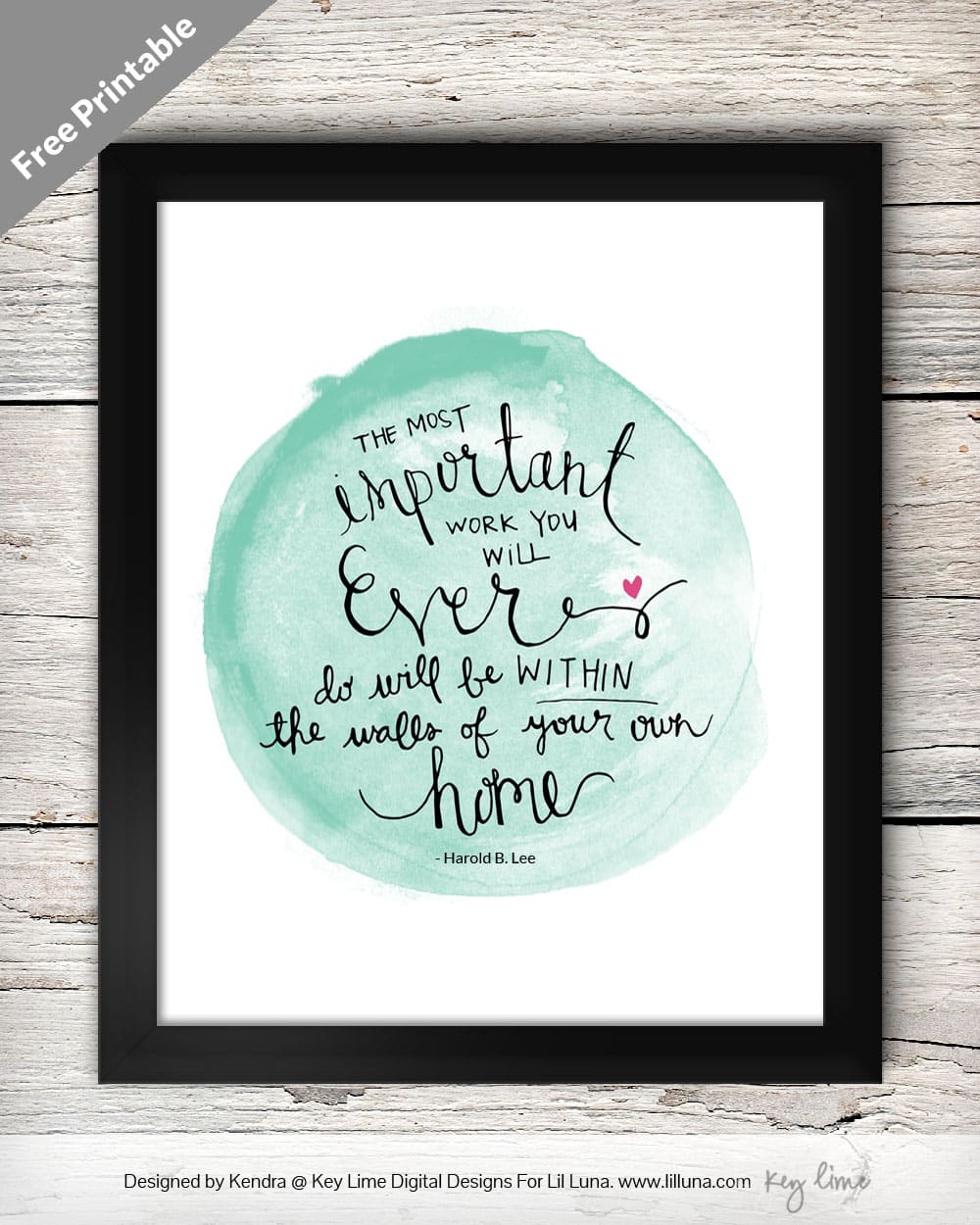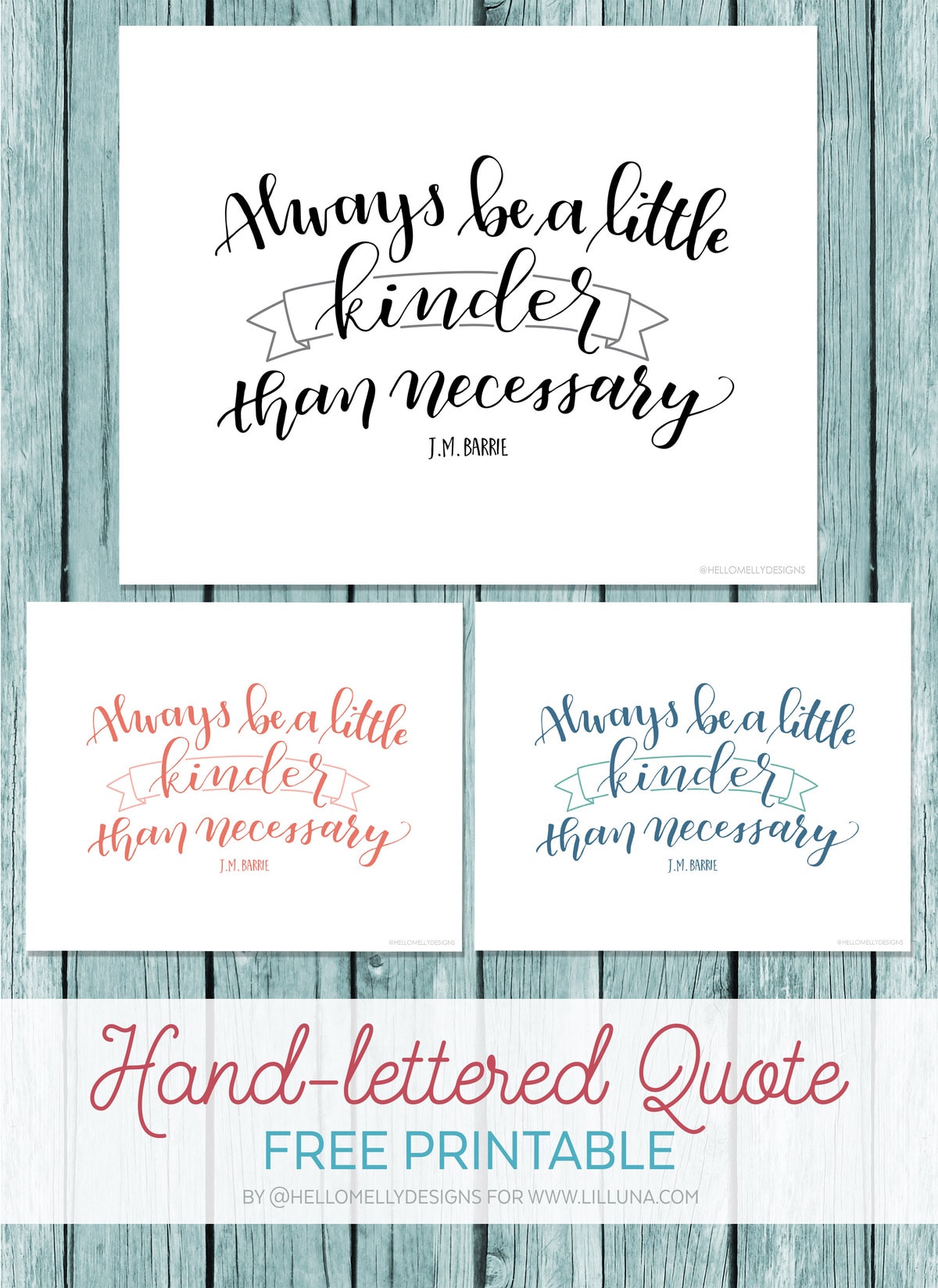 Always Be A Little Kinder Than Necessary
For all FREE prints on the site go HERE.
For all Church ideas go HERE.
And get weekly emails with monthly freebies by signing up for the Lil' Luna newsletter. 🙂
For even more great ideas follow me on Facebook – Pinterest – Instagram – Twitter – Periscope.
ENJOY!