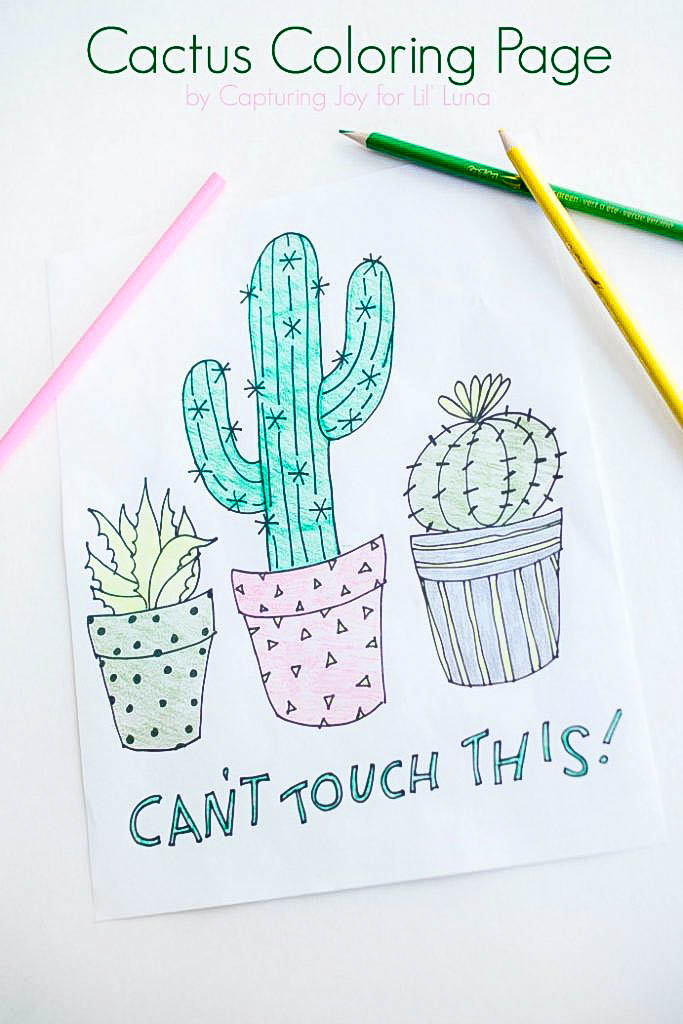 Happy Summer!
My name is Kristen Duke from Capturing Joy, and I'm so delighted to share a guest post today with coloring pages! I love coloring pages, my kids love coloring pages, and I love to SHARE inspirational and fun coloring pages on my site, and that's what I've got for you today! Make sure you read through this entire post, and watch the fun video I put together…it's my birthday today, and it's ALL about birthday fun!
But first, I've got this adorable "Can't Touch This" cactus coloring page to share with you.
I don't know about you, but I LOVE the coloring pages craze that's boomed lately. For years, I've spent time looking around the computer for cute coloring pages for my girls, and I finally decided I wanted to create some. I love my kids to color pages that have a subliminal message of happy or hope or just something I want them to think about.
This coloring page made me think of Kristyn, my dear friend who runs this amazingly creative site. We've been friends for over 4 years and met blogging, but with her recent move back to Arizona, I thought she'd love this cactus page. Not sure how many of OUR kids will get the "Can't Touch This" reference, we many need to pull out the MC Hammer song for them!
Download the "Can't Touch This" coloring page here: Can't Touch This Cactus
But wait…there's more!!
Today, on my site, I'm sharing a free birthday coloring page printable to celebrate my birthday and usher in my new 25 Birthday Coloring Page e-book! I had noticed that were not a lot of BIRTHDAY coloring pages out there, so I decided to do something about that.
Here is a fun little video I put together for the birthday book:
Isn't that so fun? My daughter and her friend did a great job as my actresses! So head to my site to grab the below print for FREE, and see more info about the book to purchase if you'd like.
CLICK HERE TO READ MORE ABOUT THE BIRTHDAY COLORING BOOK!
Thanks for having me!
-Kristen
Follow along with my weekly newsletter for family fun ideas delivered straight to your inbox (it's FREE)!
SUBSCRIBE HERE
———————————–
SO, SO cute!!
Thanks for sharing the cute printable, Kristen!! AND Happy Birthday!!
For all FREE prints go HERE.
ENJOY!