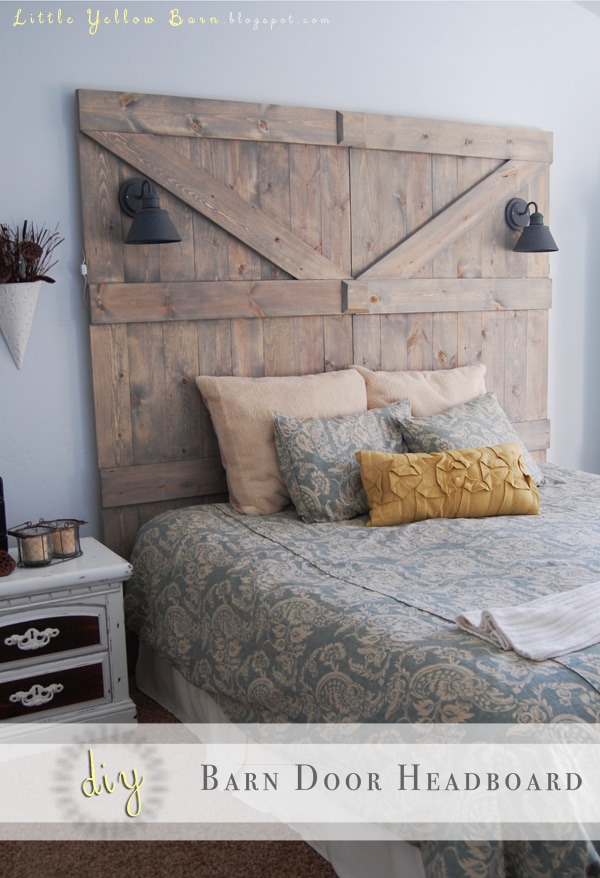 Hey! I'm Ashley from Little Yellow Barn. Jourdan and I have been blogging for a year now and couldn't be happier to have been chosen as contributors on Lil' Luna!
I've been drooling over barn door headboards for years now and finally found the perfect one. Simple to make, fit the budget, and most importantly, a willing father to help! My dad came into town for the holidays and we busted this thing out in probably a total of 8 hours all together. It was insane. And the price… that's the best part. The grand total was under $200!
This was my inspiration for the headboard. I saw it on Pinterest months ago and loved its simplicity…
Unfortunately it didn't link back to any of the correct places and I couldn't find a tutorial, so it was kind of made up as we went 🙂 . So here it goes…
DIY Barn Door Headboard
Supplies:
Wood (1×6 8ft) $5.32 each at Home Depot, 22 pieces
Miter Saw
Drill
Hammer
Pipe Clamps
Wood Glue
Screws
Stain
Degreaser
Measuring Tape
Pen
Ok, take a deep breath before you get started, it seems like a lot with too many supplies, but it's actually pretty easy!
I wanted my headboard 7ft tall (perfect for my ceiling height and still able to fit through standard doors and awkward hallways easily) so start out by deciding how big you want it. Keep in mind the sizing I used is based on a king bed. Cut your vertical pieces of wood to the height you want.
Each barn door will be created separately. First, put together 8 of your vertical boards UPSIDE DOWN and tighten with pipe clamps. Measure the boards across and cut a horizontal piece to fit.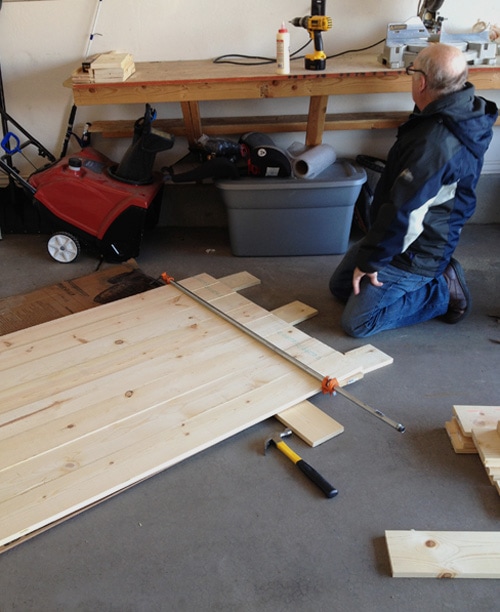 Put wood glue on the back of the board to secure it better.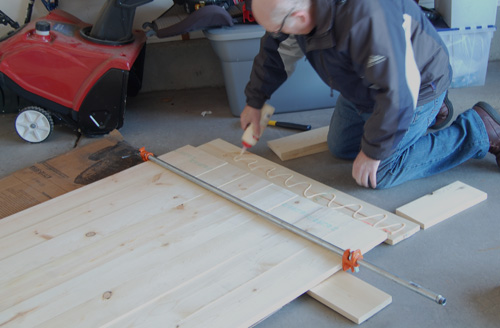 Place the board underneath and use a hammer to secure it and make sure it's even. Then screw in the board, using 2 screws per vertical board. (Sorry, no screws shown here yet. Keep reading for a visual of the back.)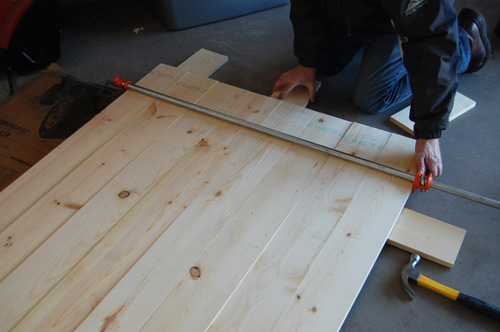 Repeat these steps 3 more times. One at the bottom and two in between, measuring first to make sure they're even.
Stand the barn door up and holding your top diagonal piece, measure it and use a pen to mark the cut. Repeat for the bottom diagonal piece.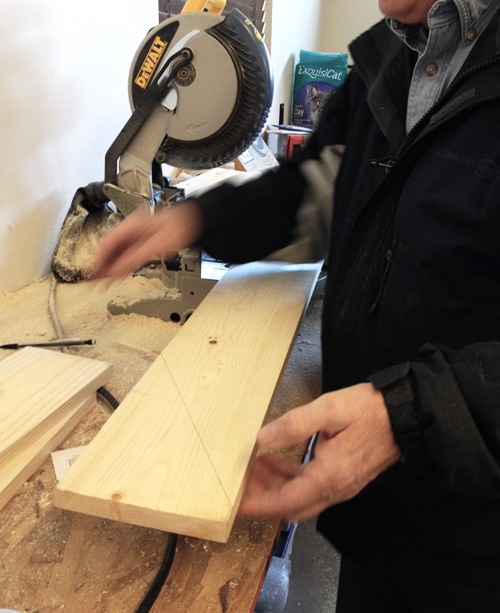 Cover back with wood glue.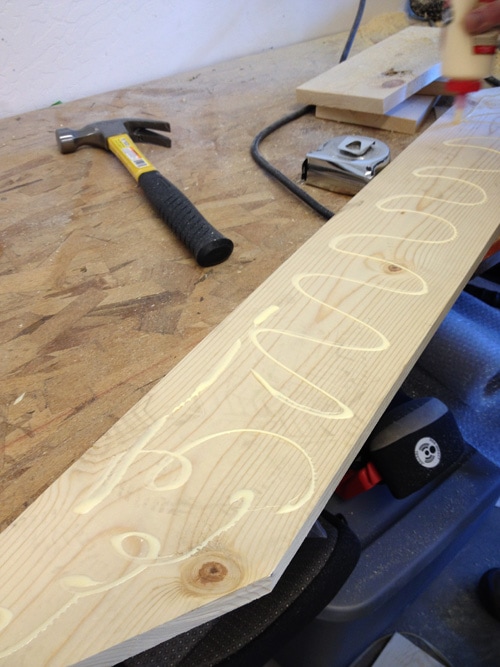 Fit in place. If it doesn't quite fit perfectly you can shave off a little at a time with your saw.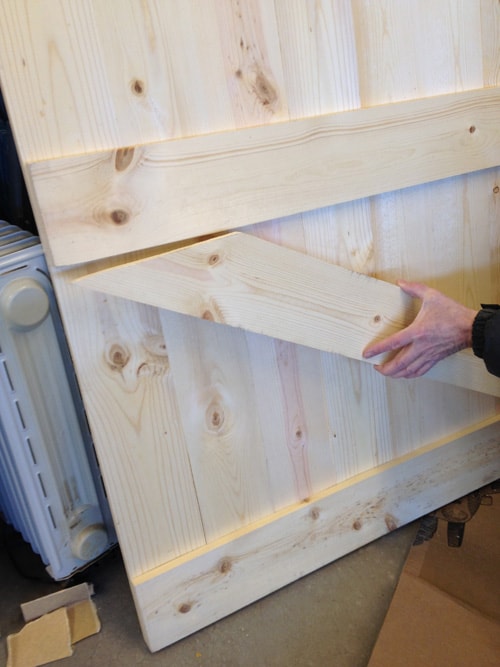 While the door is still upright put a screw on each end of the diagonal pieces (through the back) to secure the board in place. Then lay the entire door flat so you can drill the other screws into the door. Use a board as your guide so you don't drill your screw through the front.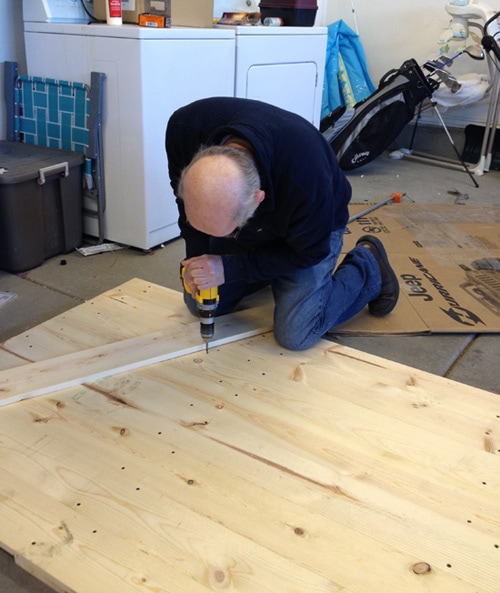 This is what the back should look like with all the screws in place…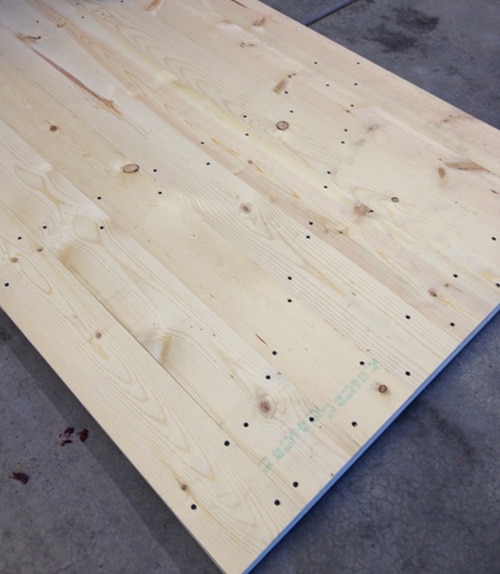 Repeat steps to complete the other side, making sure your diagonal pieces are opposite. When your doors are finished give them a quick sanding, then lift the doors up and smile 🙂 !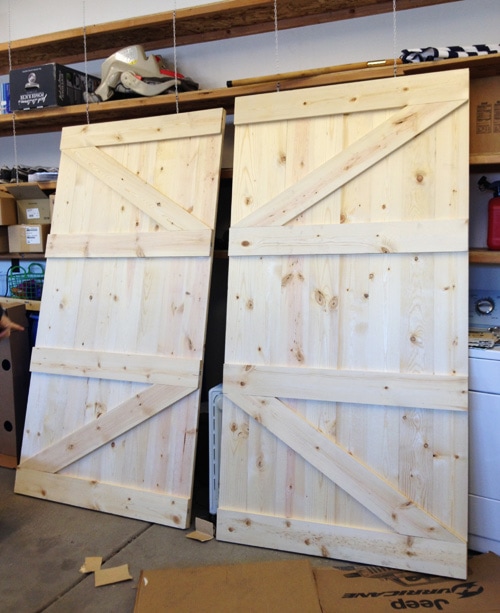 I used a few scrap pieces of wood to test colors and ended up with a mixture of these stains: Rust-oleum "Sunbleached" and Minwax "Classic Gray". (Not 100% sure you're supposed to mix brands, but it worked, so I went with it! 🙂 )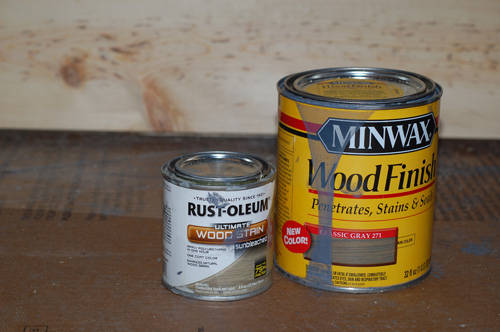 Brush stain on with a paintbrush and quickly wipe off. My stain (of course) took a lot darker on the actual barn door, so I used a wet rag to apply, then rubbed with a degreaser to remove some of the stain and give it that worn look. I ended up scrubbing quite a bit to get the look I wanted.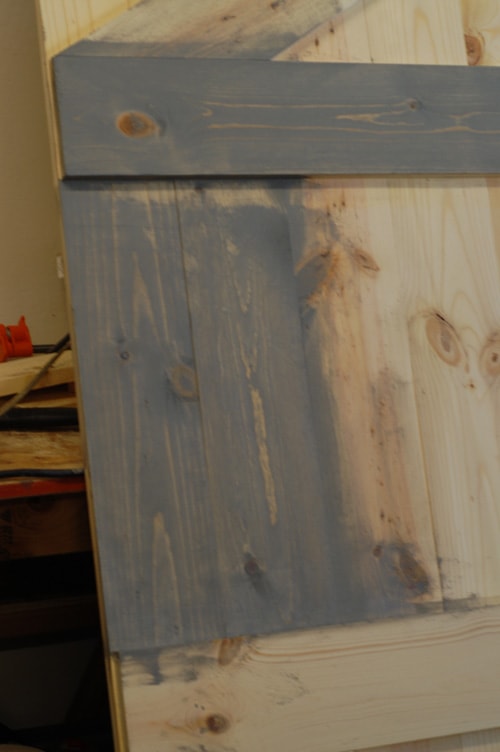 When you're happy with the color, wait for it to dry then place your lights (optional). Drill a hole for the cord to come through the back and screw the lights into the board where you want them.
To hang my headboard we screwed three small pieces of wood into the studs of my wall, then drilled three screws diagonally into the top of the headboard and straight through those pieces.
When it was finished one door was sticking out a little more than the other (which was fine by me!), but my dad decided it wasn't good enough so he cut square, angled pieces to connect both doors.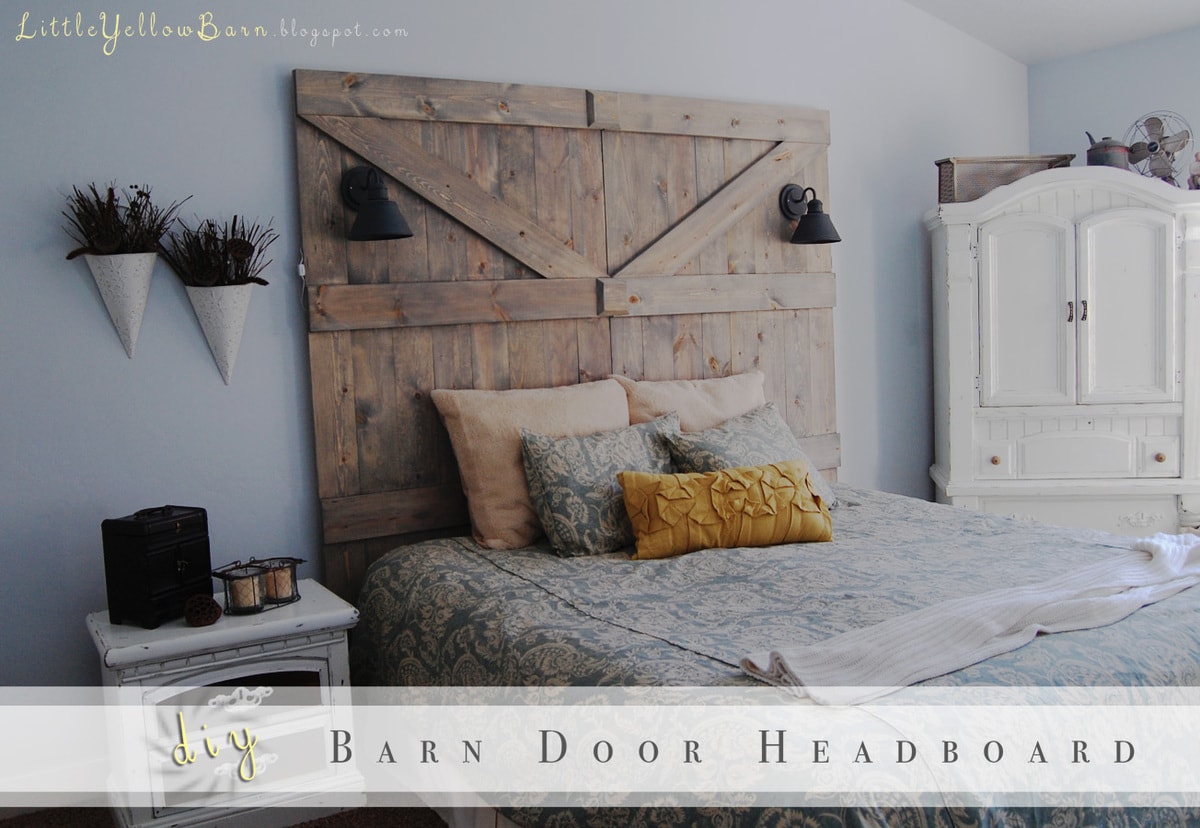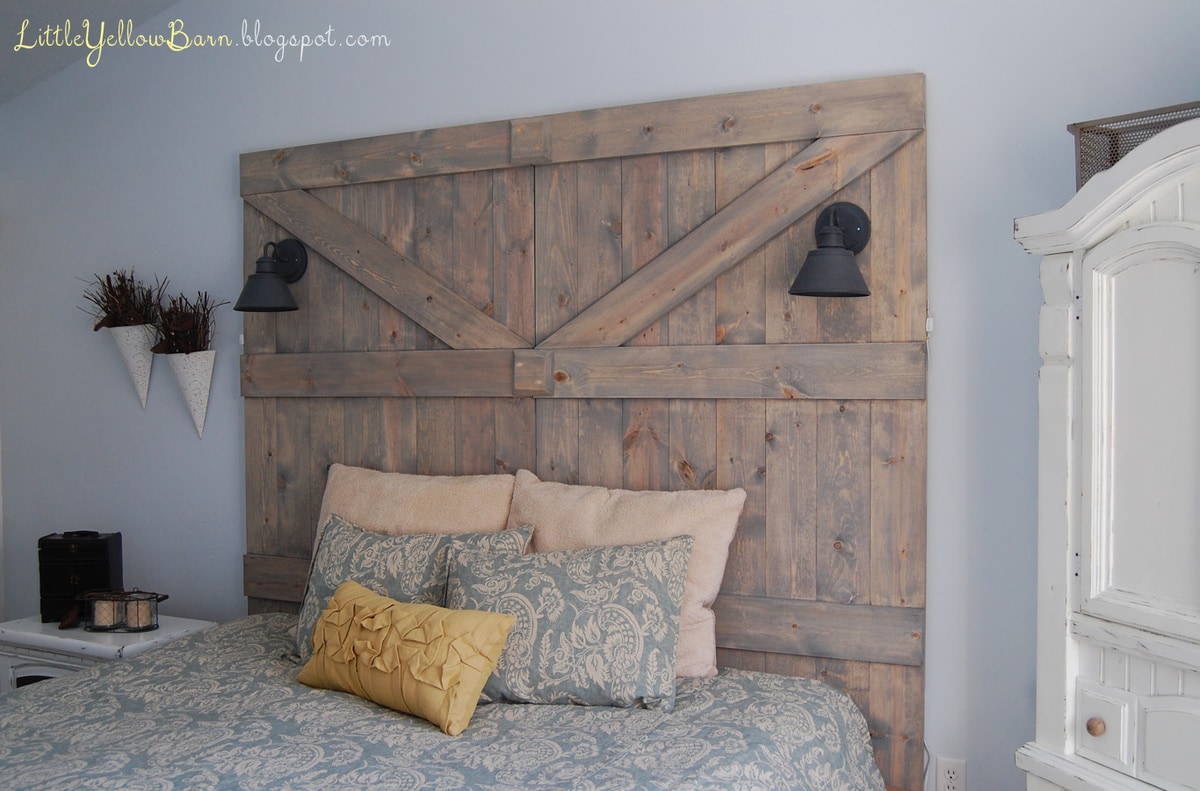 I could not be happier with the results! I finally have the bedroom of my dreams and L.O.V.E walking into my room every single time! It's fun, it's different, and totally me!
If you have any questions about it I'd love to help! Send an email to [email protected] .
——————————————————-
How gorgeous is this headboard!? I think I'm in LOVE!!
Be sure to go to Little Yellow Barn for more fun projects from Jourdan and Ashley, and
for more information about her please go HERE.
For more great DIY projects be sure to check out: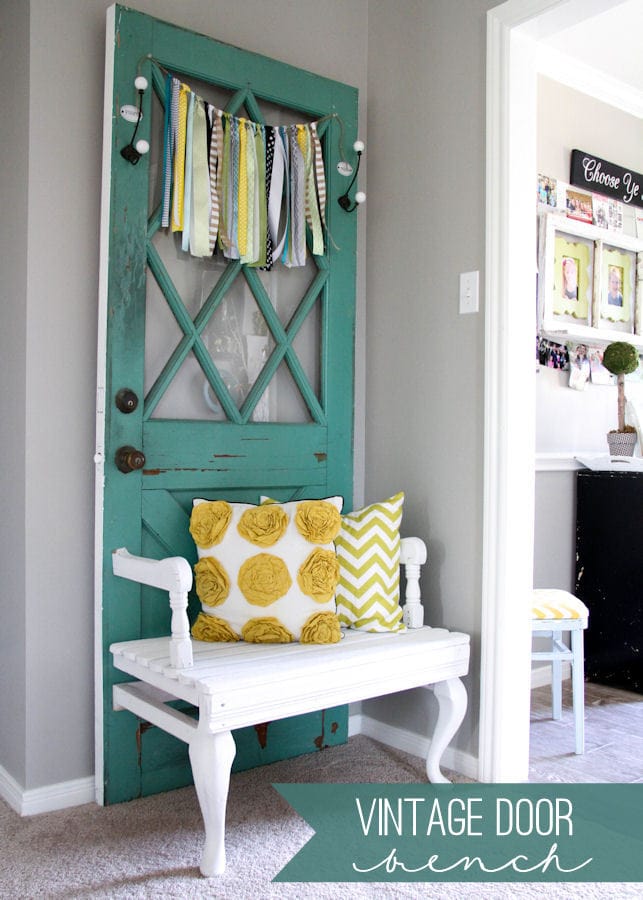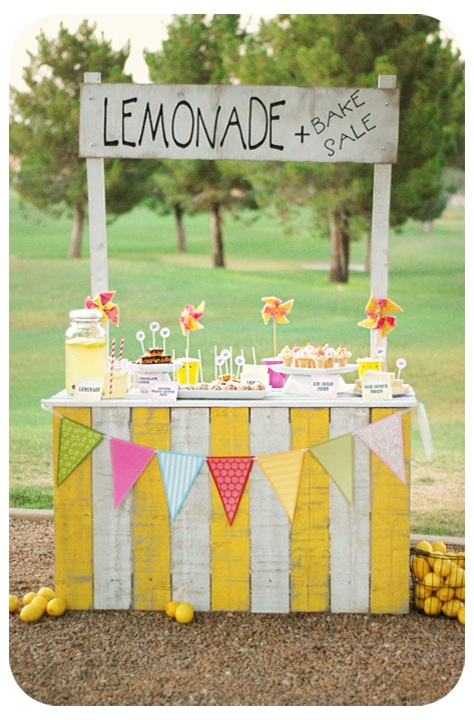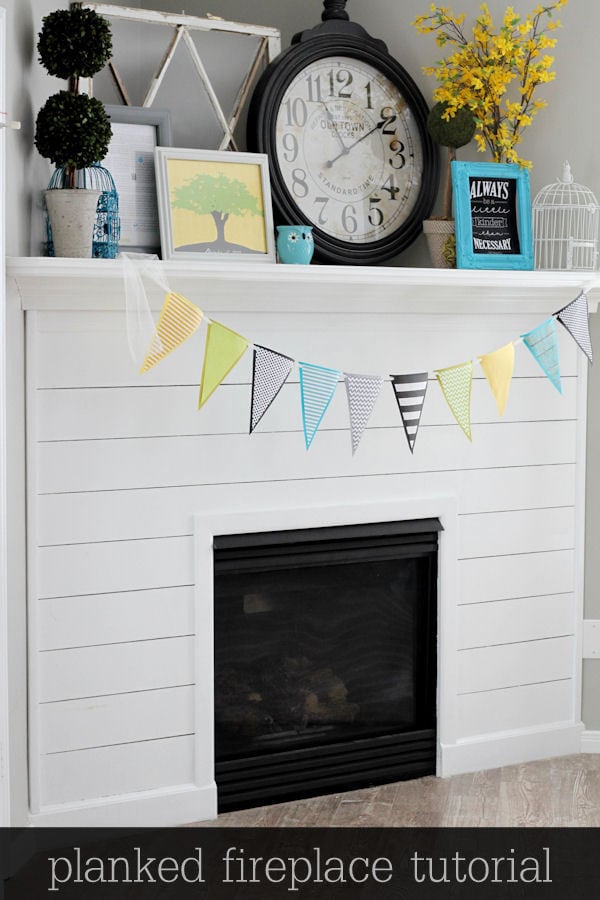 For all DIY projects go HERE.
For all Decor ideas go HERE.
And get weekly emails with monthly freebies by signing up for the Lil' Luna newsletter. 🙂
For even more great ideas follow me on Facebook – Pinterest – Instagram – Twitter – Periscope – Snapchat.
Don't miss a thing – Sign up for the Lil' Luna Newsletter today!
ENJOY!