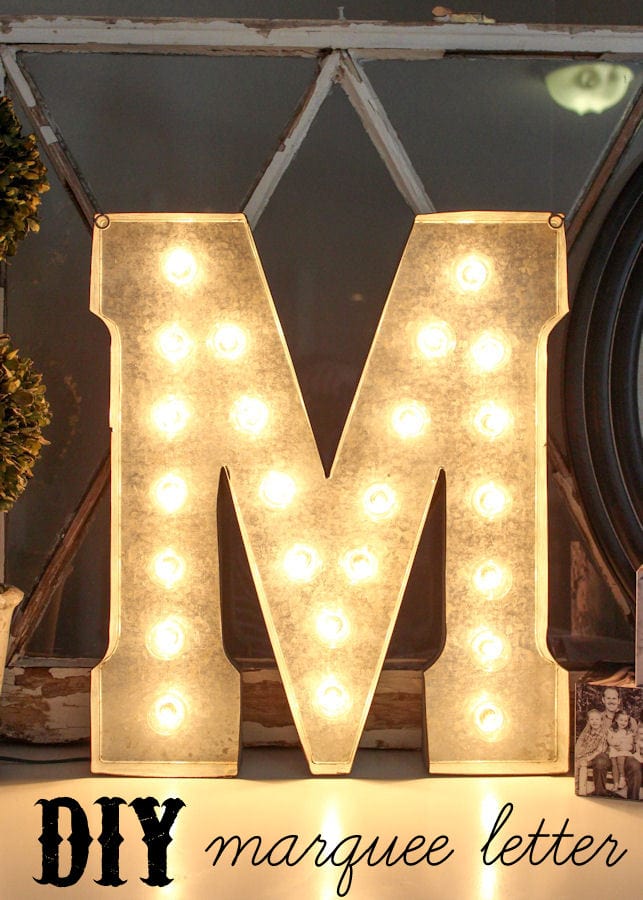 There are certain Home Decor pieces I've always wanted in my home.
One of those items is a Marquee letter or sign. I'm not sure exactly why I'm so obsessed except for the fact that they look really cool and vintage. And for the longest time I've wanted one. I know you can find them at Antique stores, but finding the letter or word you want is pretty unlikely. And I know there are stores that sell them too but they can be pretty expensive. With that in mind, I was so excited when I saw some Metal Letters popping up at the craft stores. We saw some at Hobby Lobby, and I bought it immediately. Then, the hubby (knowing very well I've always wanted a Marquee letter) stated that we could easily turn it into a DIY Marquee Letter. I was so excited, so we got to work on it.
The result?
A pretty awesome and vintage-looking Marquee Letter "M" that is perfect for our home. I'm pretty much in love with it, and I'm so glad the hubby helped me to make it. If you are looking to make one too that doesn't cost an arm and a leg, here is what you'll need…
SUPPLIES:
TOOLS:
Marker
Step drill bit
Drill
High temp flexible tubing
Utility knife
Punch awl
DIRECTIONS:
The first step to creating this lighted Marquee letter was to find a letter that was hollow in the back. We actually put the lights in the back of the letter, since we liked that look better. If you wanted, you could put the lights on the front of the letter, which would put the lights completely outside of the letter frame. This would give it a slightly different styled look.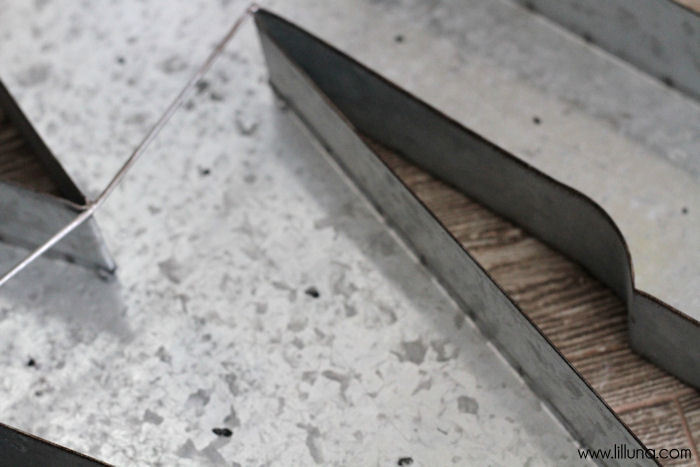 To begin with, we counted how many lights we had. Using a pencil first, and then a sharpie once we were sure of the placement, we marked out where all of the lights should be. Be sure to take into account that the bulbs will extend out, so you can not place the holes too close together. Ours were about 3 ½" apart.
Using a punch awl or some sharp object like a large nail, we hammered a small dent on each of the marks. This would allow the drill bit to more accurately stay in the spot that we wanted the hole to be in.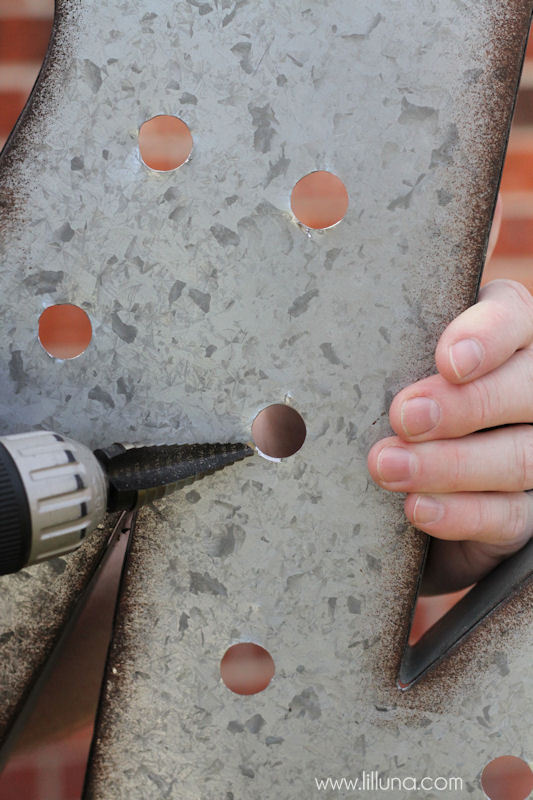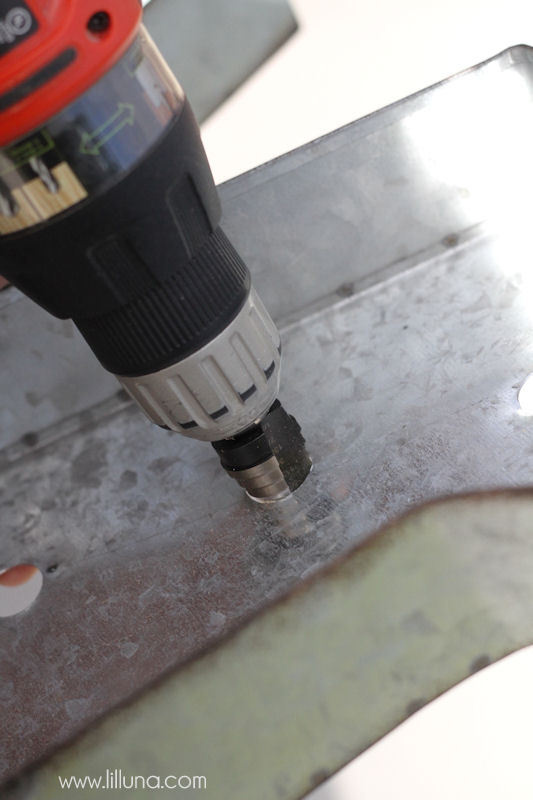 There are several ways you can get the hole for the light bulb. We decided to use a special drill bit called a step bit or a uni-bit.(0582) You could also use a metal punch, or a traditional drill bit. If you use a traditional drill bit, you need to go slow as you drill through so you do not warp the metal as it tears through. We drilled the hole 11/16 " large. (0580) The hole needs to be large enough to not touch the metal stem of the bulb, but not so large that the plastic socket will pull through.
Now that we had the holes for the light bulbs, we needed to prep them so that the bulbs would not prove a fire hazard. When working with electricity and metal you have to be care that they do not come into contact. We also wanted to insulate the bulb from the metal so it did not get too hot, or crack the bulb. To do this, we purchase a short length of ¾" flexible high temperature water hose from Lowes.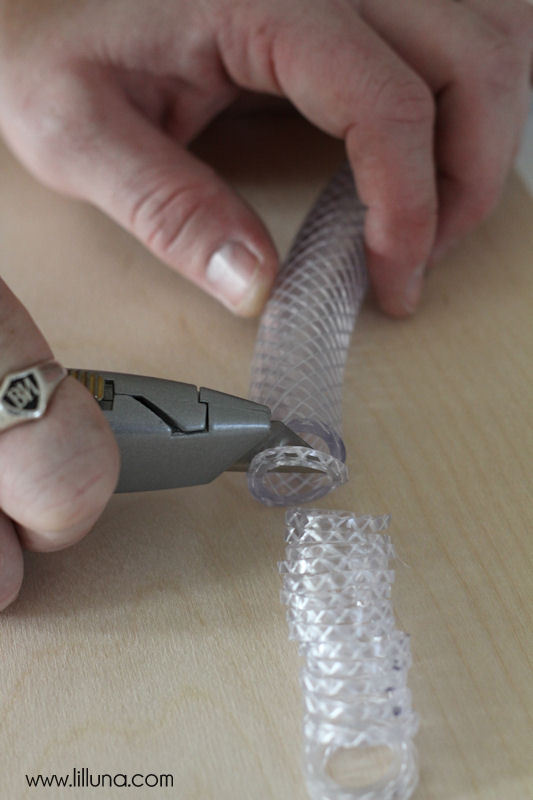 We cut this using the utility knife into thin washers to insulate the bulbs and the metal stems from touching the edge of the metal hole that we just drilled. We cut these washers thin; probably less than ⅛" thick.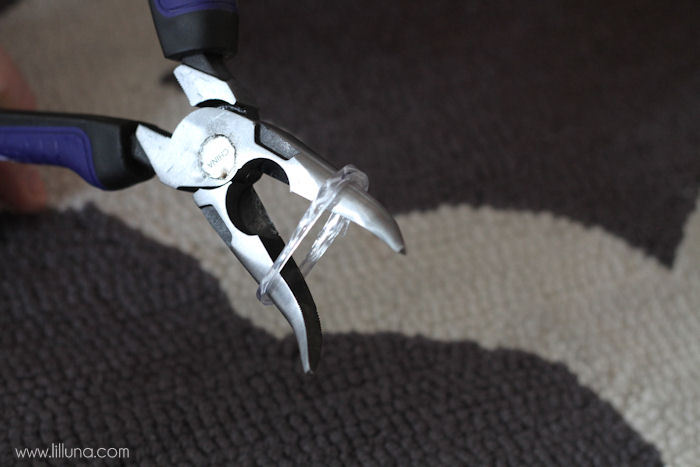 To put the washer and the bulb in place, we still needed to stretch the washer out a bit, so that it was large enough for us to screw the light bulb in deep enough to turn on.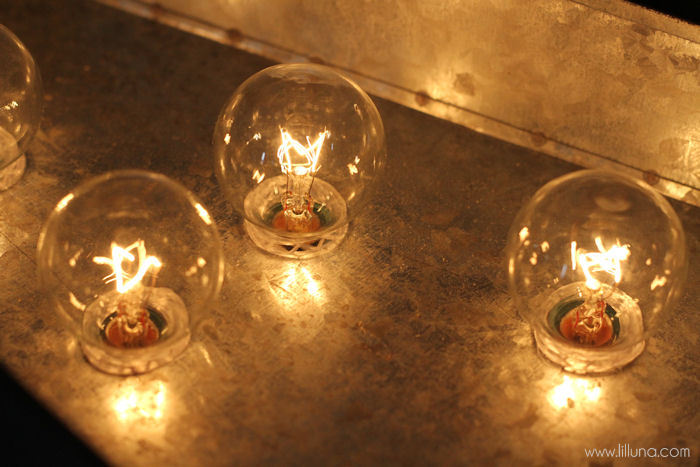 If you look in the picture, note that we made sure there was a gap between the metal hole and the metal step of the light bulb.
Once all the bulbs were screwed in and working, we needed to somehow manage all the extra cord that was in the back. We found a simple solution was to simply wrap it around itself and hook it an the plastic hooks on the back of each light socket.
EASY PEASY!!!
And I LOVE it. So excited to put it on the mantel at our home. 😉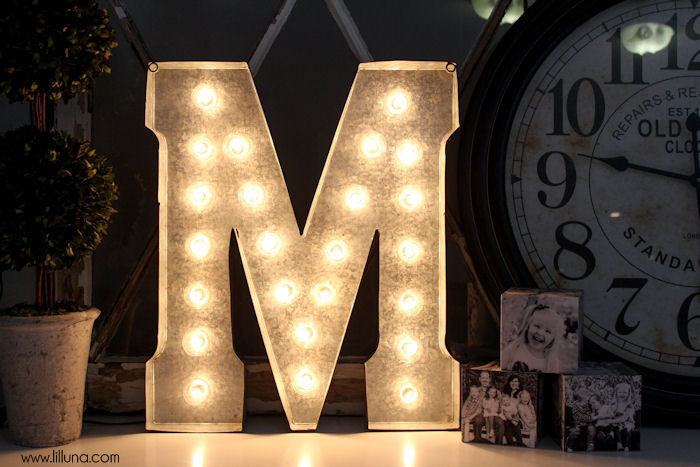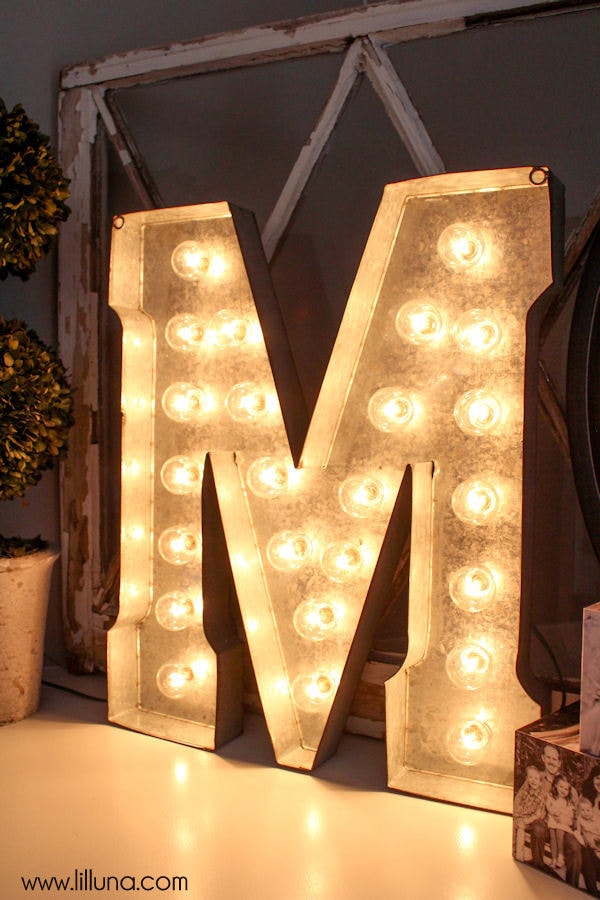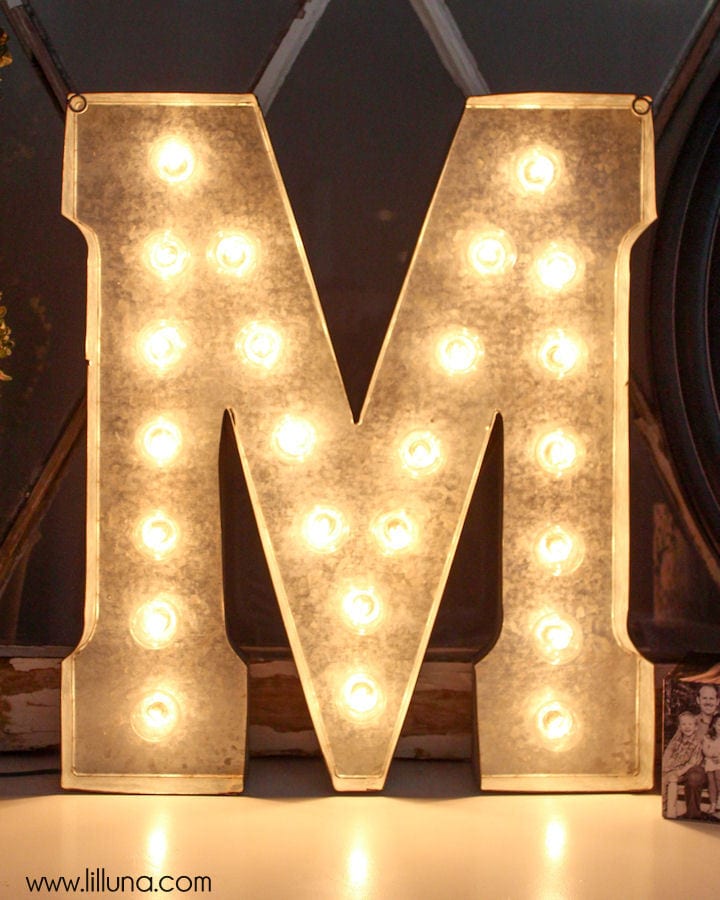 I LOVE projects that actually turn out how you envisioned them in your head!! 🙂
For more great tutorials of Home Decor for you home, check out: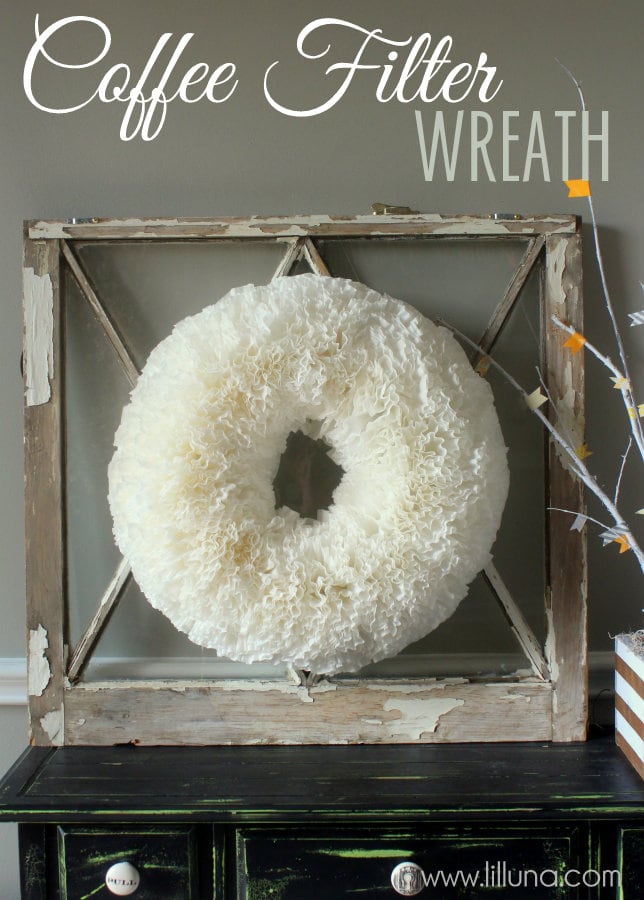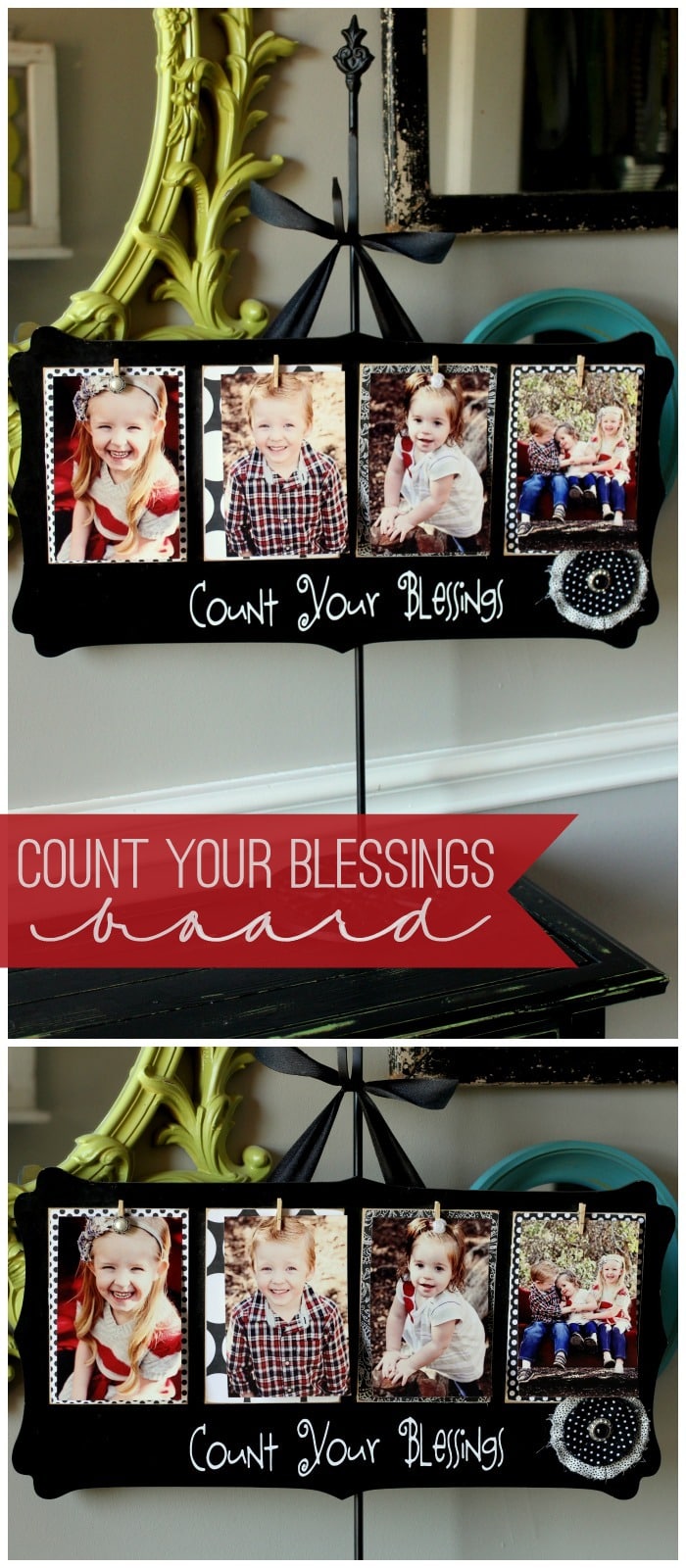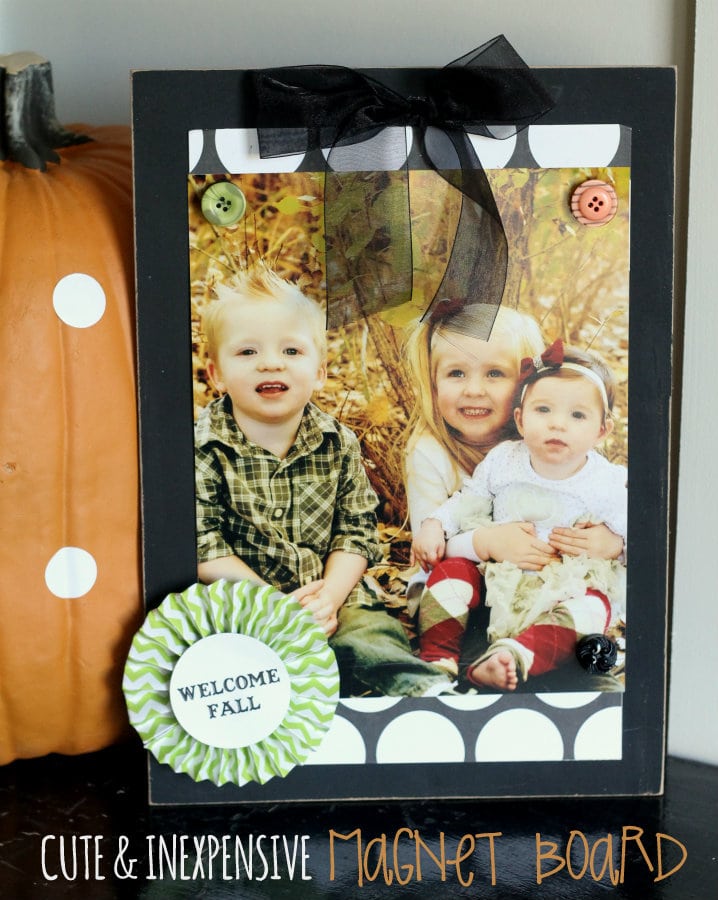 For all tutorials on the site go HERE.
For all Decor ideas go HERE.
And get weekly emails with monthly freebies by signing up for the Lil' Luna newsletter. 🙂
For even more great ideas follow me on Facebook – Pinterest – Instagram – Twitter – Periscope.
ENJOY!