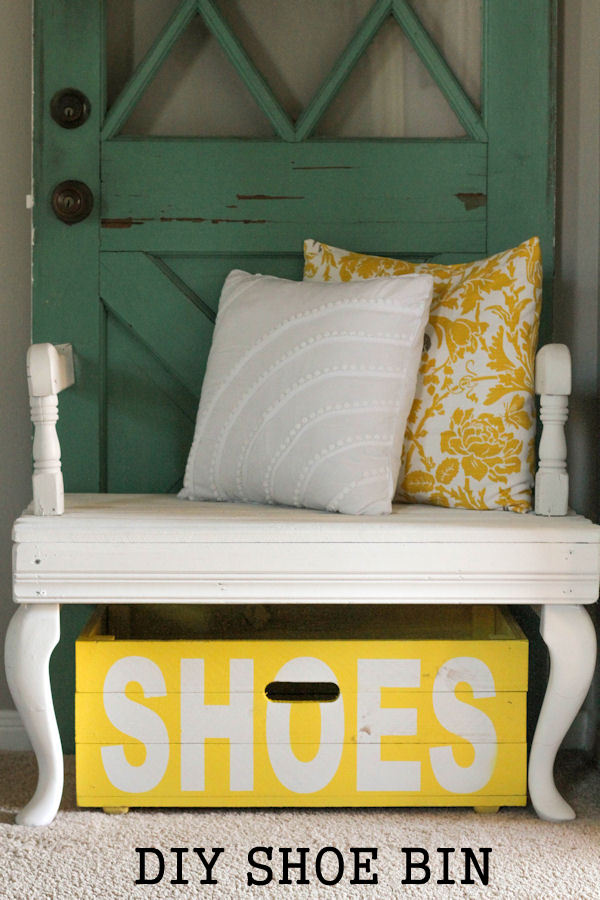 I feel like there are shoes all over our house!
I guess that happens when you have 5 little kids 7 and under who each have a few pair of shoes. 😉 To cut down on the "shoe mess" and to make sure there was a designated spot to keep them all, the hubby and I decided to build a DIY Shoe Bin to store them all in. I wanted something bright and fun and knew I wouldn't be able to find something like that at the stores so that's when we headed to Lowe's to buy all the wood. We had the rest of the supplies on hand (nails, glue, paint) so we didn't have to spend much (we're talking about $7!!), which is always nice.
I love how the Shoe Bin turned out and am so glad we decided to make it. It was a simple project that took just a few hours to make start to finish. Those are always the best kinds of projects, don't you agree?!
Here is what you'll need to make this DIY Shoe Bin too:
SUPPLIES: (All purchased from Lowe's)
1 ¼ finish nails
wood glue
¾" dry-wall screw
½" fencing wood planks
2" square board
1"x2" board
white enamel spray paint
yellow spray paint
TOOLS:
Hammer
Table saw
Drill
1 ⅛" drill bit
electric sander
carpenter square to make sure all faces are square
Jig Saw
DIRECTIONS: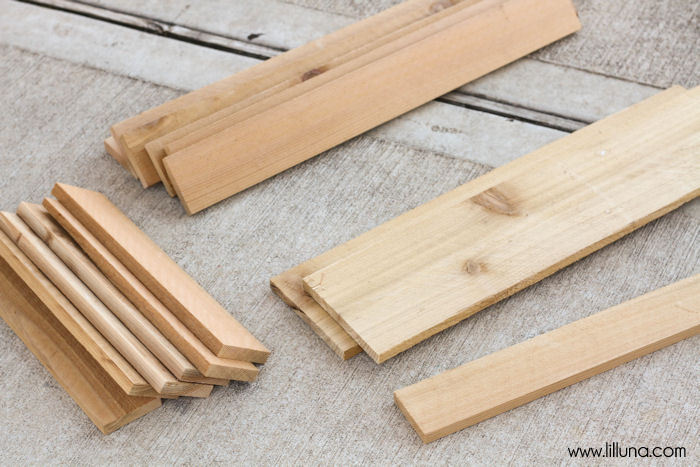 1. First, we ripped the fence boarding to 3" wide. This 3" wide boarding was then cut to make 6 boards that were 25" long, and 6 boards that 14" long.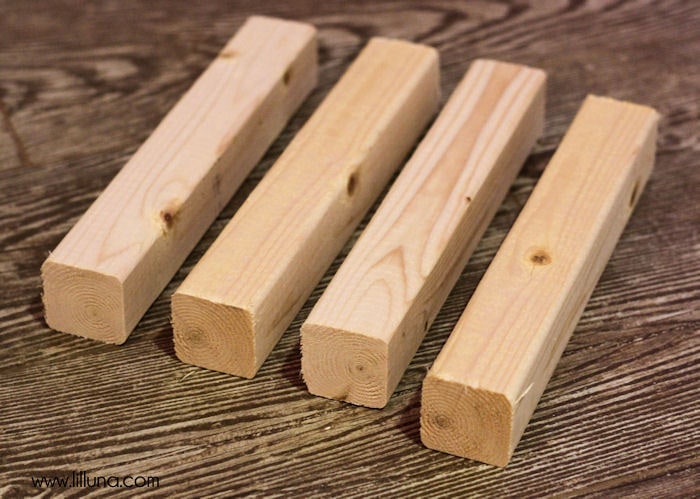 2. The 2" square boards were cut to make 4 boards 9" in length.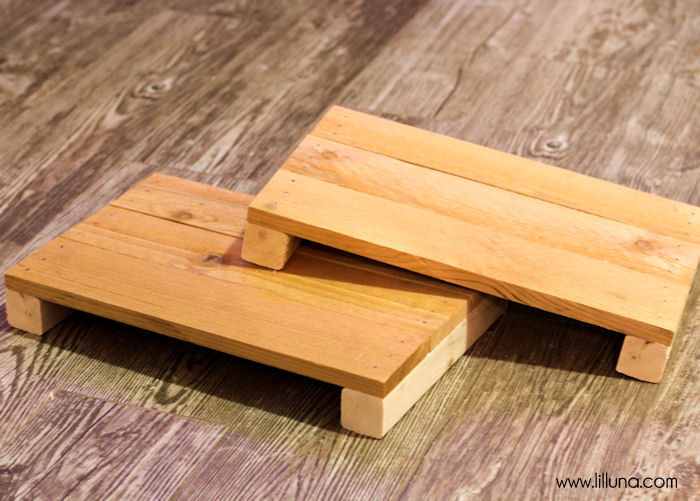 3. We started by creating the sides. 3 of the 14" boards were lined up with two of the 2" square boards underneath each end. We applied wood glue where the boards overlapped, and we nailed the boards together using the finishing nails. We made sure that all the boards were square and lined up evenly before nailing everything together.
This was repeated to create the second side.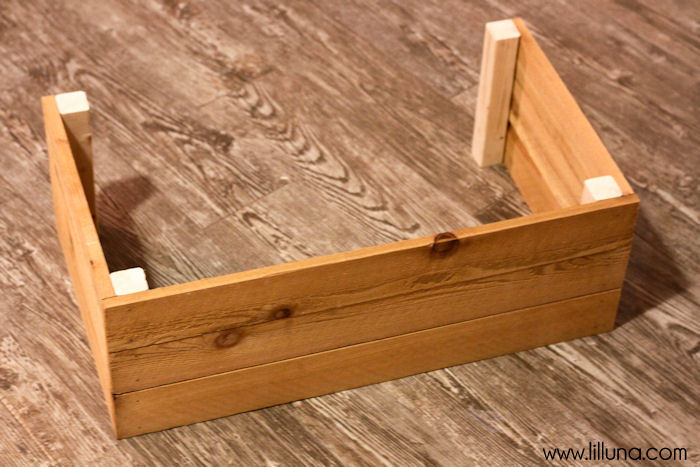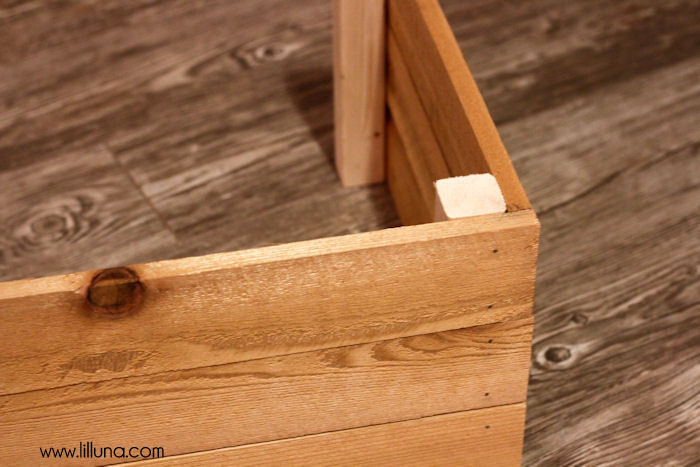 4. Once we had both sides made, we attached them together by nailing and gluing 3 of the 25" boards across the front with the ends of the longer boards overlapping and sitting flush with the face of the side boards. Again, we took special care to make sure that everything was squared up before it was all nailed in place.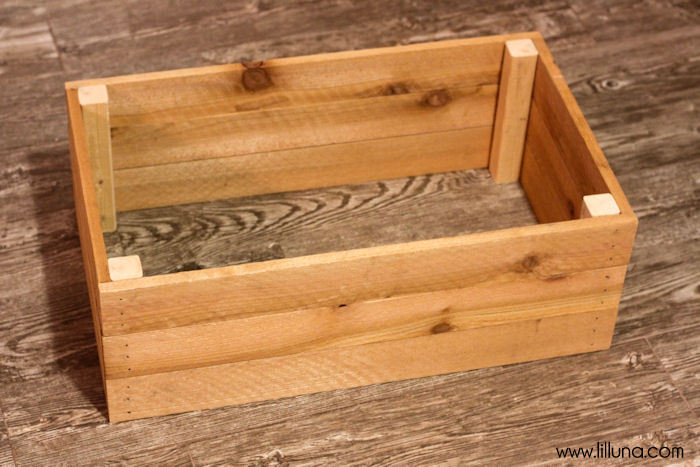 5. Three more 25" boards were attached on the back to complete all the sides of the box.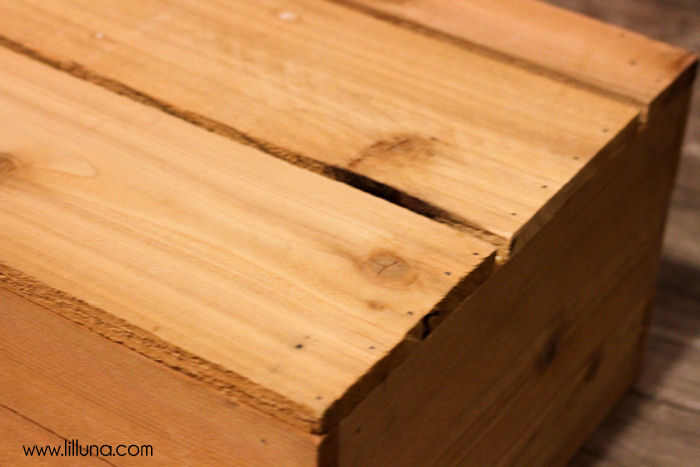 6. To cover the bottom, we cut some of the left over fence plank to 25". We put two un ripped planks, and one that was ripped to the thinner 3". These were nailed and glued all around the edges. There were gaps between the boards, which we didn't mind. This could also be covered using all only 3" boards. 5 boards should cover it without any gaps.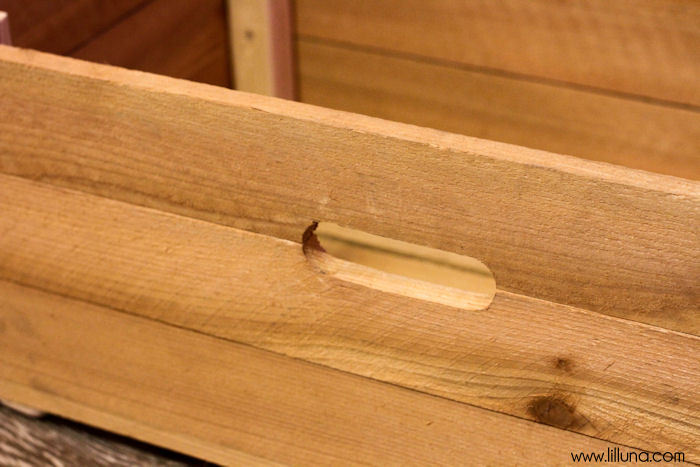 7. We decided to put a handle on the front. This was done by drilling two 1 ⅛" holes 3" apart in the top third of the front face. We then used a jig saw to connect the two holes and create the handle shape.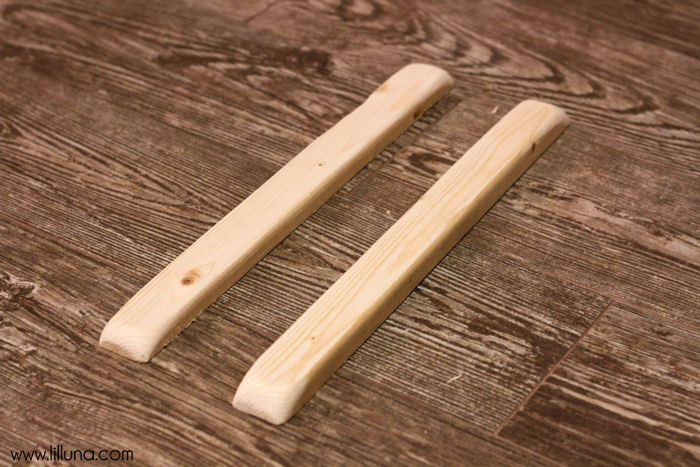 8. We cut the 1" board to 14 ½" in length. The front and back were rounded using an electric sander. Rounding the front and back helps it slide easier on carpet. If this was to be used on a tile floor, we would have used casters that can be found at Lowes.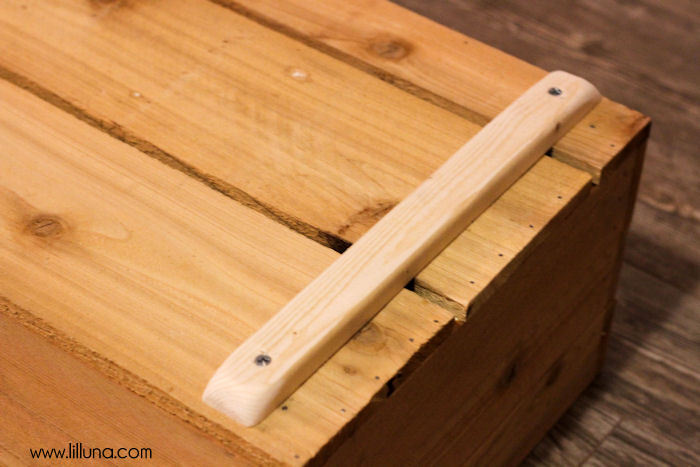 9. These two wooden boards were then screwed into place using two drywall screws on each.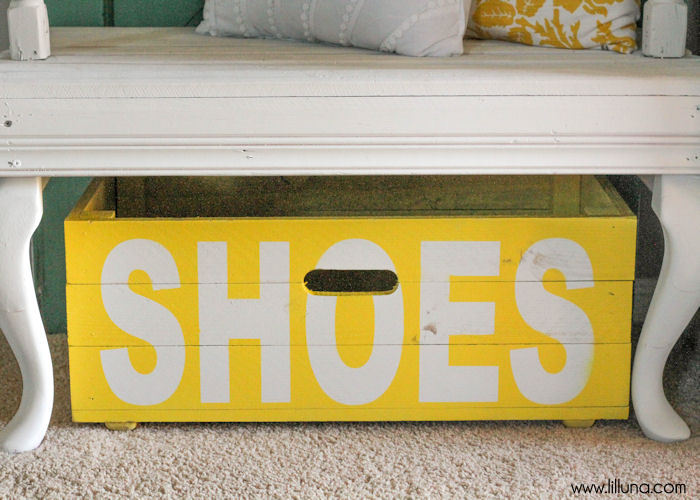 10. We then used white enamel to spray paint the base color of the box and only painted the front of the box. We masked off the word "shoe" on the front with a vinyl sticker, and painted the final yellow coat. We also topped it off with a layer of Spray Polyurethane and let it dry completely.
The result?
A new and cute box to put all of our shoes.
I LOVE it and love the big Typography letters in front.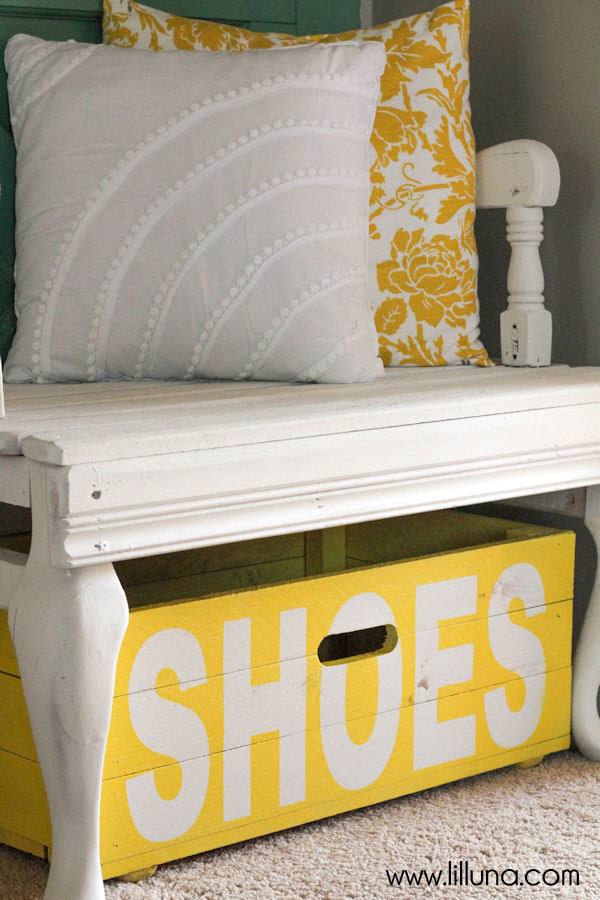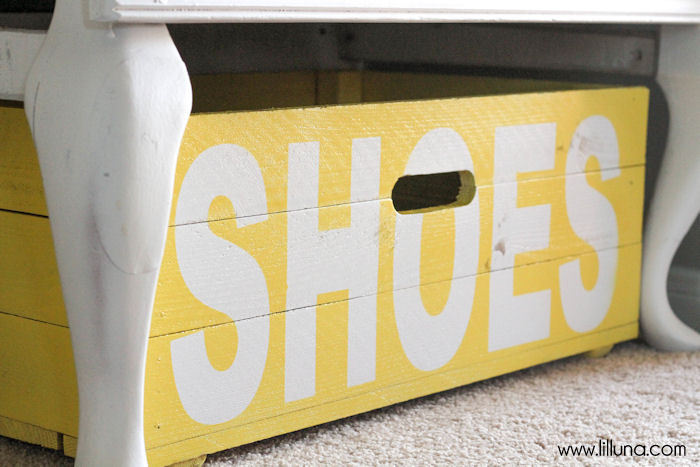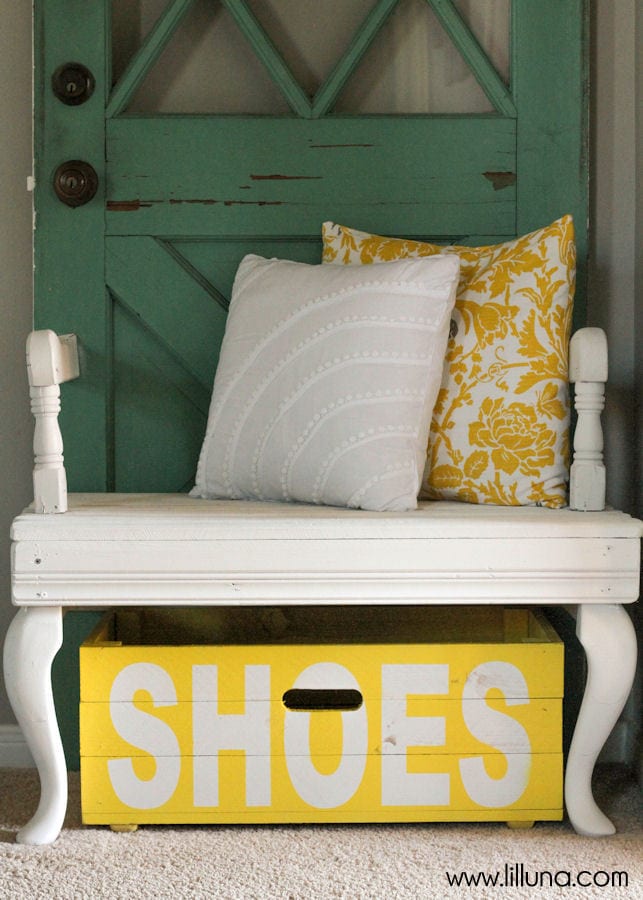 Oh, I LOVE having one place to put all the shoes!!
For more Storage/Organization ideas on the site, check out:
For more creative inspiration, visit Lowes Creative Ideas and Lowes.com.
ENJOY!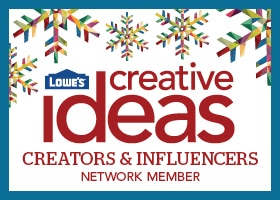 This is a sponsored post written by me on behalf of Lowes. All opinions are 100% mine.