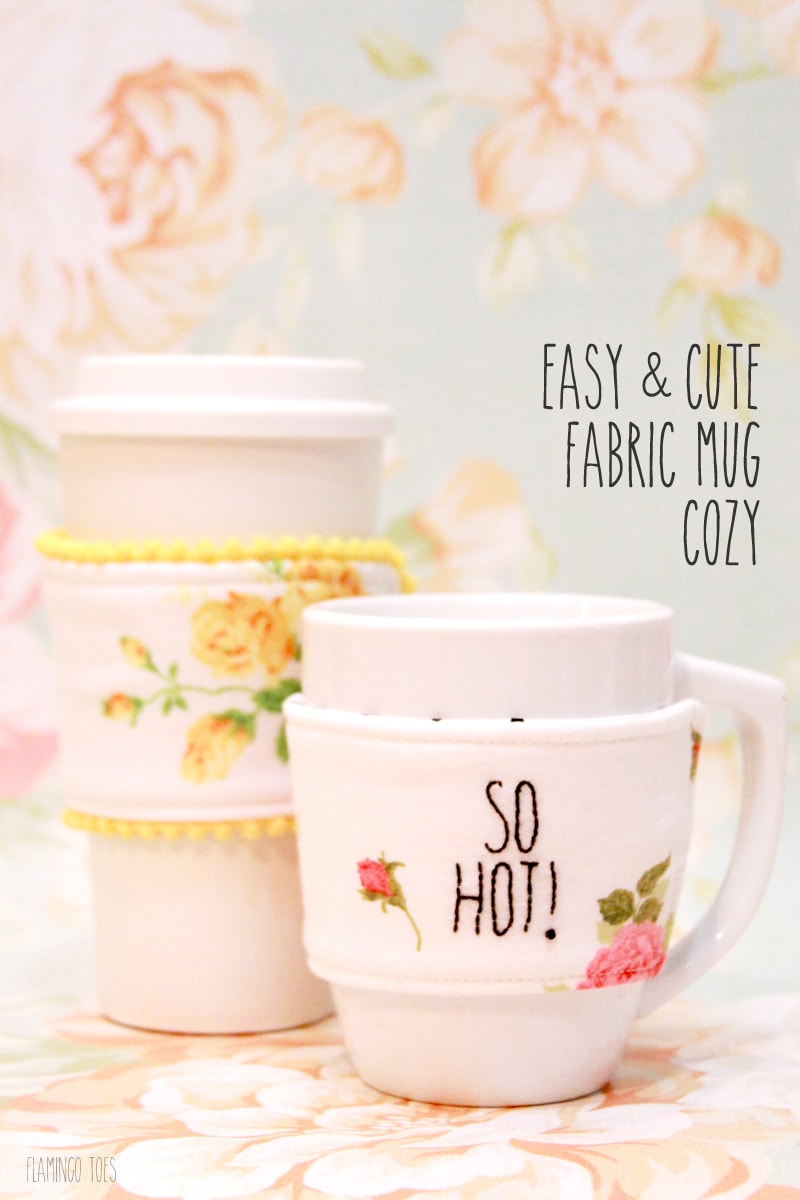 Hi there! Bev from Flamingo Toes here!
I just love the convenience and ease of giving gift cards – but there's a part of me that just wants to add a little something personal too. That's what I love about these mug cozies – they go perfectly with a simple mug and a Starbucks gift card for a great gift! And let's face it, this time of year I am always running behind on time. But it takes hardly any time at all to whip up this easy and cute fabric mug cozy. You can even take the extra step of adding a little sassy embroidery for a bit more fun.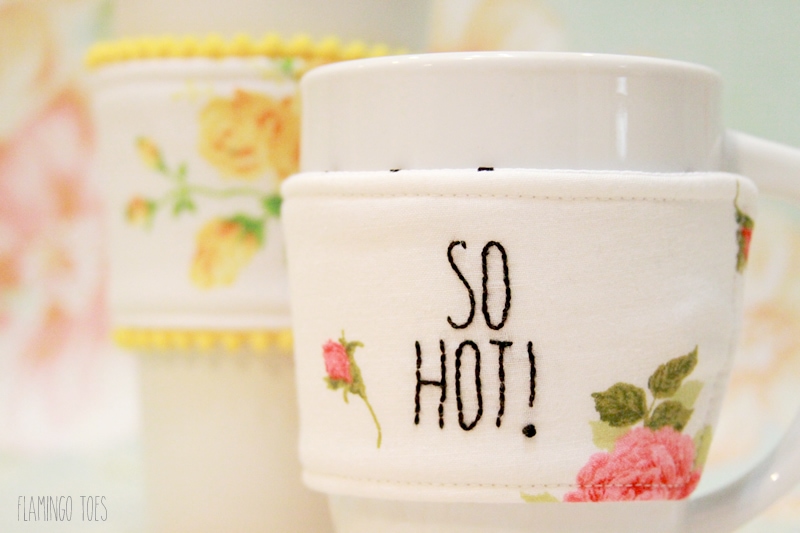 I have a free mug cozy pattern for you that works great for regular size mugs or for travel mugs! This travel mug cozy doesn't have any embroidery but I dressed it up with a little mini pom pom trim.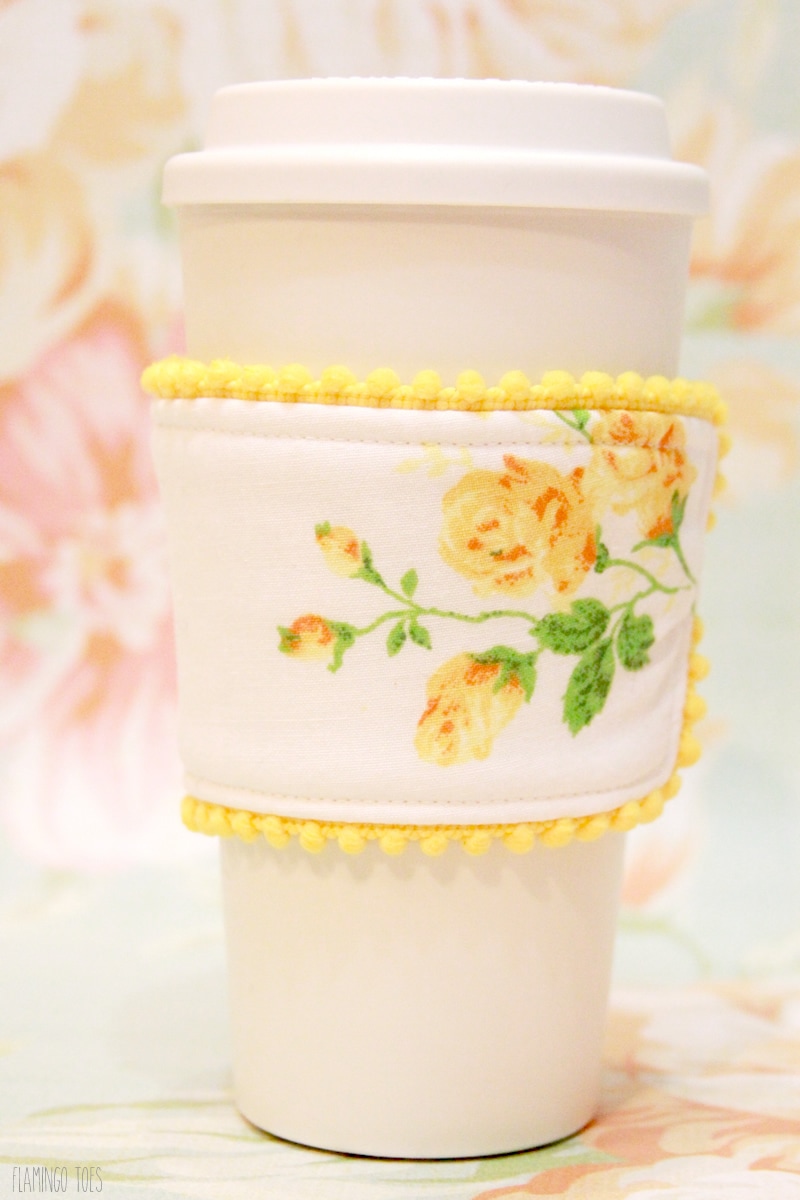 Since I love all things vintage, I used these pretty vintage fabrics and buttons. But the pattern would be great in any fun print. Or you could do something creative and repurpose an old sweater!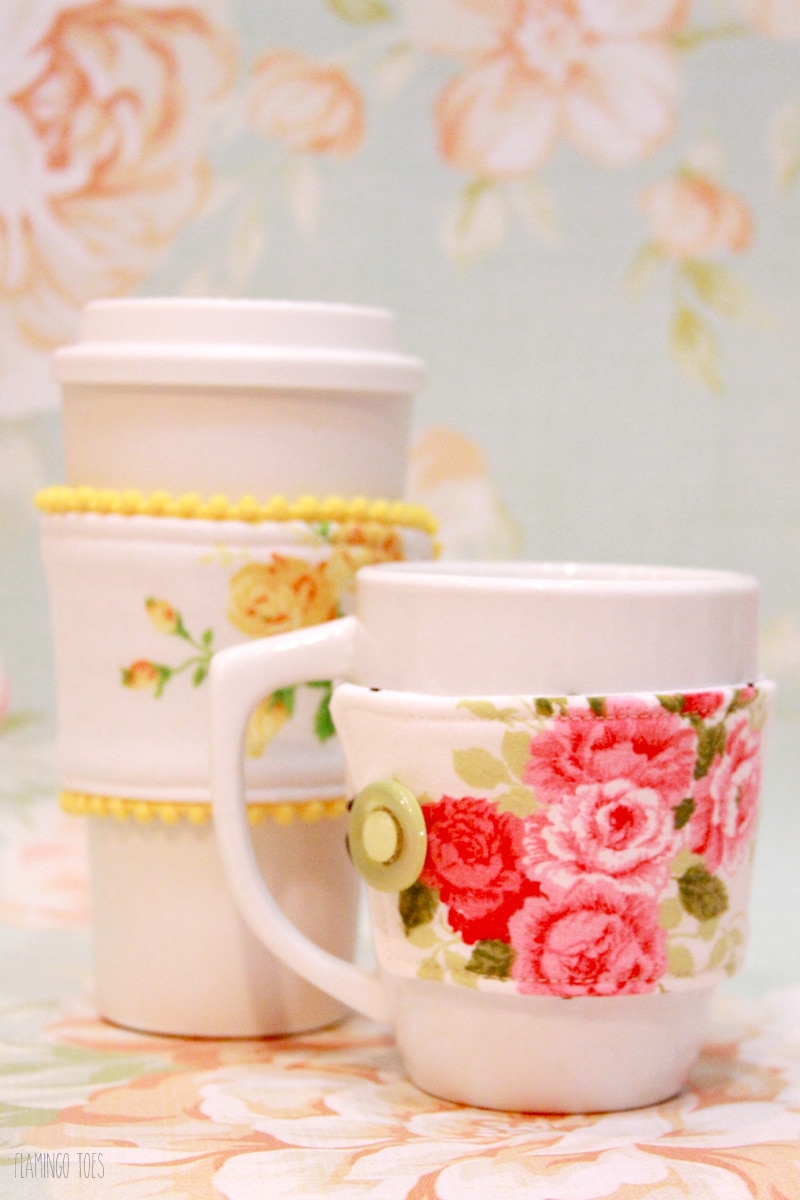 Here's what you'll need for this Fabric Mug Cozy Tutorial:
12″ x 4″ piece of fabric for outside
12″ x 4 piece of lining fabric
12″ x 4″ piece of fusible fleece
embroidery thread, disappearing marking pen, hoop, and needle (optional)
elastic hair tie
large button
If you are adding embroidery, do that first. Trace your cozy pattern on your fabric and your embroidery phrase with a disappearing marking pen. Pop your fabric into an embroidery hoop.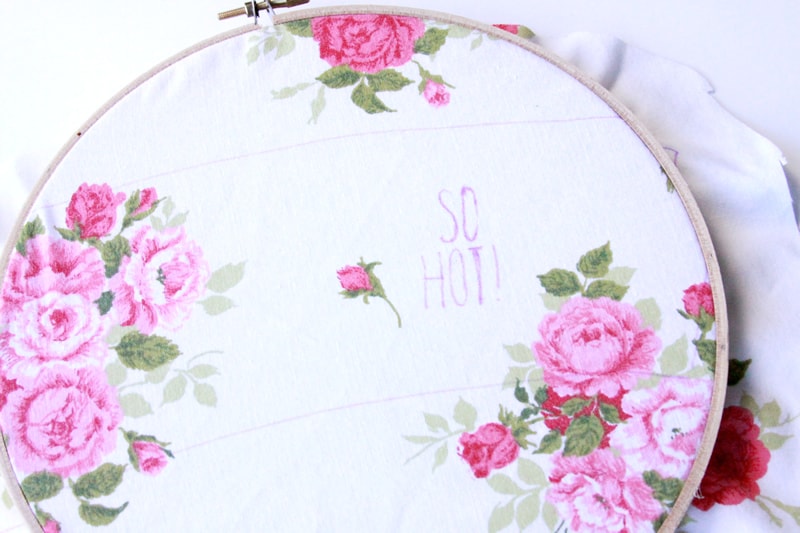 Embroider your phrase with a simple back stitch. You can find embroidery stitch instructions here.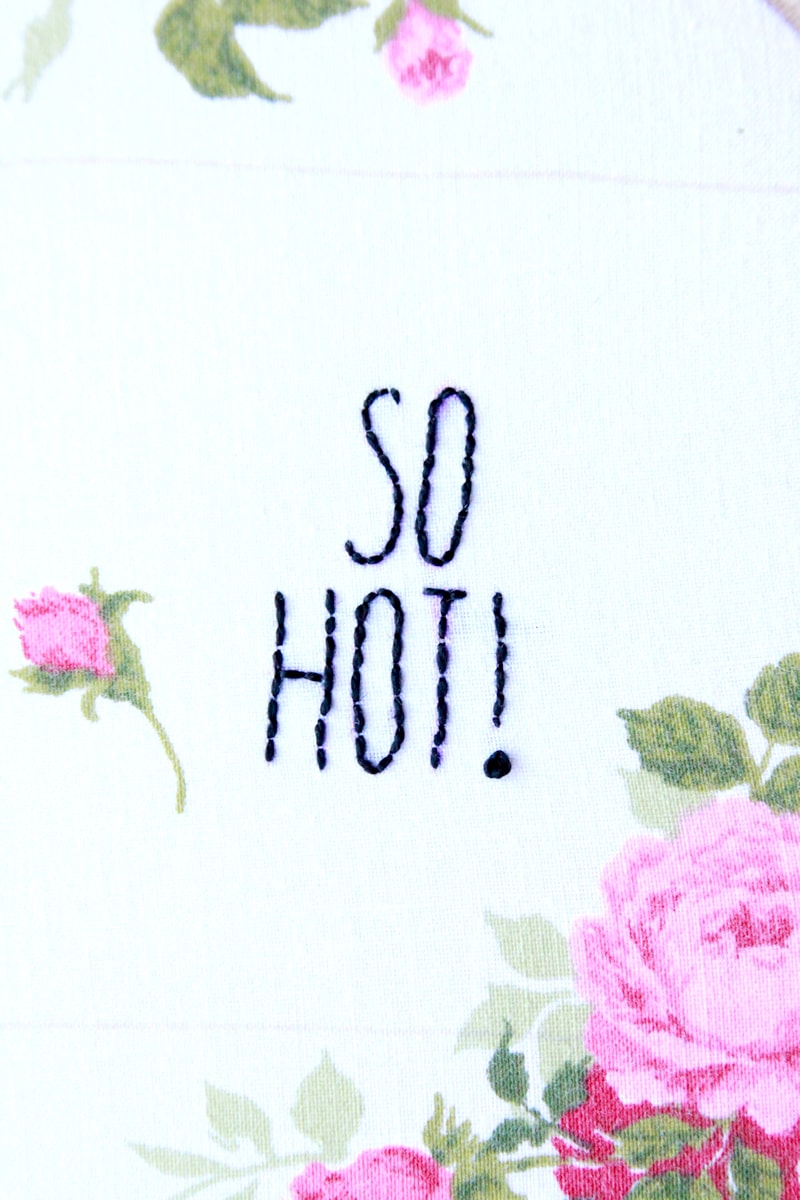 Cut out your outside fabric, lining and fleece. Fuse the fleece to the wrong side of the outside fabric.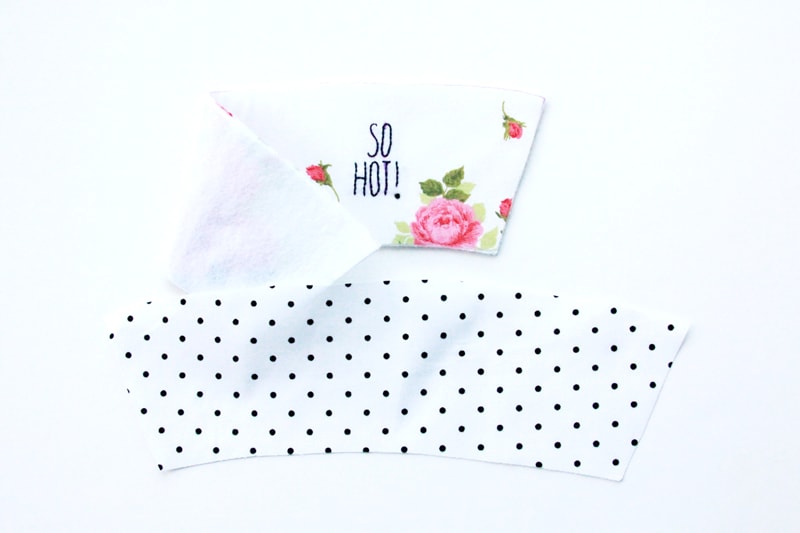 Fold your hair tie elastic so that it is pinched about ⅓ for the end. Place the end so that the larger amount faces into the main part of the cozy. Sew over the tie slowly ¼″ from the edge.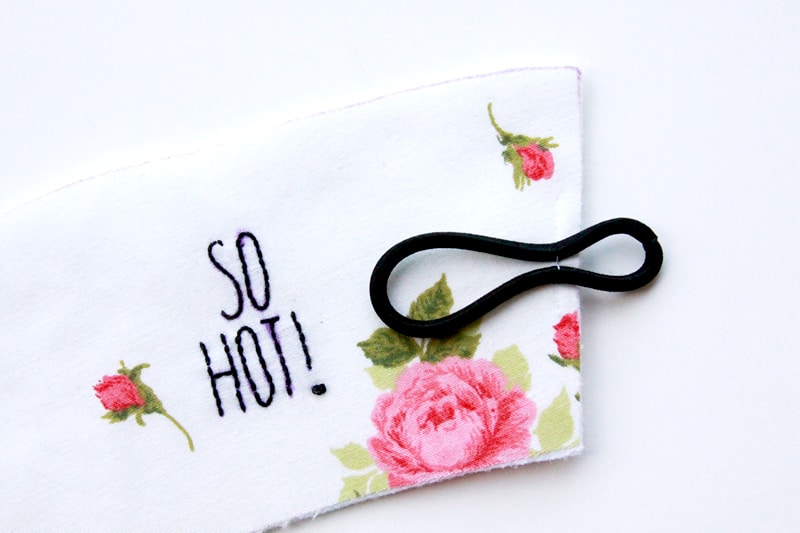 Place the outer fabric and lining right sides together and sew around all the sides with a ⅜″ seam allowance, but leave an opening in the bottom center about 2″ long. Clip the corners.
Turn the cozy right side out and press. Sew around the cozy just inside the edge. Sew a large button onto the side of the cozy opposite the elastic. Using an awesome vintage button is optional but highly preferred. 🙂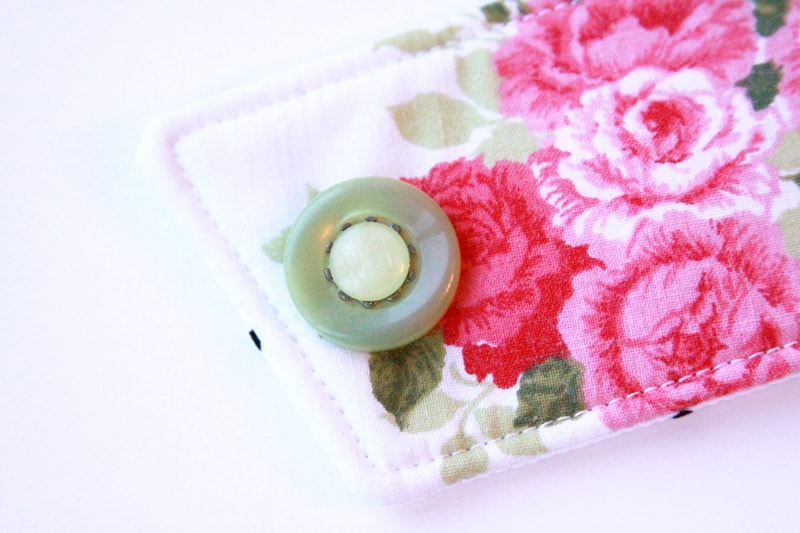 Wrap your new cozy around your favorite mug and you are good to go!
For the yellow cozy, I followed the same steps, I just left off the embroidery. Before I sewed the front and lining together, I sewed the pom pom trim to the outside of the cozy with the pom poms pointing to the center. Use a ⅜″ seam allowance for this small trim.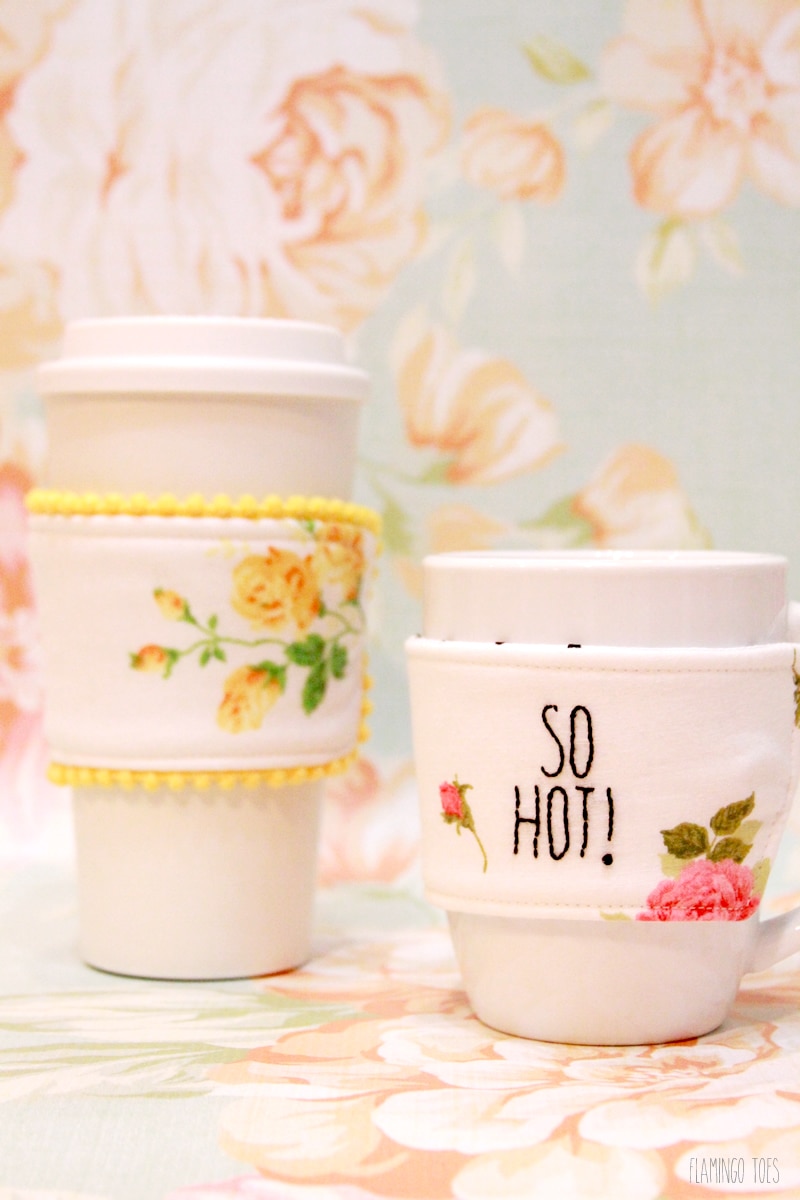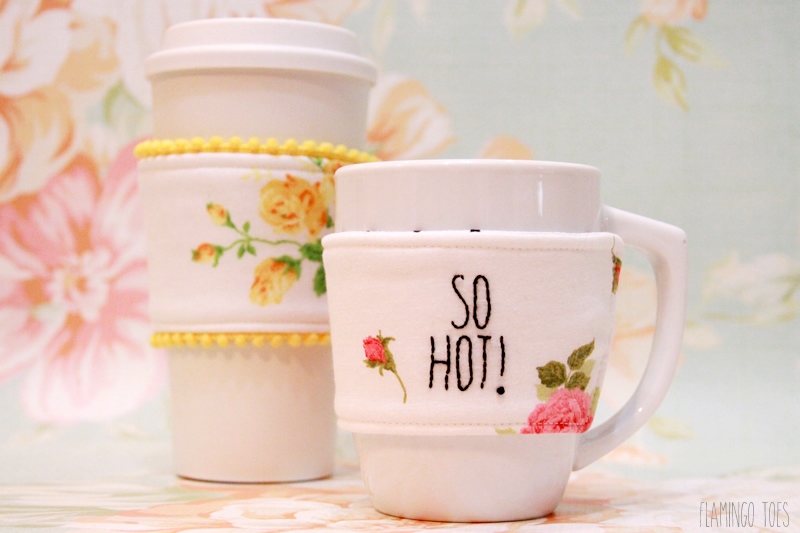 Such an easy and cute gift!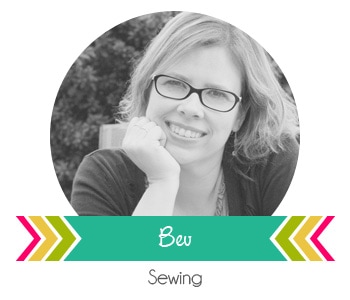 ———————————————————–
LOVE these cozies, Bev! SO cute and they'd make great gift ideas. THANKS!!
For more great creations from Bev, be sure to check out Flamingo Toes, and for more information about her go HERE.
And, for more great ideas from her on the site, check out: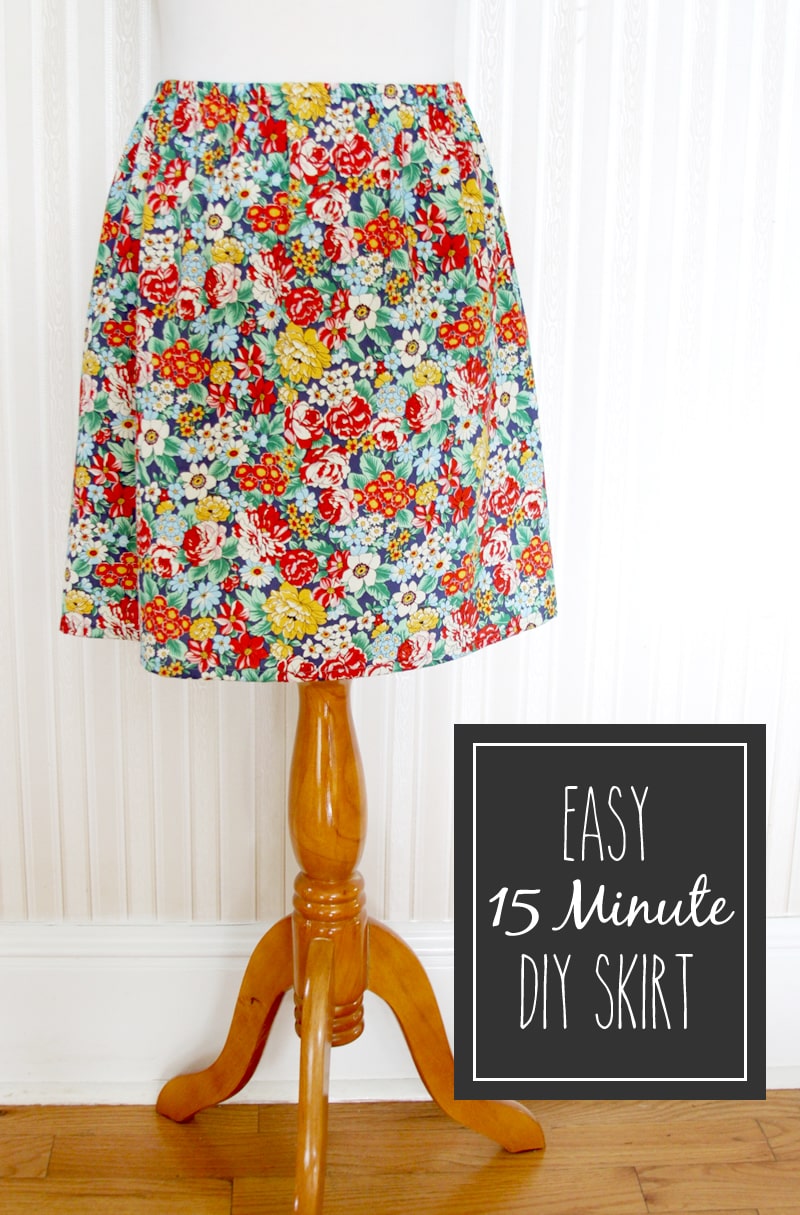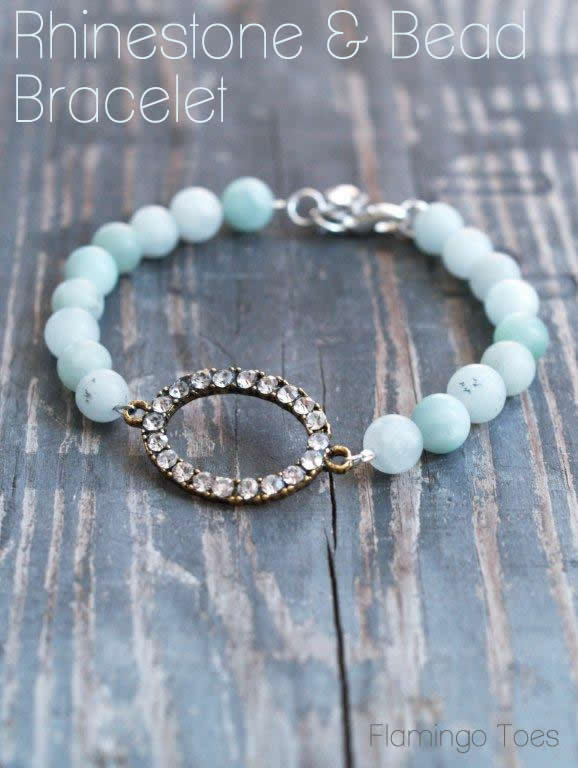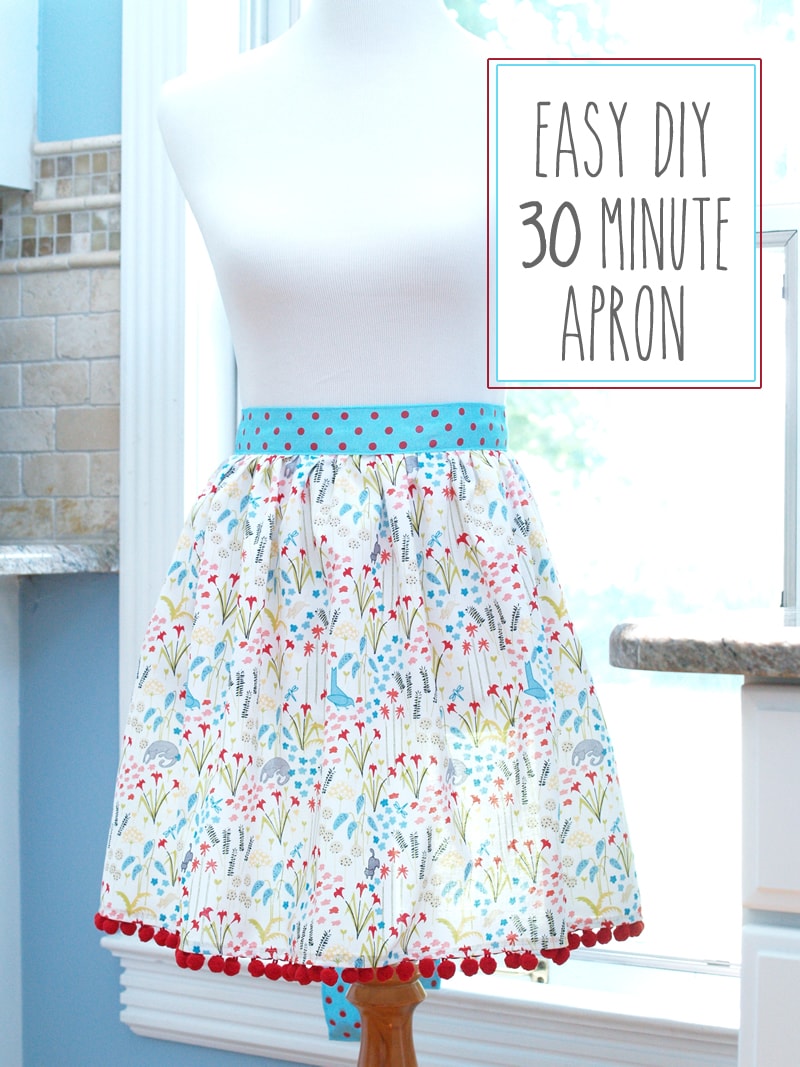 For all tutorials that would make great gift ideas go HERE.
For all DIY projects go HERE.
And get weekly emails with monthly freebies by signing up for the Lil' Luna newsletter. 🙂
For even more great ideas follow me on Facebook – Pinterest – Instagram – Twitter – Periscope.
ENJOY!