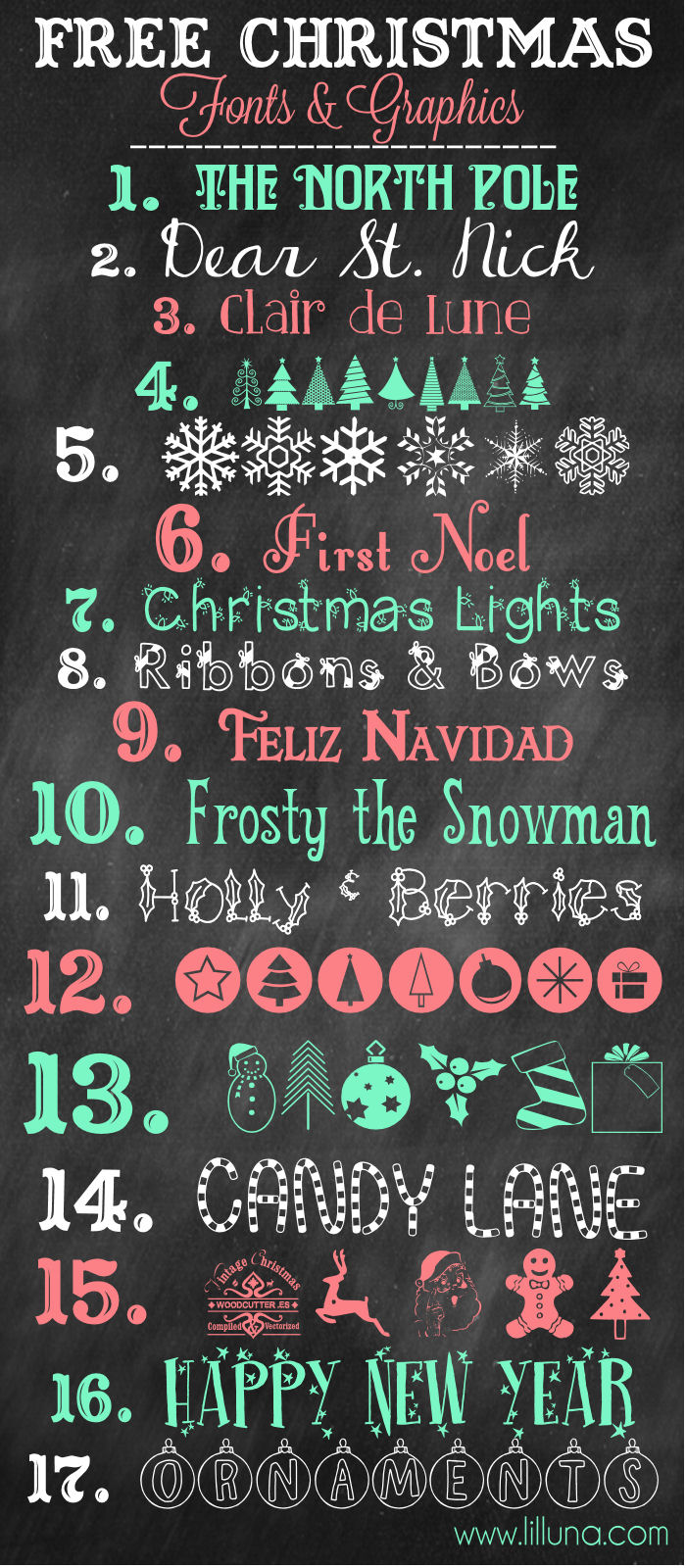 You guys know how much I LOVE cute, free fonts!! I've shared many sets over the past few years, and today I'll be sharing MORE Free Christmas Fonts and Graphics (dingbats). I hope you love them as much as I do. I use them for SO many things and use them in printables, graphics – you name it!
There are always plenty of fonts and dingbats to buy but there are also boatloads of FREE ones. You just have to know where to find them. 😉
If you are still not sure how to use these fonts and dings go below where I have some more links that may help. 😉
Here are my Favorite Christmas Fonts for this year…
1. The North Pole/Sultan 2. Dear St. Nick 3. Clair De Lune 4. KG Christmas Trees
5. Marshmallow World 6. First Noel/Fontleroy 7. Christmas Lights/Christmas Lightness 8. Ribbons & Bows/KB Ribbons and Bows
9. Feliz Navidad/Navidad 10. Frosty the Snowman/Weehah 11. Holly & Berries/Holly & Barrie 12. Christmas & Go
13. Christmas 14. Candy Lane/Pippi 15. Vintage Christmas
16. Happy New Year/Happy New One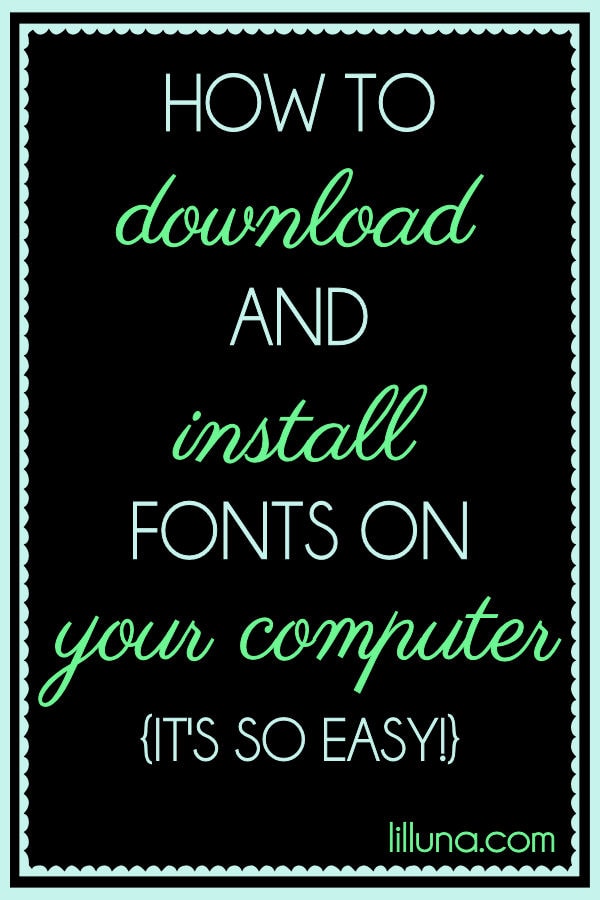 As mentioned yesterday, every computer is different in how to download and install fonts, but I did do a short tutorial for it that could help. Go HERE for that.
The best thing to do is GOOGLE: How to Download and Install fonts for……….. (and type in your kind of computer). 🙂
Be sure to check out these other free Christmas font collections too: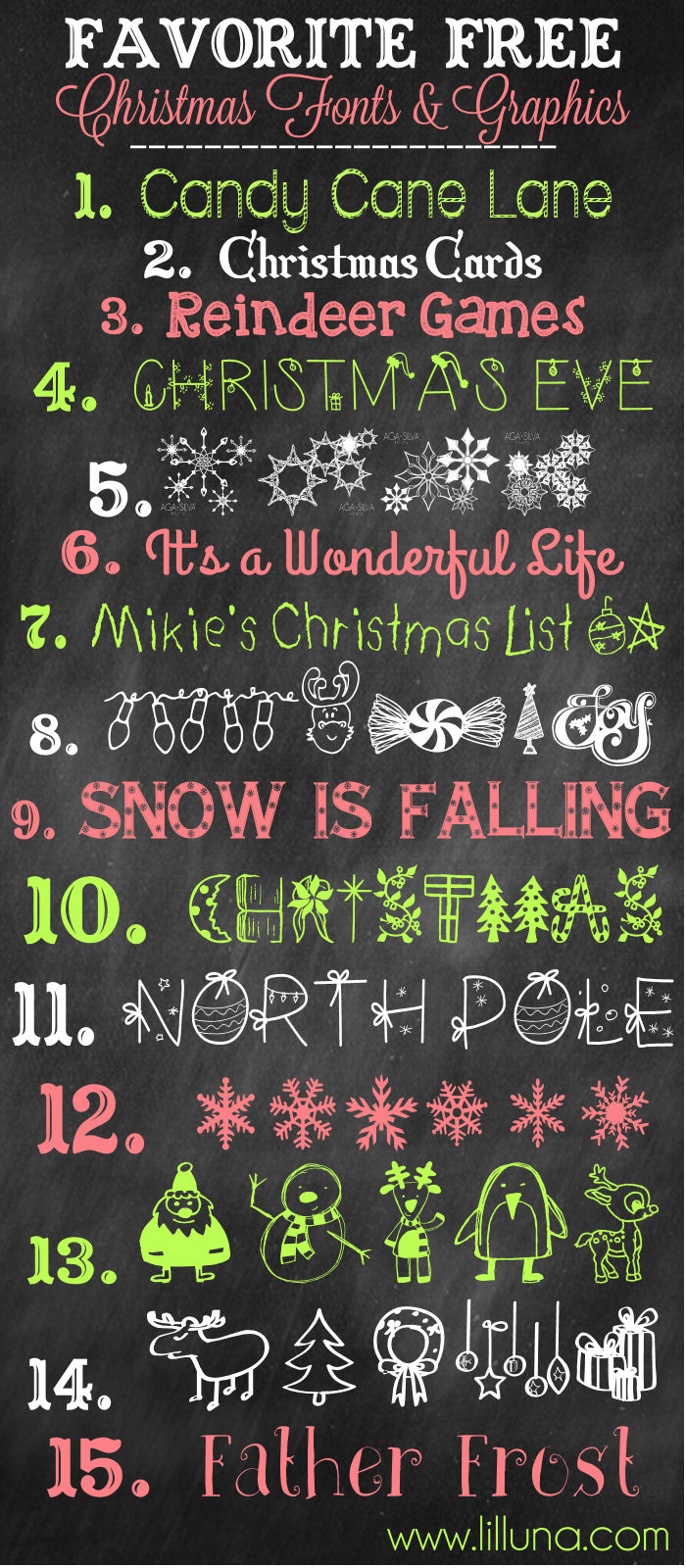 Favorite Christmas Fonts – Part 2
Favorite Christmas Fonts and Graphics
And, for a fun Christmas print check out:
Hope you enjoy these collections as much as I do. 😀
For all Christmas ideas on the site go HERE.
For all FREE Font Collections go HERE.
And get weekly emails with monthly freebies by signing up for the Lil' Luna newsletter. 🙂
For even more great ideas follow me on Facebook – Pinterest – Instagram – Twitter – Periscope – Snapchat.
ENJOY!