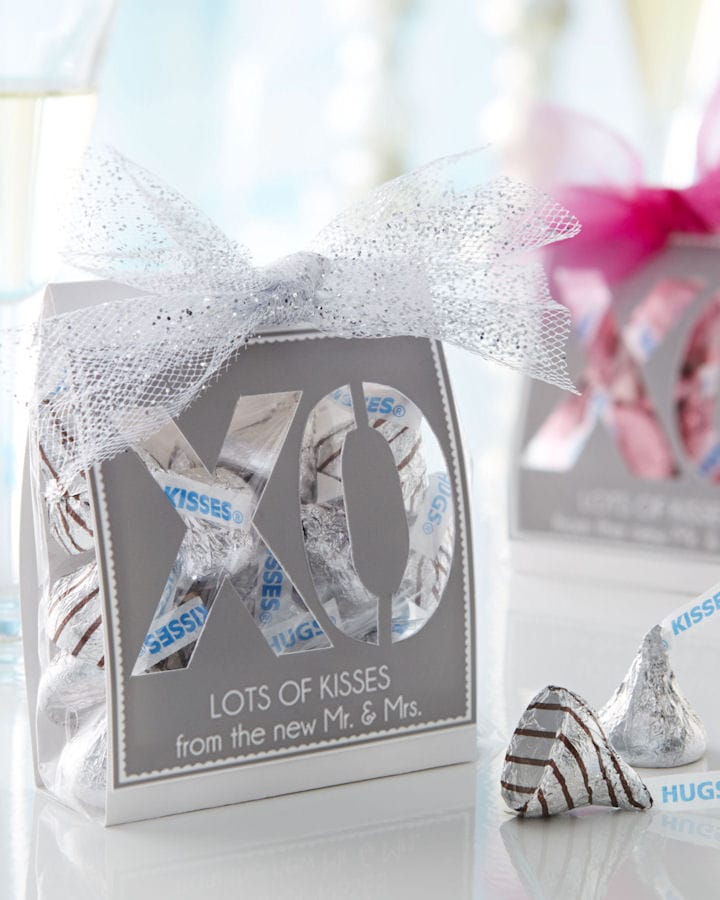 Are you looking for a fun and simple Wedding Favor idea?? If so, I have the perfect thing for you!
Last fall, I was invited to do some crafts for HERSHEY'S. I was thrilled, of course, and was given two challenges. One of these was to design a cute Wedding Favor Gift using Hershey's Kisses. I made a cute little print and a make shift bag made from Cardstock and put it together very easily.
It's the perfect treat to place on the wedding tables or to hand out during the wedding reception. I mean, who wouldn't want some sweet treats like Hugs and Kisses?
SUPPLIES:
White cardstock
Cut-out X & O letters, about 1.75-inches in height
1 bag (11oz) of HERSHEY'S KISSES Brand Milk Chocolates in your flavor and foil color of choice*
Silver tulle/ribbon (or your color of choice)*
Glue (glue stick or glue dots)
X-Acto knife
3×4-inch clear plastic jewelry bag or cellophane bag
Kisses XO Printable
Hole punch
*HERSHEY'S KISSES Brand Milk Chocolate foil colors and tulle/ribbon color can be coordinated to match wedding theme.
DIRECTIONS:
Print XO printable
Cut out the traced X & O shapes from the printable creating X & O cut out windows
Cut out a 9.5×3-inch piece of white cardstock.
Fold the cardstock at approximately the 4.25-inch mark and 5.25-inch mark on the vertical 9.5-inch strip.
Cut out a square box from the folded front panel of the cardstock
Tape or glue the printable to the front panel covering the square opening
Fill the clear plastic bag with wrapped HERSHEY'S KISSES Brand Milk Chocolates.
The top of the bag can be taped to the inside of the cardstock.
Place the cardstock over the bag so it is folded over.
Punch two holes through both the bag and cardstock at the top.
Tie tulle or ribbon through the holes to secure the bag and cardstock in place.
Repeat steps 1-11 to create additional favors, as desired.
Gift to wedding attendees on your special day.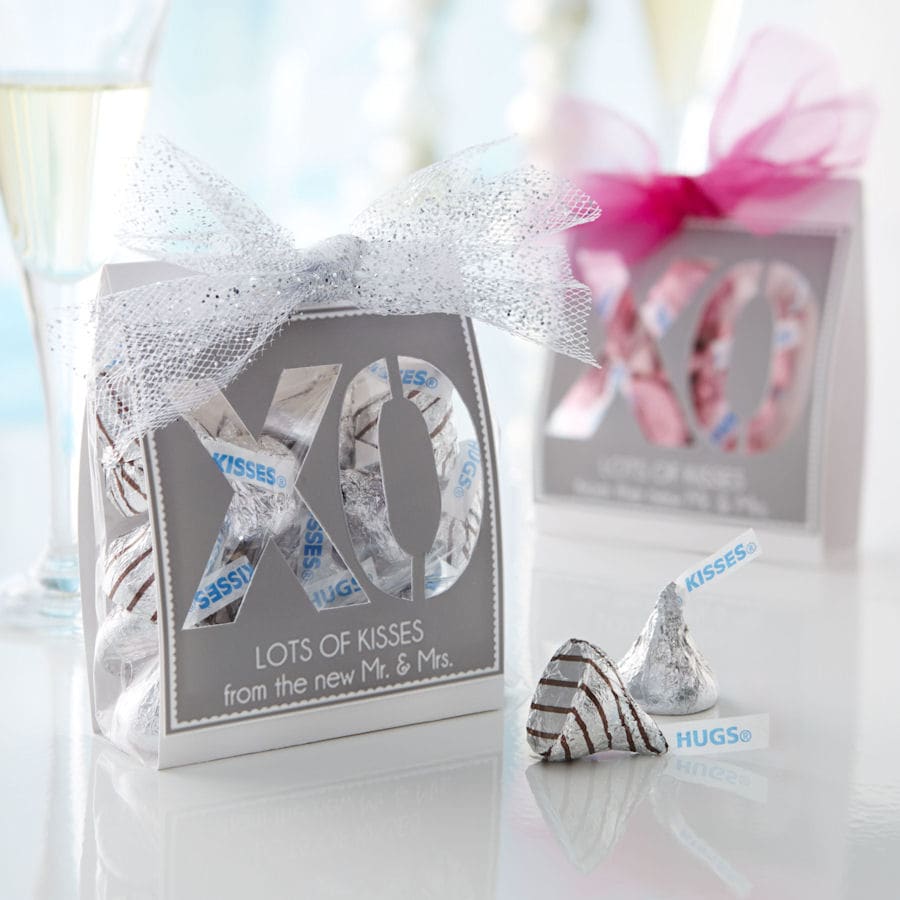 For more great projects using Hershey's Kisses be sure to head HERE.
ENJOY!