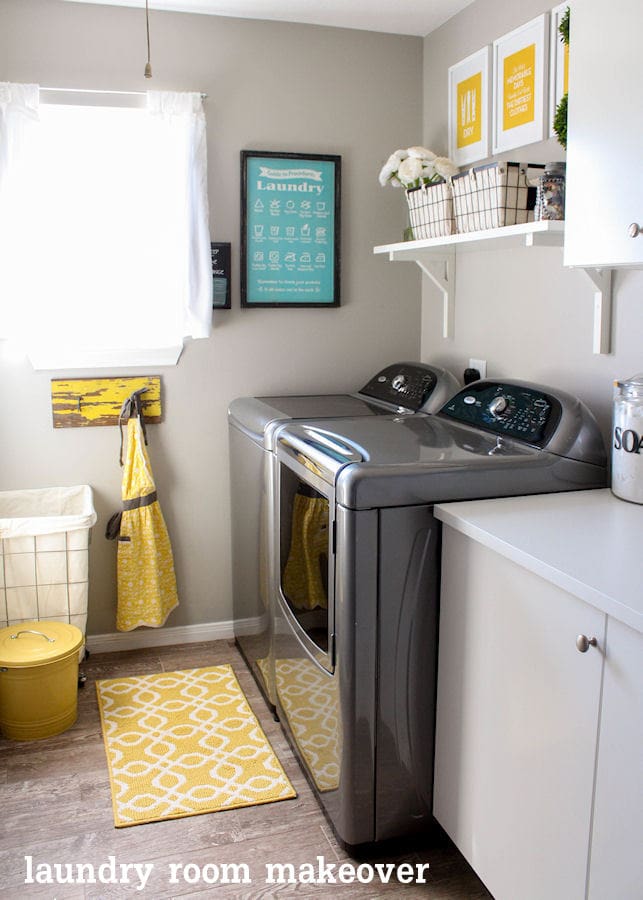 We've been in our house for almost 2 years and we finally put some time aside to work on the Laundry Room. We've actually been working on it very slowly over the last few months and finally got most of it together this past weekened, and I have been SO excited to share it with you! I still have lots to show you from our home here in Texas, and I'm determined to have it all together this year so stay tuned for even more makeovers from the Merkley Home. 😉
Today's Laundry Room Makeover was a long time coming. I was so grateful to have a designated spot in the house for the laundry but realized it was a big waste of space unless we had some cabinets and storage. Here is what it looked like before: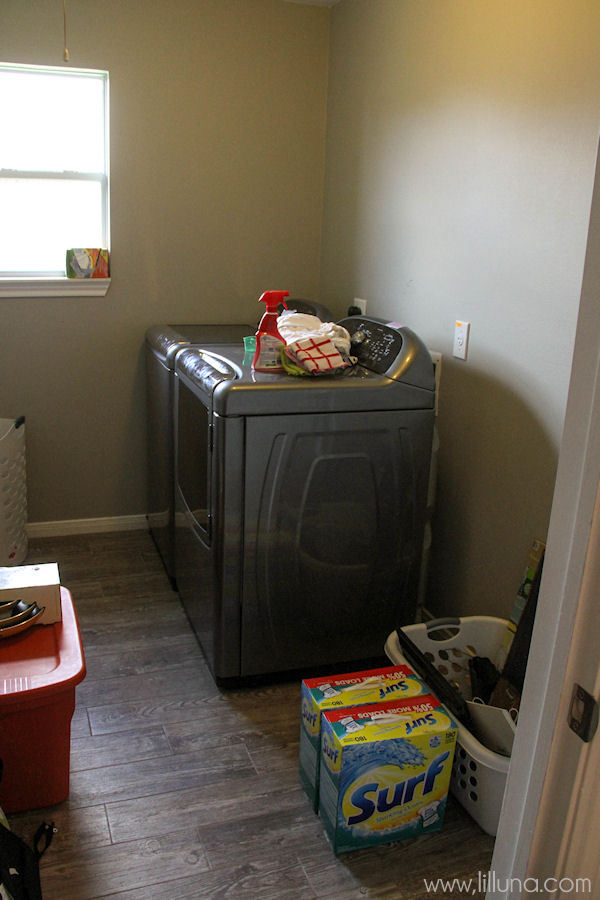 We added the wood-like tile (didn't snap a pic of it before this) and knew that cabinets would make a world of difference, especially since I have TOO MUCH stuff and need more places to store it all. 😉 I also wanted to make it more "me" and this is what we did…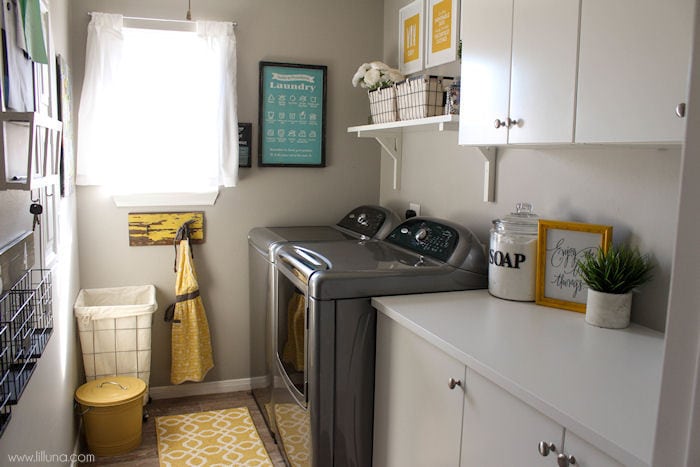 More than anything we just cleaned it all up, made it look pretty and found places to store all of the "junk" that you can usually find in laundry room.
Here are some more pictures with all the details..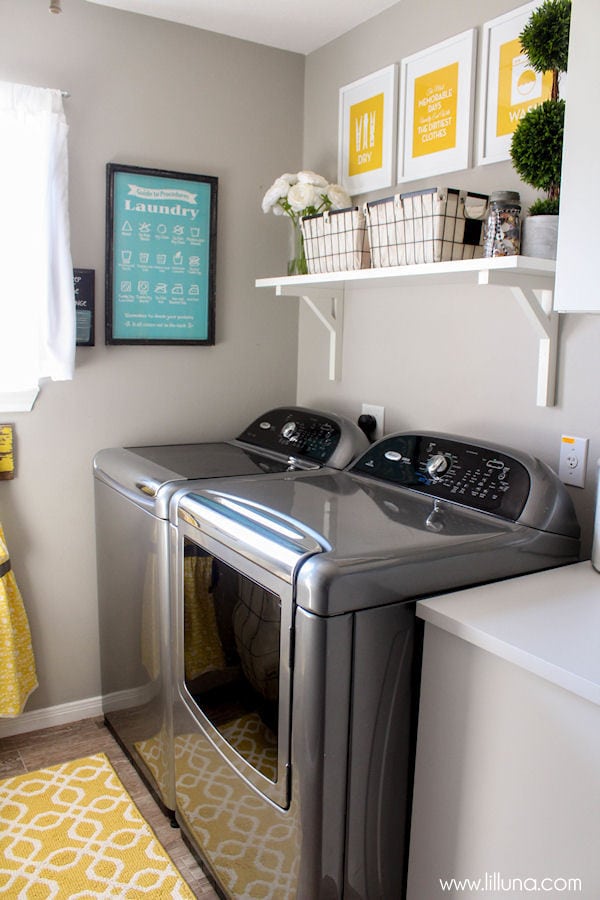 We added the shelving and got those from IKEA. The topiaries and flowers are from HomeGoods.
The Wire Baskets and 11×14 frames are Better Homes and Gardens Products from Walmart. I love the baskets because they store all the things I use but keep them out of sight (like the dryer sheets, sprays, etc.)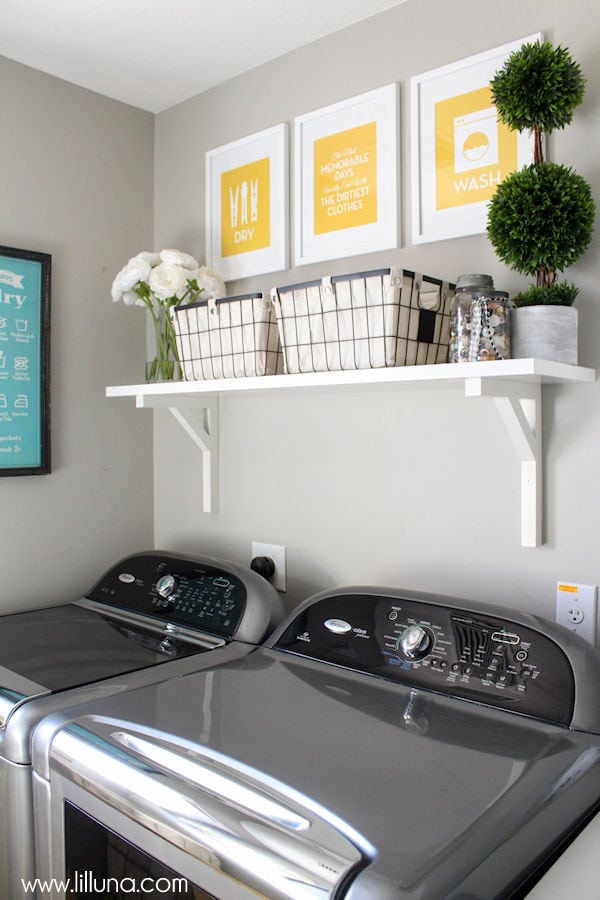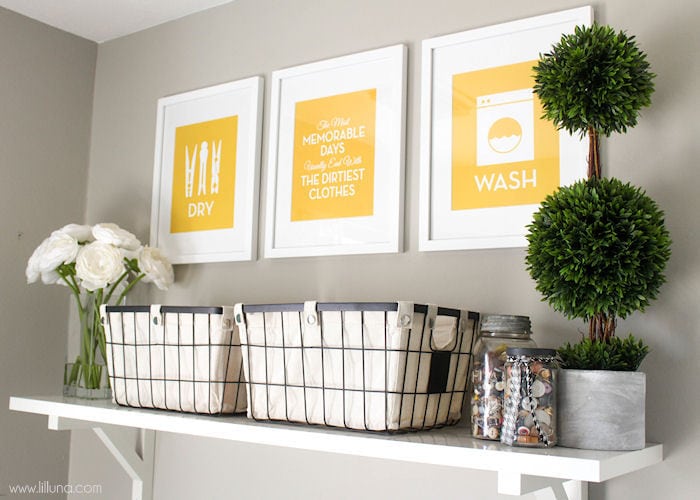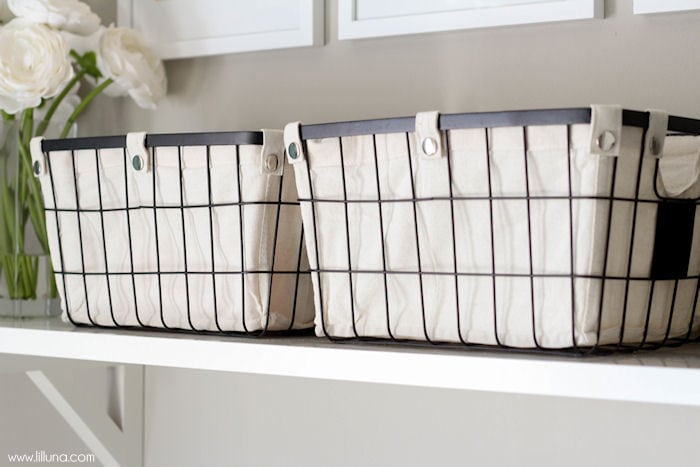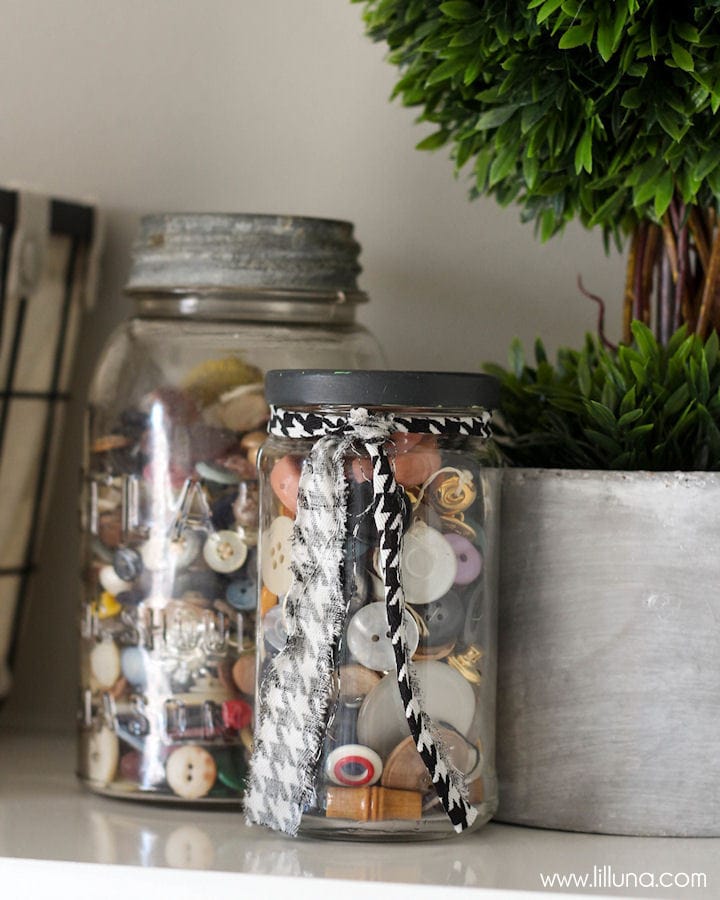 I found these cute vintage jars in random places over the last few years. They already came with the buttons inside of them too, and I LOVE them!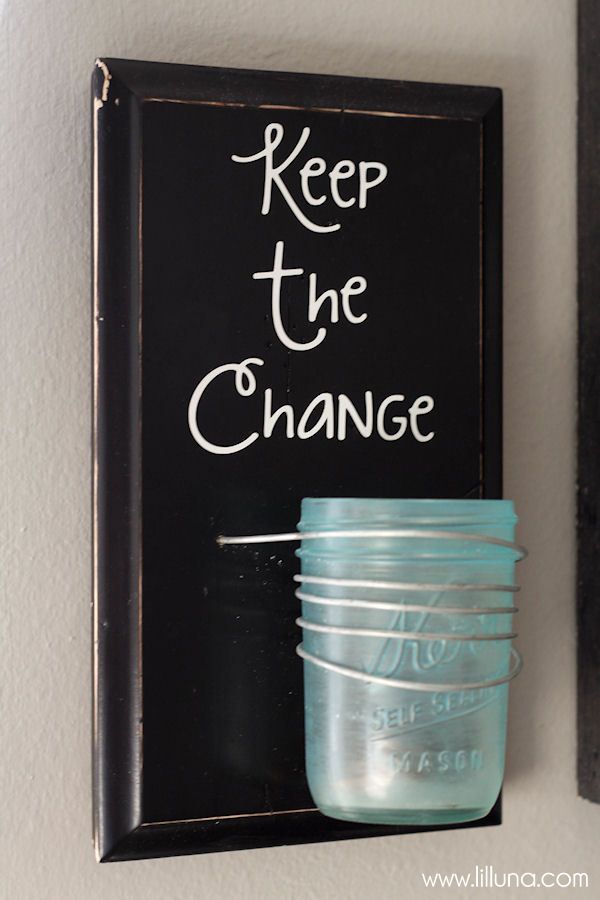 To the left of the shelves is this Keep the Change Sign I made several years back. I store all the loose change I find in pockets and have collected quite the stash over the past few years. For the tutorial go HERE.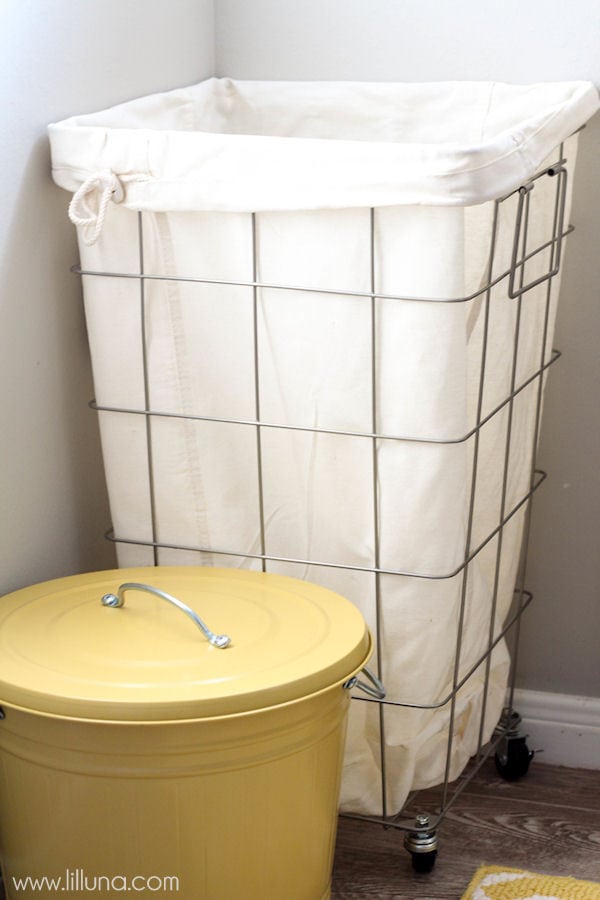 Under the window is this Better Homes and Gardens Caged Hamper that I adore. It's so cute and has wheels, and I'm so excited to use it because it's functional and pretty!
The yellow trash can is from IKEA, and I also love that it is functional and pretty too. 😉
Next to the hamper is this yellow chippy board with hooks that I purchased from a swap meet several years back. It's the perfect place to hang my new apron I picked up from HomeGoods. 😀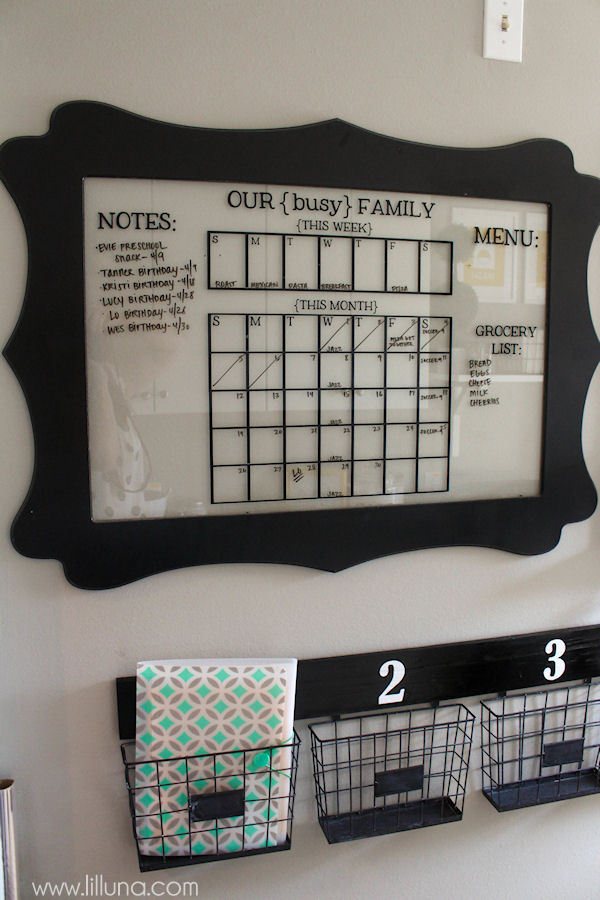 On the left side of the entrance is my wall that will hopefully help me stay organized. 😉 I have my Glass Vinyl Calendar that I made several years ago (for the tutorial go HERE) and a wire basket hanger I picked up from Hobby Lobby. I wasn't in love with the colors of it so I painetd it black and added white vinyl numbers to it. I'm hoping to have a spot for all of the children's papers and things to help stay more and track… and organized. Heaven knows I need all the help with these 5 kiddos! 😉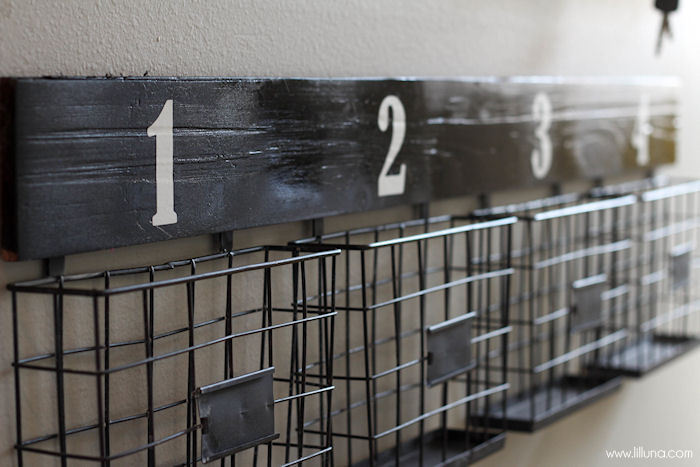 On the counter of the shelves I added some cute decor pieces. Here they are…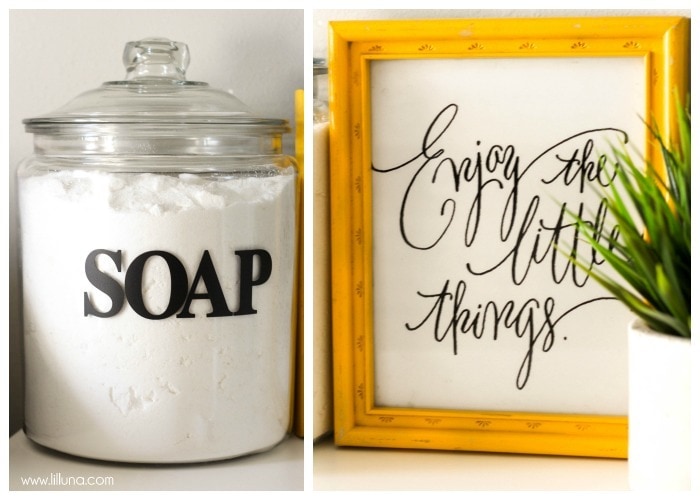 My soap jar is also the one I use for my FLOUR and SUGAR in my kitchen. They are from Walmart, and I'm obsessed with them! I'm pretty sure you can find them in-store only. 😉
The Teal Lamp Base is also from Walmart, and I love that it ties in the Laundry Sign I have up on the wall.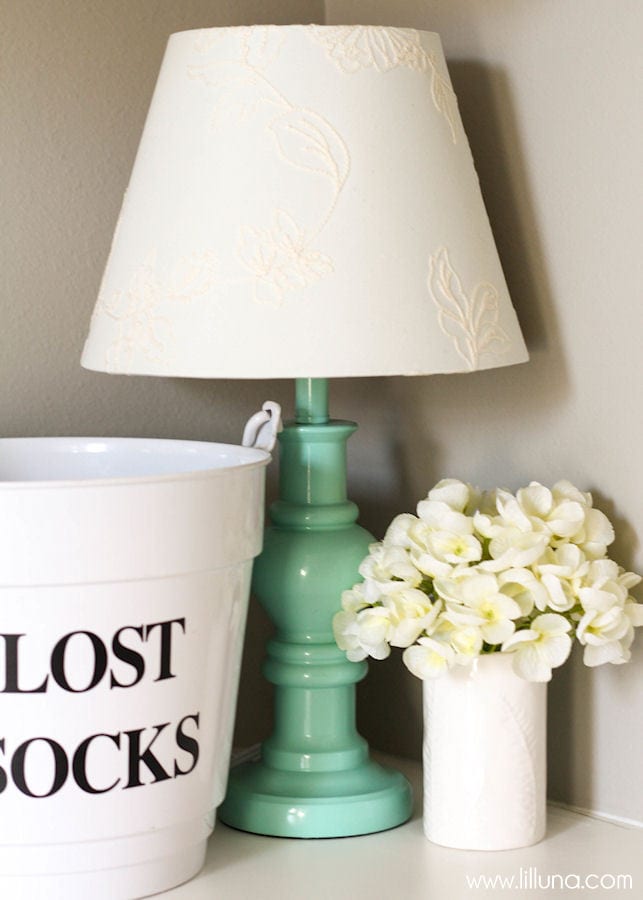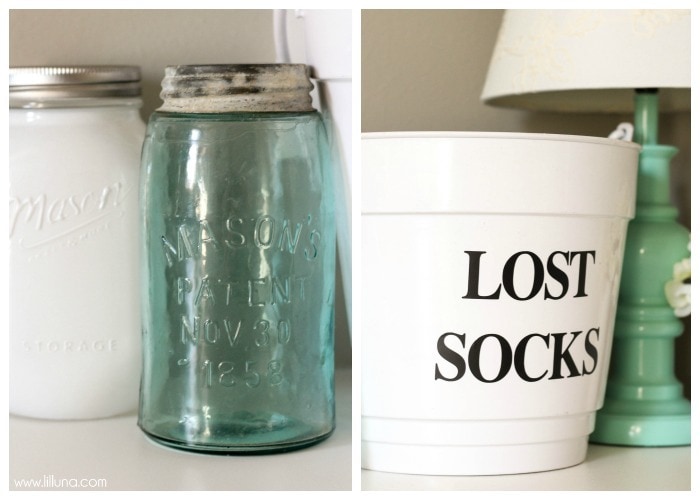 I picked up the old Mason jar at an antique shop here in Texas. The White pail was purchased years ago, but I decided to add vinyl that says "Lost Socks" to have them all in one place. It's definitely full most days. 😉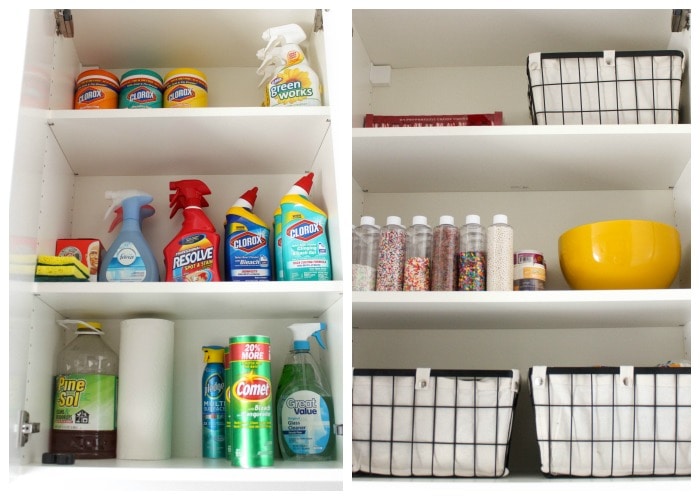 On the top shelves I use the ones on the right to store some of my blog items and tools. I used the Wire Baskets again because they are awesome (and cute!) On the left are my cleaning supplies.
On the bottom shelves, I store some of my photo props for all the recipes I take. This is about half of them… and yes, I know I have a TON! I don't feel so bad because I know some of my friends have wayyyy more. 😉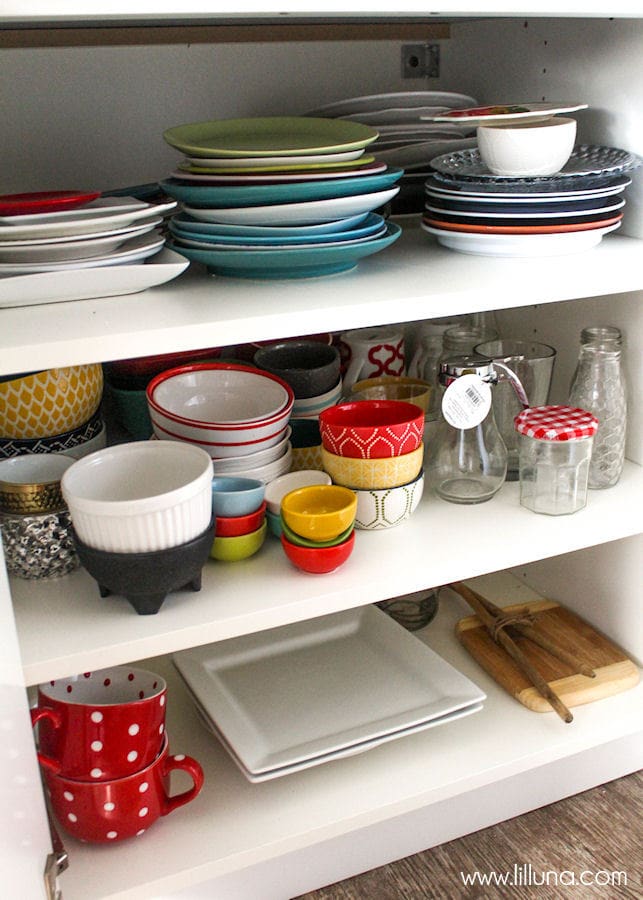 Here are some more pics of some of the smaller items in the room…

And here it is again… way prettier and more functional than it was before!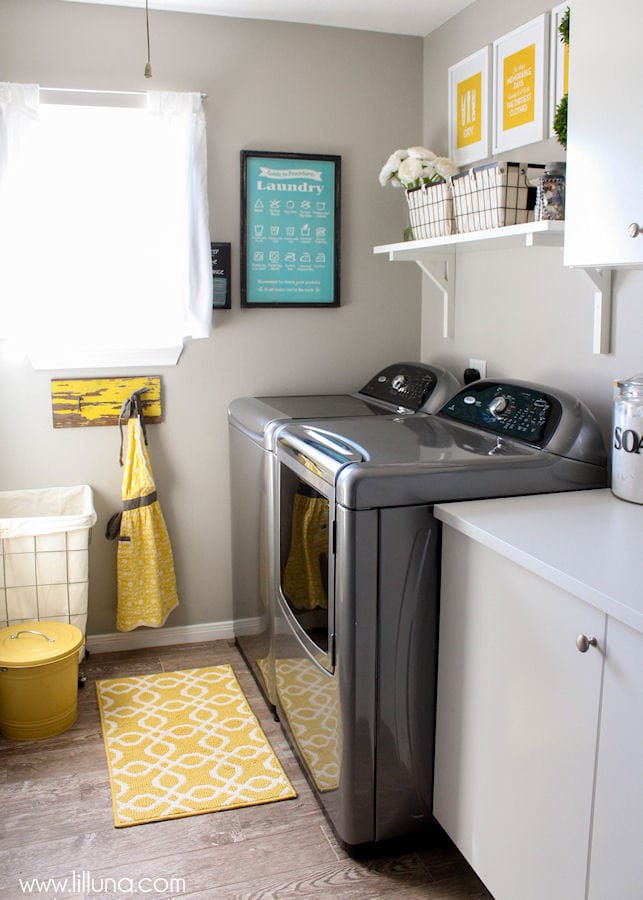 Here's the proof… BEFORE and AFTER!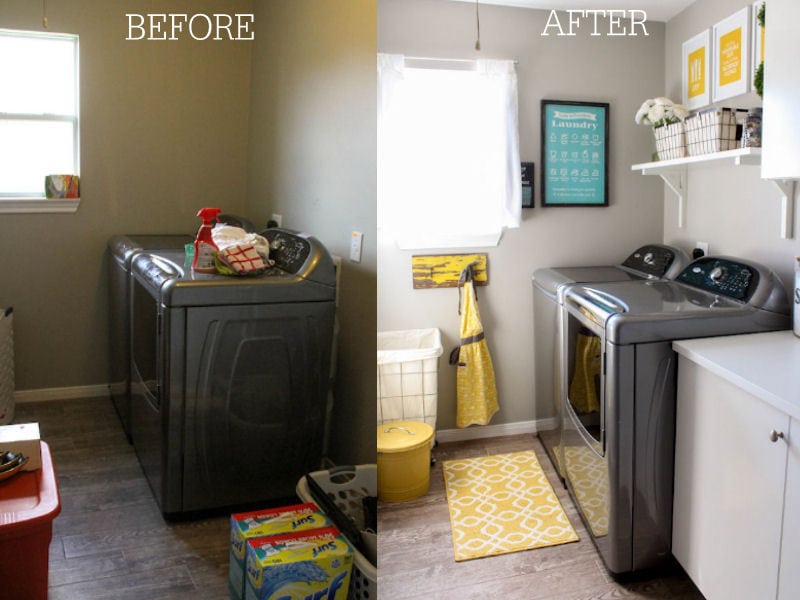 Night and day difference, right?!
Here are some of the links again to some of the items I used for this makeover…
BHG Wire Baskets with Chalkboard
And for some of the tutorials…
Dry Erase Wall Calendar Tutorial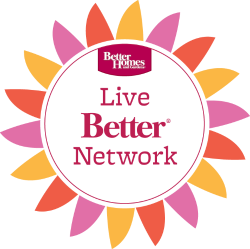 For more information about BHG Products be sure to follow them here – Instagram, Facebook, Twitter, and Pinterest.

For all Christmas ideas on the site go HERE.
ENJOY!
I received compensation from BHG at Walmart for my time and participation in the BHG Live Better Network. As always, all opinions are my own.