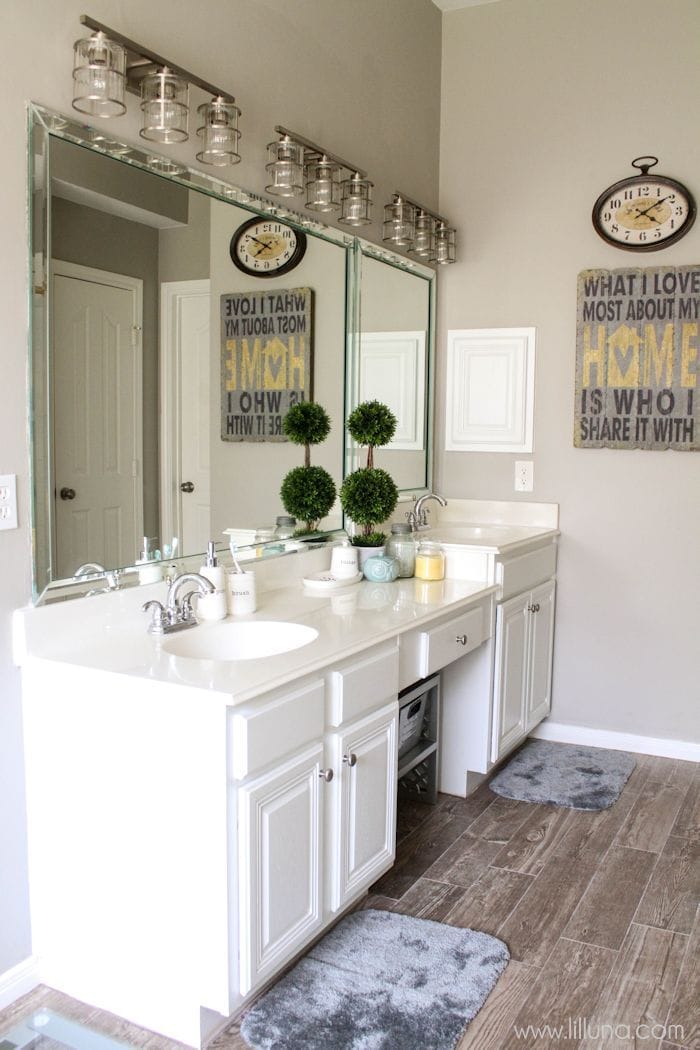 I'm SO excited to share with you guys the Master Bathroom Makeover we worked on this weekend. It's actually been a project we have slooooowly been working since we moved in the house, but one we just finished on Saturday. Ever since we moved in, we've been going through each room and making it our own. I knew we'd get to the Master at some point (the Master bedroom still needs tons of work), but I'm happy to say that we at least have the Master Bathroom completed. I don't have a picture of it from when we first moved in, but within the first year we at least painted the cabinets and add brushed nickel hardware. Since then we have done much more, and now I'm in LOVE with the Master Bathroom. Even the kids, who take baths in there, thought it looked so "pretty". 😉 I agree!!
Here's the BEFORE shot we captured a few weeks ago: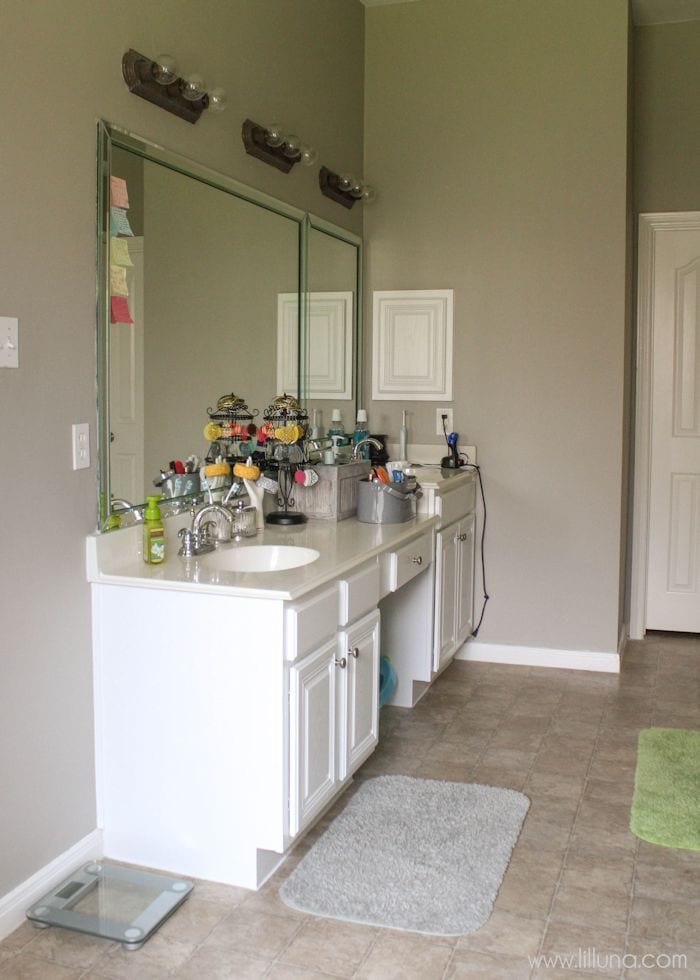 Nothing great. We had old lights and countertops we used to display all the "junk" we used. We instead bought baskets and made places for these items where they weren't out all the time. They're really what made the bathroom look messy. :/
Now – it is more organized which means it stays clean better… or at least it has for the past 4 days. 😉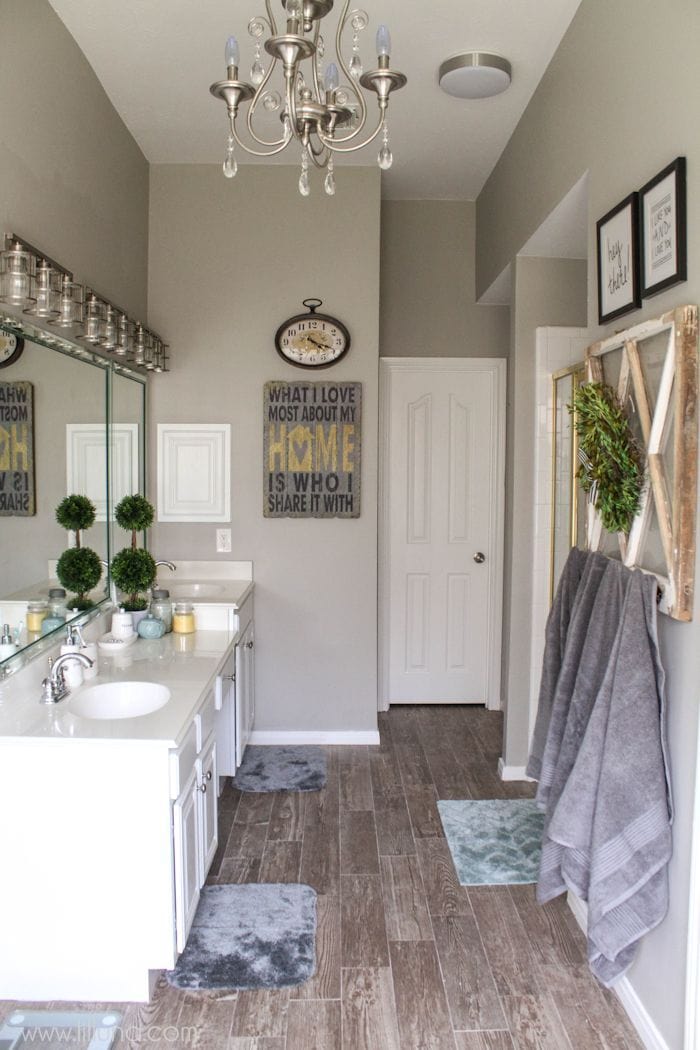 We started the process by de-junking and then working on the floors. We placed wood-like tile in our kitchen and entry way 6 months after we moved in and decided to finally update all 3 bathrooms with the same tile. We have LOVED this tile because we love the maintenance of tile but the look of wood. We purchased ours at Lowe's.
TILE INFO:
COMPANY – Florim
SERIES – Forest
COLOR – Rain
Here's what it looked like before: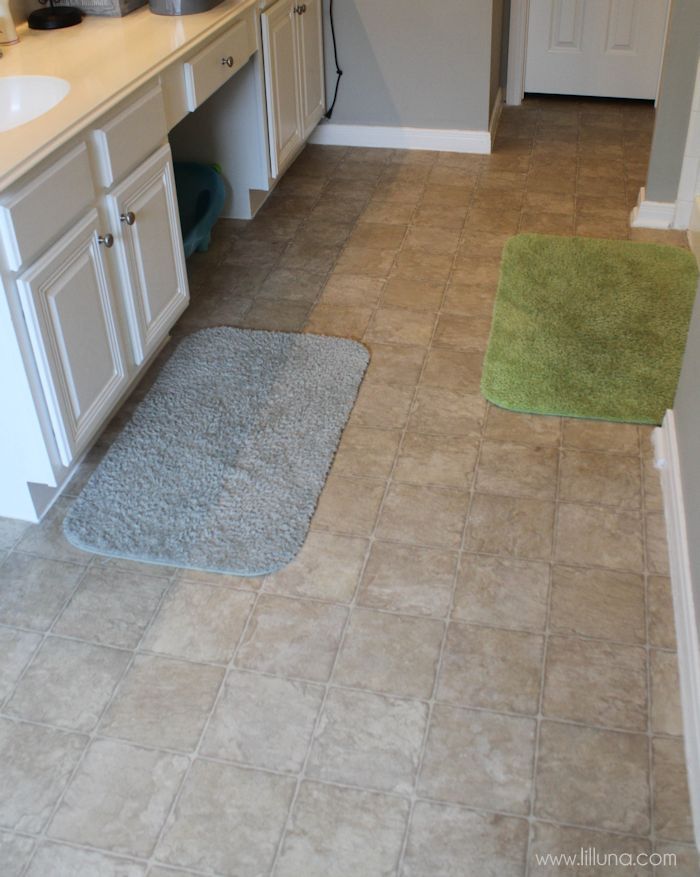 And here's what it looks like with the tile, along with a Better Homes and Garden Chevron Bath Rug (Color: Seaglass Green).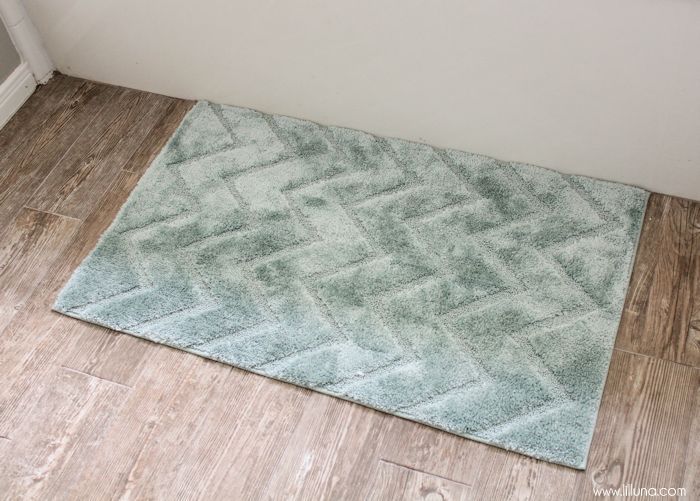 After we worked on flooring, we decided to work on the Lighting. This is what they looked like before: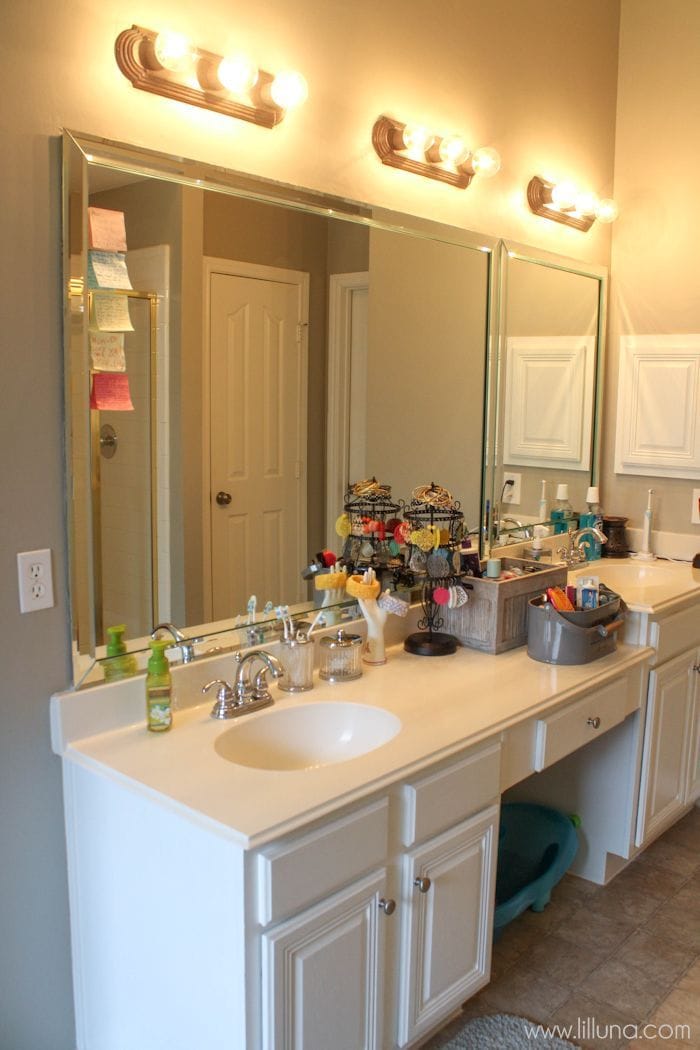 And this is what they looked like after: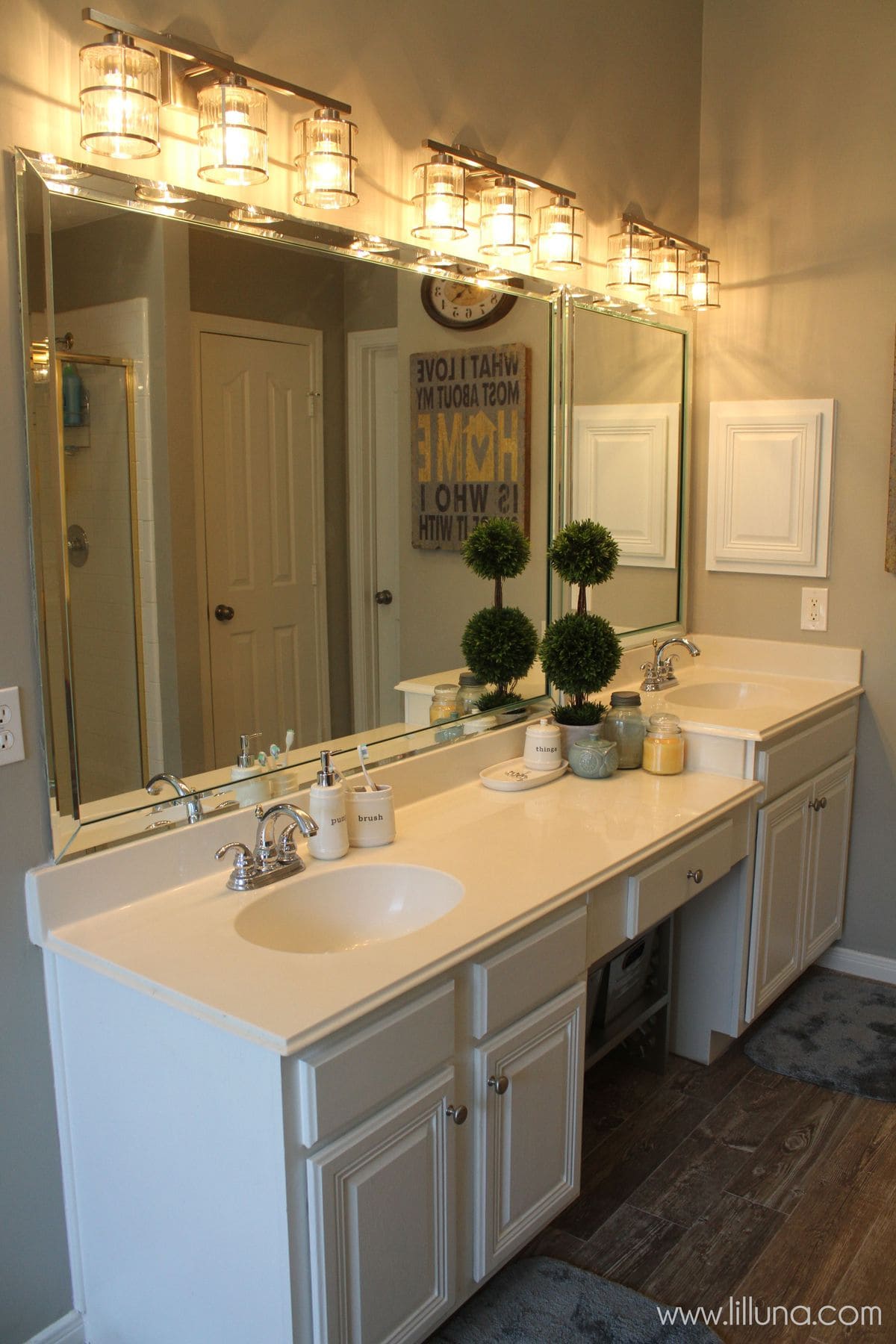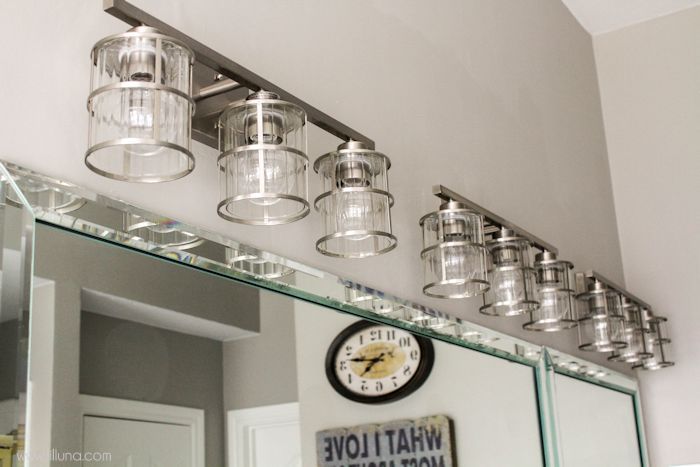 HUGE DIFFERENCE!!
We bought Allen + Roth 3-Light Vanity Lights from Lowe's found here.
We installed these lights using the same technique we did for our Guest Bathroom… (I'll copy and past the tutorial here)
SUPPLIES:
– 3 light kits
– Spackle (we used Fast'N Final Lightweight Spackling – it's super light, sands really fast and dries quickly)
– 4 inch patch kit
– Sanding Screen
– Wire cutters
– Cordless Drill
– Spackling knife
– Drywall Hand Sander
– Touch-up Paint & Paint brush
DIRECTIONS: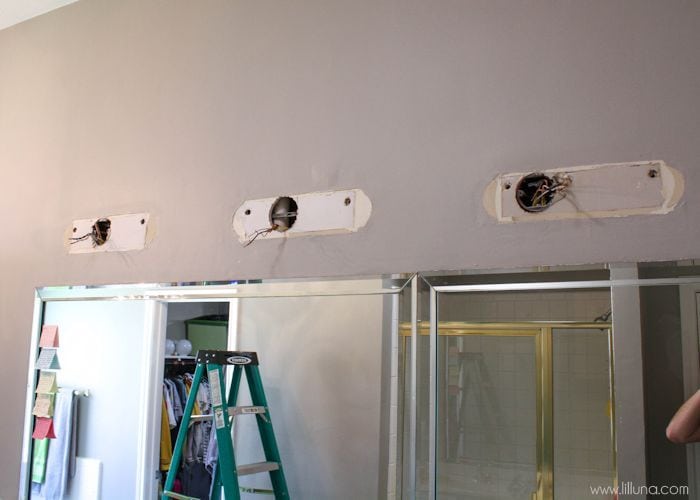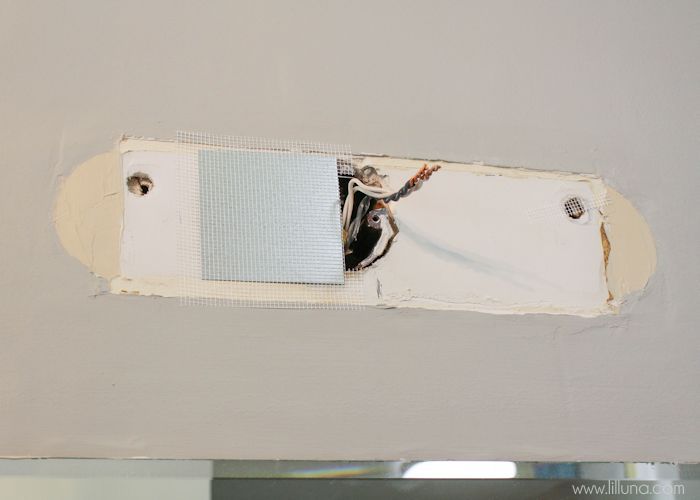 1. First, we removed the old light and applied the patch to the large hole. The style we used had an adhesive mesh with a thin metal plate. So you simply remove the backing and stick it the wall in the area of the hole.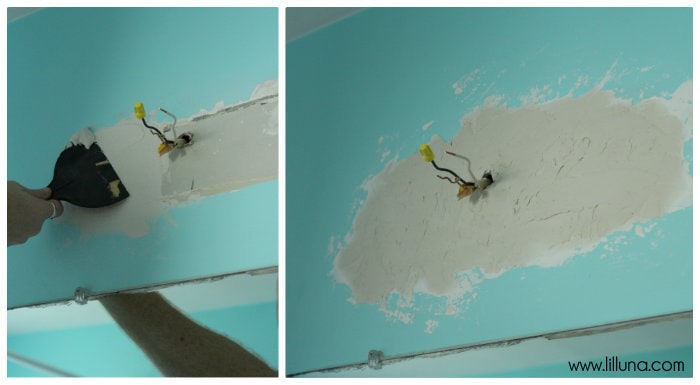 2. We spackled over the patch and over all the divets. It's better to add too much and sand it away later, than to not add enough and have to re-apply.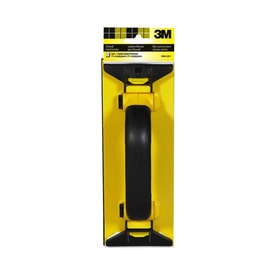 3. Sand the spackling smooth. We used 150 grit sanding screen and a drywall hand sander. We sanded until it was completely smooth and had no visible transitions to the painted wall. This was very dusty. We would recommend putting down plastic because dust went everywhere. We painted it when it was done.
4. Install the lights according to the instructions provided.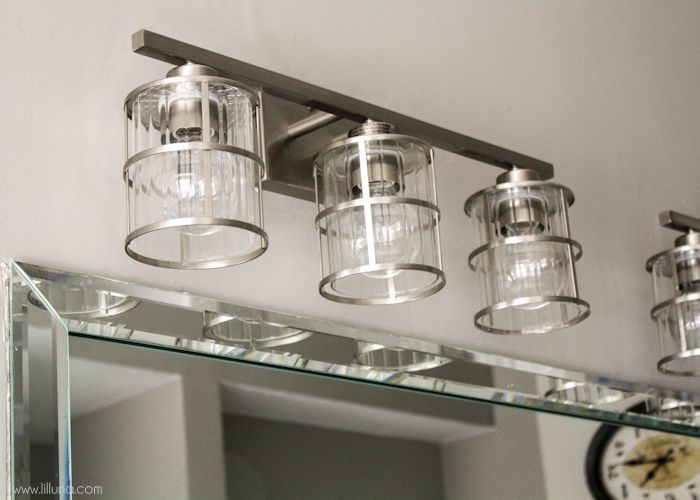 We also decided a small Chandelier would be perfect so we got this one from Lowe's as well.
We simply used the instructions to install this one which was fairly simple. 😉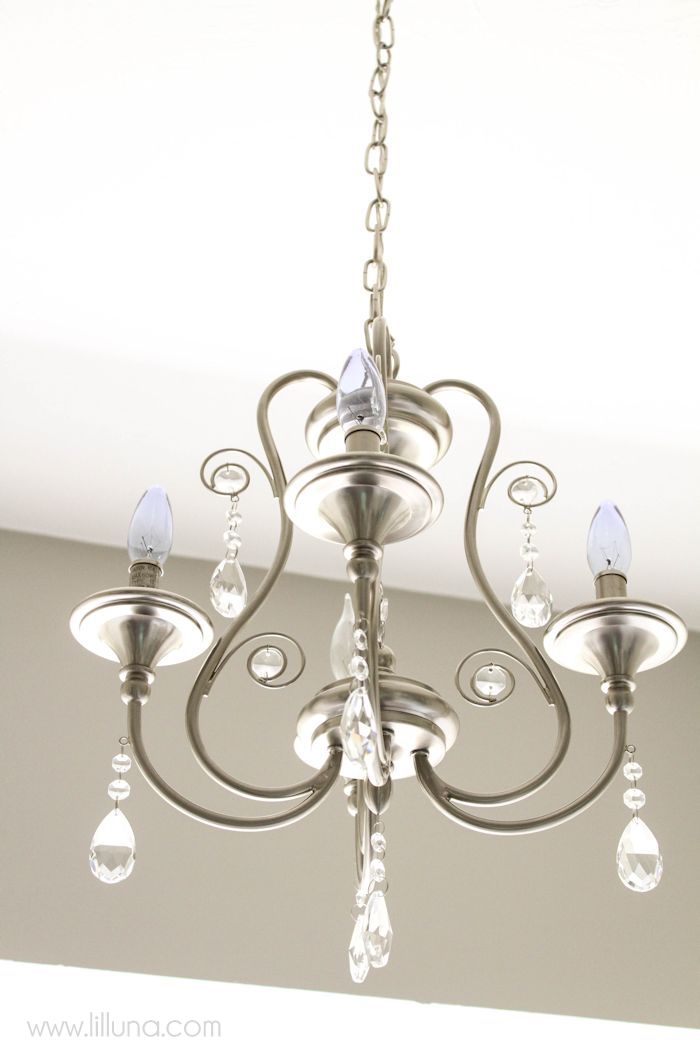 We also installed a new Towel Holder and bought some Better Homes and Gardens towels from Wal-Mart that matched the Bath Rugs.
The towels on the right are in Green Juniper but are the same as the Seagrass Green of the area rugs (they look like a soft turquoise) and can be found HERE. The Chevron towel is also BHG but can only be found in-store.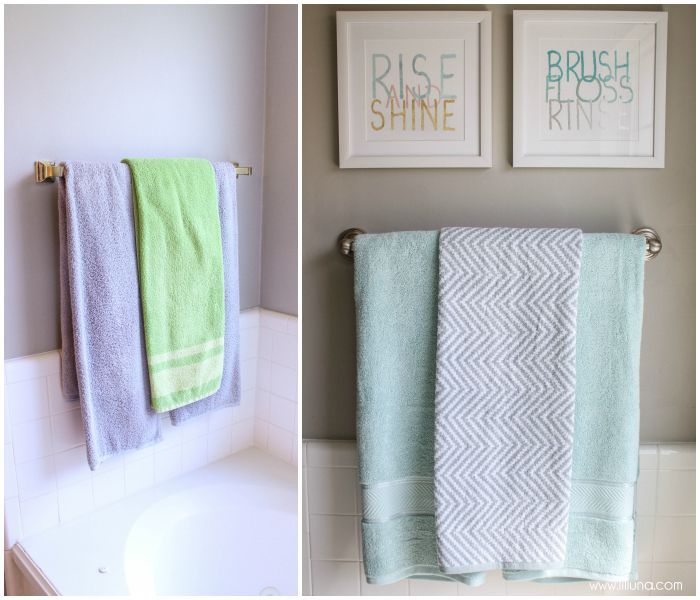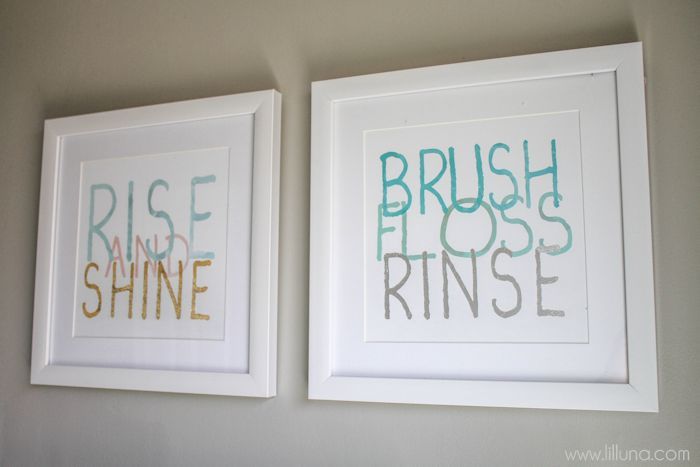 Thee cute bathroom signs are from Hobby Lobby. Cute, right?!
The signs below are also from there and added the perfect touches to the bathroom. 😉
We also wanted to use this Vintage Window we'd had for years and made a Vintage Window Towel Holder from it by adding hooks and a wreath. 😉
I LOVE it!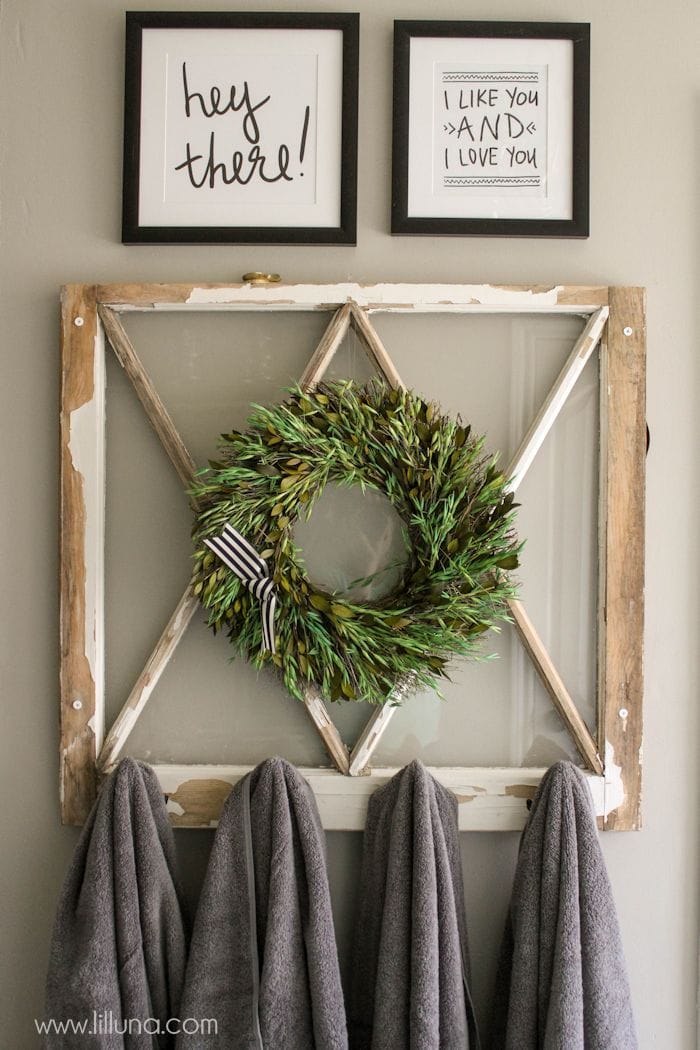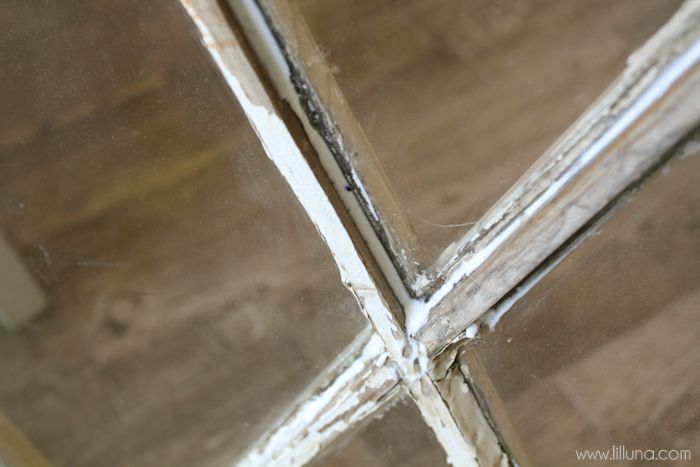 We re-caulked the window panes in to make sure they wouldn't come off and then screwed the window into the wall itself to make sure it wasn't going anywhere. 😉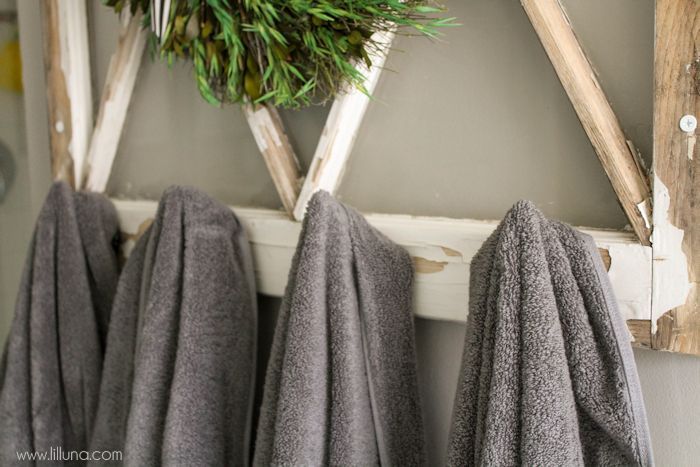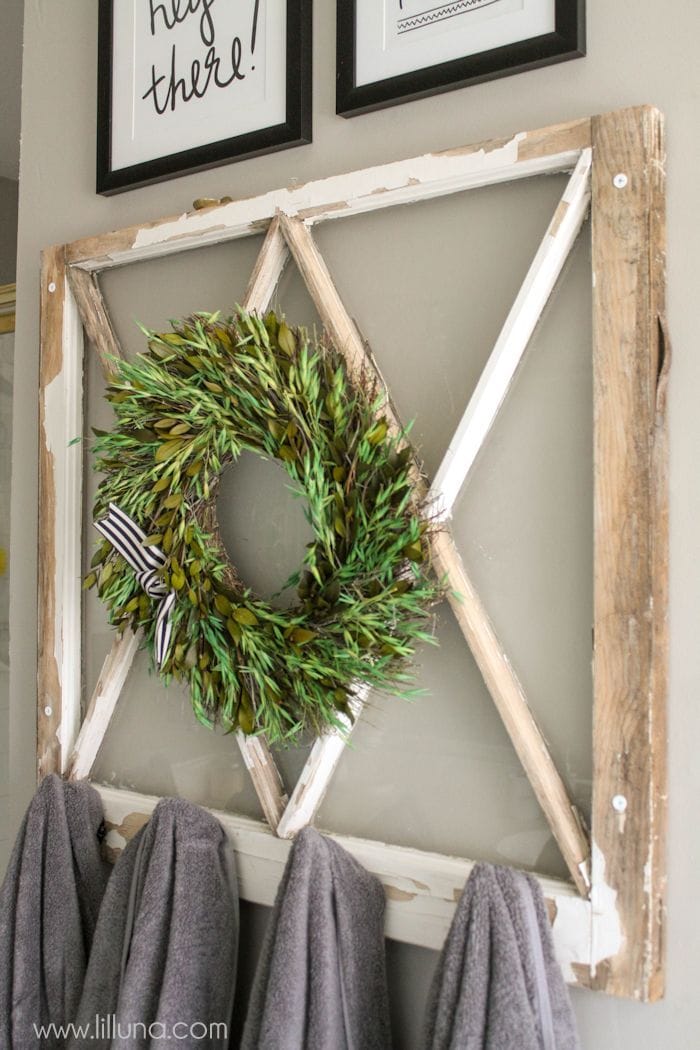 (The towels are Better Homes and Gardens Grey Shadow.)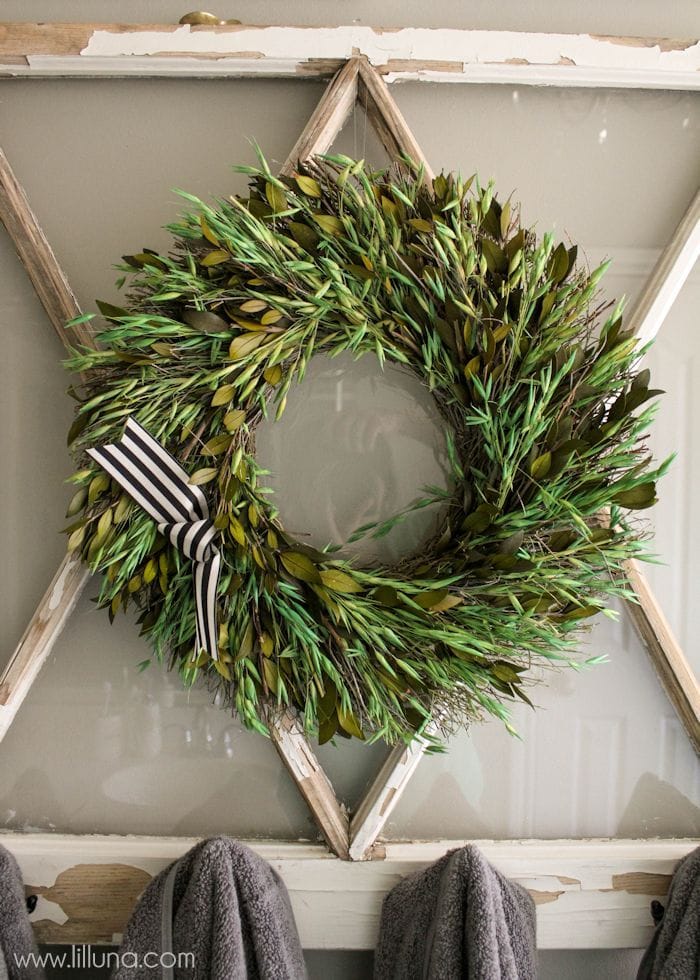 We finished off the rest of the bathroom with more small pieces to make it more home-y.
We realized we're always peaking around the corner to see what time it was, so I knew this Vintage Oval clock from BHG at Walmart would be perfect! And, it is! Can't tell you how many times I've had to glance at it already in the last few days. 😉
The sign below it was found at HomeGoods and is a sign made from a print that my friends from Eighteen25 made. LOVE! For their free printable versions go HERE.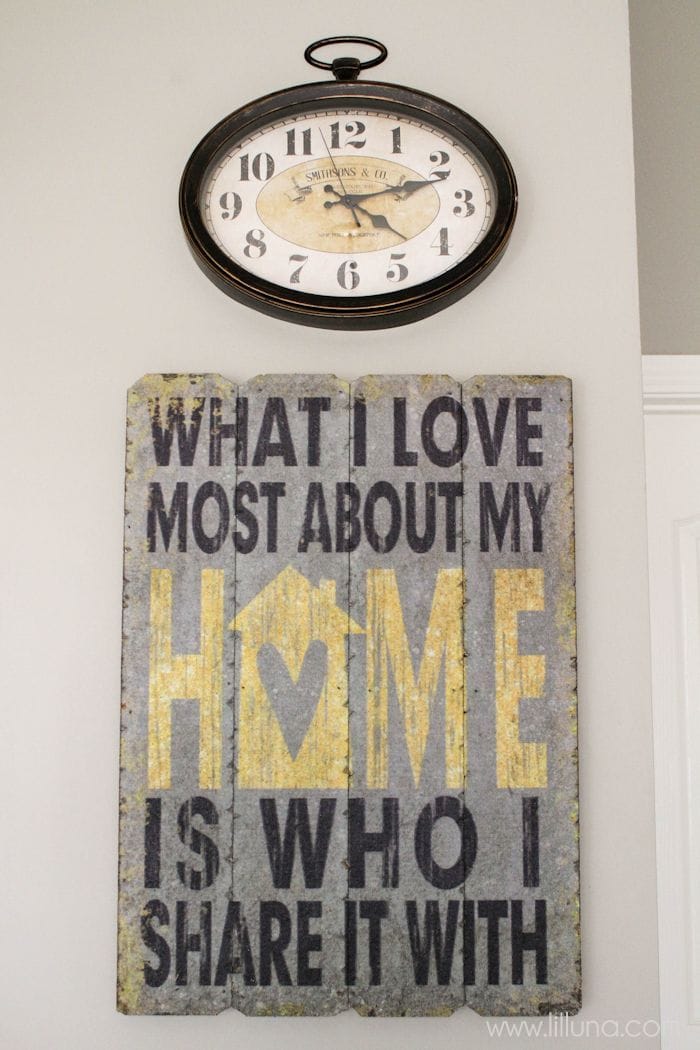 We finished things off with a few more accessories and decor pieces: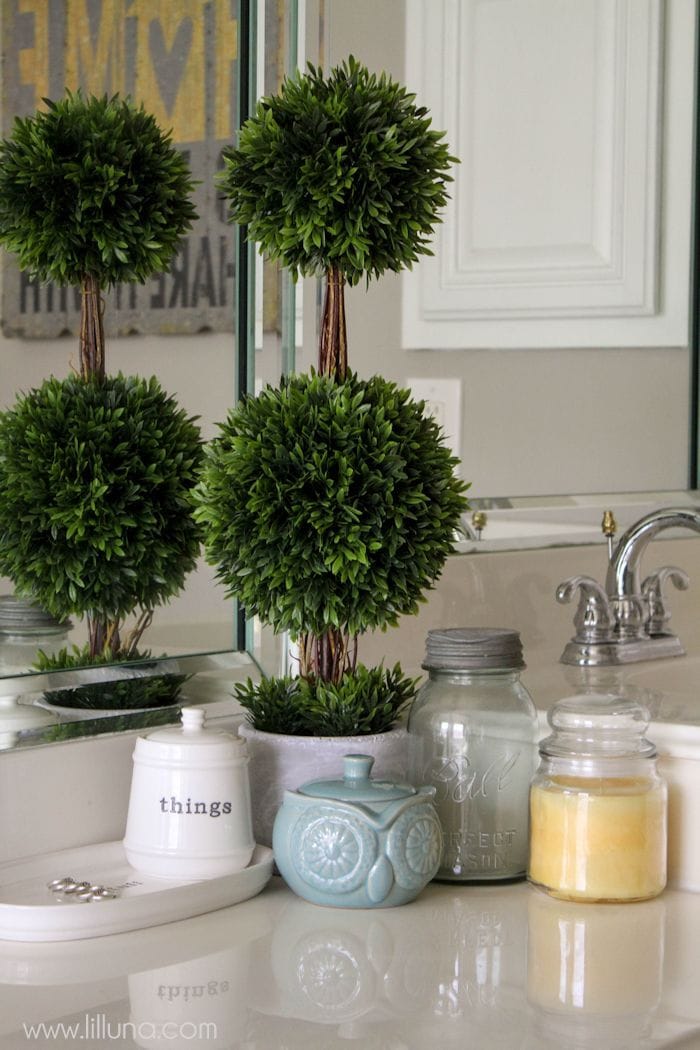 When I saw these WORDS bathroom accessories, I knew they'd be the perfect fit. The turquoise owl, Vintage Ball Jar and yellow candle were also perfect to tie in some colors in the bathroom.
We use our BHG Things Jar for Q-tips and the BHG Stuff Tray.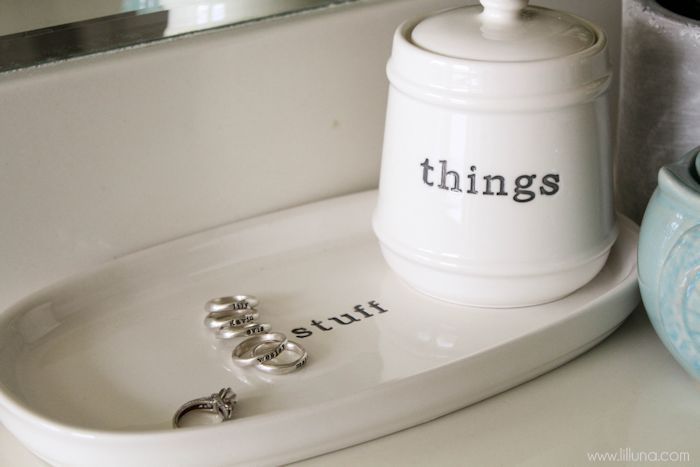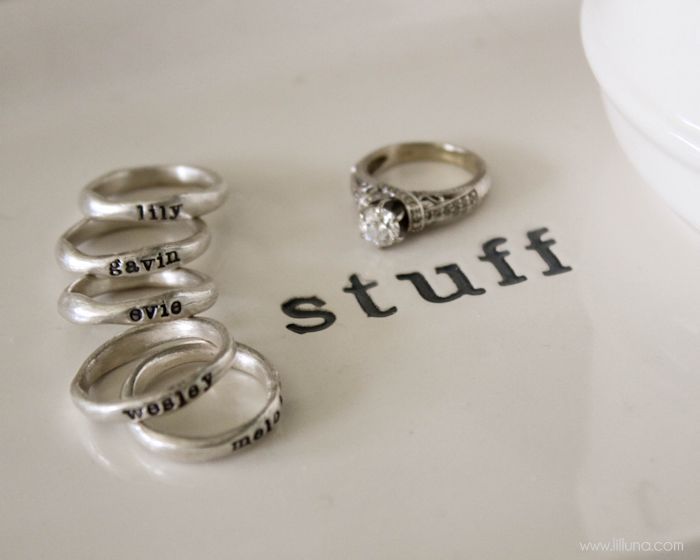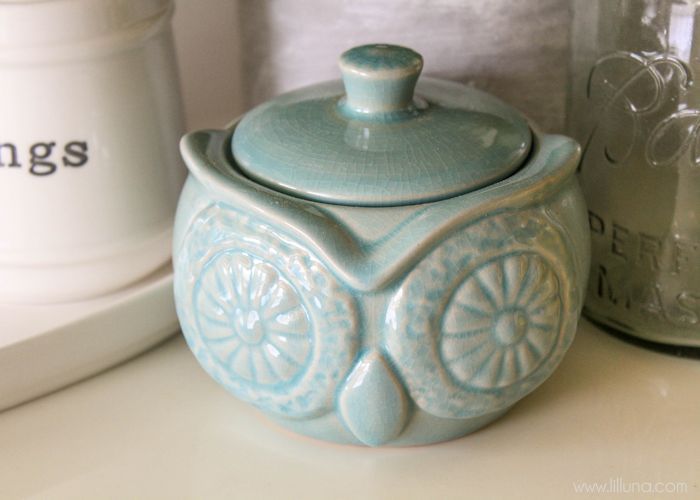 (Better Homes and Gardens Covered Owl Jar)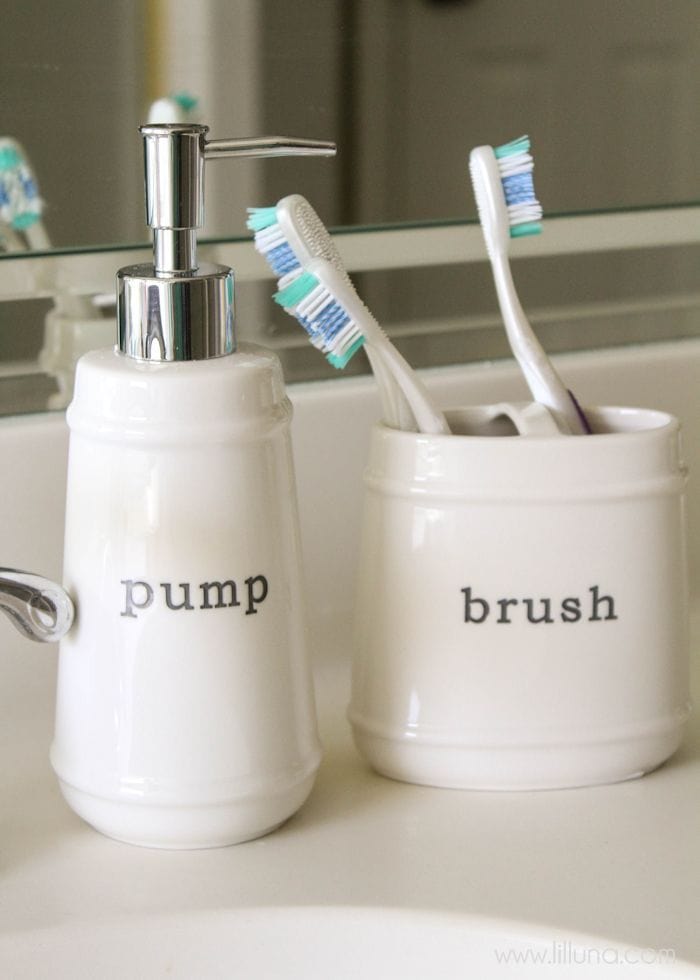 (Better Homes and Gardens Soap Pump and Toothbrush Holder.)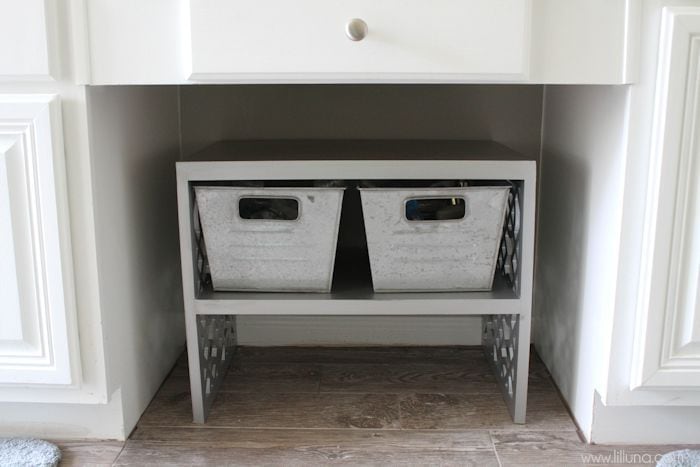 (Better Homes and Gardens Galvanized Bins)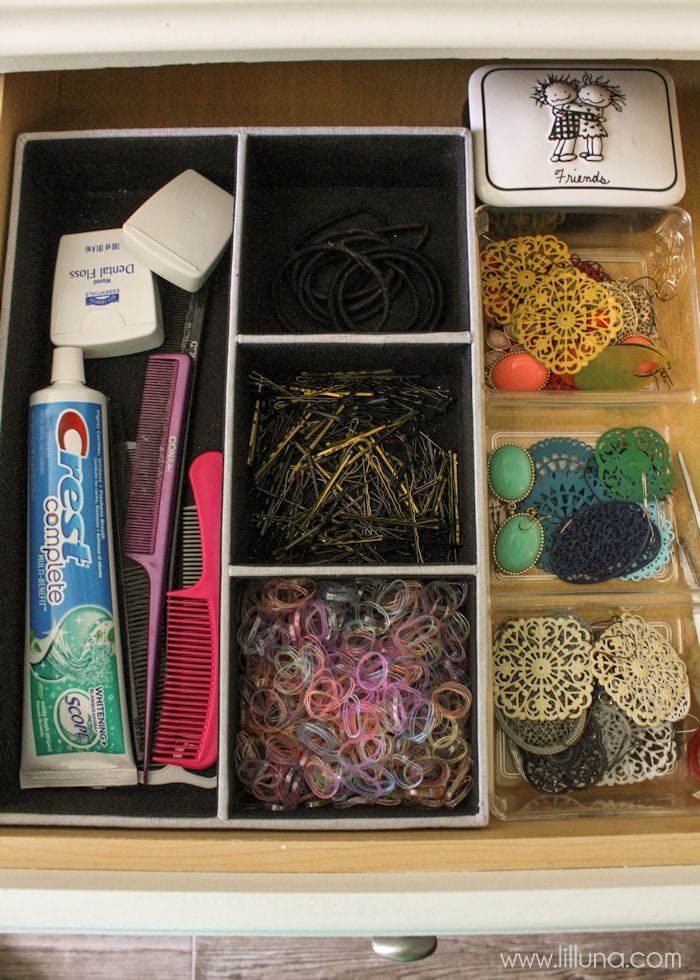 I also knew I'd need to organize my bathroom drawer and was happy to see the BHG Drawer organizer that I knew would be perfect for the hair items we use each morning when I'm doing the girls' hair. I couldn't find the organizer online so I'm assuming it's an in-store only item. 😉
With that last touch, I'm so happy how the Bathroom Makeover turned out! It's home-y and pretty and a place that is "me". 😀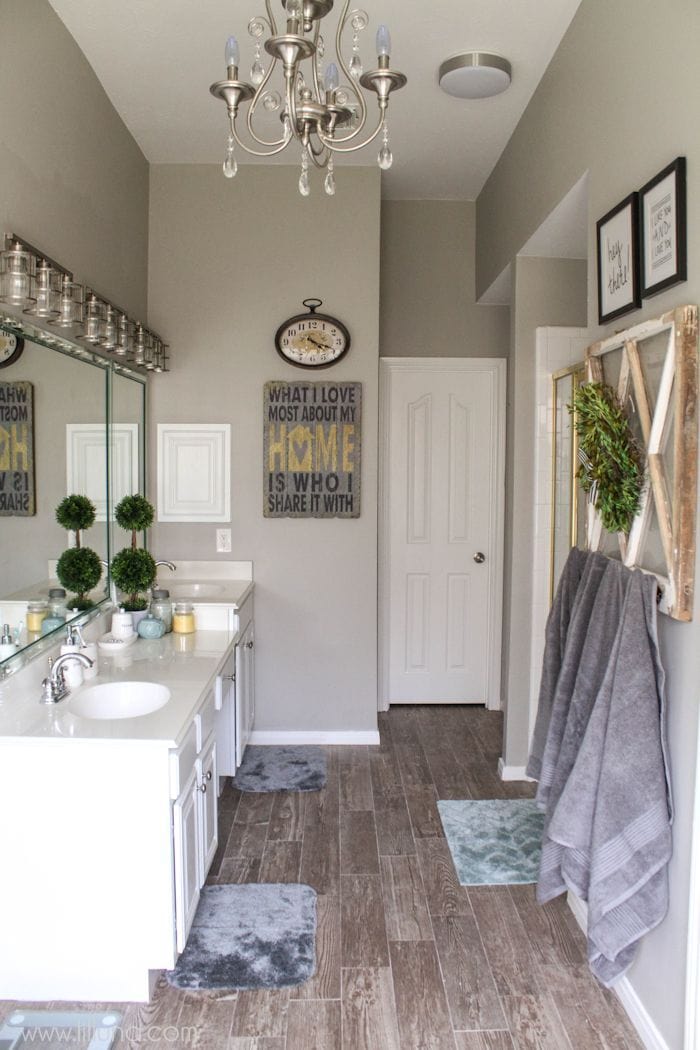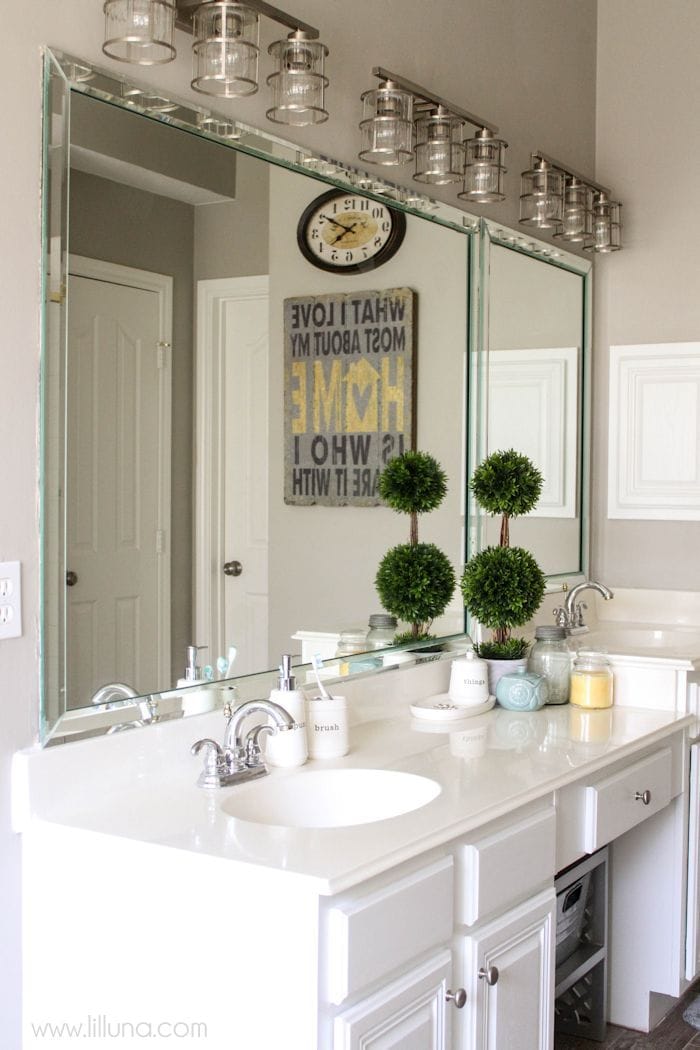 I hope this makeover will help you in decorating your new bathroom space!!
For a complete list of all the products used, I've put them all in one spot for ya. 😉
PRODUCTS:
For more Makeovers we've done in our home, check out: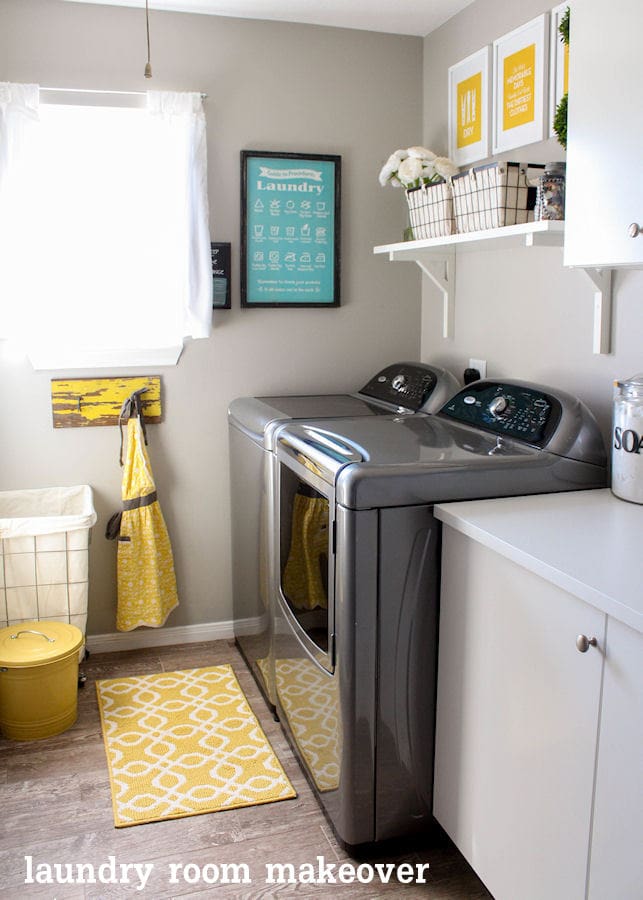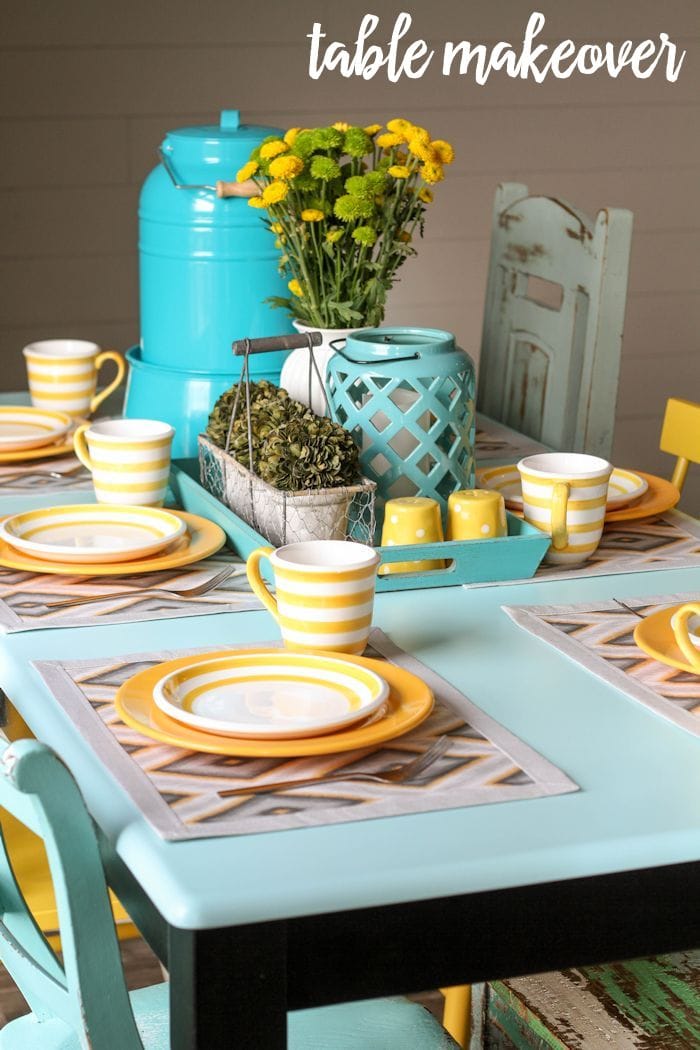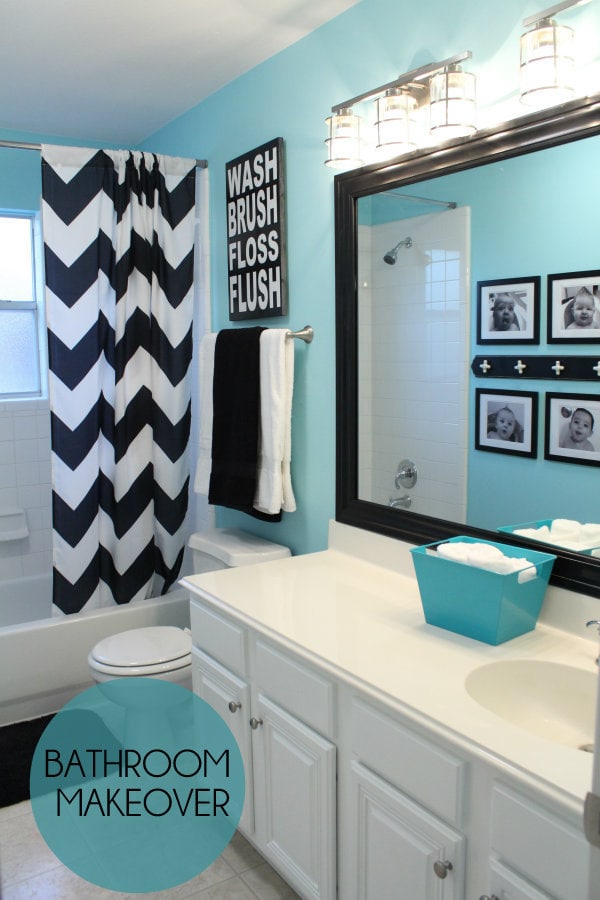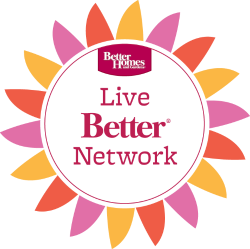 For more information about BHG Products be sure to follow them here – Instagram, Facebook, Twitter, and Pinterest.
For all tutorials on the site go HERE.
For all Decor ideas go HERE.
And get weekly emails with monthly freebies by signing up for the Lil' Luna newsletter. 🙂
For even more great ideas follow me on Facebook – Pinterest – Instagram – Twitter – Periscope – Snapchat.
Don't miss a thing – Sign up for the Lil' Luna Newsletter today!
ENJOY!
I received compensation from BHG at Walmart for my time and participation in the BHG Live Better Network. As always, all opinions are my own.