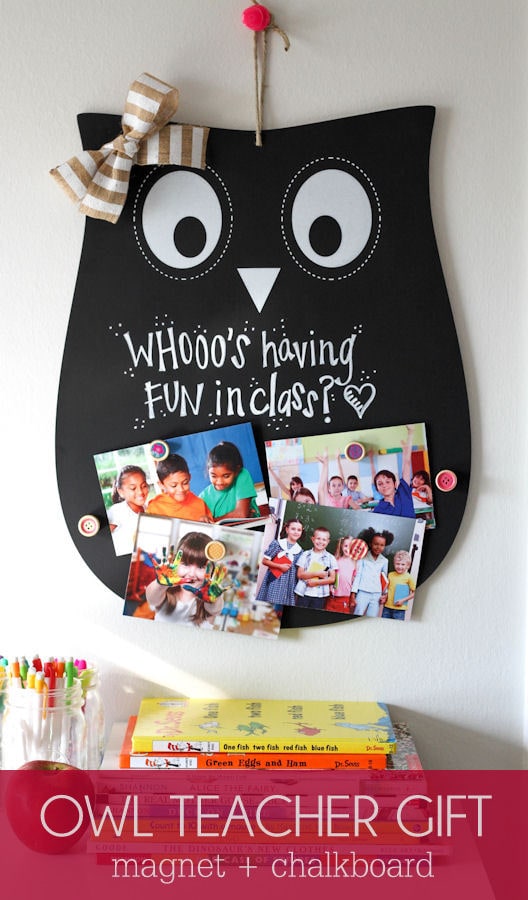 I know not everyone believes in Back to School Teacher Gifts, but I think it's a great way to start off the year to show your child's teacher that they really are excited to be there and that they are anxious to learn! Are they necessary – no! They're just fun – it's as simple as that. They don't have to cost a ton or don't have to take hours and hours to make, and this next project is one of those. I decided to make an Owl Teacher Gift that was a magnet and chalkboard too. It cost under $12 to make and about 20 minutes to put together.
Easy, right?
If you'd like to make on for your child's teacher this is what they'll need to make it…
SUPPLIES (All purchased from Michael's):
– Chalkboard Silhouette ($7.99)
– Magnets
– Ribbon
– Buttons/embellishments
– Chalk/Chalk Marker
DIRECTIONS: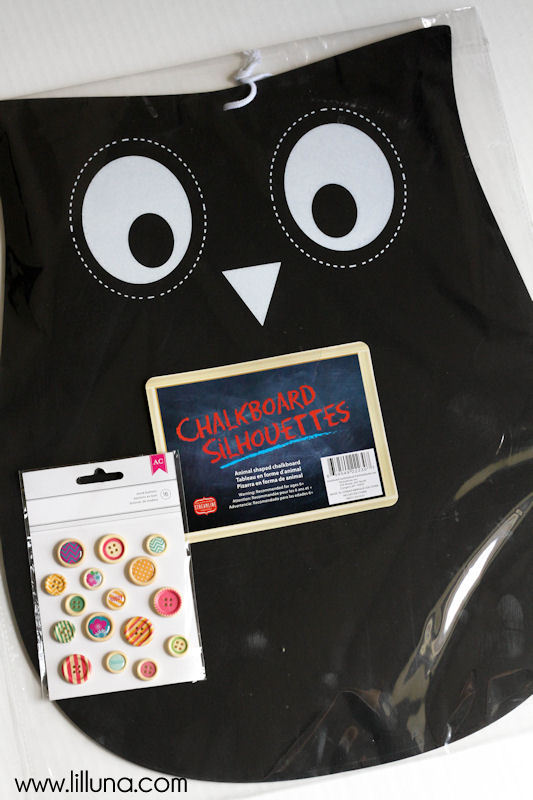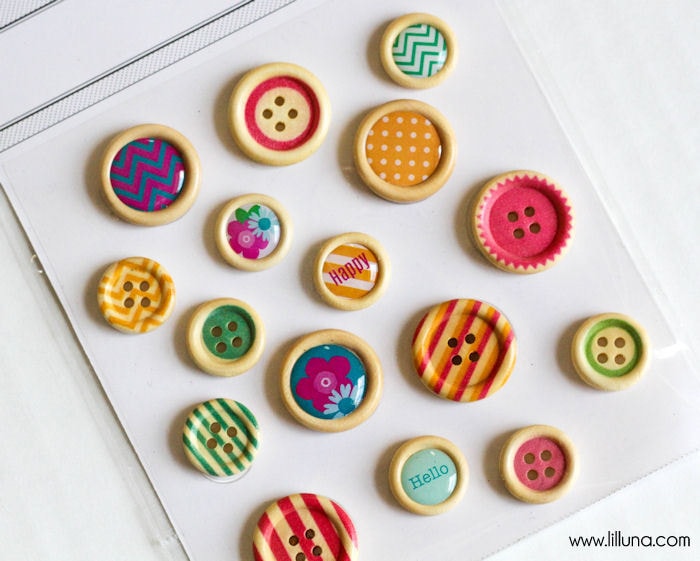 Here is the Chalk Silhouette and the Buttons I used. Cute, right?!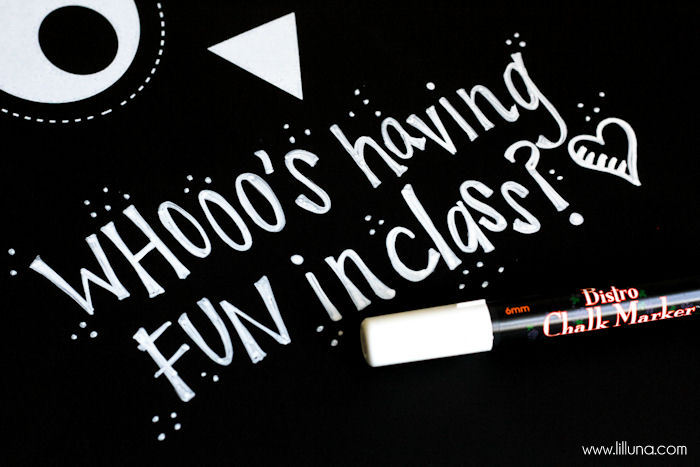 1.Begin by writing your phrase on your board so you know how much room you have.
NOTE: This is chalk so the phrase isn't permanent! I decided to say, "Whooo's Having Fun in Class?"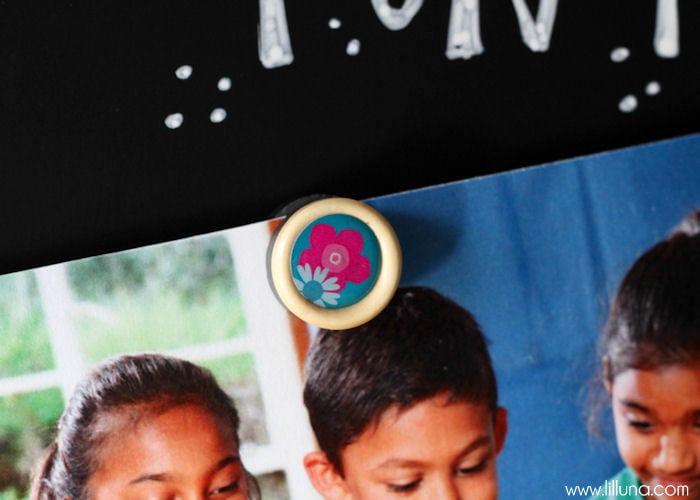 2. Hot glue magnets on your board since it isn't magnetic. Then you will glue a magnet (make sure you use the opposite end of the magnet as the one on the board so they stick together) onto a button or embellishment (I found mine in the scrapbook section).
I ended up adding 6 to my board.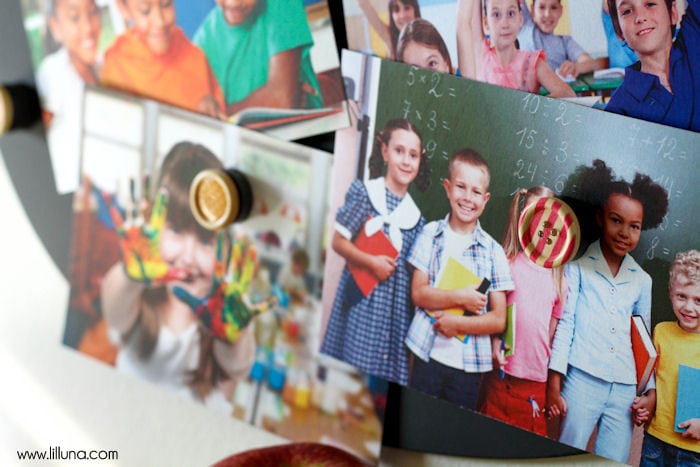 3. Place pictures on your board using your magnets to hold them in place.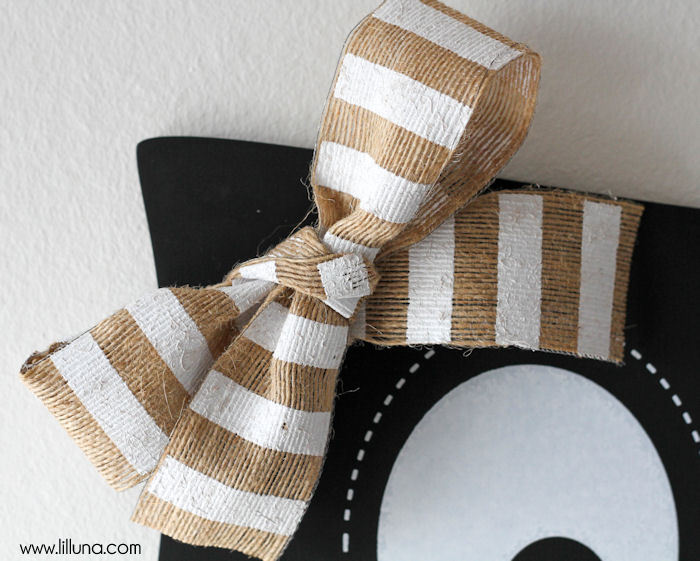 4. To add extra embellishment I made a bow out of ribbon and also hot glued that to a magnet and put a magnet on the board too to make it even more cute.
I also replaced the string at top with some jute to have it match my bow. 😉
THE RESULT…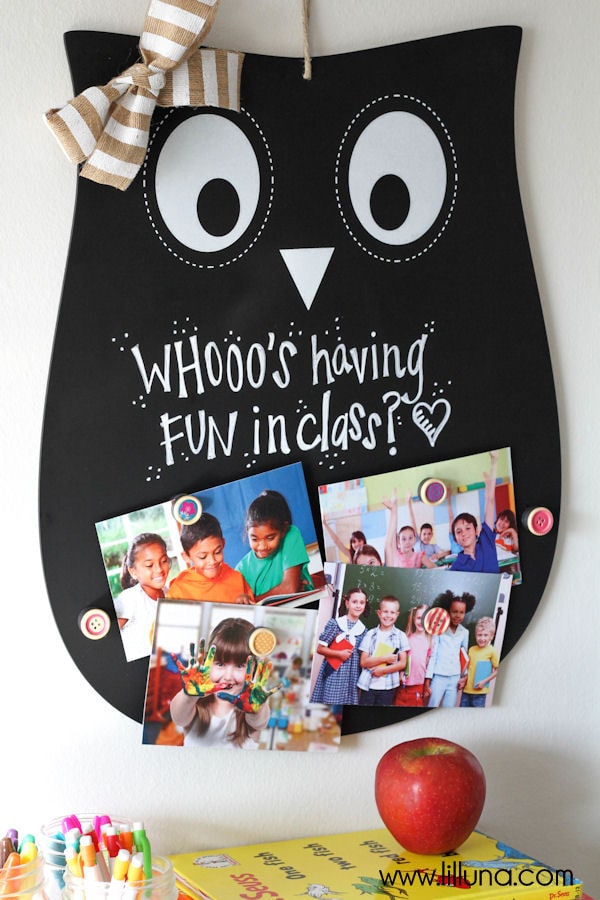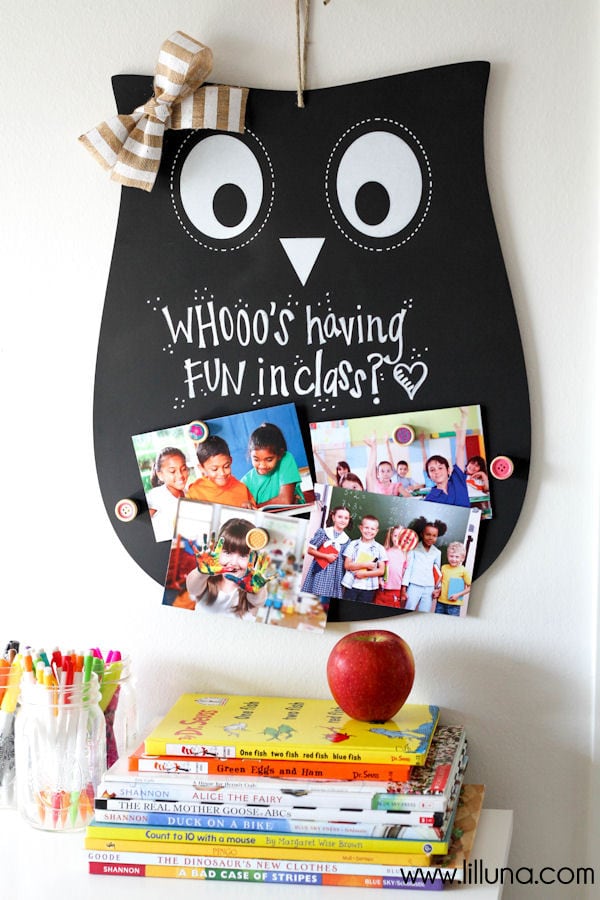 A SUPER. CUTE and INEXPENSIVE teacher gift that will be one of a kind!
It cost only about $12 total to make and is so cute!
What teacher wouldn't love to get this to hang in the classroom?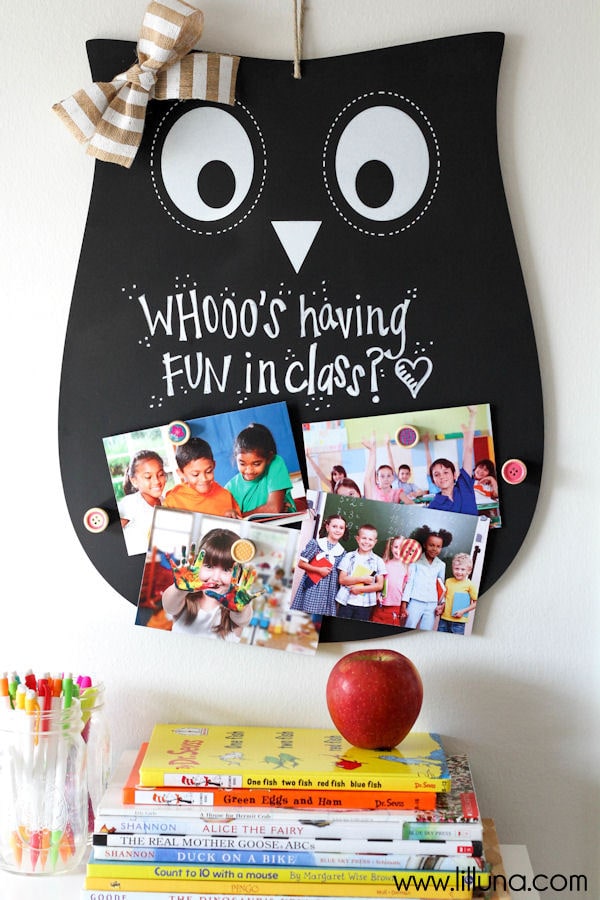 I love making cute, unique and inexpensive gifts!!
With everyone heading back to School, Michael's is trying to help YOU out by offering tons of supplies for great prices!
In addition to the products available for teachers, parents and students can find organizational tools to keep on track throughout the year as well as project ideas to personalize school supplies!
For more inspiration, check out Michaels' Back to School Pinterest Board to find fun and creative project ideas to kick the year off right!
And for more back to School Teacher Gifts check out: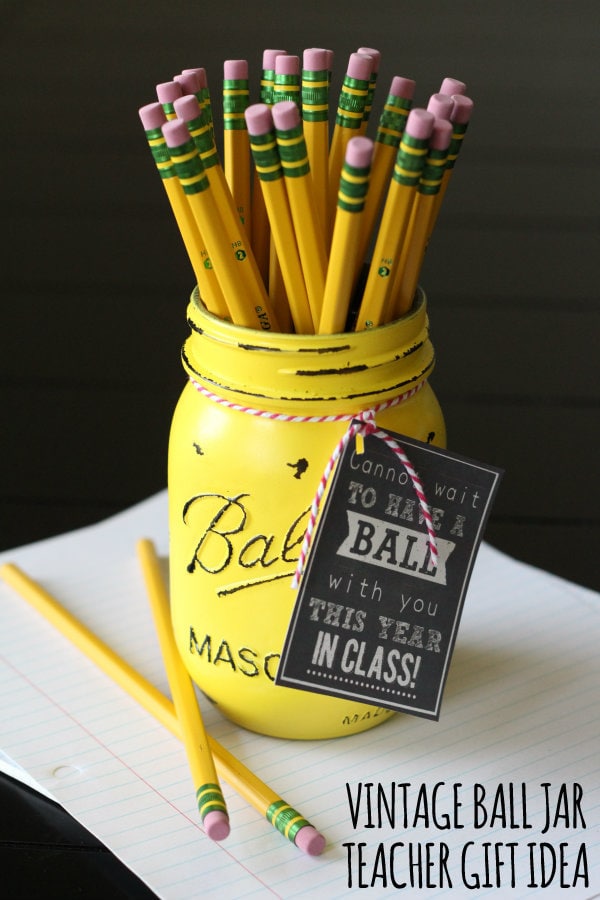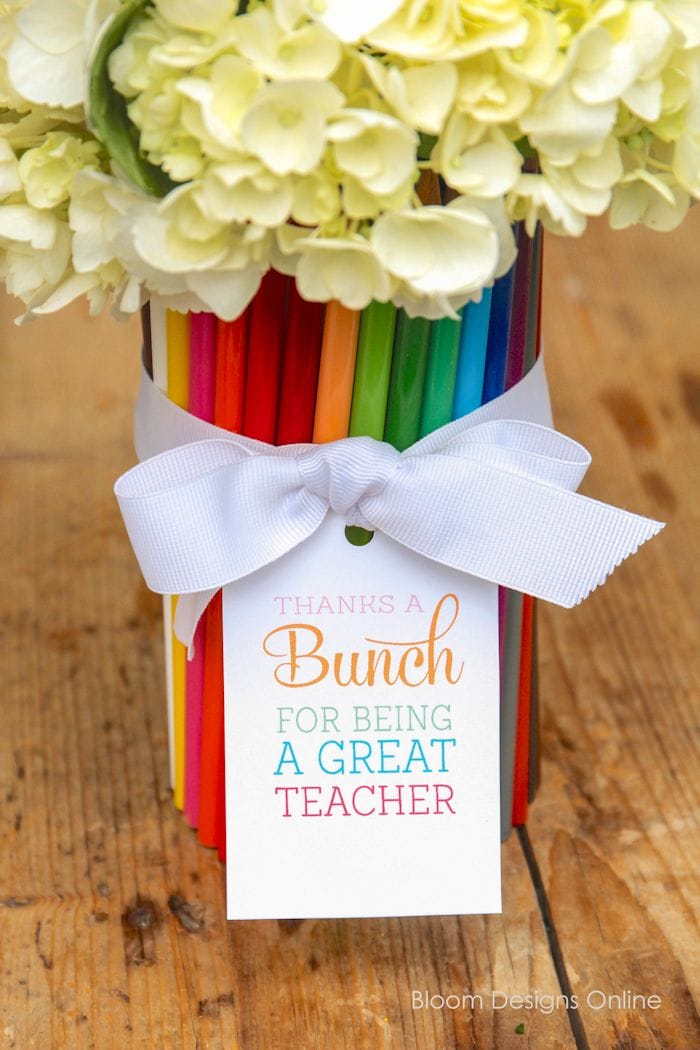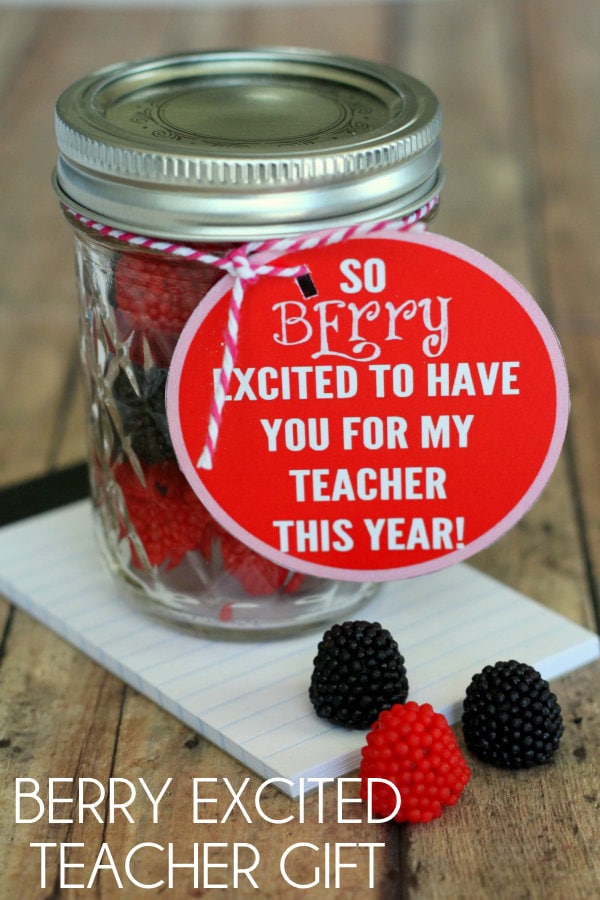 And for EVEN MORE Back to School ideas check out these great projects:
For all Teacher Gift ideas go
HERE
.
For all tutorials on this site go
HERE
.
ENJOY!
BEHIND THE SCENES AT LILLUNA.COM: