This is a Sponsored Post on behalf of Shutterfly and Mom it Forward. As always, all opinions are 100% my own.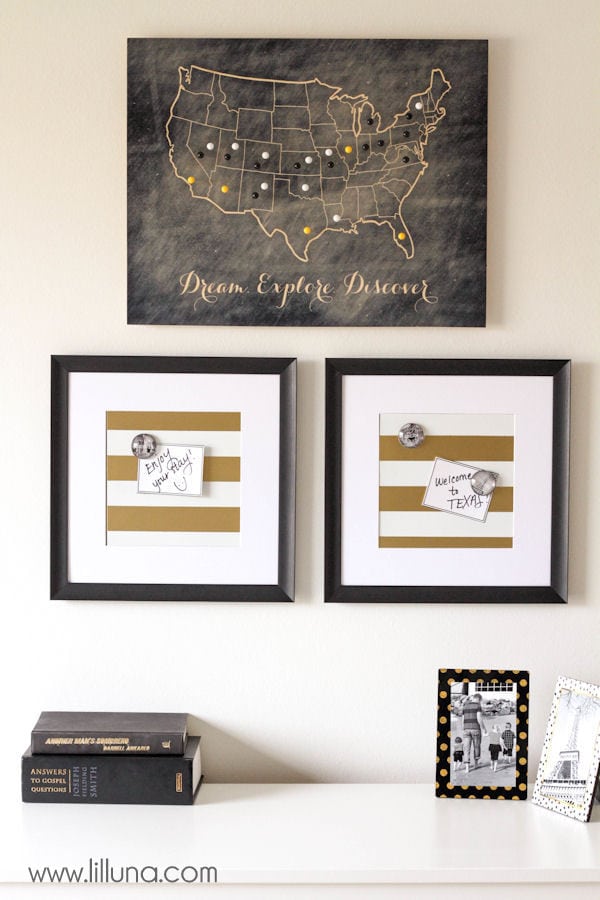 I find so much joy in decorating my home. I don't need it to be filled with the nicest things (shoot, I have 4 – almost 5 – kids, which means having nice things is nearly impossible any way). More than anything, I love making my house a home and have loved learning how to decorate and create things on my own since I've been married to make it more of a place I like to be. Recently, we've been working on the guest bedroom. We decided to make it a bit of a "travel room" and have decorated it with pictures from some of our travels. We still had a few blank walls to work with, so when I was asked to decorate with Shutterfly Home Decor products, I was very excited to create even more and fill some of the bare walls.
One of the things I have always wanted was a map that showed where the hubby and I (and our family) have gone. I decided to create just that by ordering a Wood Wall Art with a Chalkboard Map I created. I added the words: Dream. Explore. Discover. using text on Shutterfly's site. I LOVE how the project turned out. It is the perfect addition and focal point for the wall between the closet doors. White represents where I've been in the U.S., black shows where my husband has been and the yellow represents where we have been together. We obviously have quite a few states to hit, but I'm excited to replace some of those Black and White pins for the yellow ones in the coming years. 😉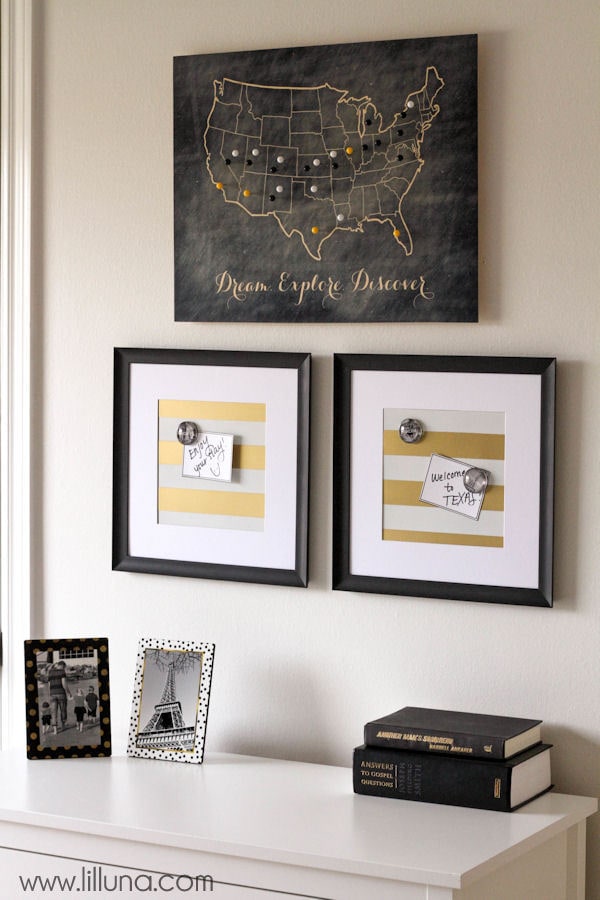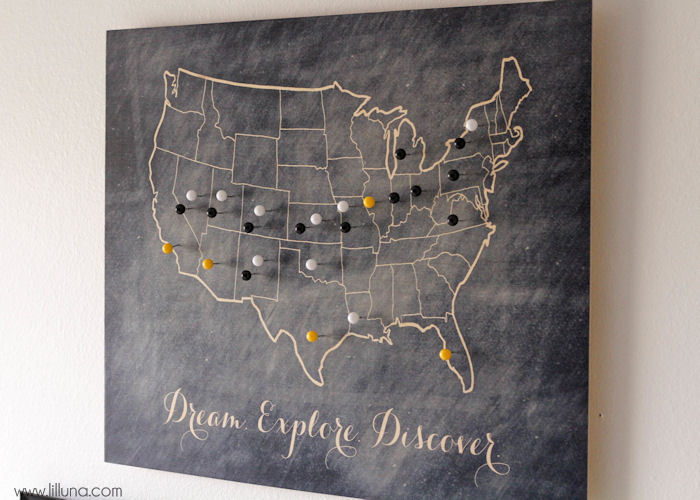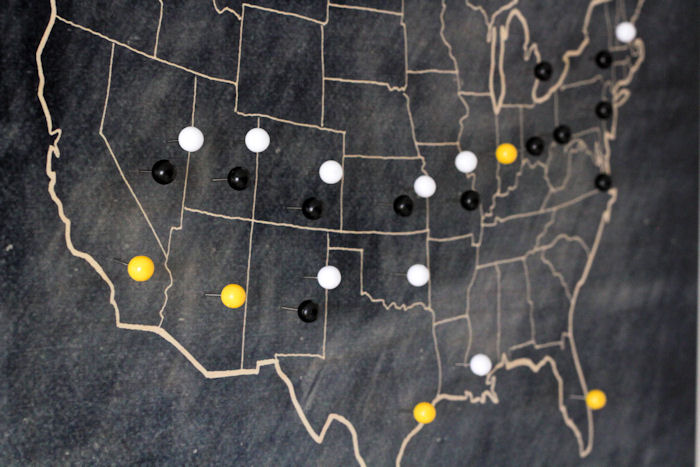 Eek! I just LOVE it!!
I'm seriously in love with the Wood Wall Art pieces from Shutterfly. They are such great quality and can be used in so many ways. I'm already thinking about the next piece I want to order. 😉
If you'd like to use the map I made for yourself go HERE for the download.
I also decided to order some Glass Magnets for the room.
To use them I decided to paint some square metal roof tiles I bought from the home improvement store. I began by spray painting them white and then adding pieces of painters tape to make stripes. I then peeled off every other piece and spray painted gold. I let that dry and then peeled off the tape so you could see the white and gold striped. I topped it off with a layer of Spray Polyurethane and let that dry. I then placed them in some frames and put them below my Wood Map piece.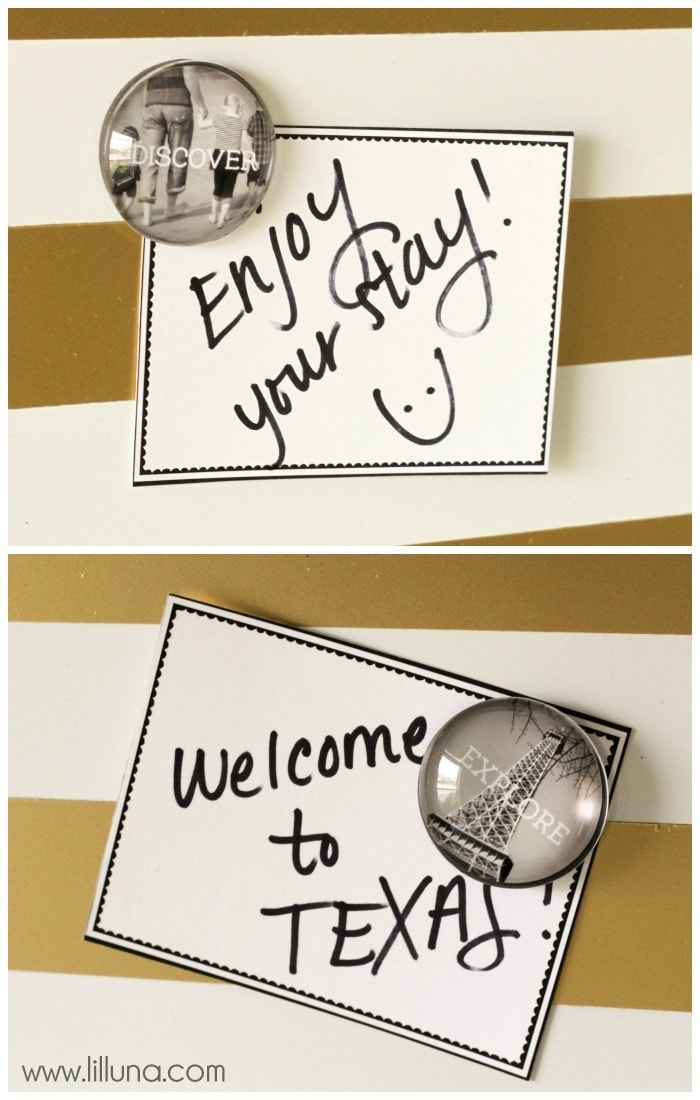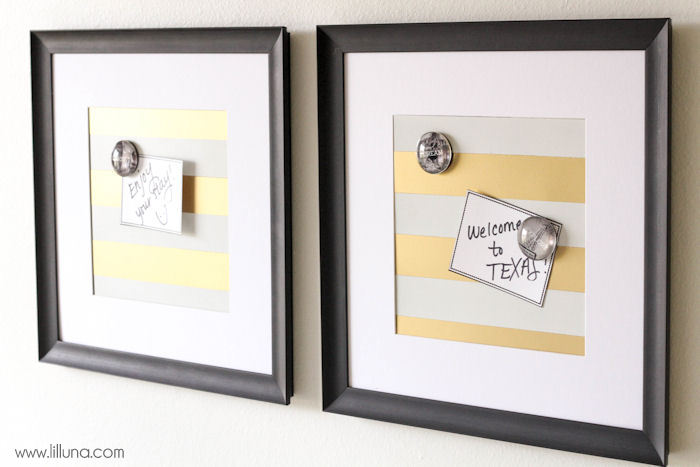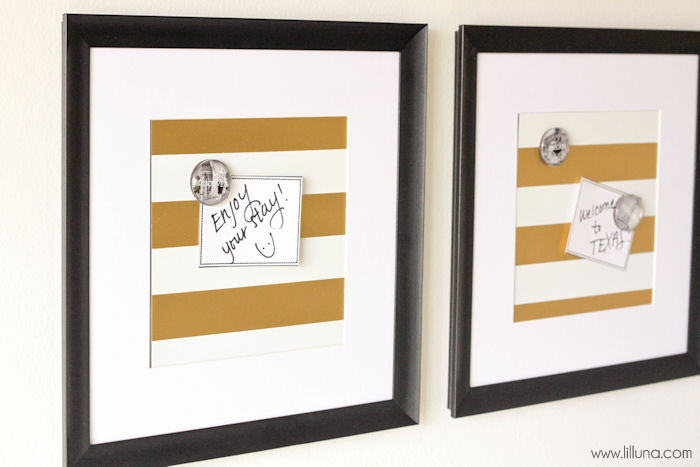 I thought these would be a fun place to hang pictures or notes with the new magnets I got. On the magnets are pictures of some of our favorite places – the beach, Disneyland, and Paris. They're perfect for my new striped magnet frames. 🙂
I also ordered a few plaques to display on the dresser. These polka dot ones were destined to be a part of the room since the guest bedroom colors are white, black and gold. I may have a few stripes and polka dots through out the room as well, so they are perfect!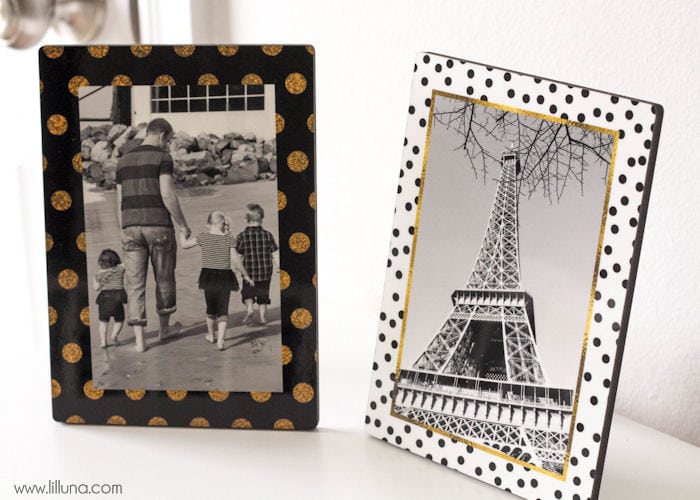 I finished off the room with a few new PILLOWS for the bed.
Yes, I'm an Arizona girl and forever will be so I thought it would be fitting to show (on a pillow) exactly where my heart is. 😉 I figure about 99% of the company we receive is from Arizona too, so it just seemed perfect. Although AZ is home, I also wanted to show that HOME is where the heart is, so that's what I did for the other pillow. LOVE the two new additions to the bed. 😉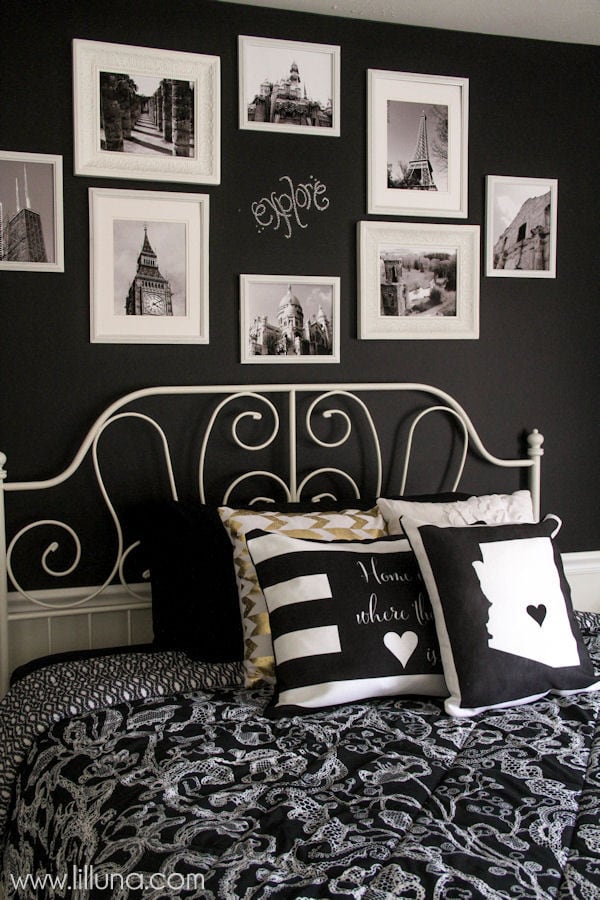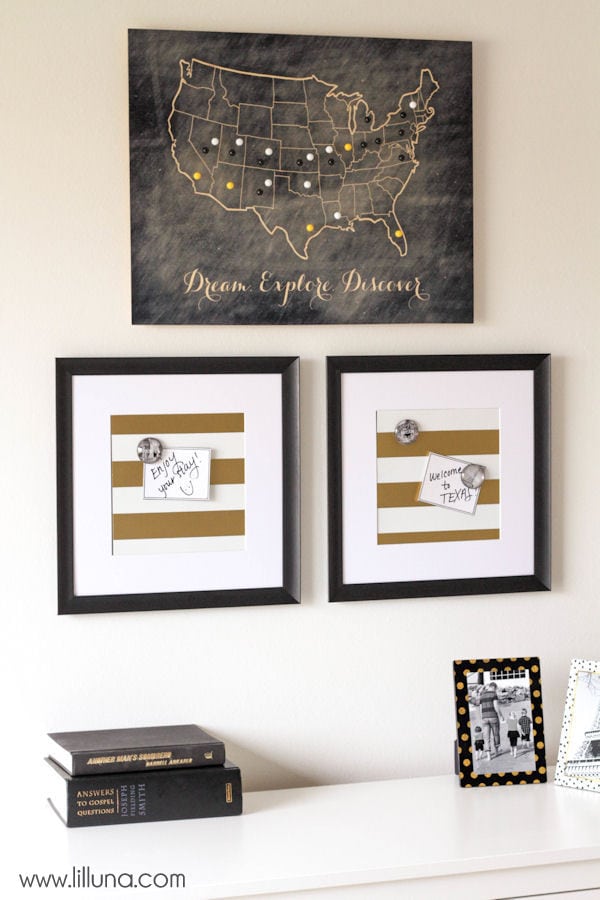 More than anything, I love that all these great Home Decor pieces add some beautiful touches to the guest bedroom.
I also love that these custom products were SO EASY to make. Most are a matter of just selecting the product and uploading the images you want on them. They also make it very easy to customize and add text to, which is great! (I'm ALL about basic and simple!) 😉
GOOD LUCK!