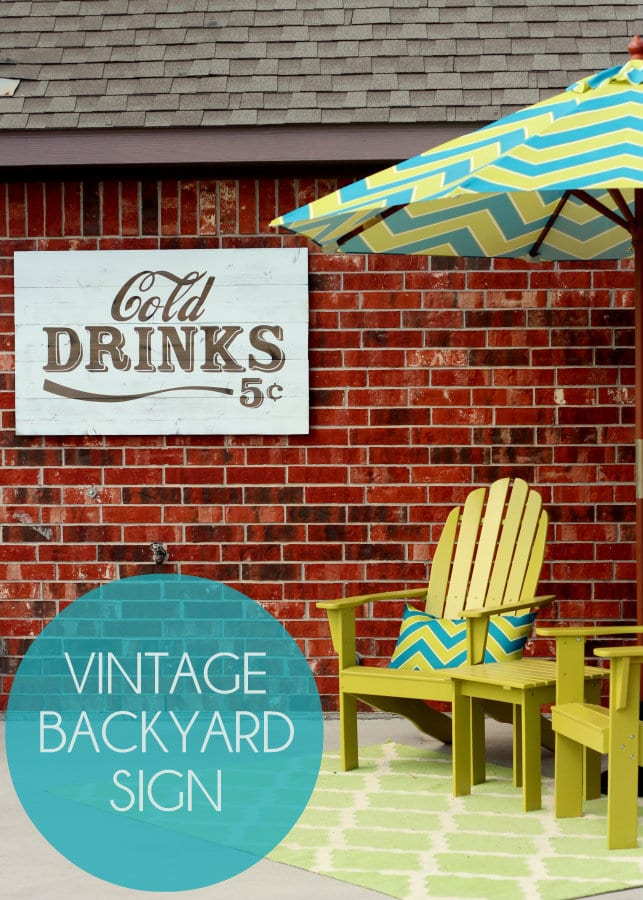 I LOVE working with Lowes! The hubby and I have so much fun going there for our every-day home needs but also to go and create some fun items as part of the Lowe's Creative Team. This month's theme was Outside Decor. I recently wrote about a Backyard Refresh we were able to do, which helped. I knew I wanted a fun sign to put outside as well and decided a Vintage Cold Drinks Sign would do the trick. I knew exactly how I wanted it and knew that Lowes would have all the supplies.
Check out how the sign turned out: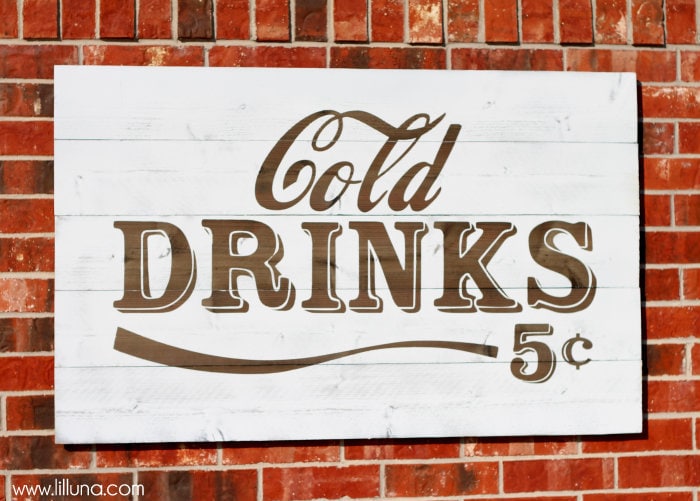 I LOVE how it turned out. So simple but adds so much to our outside lounging area. 🙂
If you'd like to make this Vintage Cold Drinks Sign too, here's what you'll need:
SUPPLIES:
Wood Planks (we used Redwood planks used for building fences because they were light and cheap)
2 inch wood slats (we used Pine)
Steel Wool
Vinegar
Mason Jar
Paint brush
1 inch dry-wall screws
Vinyl
Spray Paint (we used Rustoleum High Performance Enamel)
Saw
Sanding Paper
Polyurethane (we use the spray kind that is fast-drying – Clear Satin finish)
INSTRUCTIONS: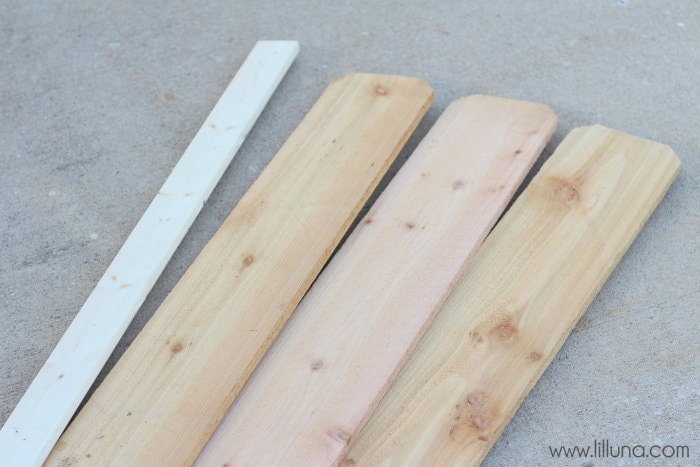 1. Begin by cutting your wood to the size you want your sign. We did ours 4 feet by 2.5 feet.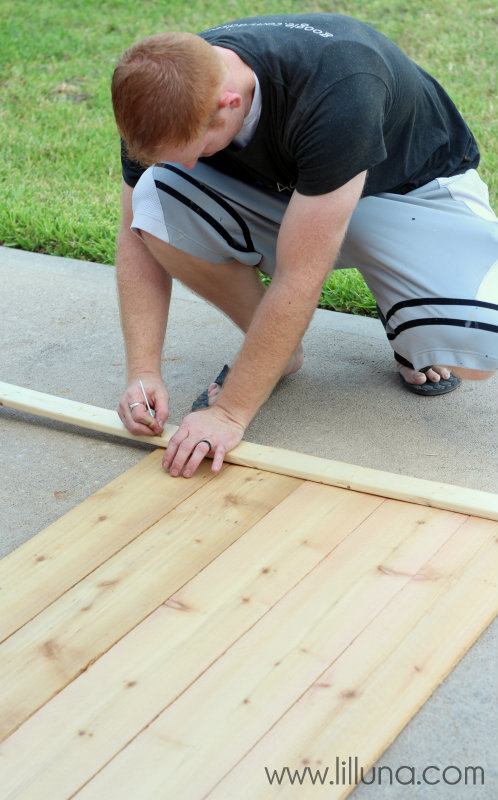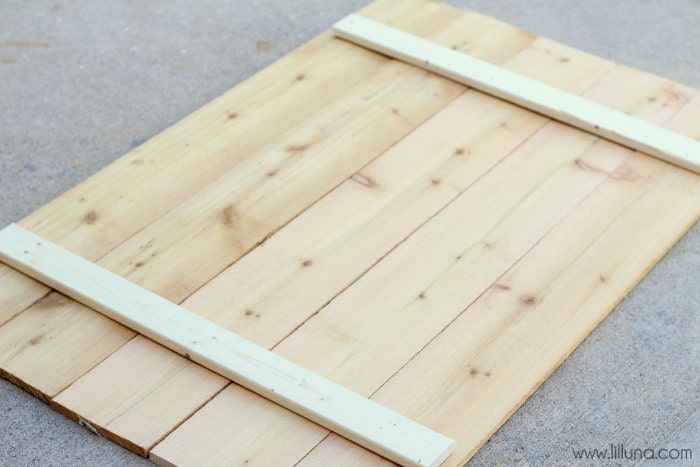 2. Line up your planks and screw in your 2 inch pine strapping across the planks – one on each end. This makes up the back of the sign. We screwed in from the back so the screws would not be visible from the front (make sure there is a screw in each slat). Screwing two screws in the top and bottom planks prevents the sign from shifting diagonally.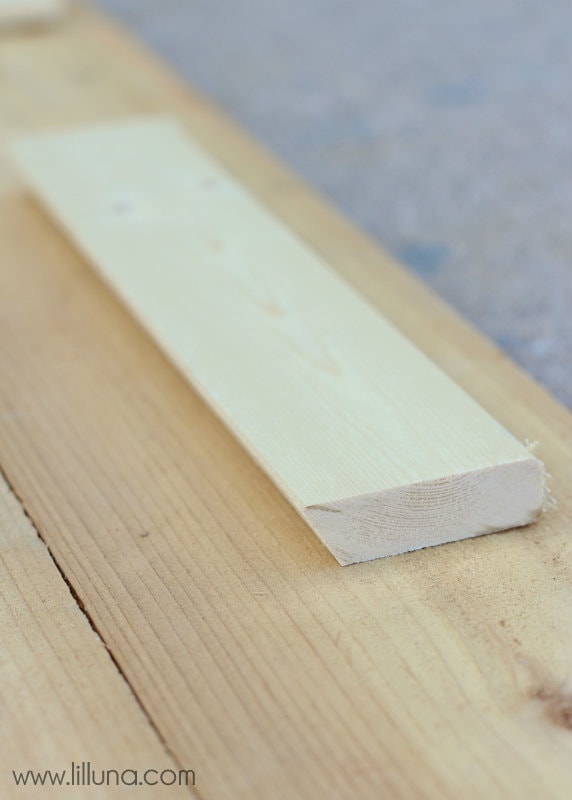 3. Another 2 inch slat with an angled edge was added to the back of the top plank. This was used to hang the sign.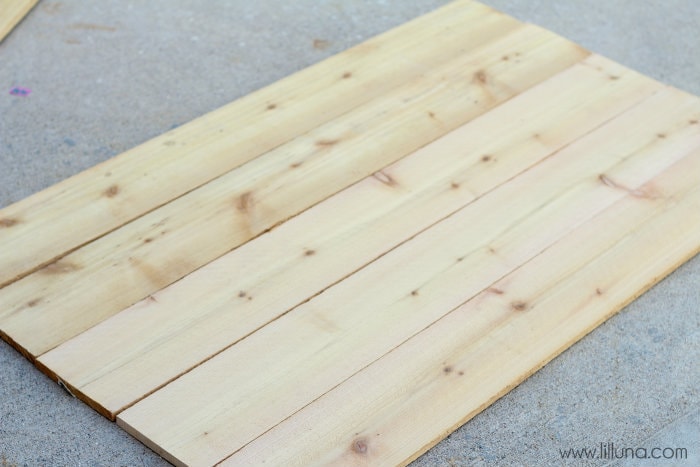 4. Sand the front so the paint and vinyl apply better.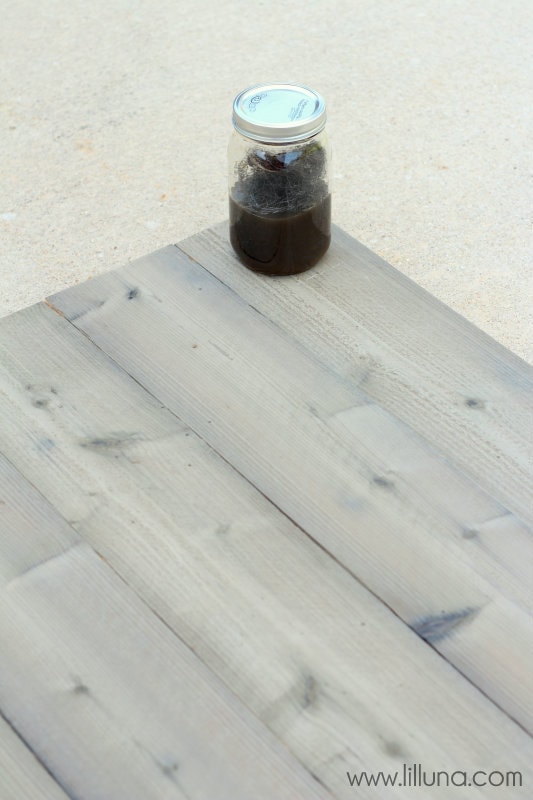 5. Make the aging solution by tearing pieces of steel wool and placing them in a jar (use gloves if possible because steel wool can be sharp). Fill jar with distilled white vinegar. Close the jar and let set for at least 12 hours. Shake before using. WARNING: This concoction smells horrible!!!
Paint using Paint Brush. The wood will begin to gray after a minute or so.
Let dry.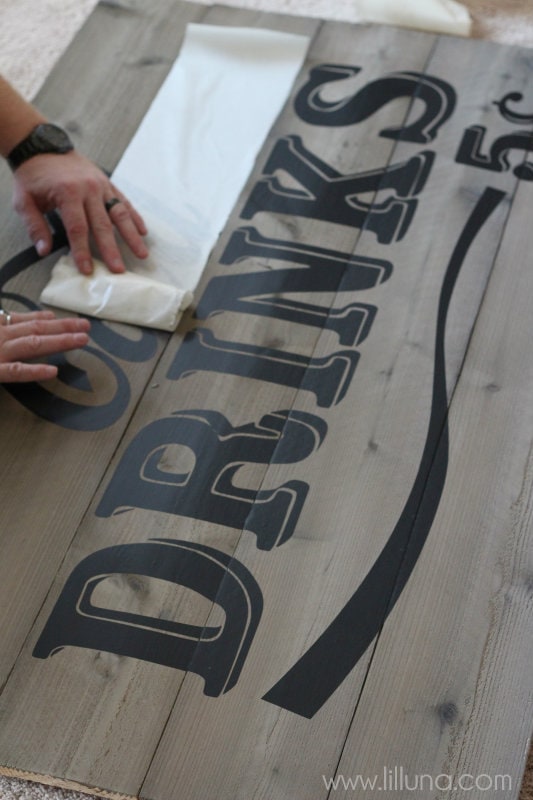 6. Design, cut and peel your vinyl. For the fonts I used:
COLD – Loki Cola
DRINKS – FT Rosecube
curve symbol – Loki Cola
5 CENTS – Captain Howdy
Apply your vinyl.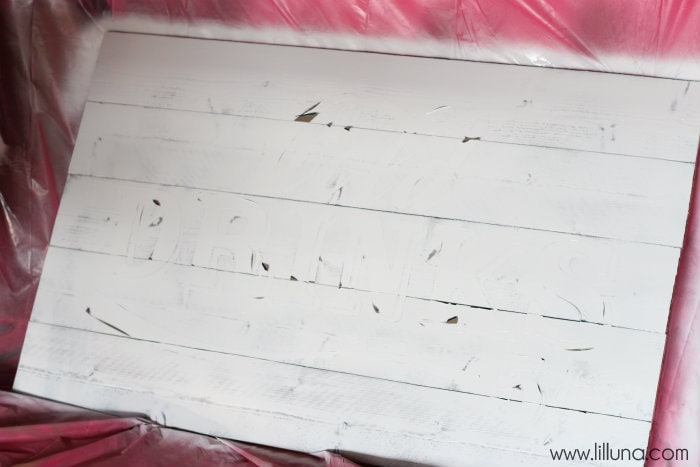 7. Apply the color of Spray Paint you want the sign to be. We used white. Let dry.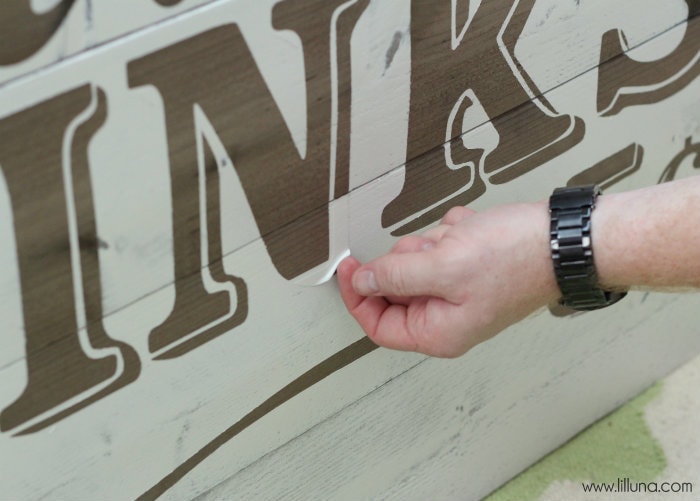 8. Peel your vinyl (my FAVORITE part!!) Top off with a layer or two of Spray Polyurethane. Let dry.
And you're done!
I'm so glad I made this sign. I LOVE it and know it will be perfect for entertaining and parties.
We had the vinyl and spray paint and the other supplies cost about $10.
Pretty cheap and sweet, right?!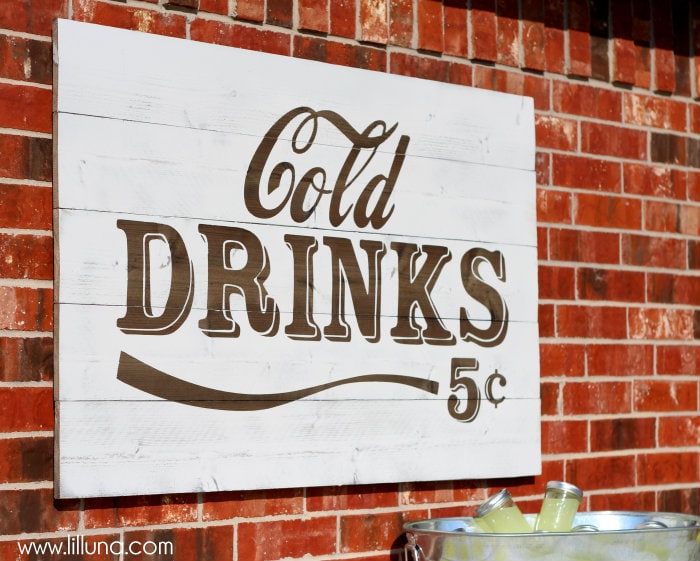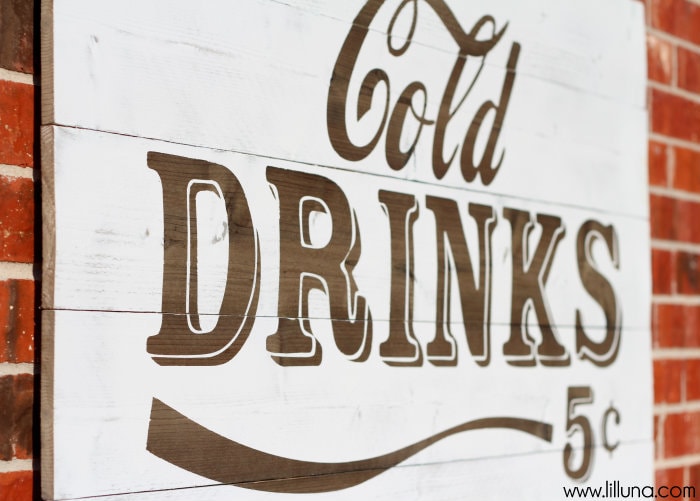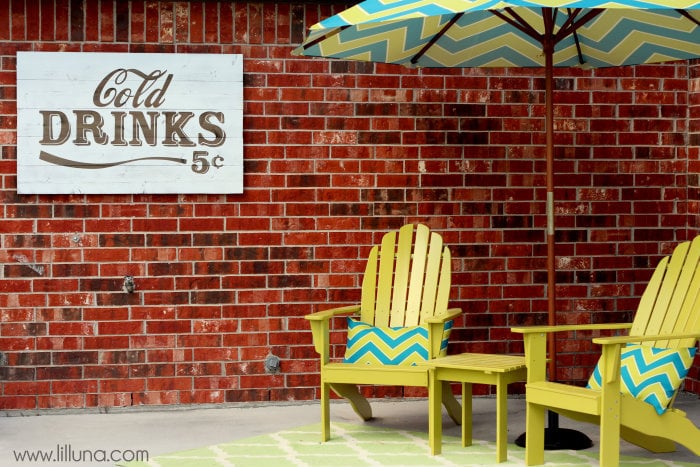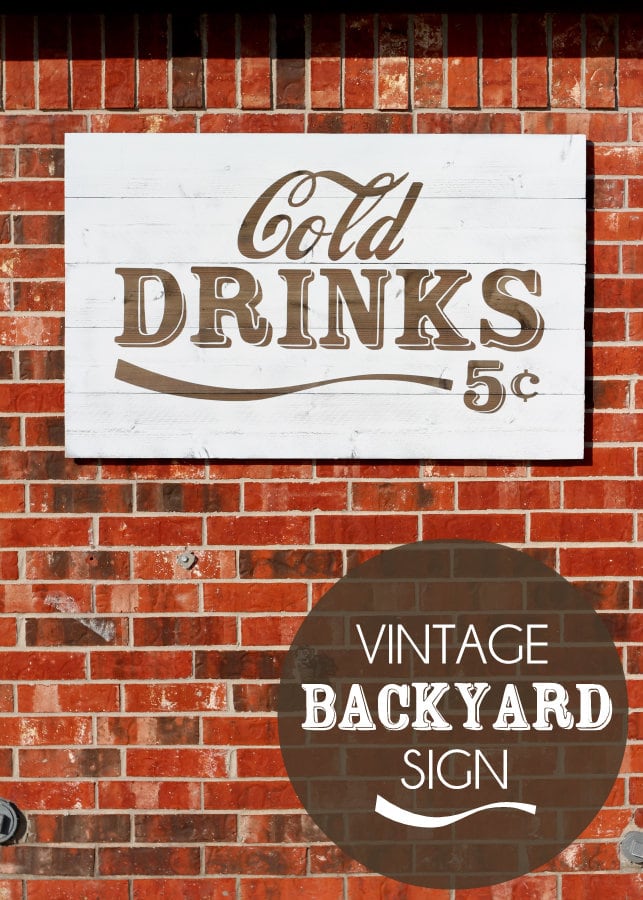 For a couple more Outside Decor ideas be sure to check out:
For more creative inspiration, visit Lowes Creative Ideas and Lowes.com.
This is a sponsored post written by me on behalf of Lowes. All opinions are 100% mine.
ENJOY!
BEHIND THE SCENES AT LILLUNA.COM: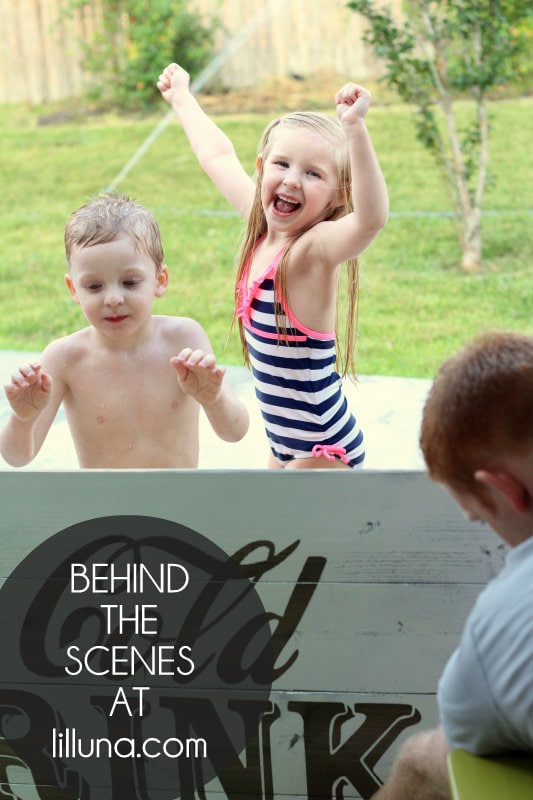 Yes, the kids are playing in the sprinklers while the hubby and I sit outside and peel vinyl
Sure love those crazy kids!!