This post is sponsored by Huggies. As always, all opinions, are 100% my own.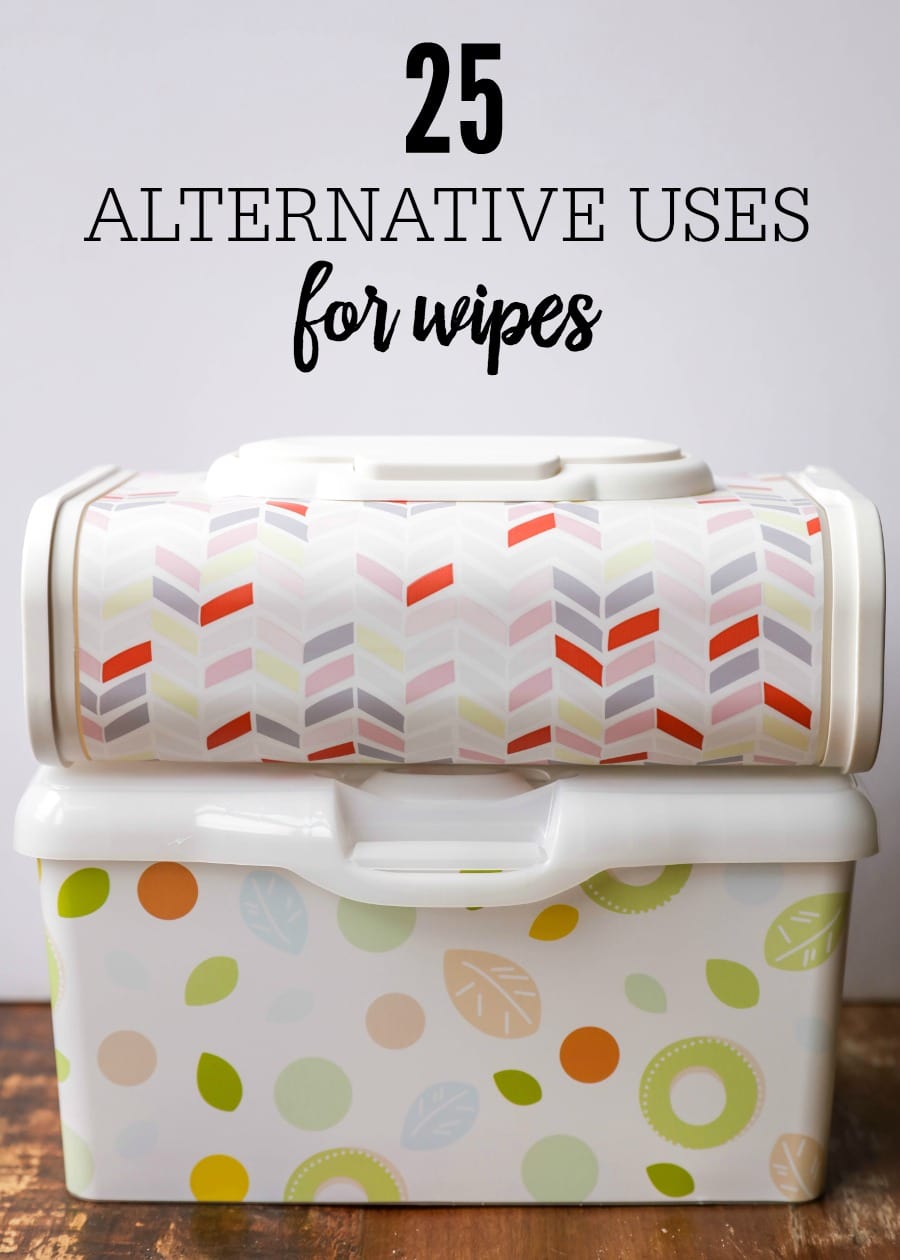 I love baby wipes. I use them so often for so many things that I always like to have a pack on hand. You'll find a pack in my purse, in the kitchen, in our bathrooms, in the car – you name it. With five kids these wipes are so handy and help keep things cleaned up and looking tidy, which is helpful and convenient (especially for this clean obsessive mama).
We use Huggies Natural Care Wipes for changing diapers, especially because they are hypoallergenic and are also paraben, fragrance and alcohol-free. The wipes provide a soft and gentle clean for a baby's skin, but they are also great for so many other uses. I thought I would compile a list of alternative uses for wipes to show just how much we use them, as well as to show how versatile they are. Like I mentioned, I have five children, so we are always having some sort of crisis or mess to clean up. The nice thing about using Huggies Natural Care Wipes to take care of these messes, is that they clean well, don't leave water or residue stains, can always be handy, and they are relatively inexpensive.
So here is the list: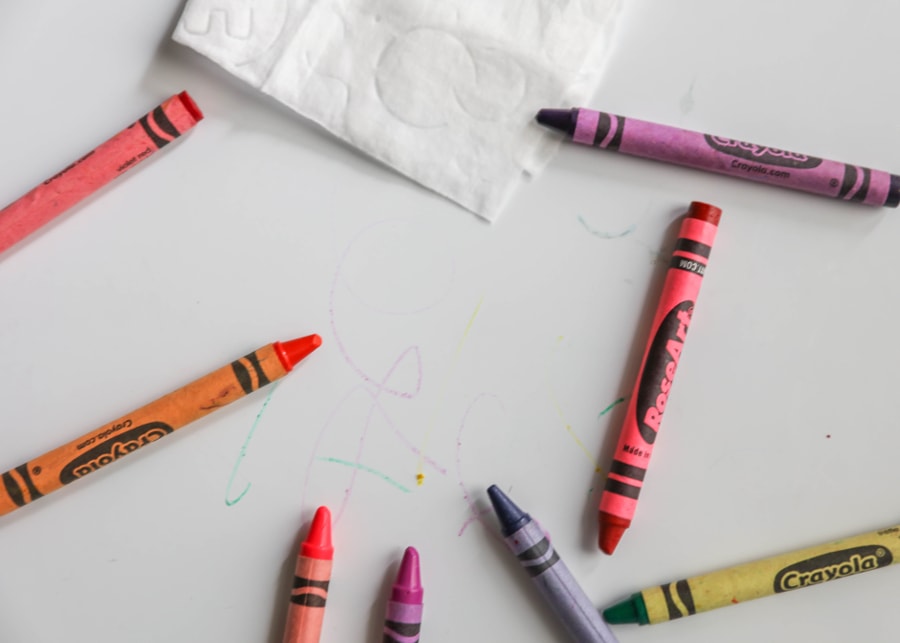 Removing crayons from tables, walls and doors

We all know how impossible it is to keep crayon "ONLY ON THE PAPER!" We like to use wipes to clean those crayon marks off tables, chairs, furniture and walls.

Wiping down tables, especially after dinner time
Cleaning off car seats

Car seats like to collect all sorts of gunk, from food to spilled sippy cups. Wipes can help provide a quick clean up to those seats, especially on road trips.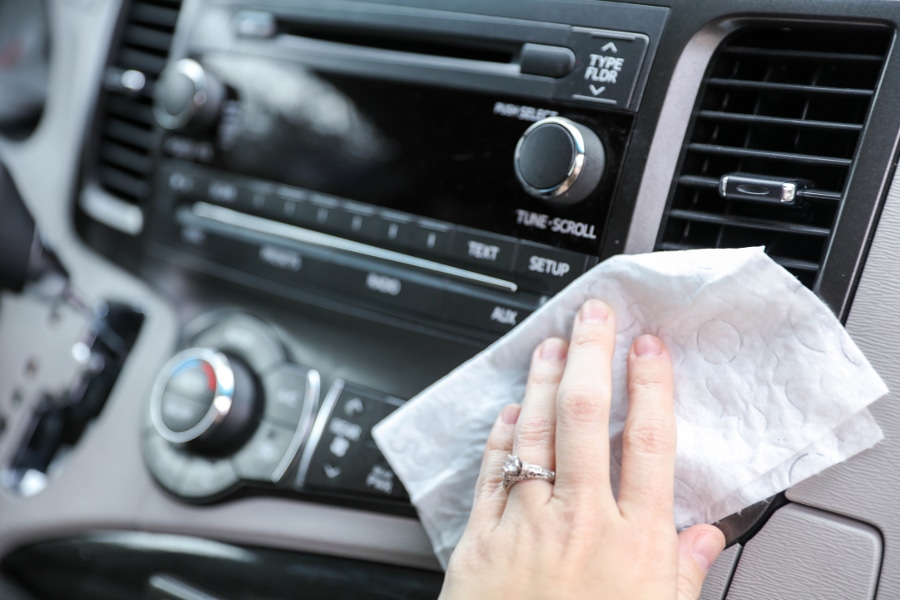 Wiping down the car for a quick clean up

Wipes can collect dust and wipe down all the smudges and food stains that can fill a car.

Cleaning off CDs and DVDs

Our media tends to collect a ton of fingerprints and wipes do the trick to clean them up!

Clean up stains on the carpet and rugs using wipes – they work wonders
Clean off chalkboards
Wipe down tablets, phones and any electronic device with wipes
Wipe down door knobs using wipes, especially during the sick season
Dust off house plants
Spruce up a leather sofa using wipes to clean off dust and give it a quick shine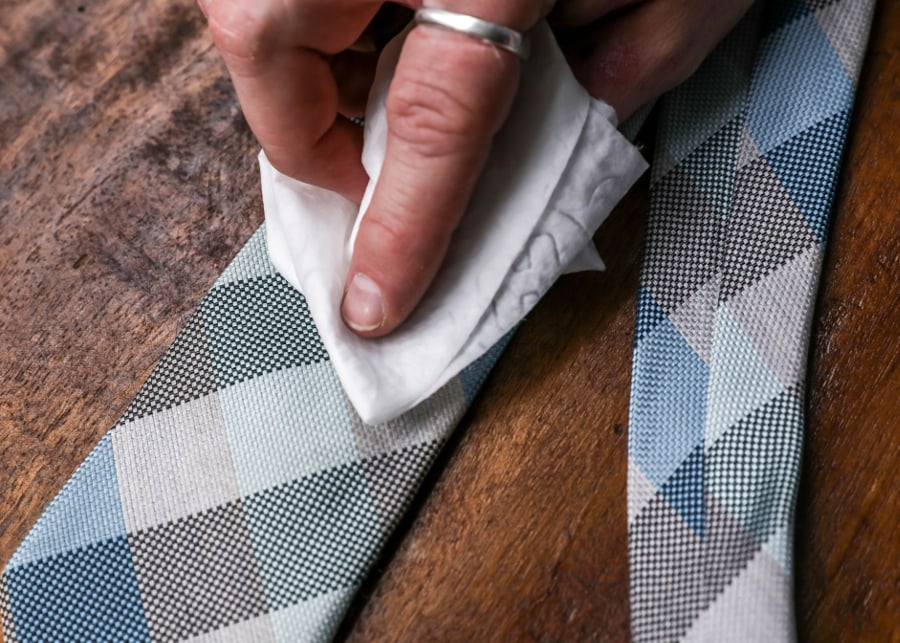 Clean off stains from men's ties (my hubby does this on a daily basis!!)

Using just water and a cloth leaves water rings. The wipes never do that.

Clean the inside and outside of your fridge
Clean up kid's toys
Clean the outside and inside of your trash cans

We know how easily these collect gunk so wiping them down on a regular basis can prevent that.

Clean your keyboard
Wipe down fan blades
Remove finger prints and gunk from appliances
Clean off remote controls
Removing face make-up

It is especially helpful in removing eye liner and mascara.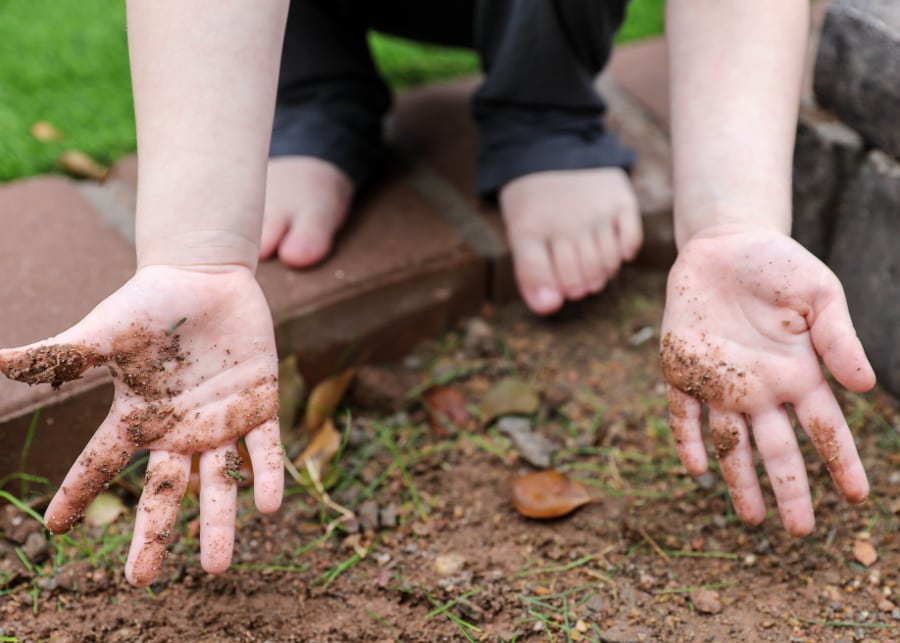 Hand cleaning

We use wipes all the time to wipe off our hands, especially after eating sticky food or playing outside.

Dirty shoes clean up

Wipes are great for a little clean up, especially after a muddy day.

Post work out refresher

Wipe off sweat with wipes for a quick and easy refresh.

Take to the beach for easy cleaning and getting rid of sand.
Cleaning messy faces & boogers

This is probably the main reason why we carry wipes with us at all times.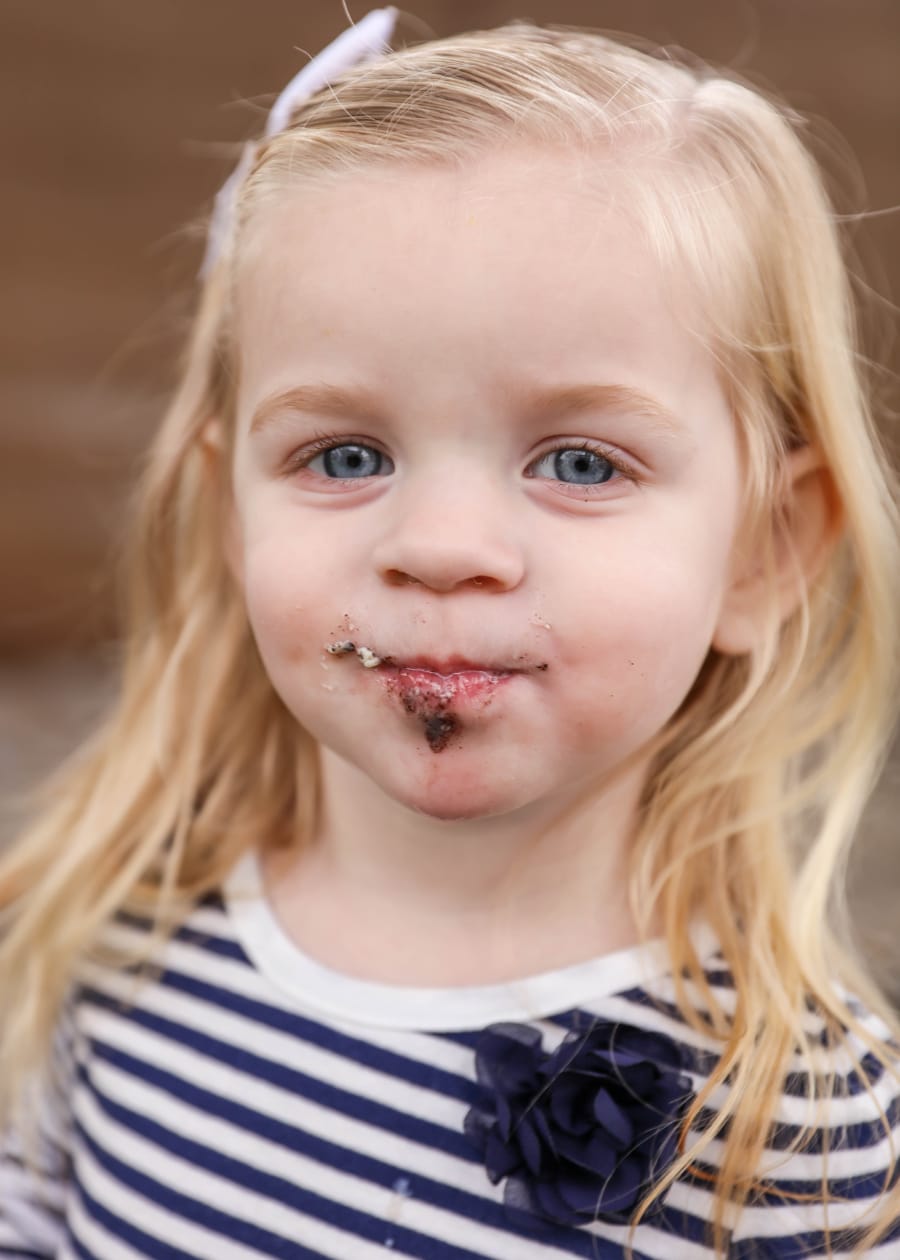 Writing this list, just makes me realize how messy life with kids really is! It is great to have wipes handy to help get through it.
With all of the wipes that we use, we find ourselves with a bunch of empty wipes containers. While I was playing with my kids the other day, I decided to come up with a good use for these bins. By simply adding a few googly eyes, the empty bin is transformed into a monster who likes to eat toys and letters. Our kids kept laughing as they shoved their blocks into his mouth, and I loved that we turned it into a game where I would ask them to grab a shape, color or letter and they had to find it and stick it into the "monster".
If you would like to make this too, here is what you'll need: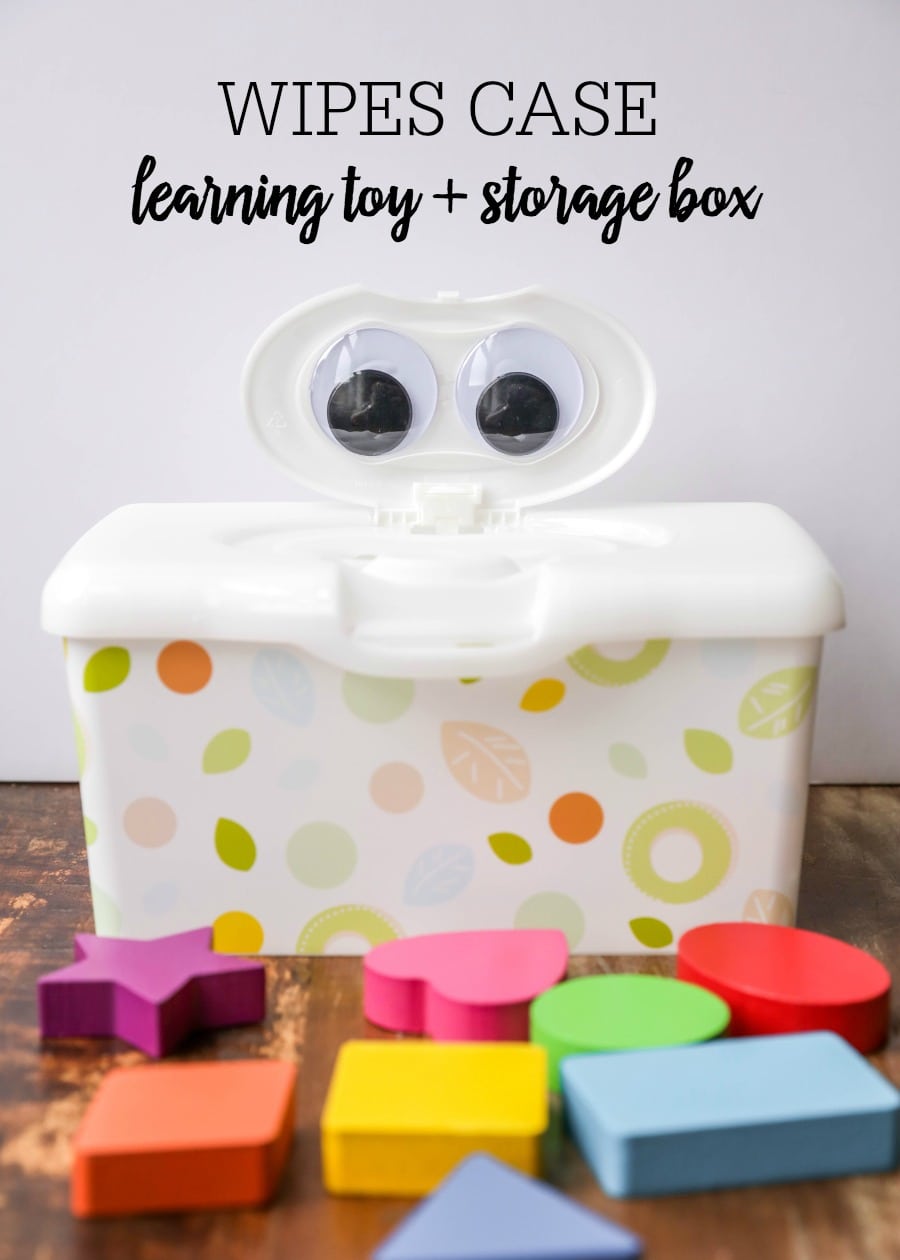 SUPPLIES:
Googly Eyes
Shapes, letters or animals
Hot Glue Gun and glue sticks
DIRECTIONS:
Simply hot glue some googly eyes into the opening of wipes container.
NOTE: Different sizes of eyes may be required depending on which wipe case you use.
Huggies Natural Care Wipes are also available in the Huggies Clutch 'n' Clean Refillable Wipes packages, which come in a variety of portable designs allowing you to tackle any mess with style.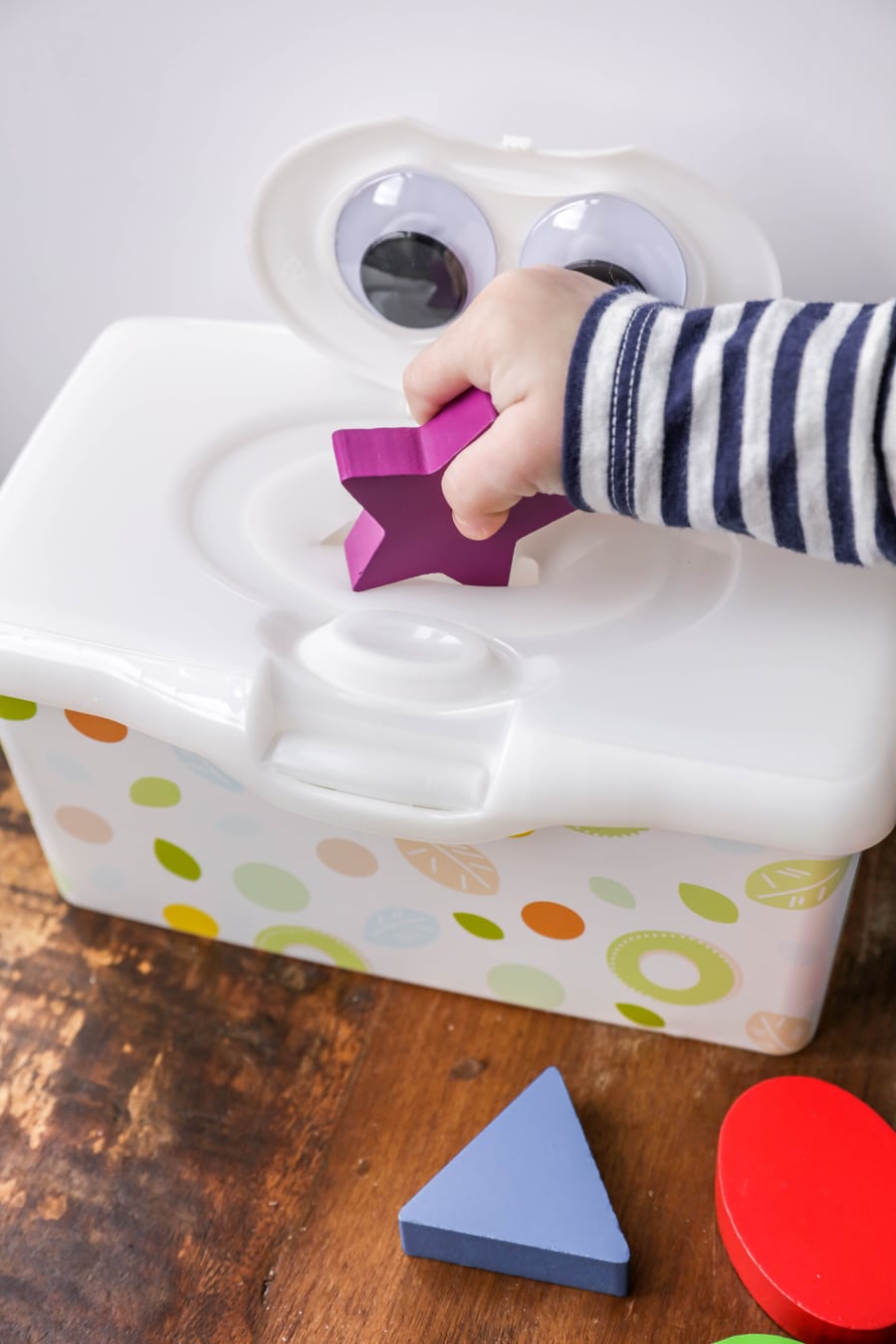 My kids have loved playing with this and I love that they are learning as we play!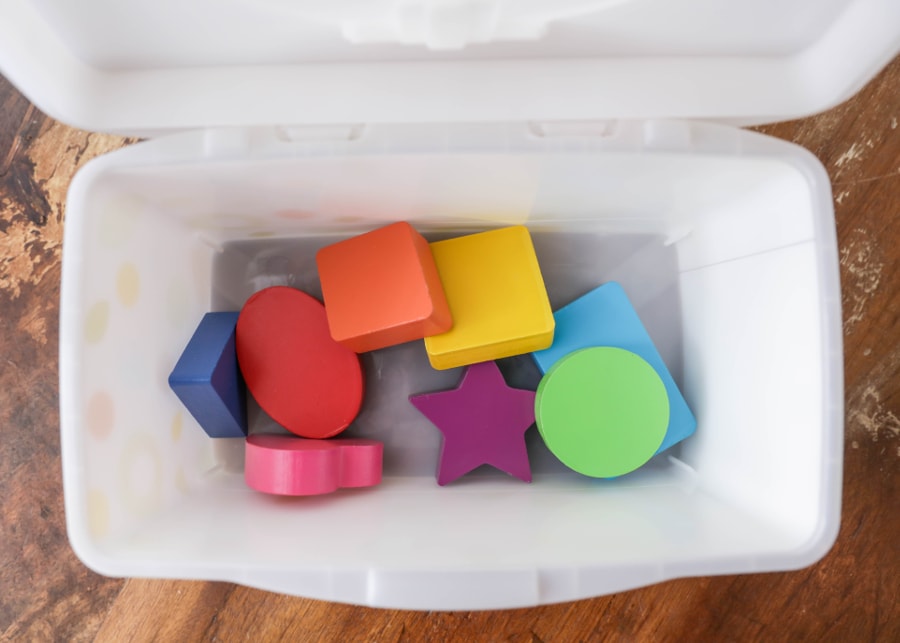 I also love that this toy also doubles as a storage container!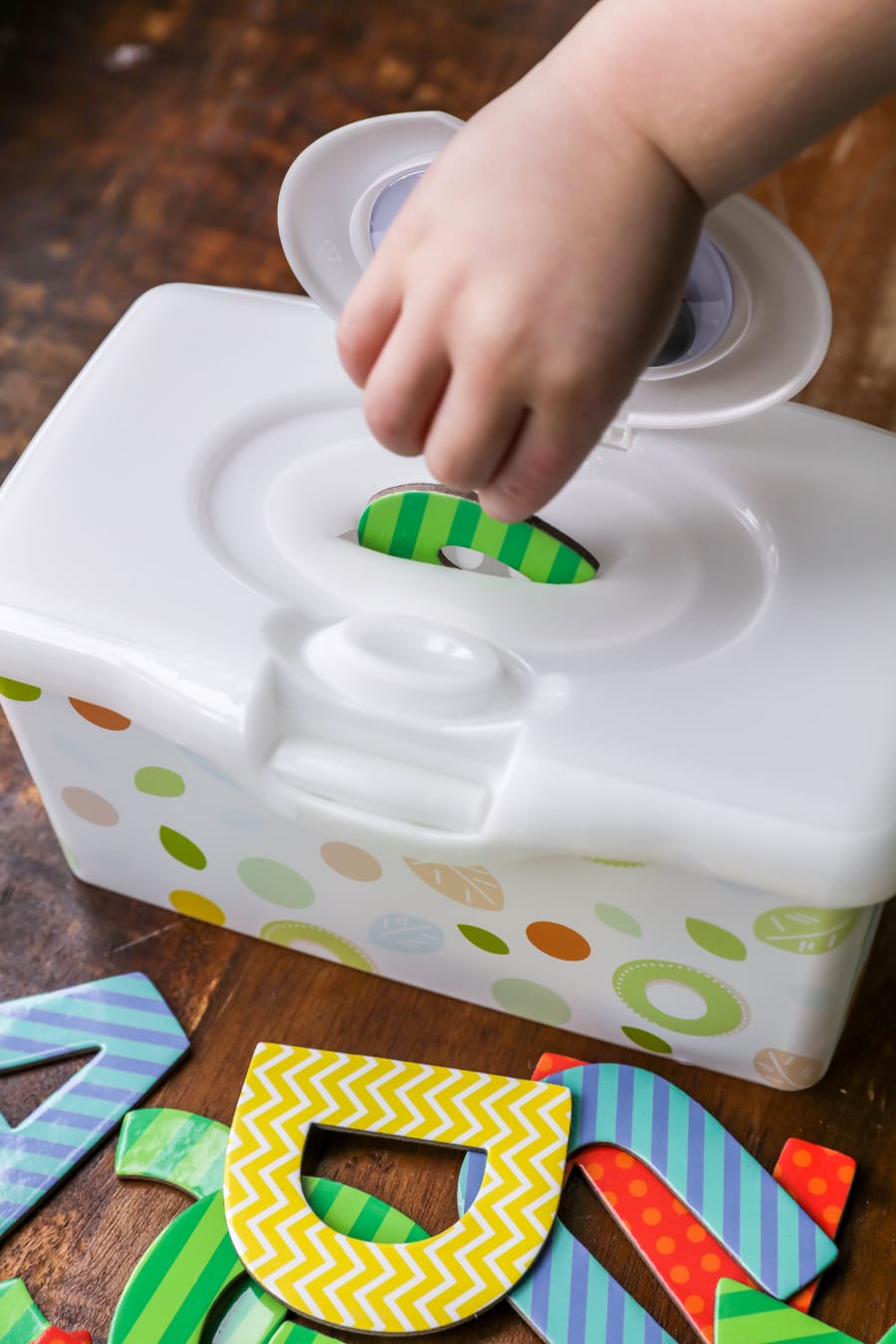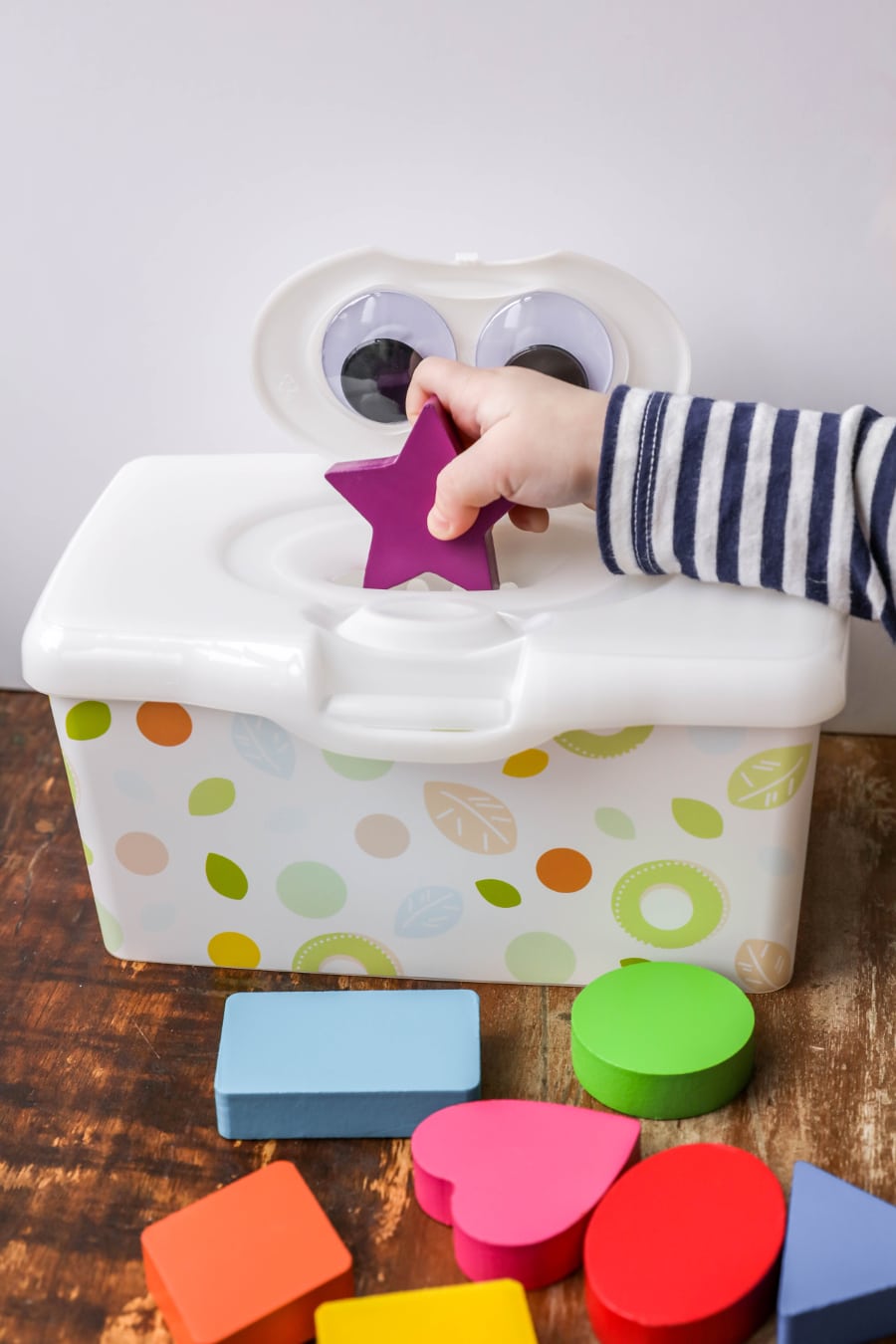 It's strange to say but wipes have become an essential part of our family's life. There is so much that they make easier, and with this idea, they make the house a little more fun too. I hope at least one of these items in this list can help with some of the craziness and messiness in your home. 😉
For more information about Huggies Natural Care Wipes be sure to go HERE.
Huggies® believes deeply in the Power of Hugs. The simple, loving act is proven to support babies' emotional and physiological well-being. Huggies® diapers and wipes are inspired by a parent's hug, – to nurture baby with care, cradle baby in comfort and surround baby in protection. Huggies® Natural Care® Wipes feature our simplest formula ever for a gentle clean. Learn more at Huggies.com #HuggiesCouncil