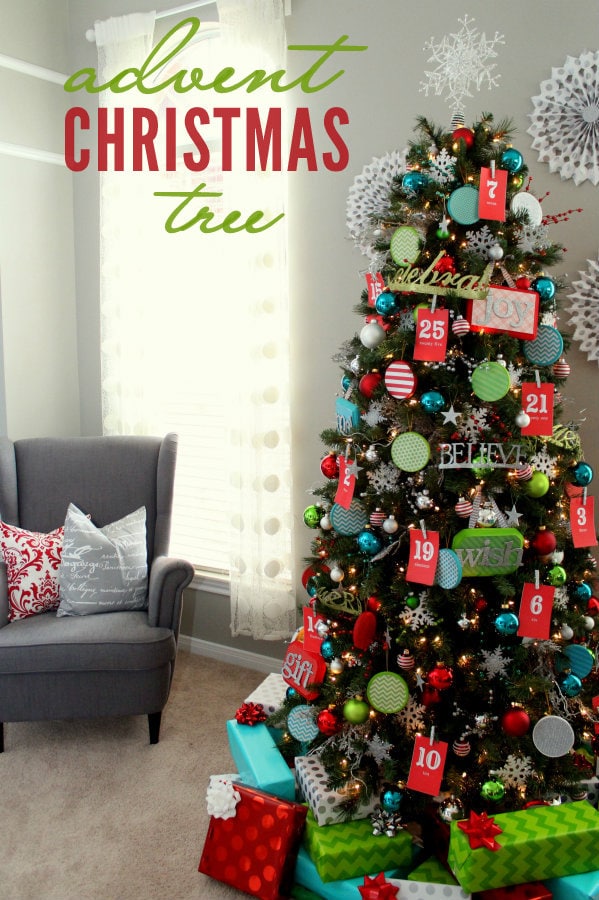 Did you guys all have a great Halloween? I sure hope so!!
Now that Halloween is done I'm already switching gears onto Thanksgiving and Christmas. Some of you may have seen in this post that I was asked to take part in Michael's Dream Tree Challenge this year, and let me tell you – it was definitely a challenge, but a FUN one!
As I tried to think of a theme and colors, I kept thinking that I just needed to decorate a tree that I would love. With that in mind, as well as a desire to make it a little more creative and interactive, I made an Advent Christmas Tree.
I love how much this tree captures my personality and style. I LOVE Bright, Fun and unique things, and I think this tree shows that. 🙂
I also though that making it an ADVENT Tree would be a great way to make it more interactive and fun for the kids. I mean, who wouldn't want to come and pick off a number each day leading up to Christmas that has CANDY on the backside? 😉
Here are more pictures and details of this tree….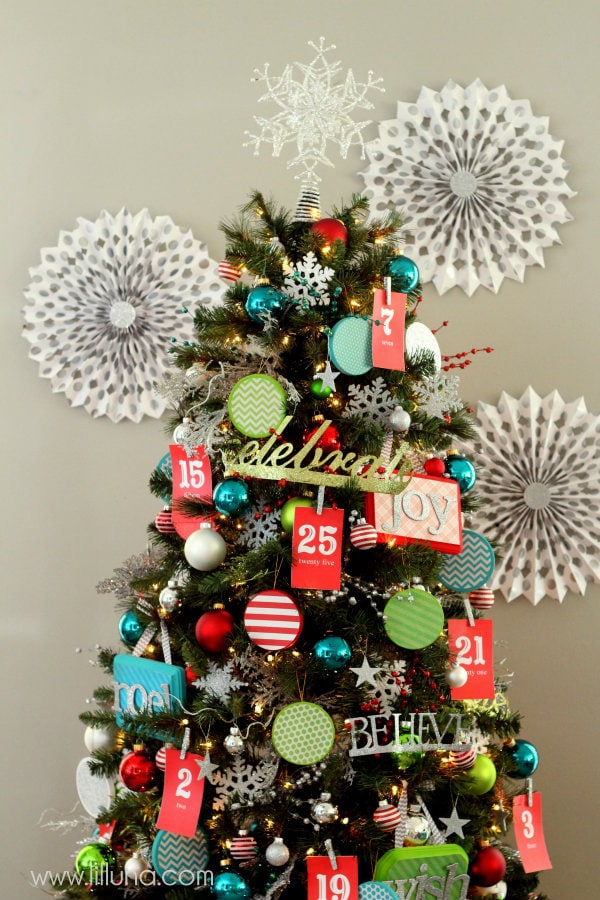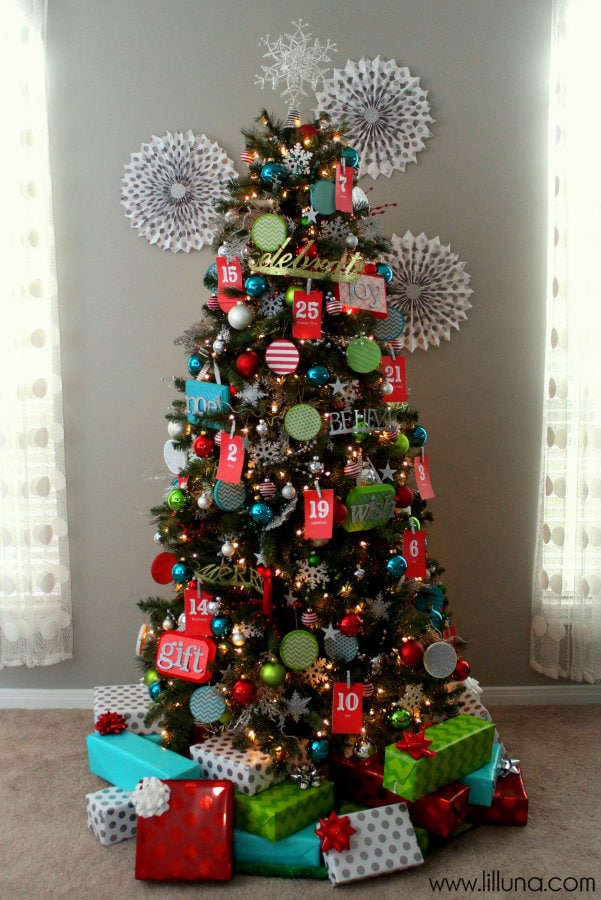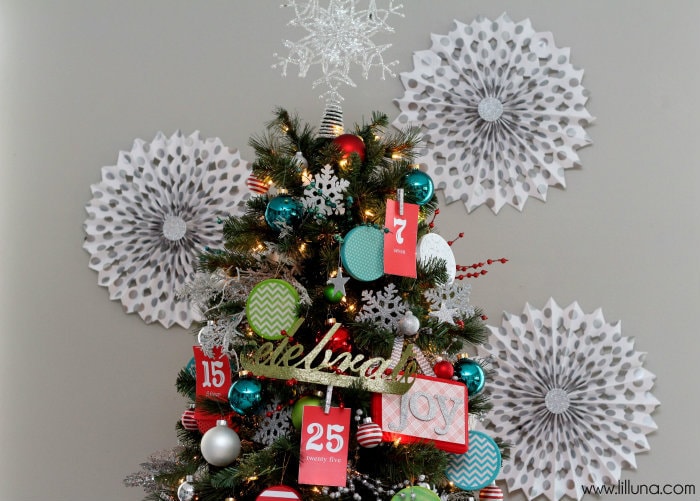 I made several items to match my tree and reflect my personality and style.
The first thing I made were some Christmas Word Plaques…
CHRISTMAS WORD PLAQUES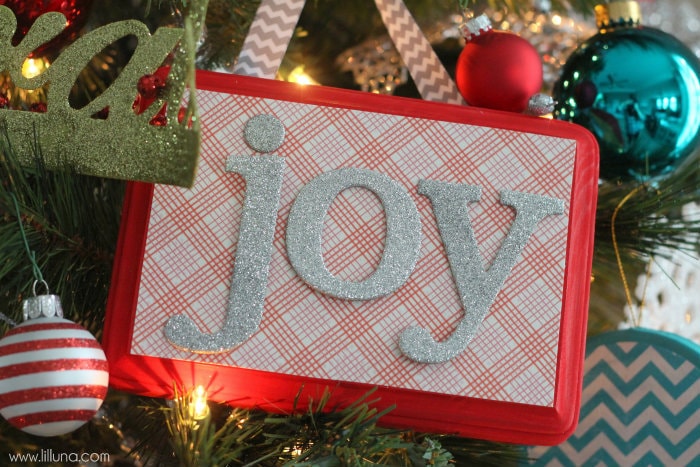 Here is what you'll need to make them….
Wood Plaques from Michael's
Scrapbook Paper
Mod Podge
Ribbon
Glue/Staple Gun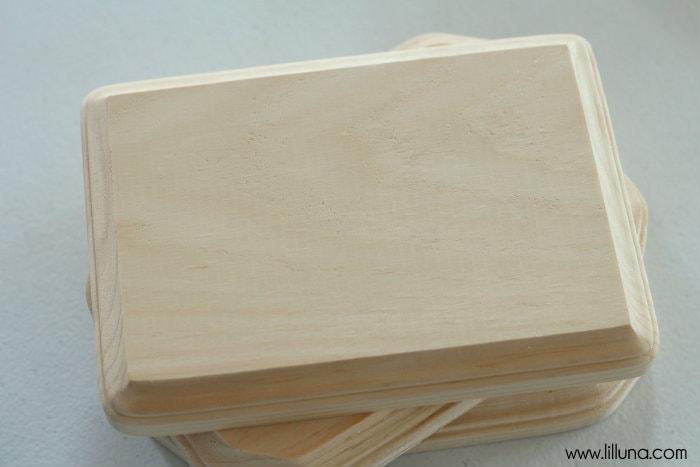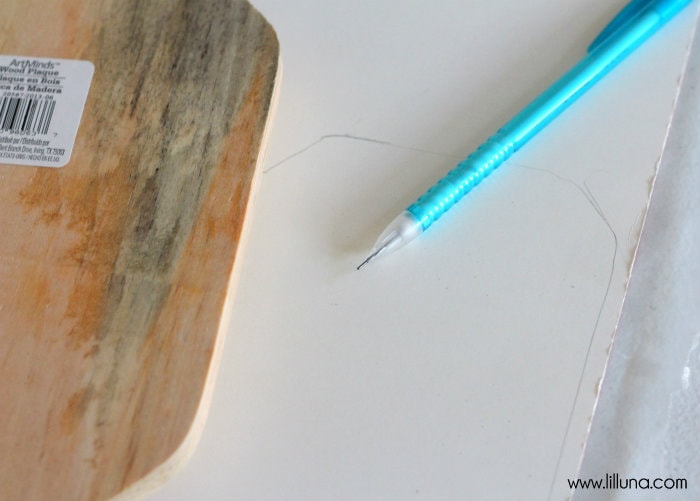 1. Begin by tracing on the back side of your paper the front of the plaque. Cut it out.
2. Paint the sides and a little bit of the front of each plaque.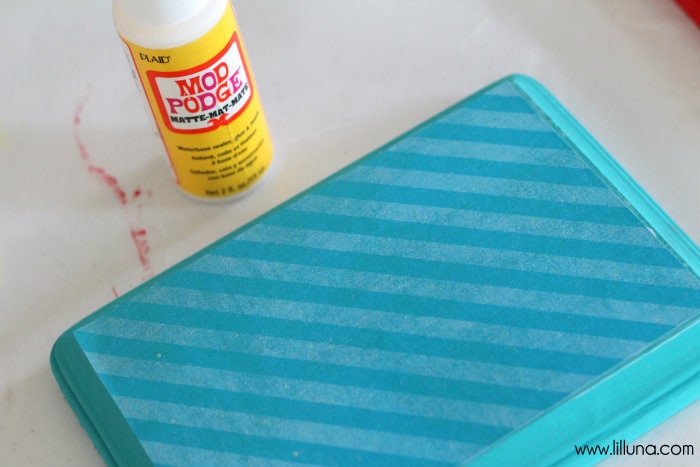 3. Add your scrapbook paper to the front by applying a thin layer of mod podge and pressing it on really well.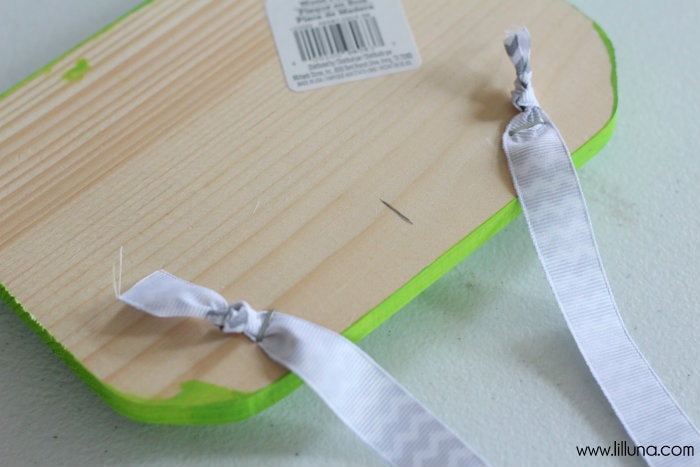 4. Cut 2 pieces of ribbon and tie a knot at the end of each. Add them to the back of the plaque with super glue or a staple gun. To measure the center I marked the middle and then made a mark two inches on both sides of the middle. That it where I stapled the ribbon in right above the knot for each piece of ribbon.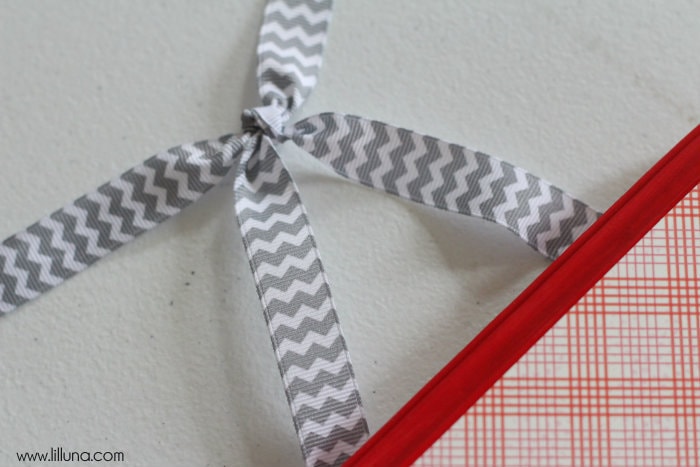 5. Flip it over and tie a square knot (right over left, left over right) so that the knot is in the center of the plaque.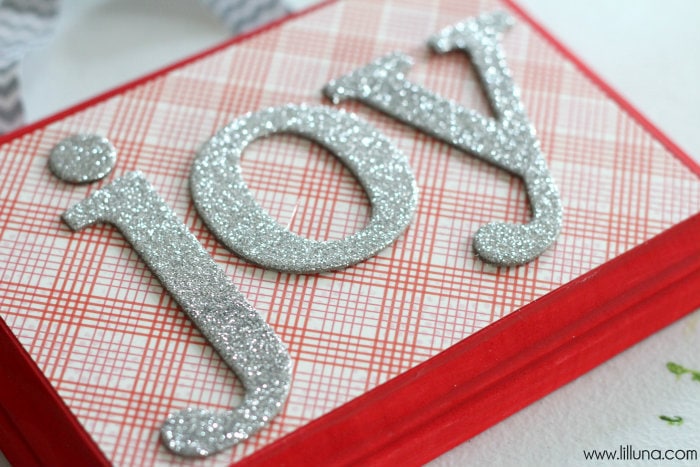 6. Hot glue your letters on the front. I found these silver letters in the scrapbook section at Michael's and with one package did the words:
JOY, WISH, GIFT, NOEL
I also scrapbooked some Paper Mache Ornaments from Michael's…
SCRAPBOOK PAPER MACHE ORNAMENTS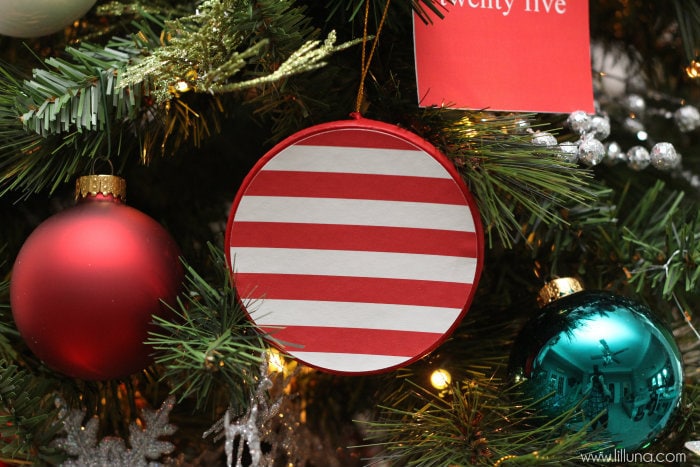 Here is what you'll need for those:
Paper Mache Ornaments
Scrapbook Paper
Mod Podge
Foam Brush
Circle Cutter or Scissors
1. Begin by painting the sides and a little bit of the front of each ornament. Let dry.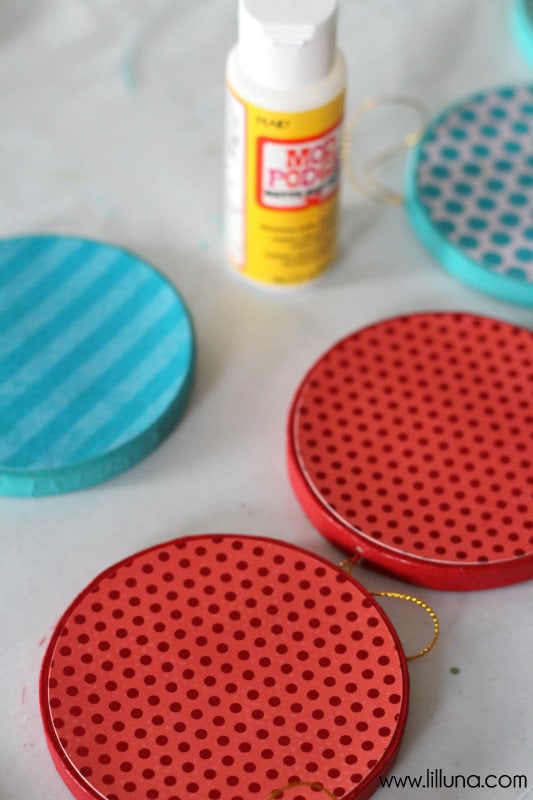 2. Trace on the back of scrapbook paper the circle of the front size. Mine was 3.5 inches (I know they carry different sizes). Cut out and mod podge to the fronts of the ornaments.
SIMPLE and CUTE, and they match the tree perfectly!
The main part of my tree was to make it an ADVENT TREE, by adding numbers. I thought it would be a great way to make it interactive as well as unique. I love seeing the numbers all over the tree, and I think the kiddos will have a blast counting down the days to Christmas with them. 🙂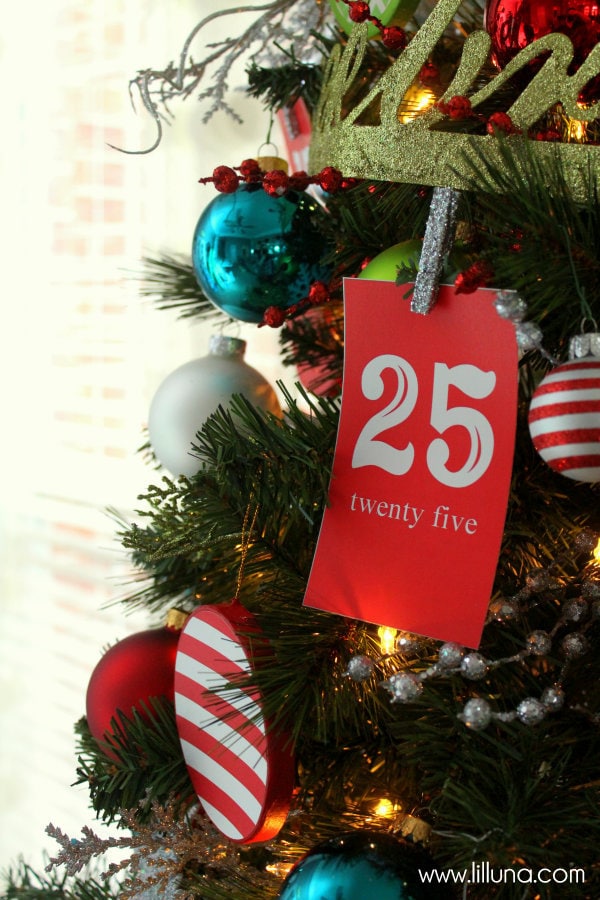 Here is what you'll need to make them:
Number Prints (available for download below)
Paper Sacks
Washi Tape
Clothespins
Christmas Treats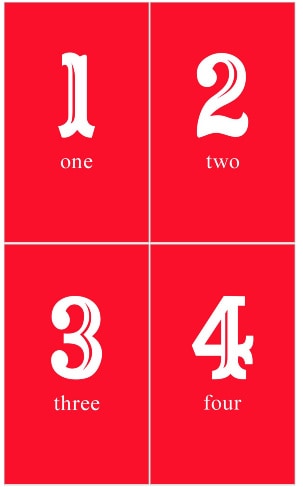 Download your Advent Numbers by CLICKING on the image above. It will take you to a PDF to download. Print and cut out each number.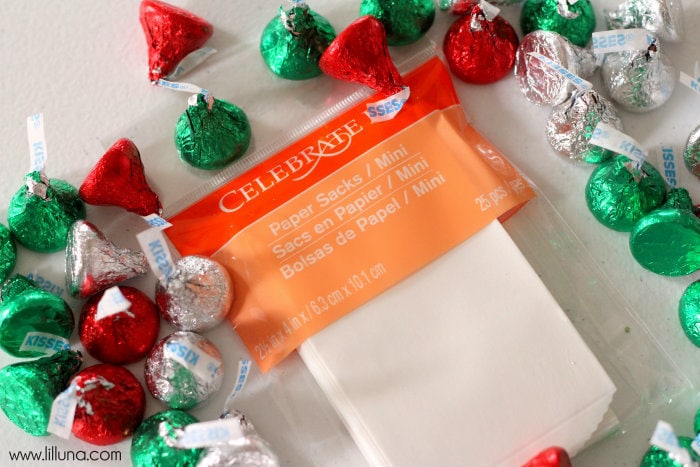 I filled my little sacks from Michael's with the candies. I put 3 in each one, so each kid could have a Christmas Kiss each day. Then I used washi tape to add that to the back of each number.
From there, I attached it to the tree with some Glitter-y Clothespins found in the Scrapbook section of Michael's.
It was super easy and made the tree more fun. 😉
I think we'll also add Christmas Scriptures to the back of each number to read as a family every night leading up to Christmas to remind us of the True Reason for the season. 😀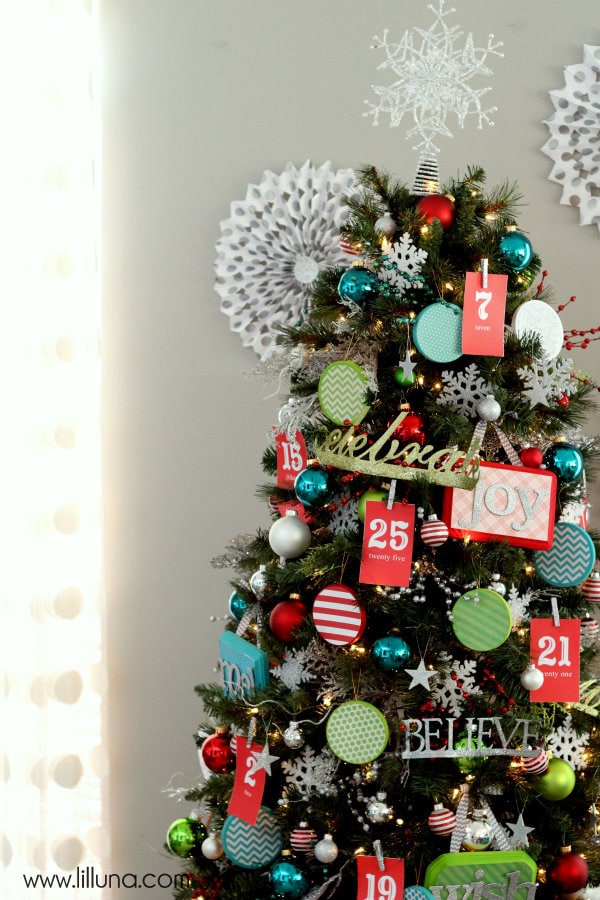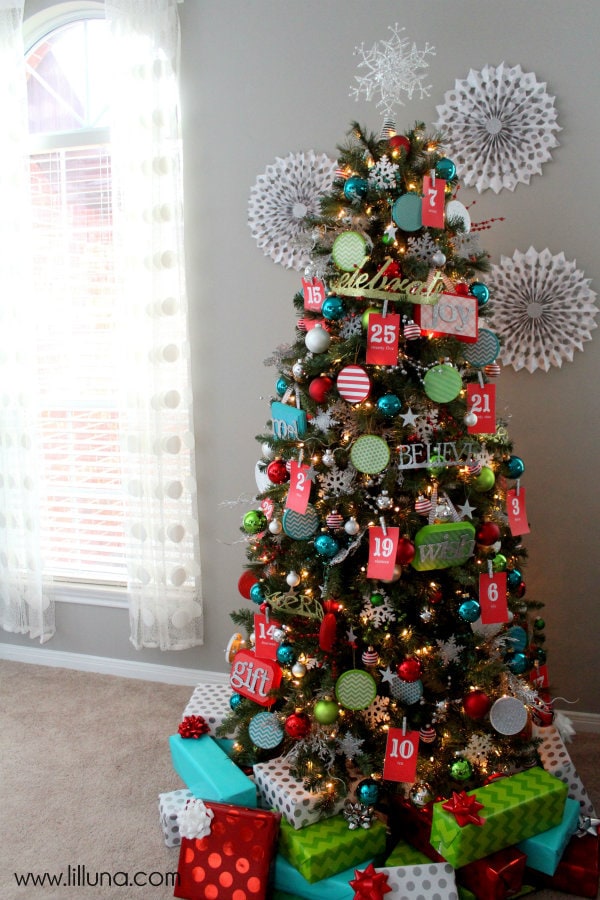 More than anything I love that this tree fits right in with our home and is so bright and cheer-y. I had taken RED out of our home decor color scheme when we moved here, and knew there was no way I could keep the red out for Christmas decor, so I'm glad to see the color back in our home.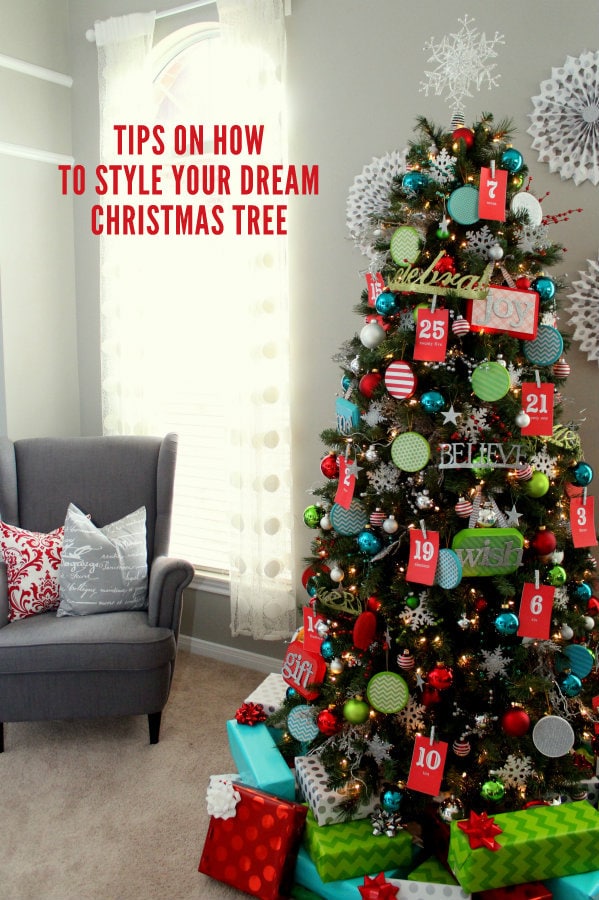 I've had a few friends see the Tree that say "I want a tree as pretty as that!" (which is such a compliment), and I think, "You can!!" It really isn't hard to decorate a tree that fits your style and personality that is also beautiful! Here are some tips to help you decorate and style YOUR Dream Tree:
Think of a theme or style that fits YOU and YOUR HOME.
If you want your tree to fit in with your home, use colors that are already incorporated into your home's decor.
Make ornaments yourself that reflect your personality and style
Begin decorating your tree by using the fillers. Then add ornament balls in your matching colors, and top it off with any other ornaments or pieces that you want to be seen front and center.
If you really want to stick with your theme, gift wrap your presents in coordinating colors. I did 4 since I have 4 kids and wanted to show how I will be wrapping each kids' presents in the same gift wrap so they know which ones are theirs (since only 1 can read).
Once everything is on your tree, take a step back and see if there are open spots that need to be filled. Fill those with any extra ornament balls or snowflakes.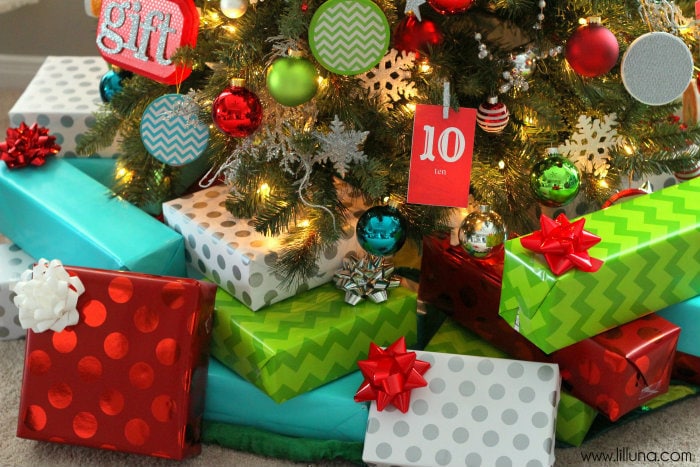 I'd really LOVE to hear what you think of the tree!!
I hope you like it, and I hope you enjoy getting ready for Thanksgiving and Christmas in the coming month. 🙂
For more Christmas Inspiration be sure to check out: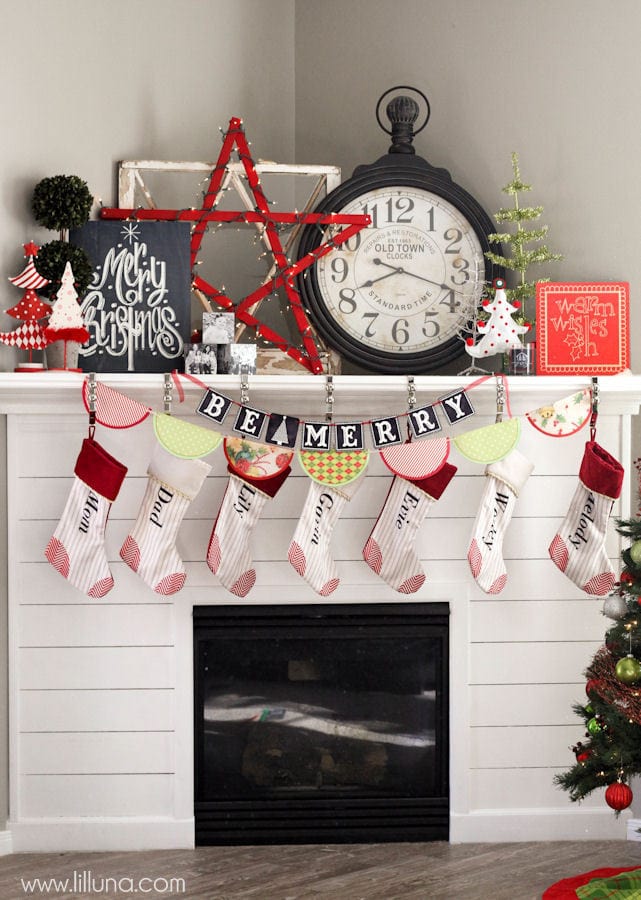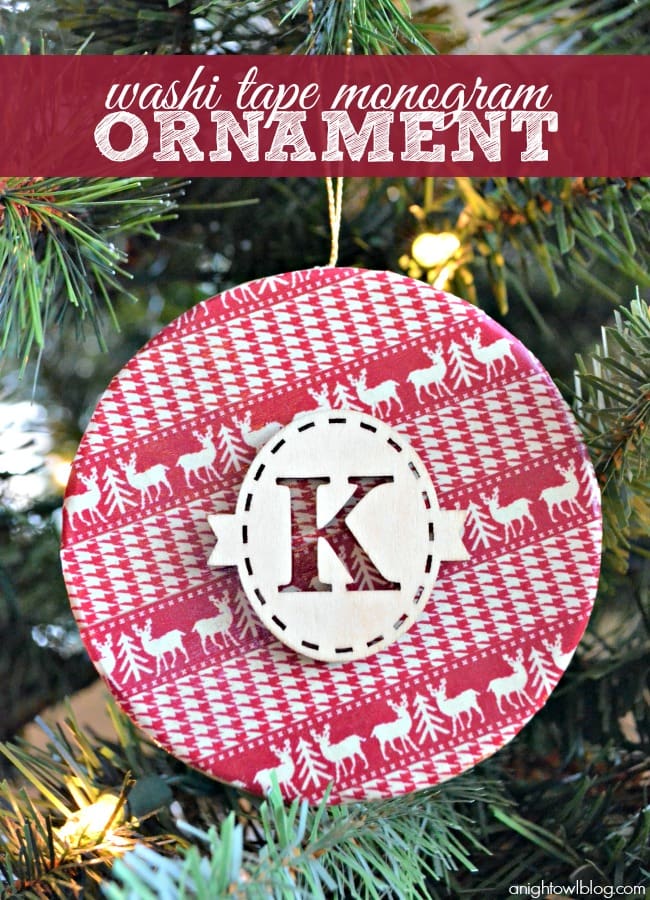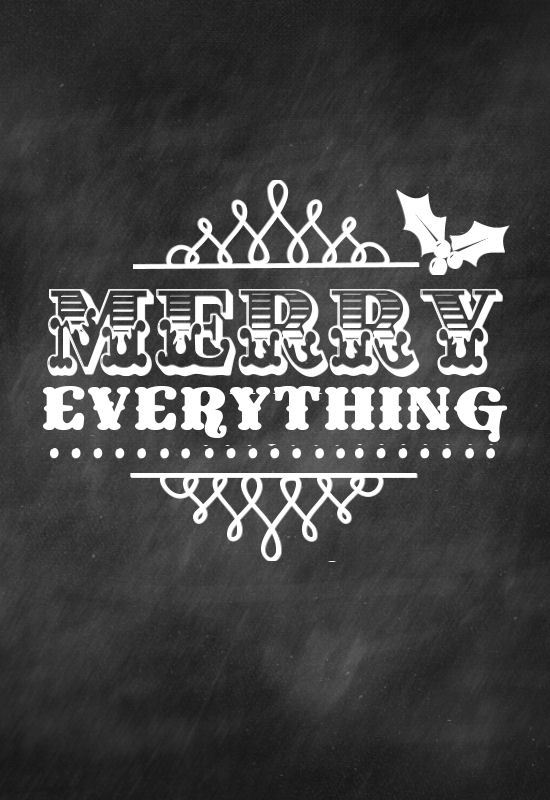 For all Christmas posts go HERE.
For a Scripture Advent idea go HERE.
For a Service Advent idea go HERE.
ENJOY!
BEHIND THE SCENES AT LILLUNA.COM: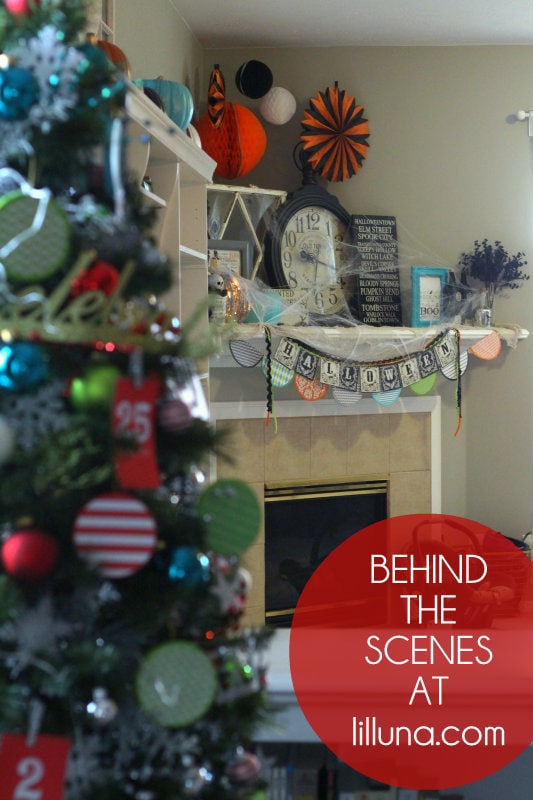 I LOVE this shot. Just shows how crazy things are at our house, with Christmas in the forefront and Halloween in the background. The kids were so confused and weren't sure which holiday it was, lol!