Putting together a fall mantel is easier than it looks. With some pumpkins, greenery, a garland and props that add to that autumn look, you will be to create beautiful fall mantel decor in no time.
This is a sponsored post by Michael's. As always, all opinions are 100% my own.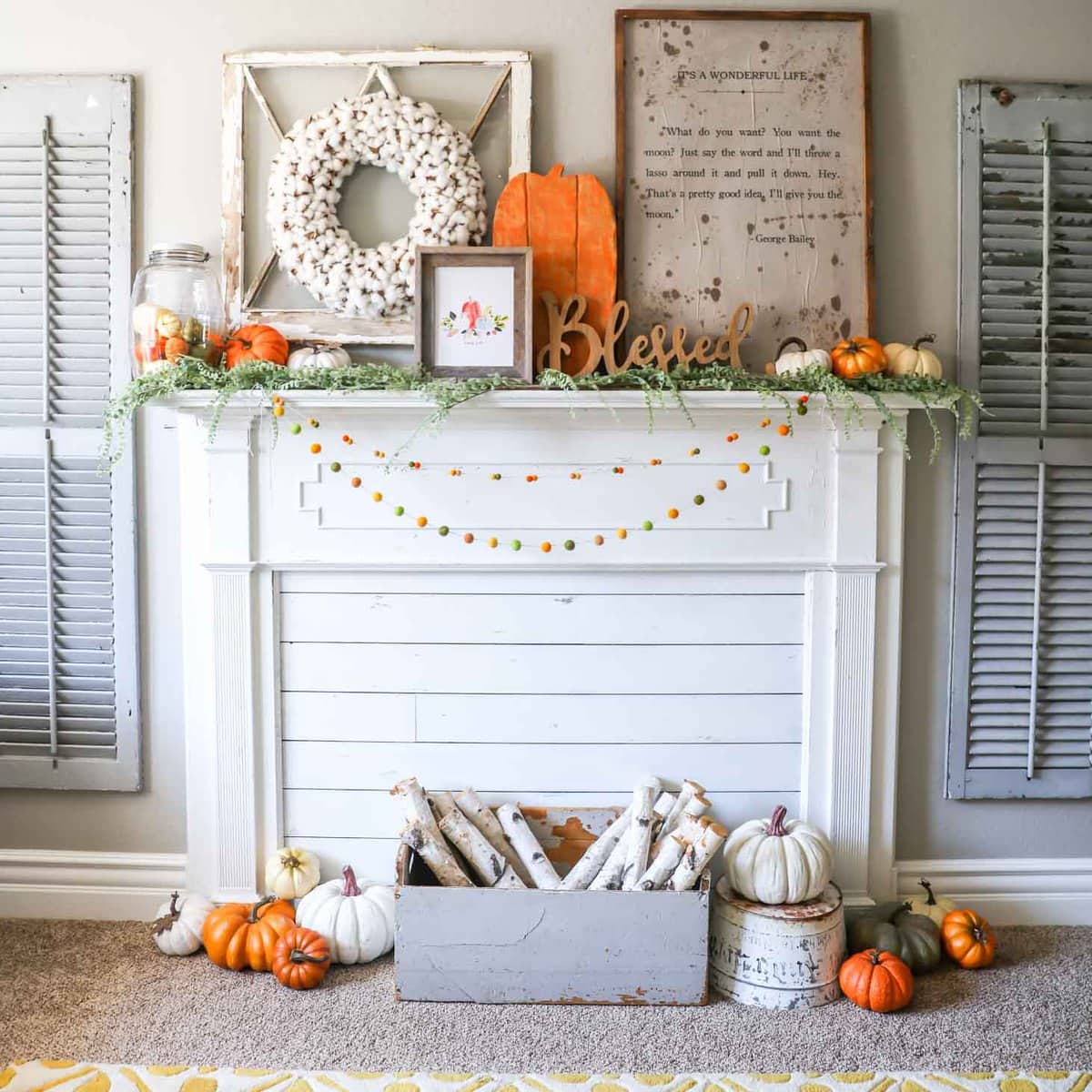 The Mantel
Fall may not be here just yet, but it's just around the corner! To help you gear up for the wonderful season, I wanted to share with you my fall mantel that I recently put together.
It all began when I purchased a mantel when we moved to our home two years ago. I love it and used it as the centerpiece for our living room but realized it was a bit small. While at a vintage market a year later, I spotted this beauty above and although it was blue, broken and beaten up, I knew it could be beautiful with a little TLC. I'm so glad my husband didn't object so we brought it home, glued it together, painted it and even added some slats in between. I love how it turned out and love being able to change it up with each holiday and season.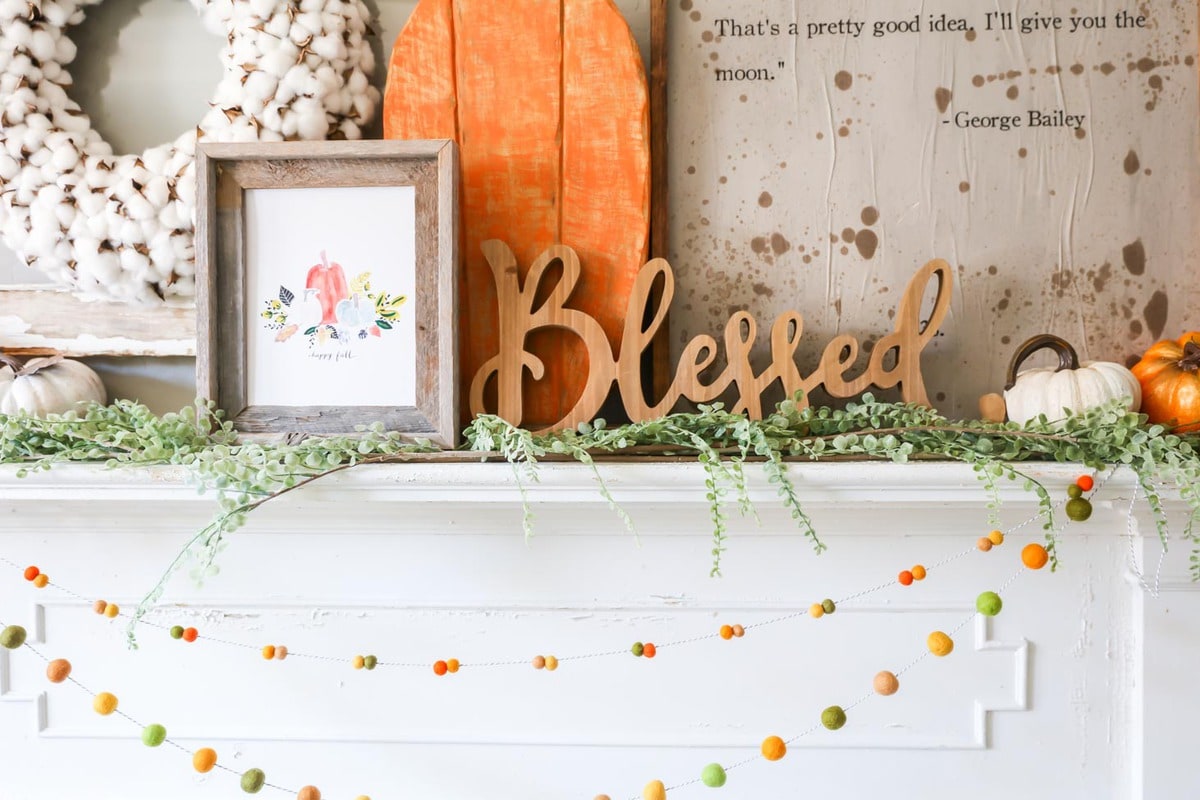 Fall Mantel Decor
Knowing Fall was right around the corner, I headed to Michael's to pick up some items to help me decorate with. Before you pick out decor, it's important to know what colors you want to decorate with. The products these days have so much variety – I mean, you can find pink pumpkins! I knew I wanted to stick with the classic fall colors and looked for oranges, tans, whites, creams, yellows and greens. These are the items I'm usually looking for to make the perfect fall mantel:
I loaded up on as many pumpkins as I could because I knew pumpkins are the #1 decor piece that people think of when imagining fall. From foam to resin, I was able to pick up several in different sizes and colors that were the best addition to my fall mantel. Here are some of my favorites:
From the pictures, you can see that I like to stack, layer and bunch my pumpkins. I even put a few bags of small ones in a vintage pickle jar I displayed on the mantel. So easy to do but it adds so much!!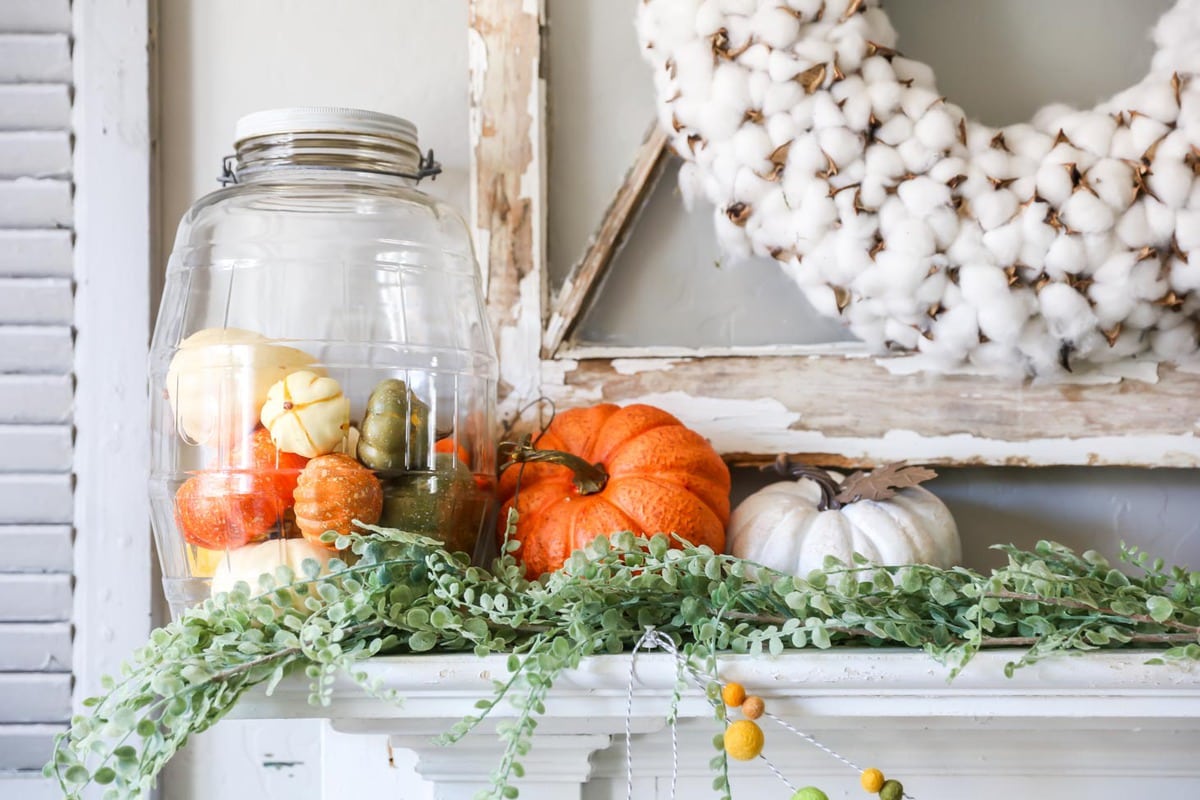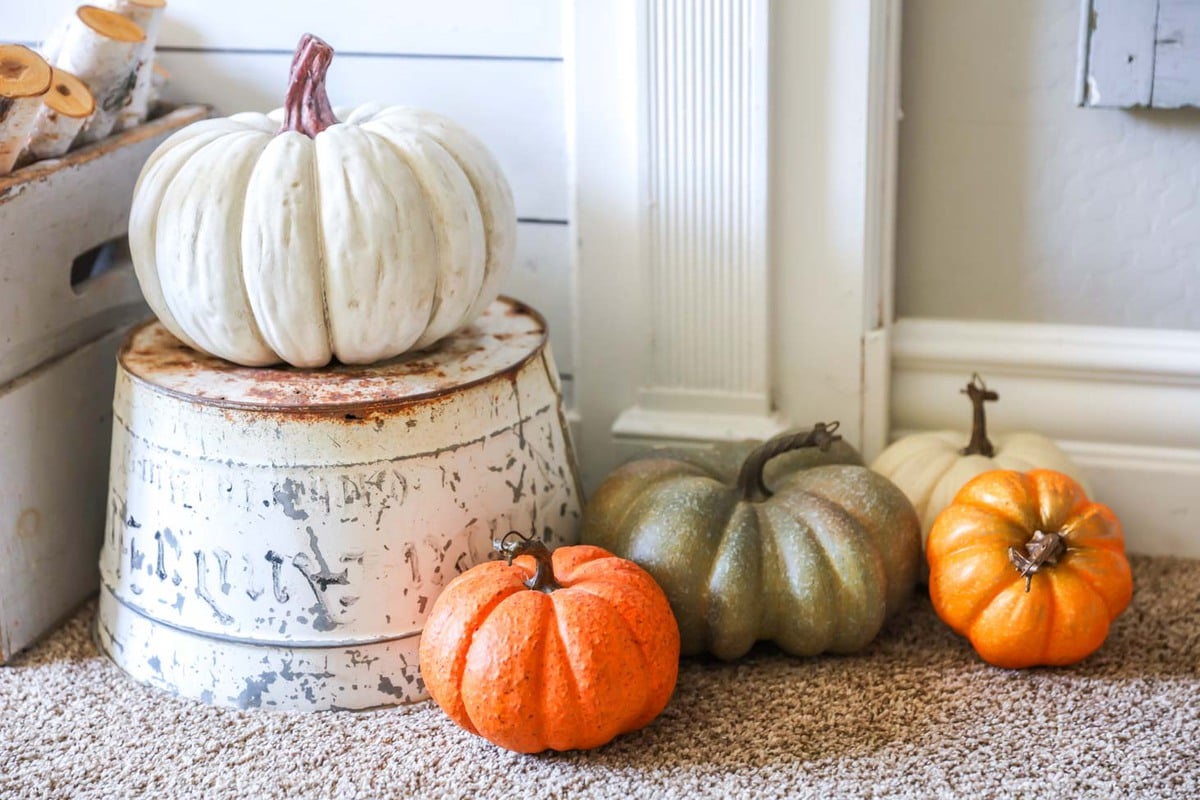 Mantel Decorating Ideas
As I already mentioned above, two other things I like to add are garland and greenery. I've made so many garlands in the past and the one I made for this mantel was with twine and felt balls. I picked the colors I thought would match most and with a needle and twine, I put the felt ball garland together. I ended up making two in different colors because you can never go wrong with more than one garland!!
I also added some greenery on top that adds depth, color and character. I ended up getting about 6 stems from the greenery section to make this "greenery garland" and I love that just a few green stems can add so much.
REMEMBER – garlands, greenery, frames, and props are your best friends in decorating your mantel! The Blessed sign I found at Michael's was another great addition we made to the mantel that is simple but adds to the fall feel I wanted to have.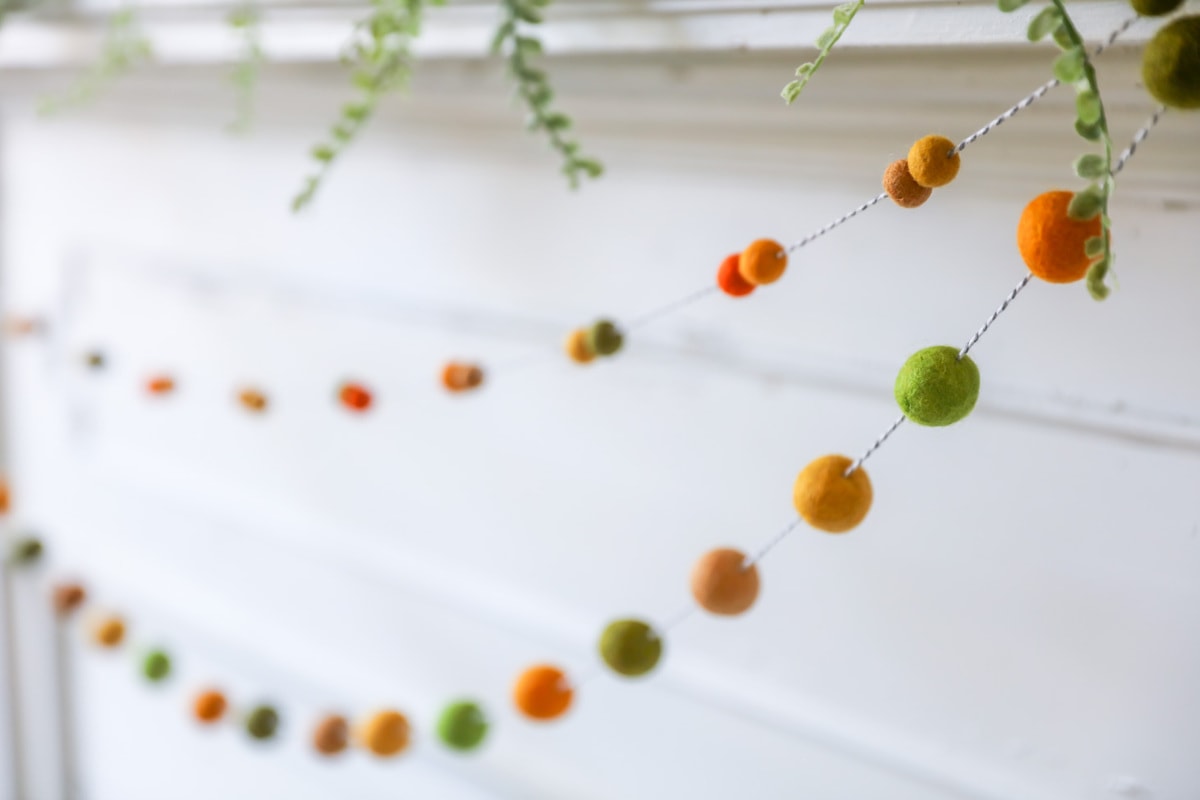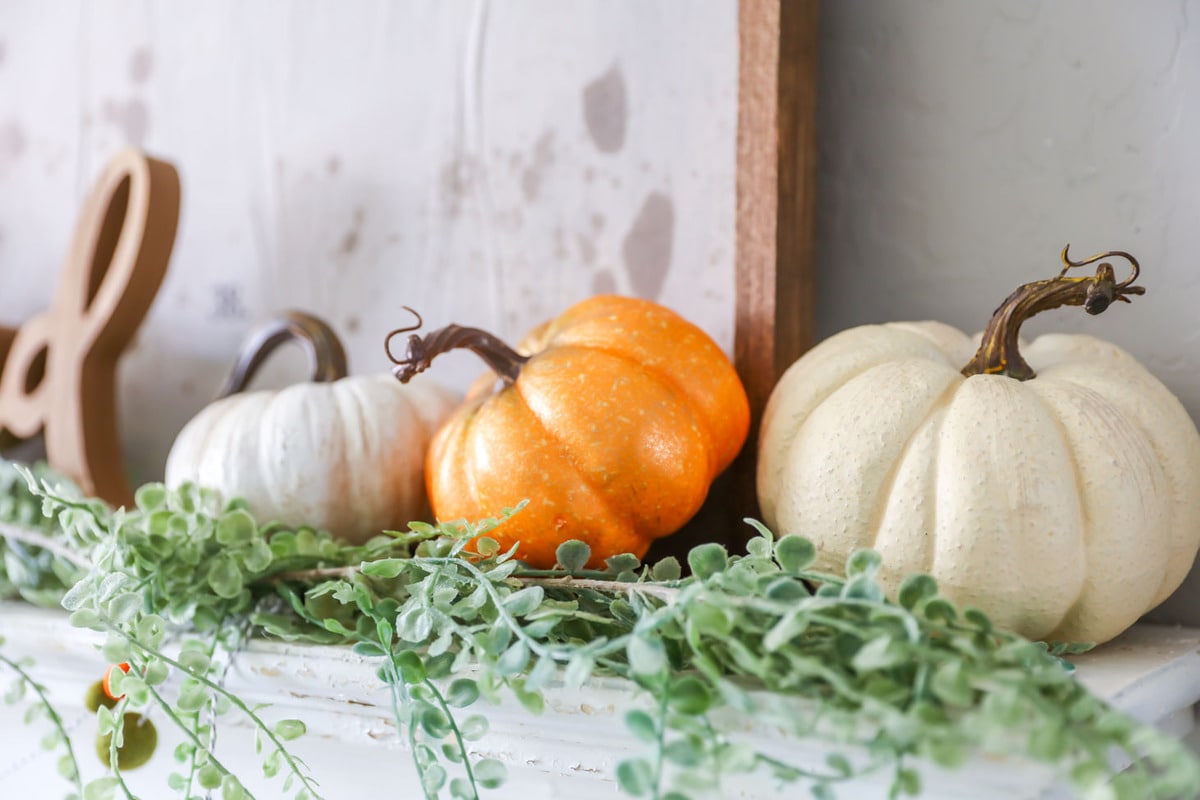 I have a lot of vintage pieces in my home so I wanted to make sure I added those to my mantel as well. People ask me all the time where I get these pieces, but they are mostly found at vintage markets and boutiques. Some of the pieces I got for this mantel include:
Again, these were all found at random spots over the years so if you like these kinds of vintage pieces, keep your eye out for them since you can't find them at department stores. 😉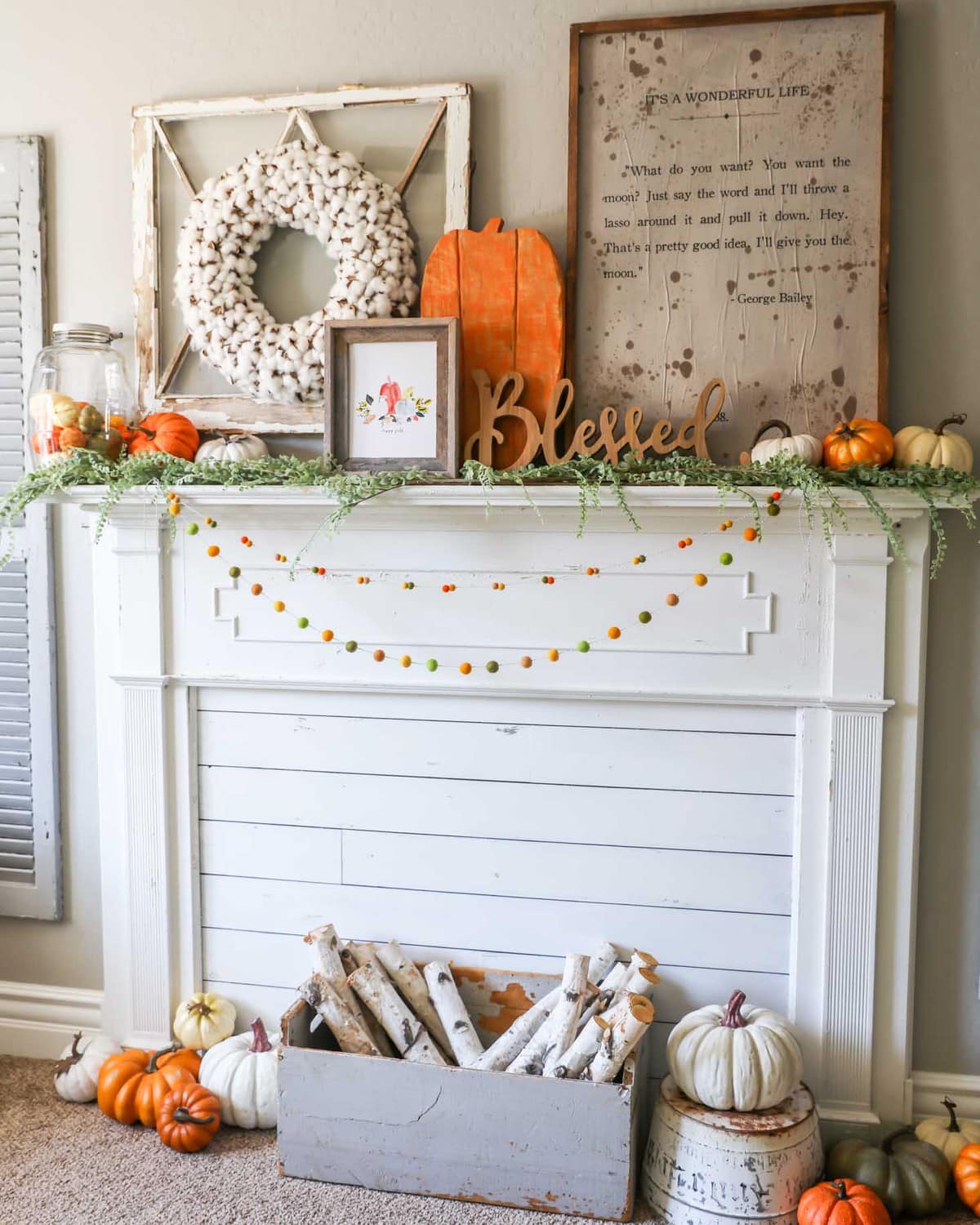 I'm so excited to be able have this happy fall spot in my home. It makes me happy and so excited for the weather to call down and for the changing of the seasons!! Who else loves the fall?
For more great fall products be sure to check out the Happy Harvest and Simply Cozy collections at Michael's. ENJOY!
FALL MANTEL PRODUCT QUICK LINKS: