How to decorate a Christmas Tree – great tips and tricks to help you create a professional-looking Christmas tree that is beautiful and themed.
Rustic Christmas Tree
I love Christmas, and I LOVE to decorate Christmas Trees! I was so excited to take part in Michael's Annual Dream Tree Challenge. Yes, it may mean I have a tree up before November 1st, but I'm not complaining since I love the holidays so much.
This year's theme was centered around one of Michael's holiday decor collections – the Fireside Collection – which has a rustic and farmhouse feel with galvanized metals, buffalo check and weathered colors and features. With that in mind, I knew I wanted to create the perfect Rustic Christmas tree!
Christmas Tree Decorating Tips
Even though I will be sharing with you how I created this rustic tree, I will be sharing all of my tips on how to decorate a Christmas tree. And whether you pick the same theme or another theme, the concepts will still apply. Here are the tips in a nutshell:
Pick out your Christmas Tree and set up.
Pick the theme you want your tree to be – or if no theme, pick colors.
Buy your supplies based off of the theme or colors – ribbons, inserts, ornaments (varying colors & sizes), garlands, signs, etc.
Begin decorating tree with any ribbons or garlands. If you want the ribbon/garland to be one of the key components of the tree, you can do this later. Be sure to set out any items (ornaments, signs, etc) that you want to be at the front of the tree until the end.
Add all picks or inserts to the tree to add fulness and character.
Next add all your ornaments in varying sizes and colors. TIP: Use hooks that match your tree – we used green ornament hooks since our tree was primarily green.
At the end, add any garlands, signs, or ornaments that you want to stand out that really add the final touches of your theme or colors you're wanting displayed.
Add your tree collar or tree skirt – doing this at the end will keep any messes from getting on it while decorating.
Add the star or angel up top – we built ours out of supplies at Michael's to match our rustic Christmas tree theme.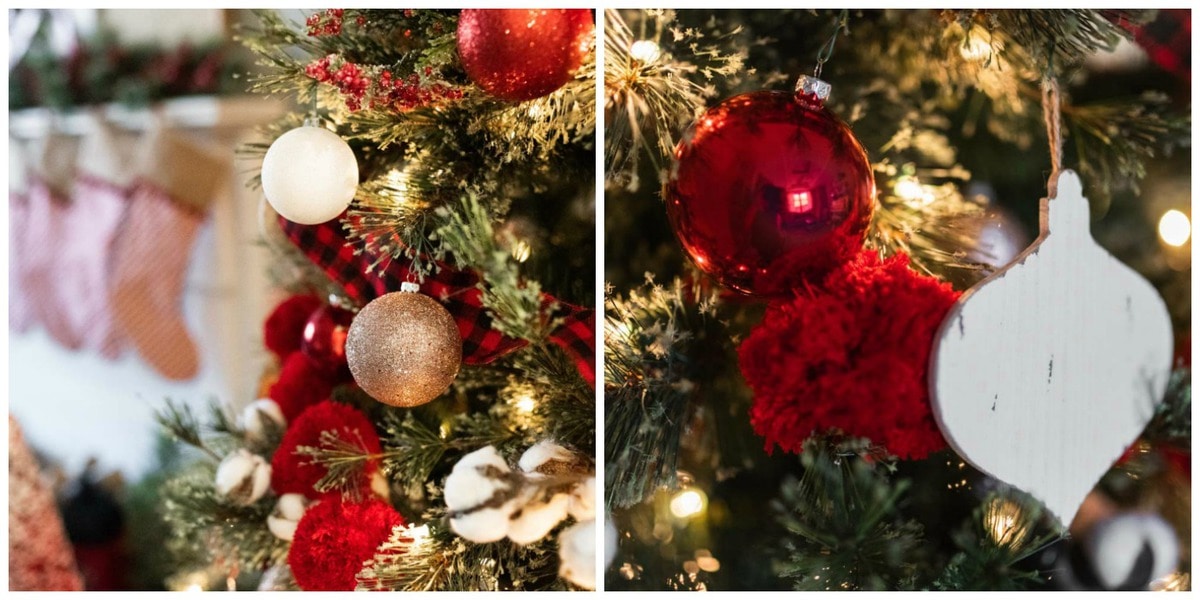 I was given a 7.5 Foot Pre-lit Quick-Set Jasper Cashmere Artificial Christmas Tree. The tree you choose will be based on your home, where it's going to be placed as well as your ceiling height. This one was perfect for our family room. You don't have to have a pre-lit Christmas tree but it definitely makes things easier.
Because we already knew the theme (Rustic/Farmhouse), we headed to Michael's to pick everything up. Some of the items we picked for this included:
Following the tips list out above, we started with the ribbon and then added the picks. From there, we added the ornaments leaving our favorite ornaments until the end followed by some rustic galvanized ornaments I had my friend make for me to tie it all up.
We added our tree collar and then added our DIY Christmas Tree Star!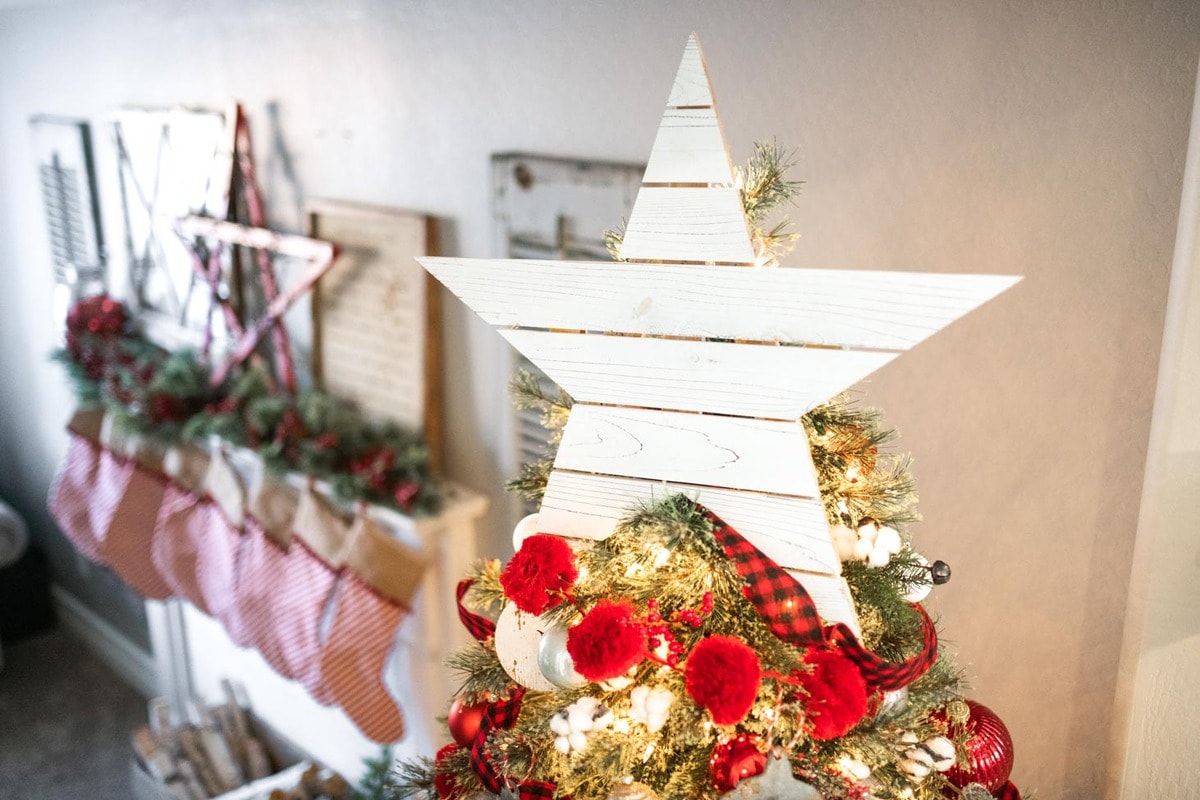 DIY Christmas Tree Star
When I saw some white painted wood pallets (these ones are bare but can be painted any color and sanded), I knew immediately I wanted to make my own star for the tree to fit the rustic theme. Since the hubby is handy, we wanted to share with you how we made it so you could do the same thing for your own tree.
SUPPLIES:
Craft Paint (if needed)

Pencil

Screw driver

Finishing nails

Jig saw or hand saw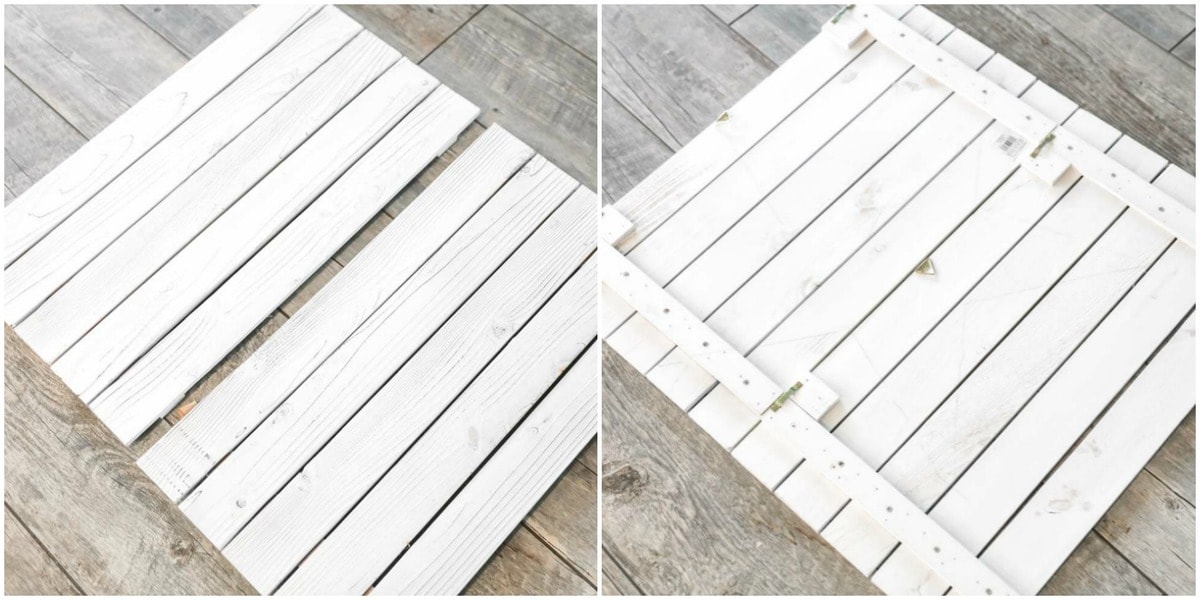 Trace the shape of the star that you want on the BACK of the pallets. This tells us where we need to place the struts to hold all the boards together.
Remove one strut at a time, and place it strategically to hold all the boards together. by removing one strut at a time, the spacing of the slats stays consistent.
Apply wood glue to the strut and attach it in place using the screws that were already in the pallet. Make sure at least one screw goes in each board.
Continue to remove and place the other struts, glueing each one as you go. We needed to slightly modify a few of the struts to make it fit. Each slat should have at least two screws in it to keep it from rotating. For the tip and bottom of the star, I used small nails to help secure it more, since screws would not fit.
Once all struts are in place, cut out the star shape.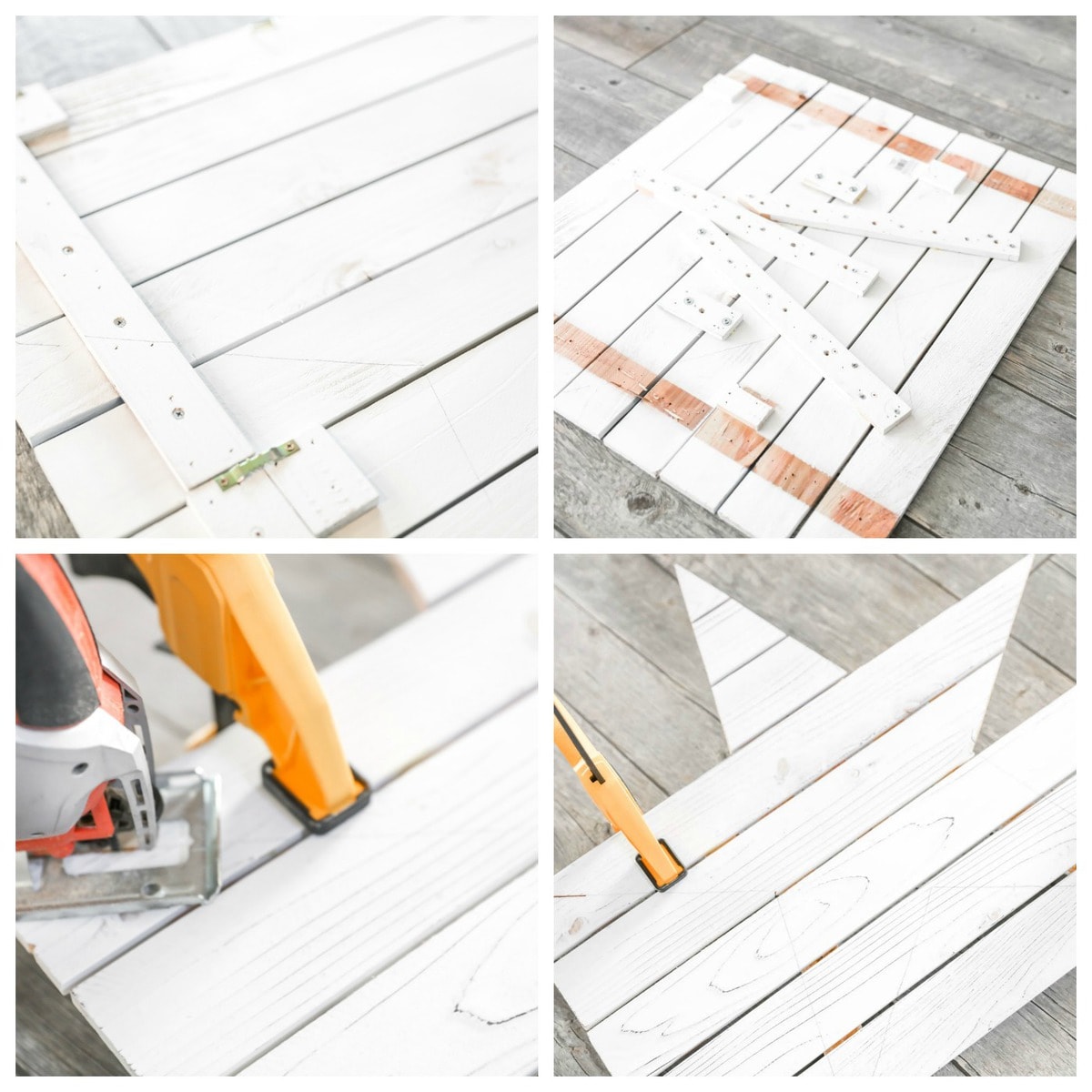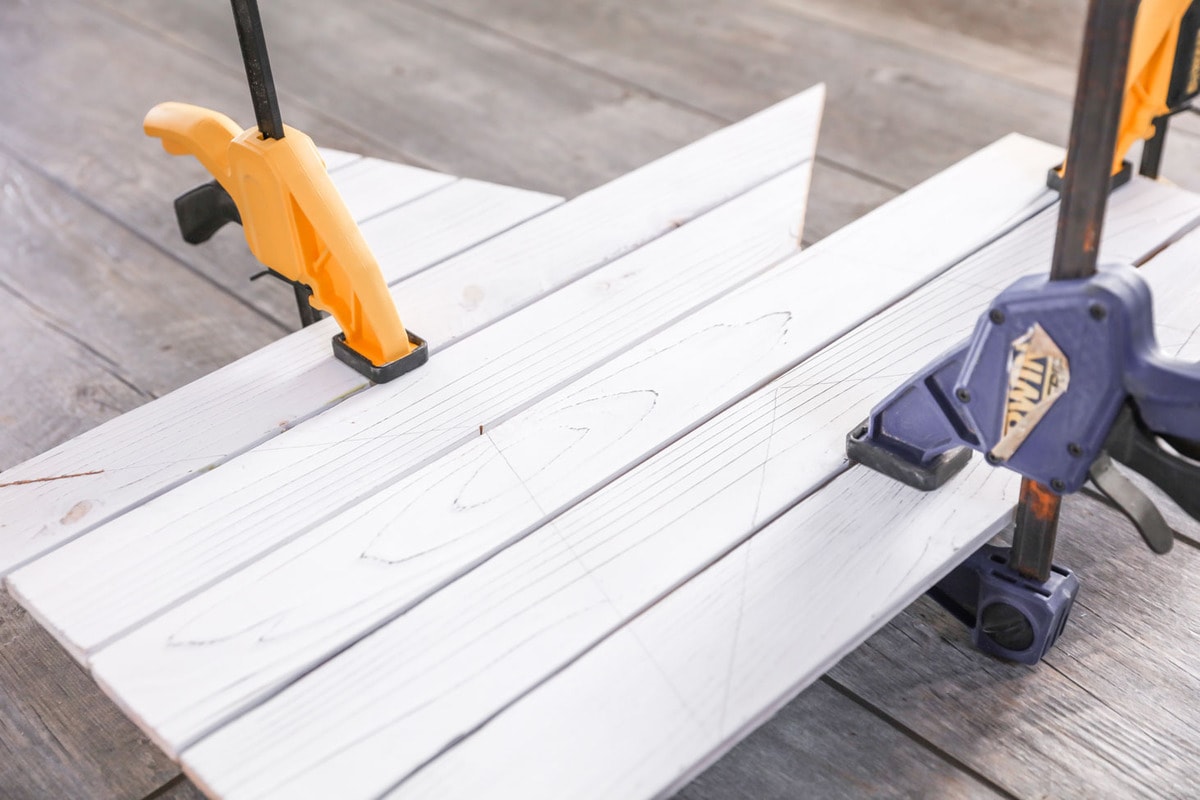 We also added some ties to the back of the star so we could secure it at the top of the tree. This is optional but highly recommended, especially if you have little kids like we do who often bump or move the tree.
We absolutely love how the star turned out and wanted it to be the centerpiece to this gorgeous tree!

Christmas Tree Decor Additions
In addition to making a beautiful tree, it's nice to have matching decor on or near the tree to tie the space together. I wanted to make sure I tied this in with the gifts as well and included some fun decor from the Fireside Collection that matched perfectly.
Some of the pieces I did this with include:
Again, adding these touches are not necessities but make the space come all together giving it a professional look worth of magazines. 😉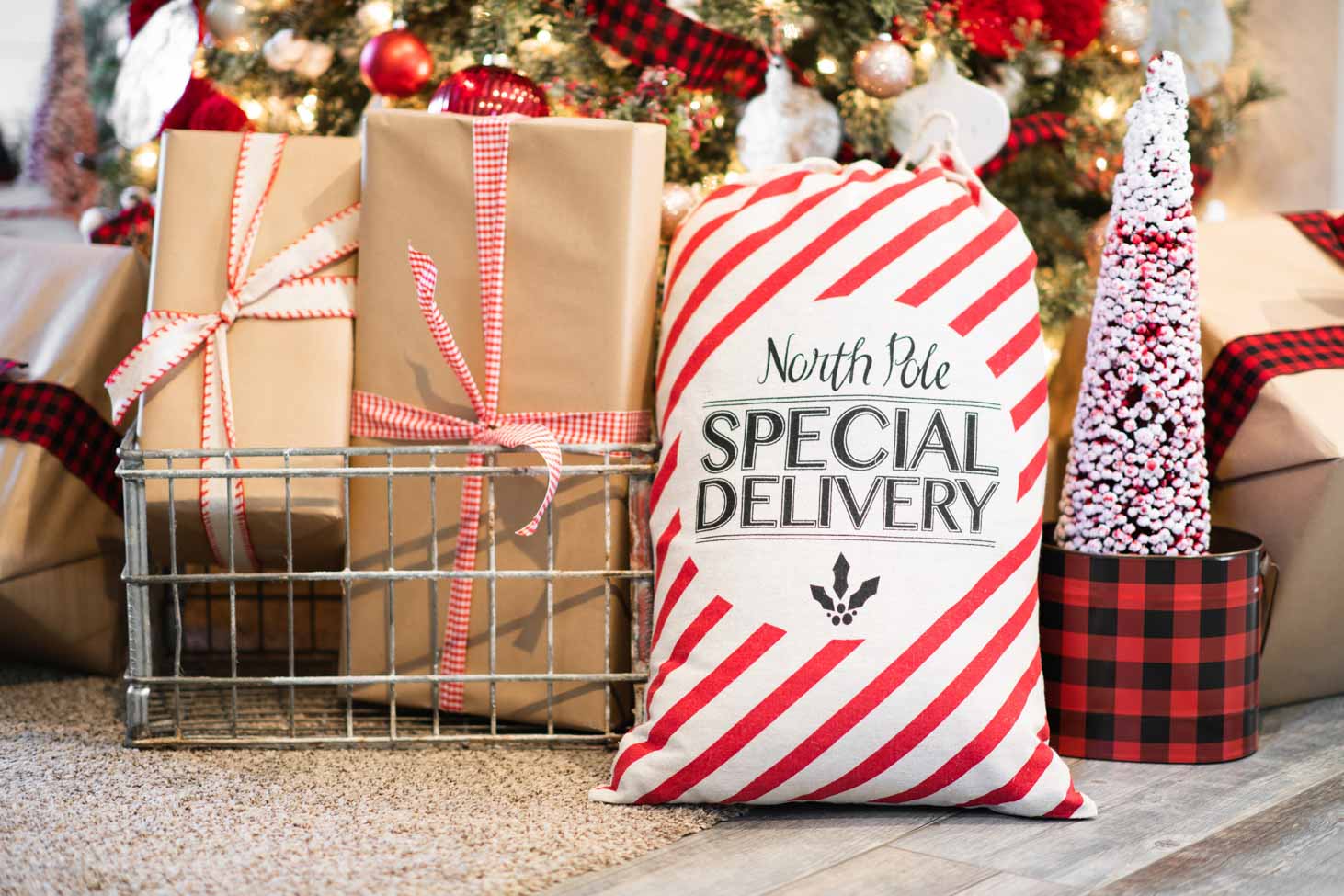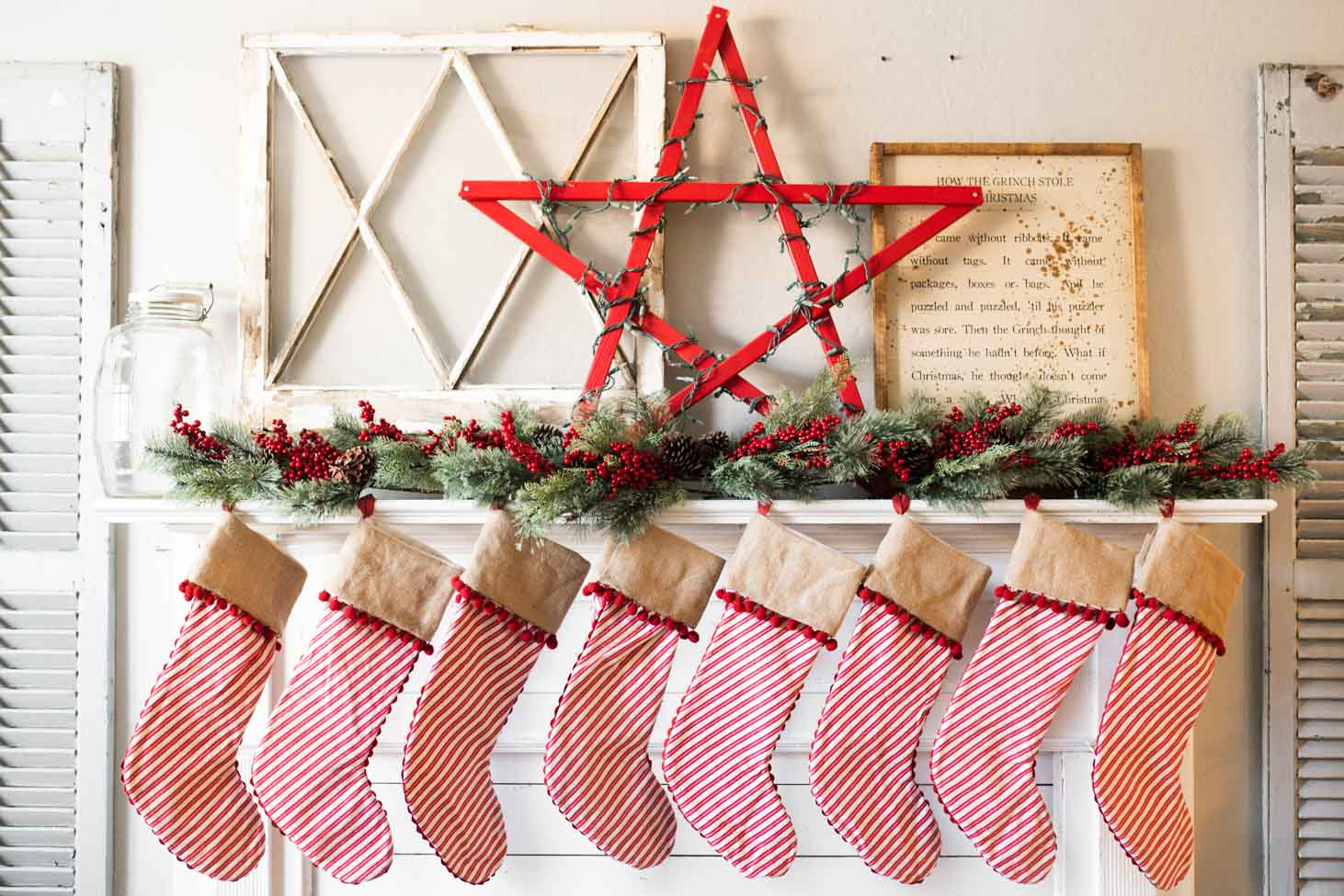 We love that we have the mantel next to the tree! It's a great place to hang stockings, signs and whatever else we want to add some more Christmas decor. In this situation, we love how the top of these stockings tie in with the color of the Kraft paper we used to wrap the gifts.
We even added some Christmas greenery from Michael's to make a faux Christmas garland at the top of the mantel. We then added our DIY Lighted Christmas Star we made years ago which matches the rustic Christmas tree theme.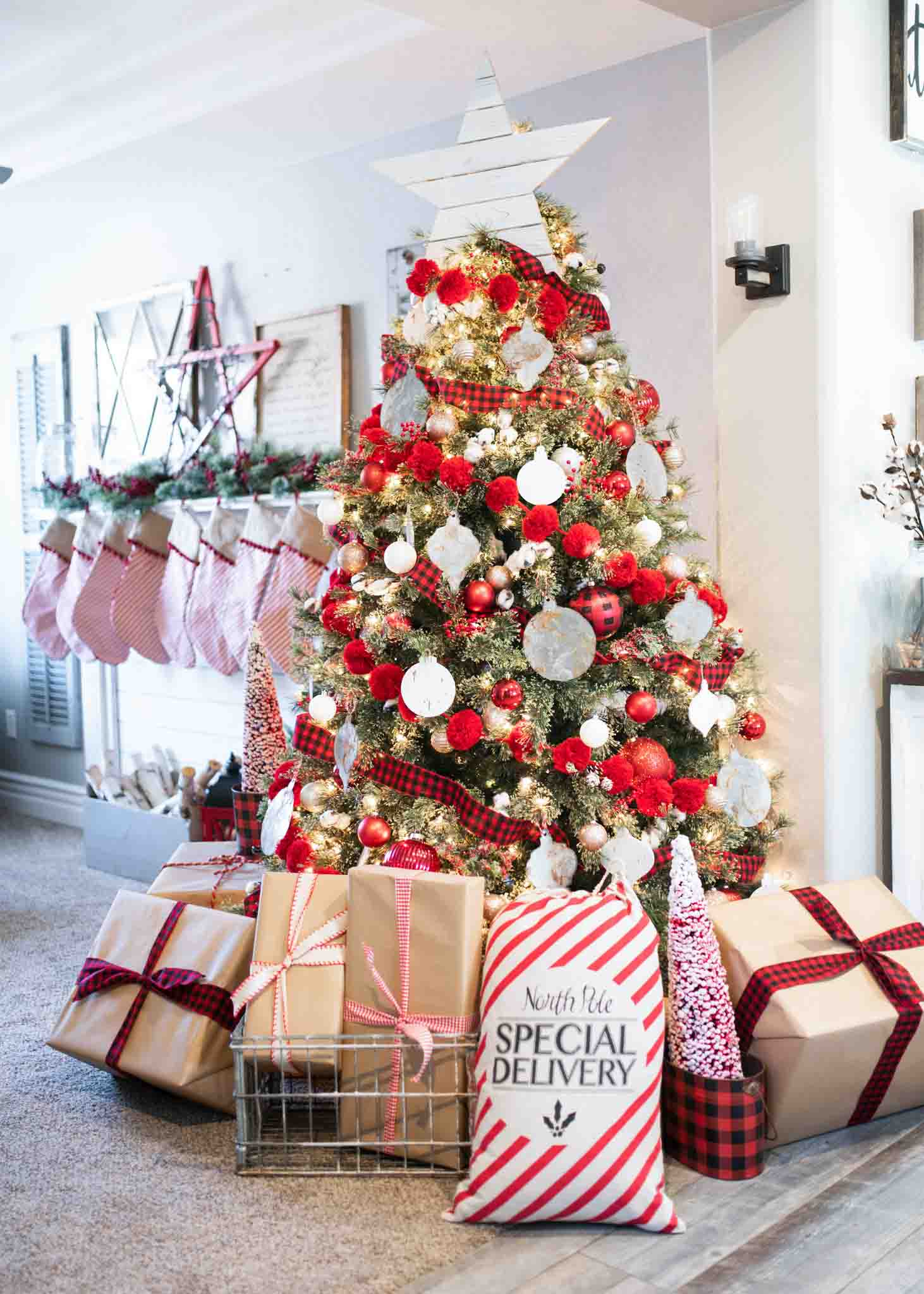 Farmhouse Christmas Tree
We sure love our Rustic Farmhouse Christmas Tree. It matches the whole house and gets me motivated to transform the entire house for the holidays.
For more products that fall under this theme, be sure to check out:
Be sure to check out the Fireside Collection and the other holiday collections in helping your create your own Rustic Christmas Tree or other Christmas tree themes. And for past Christmas trees, check out:
ENJOY!