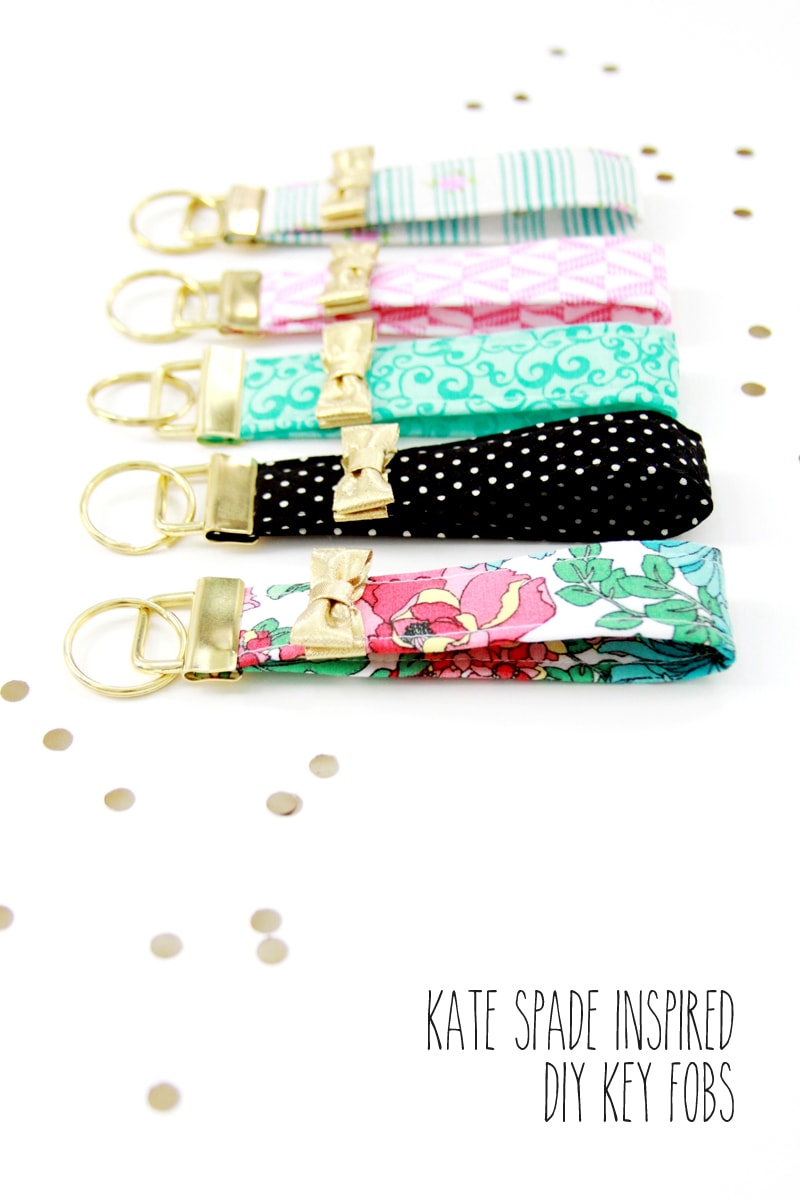 I think Kate Spade and I might be BFF's if we ever met in real life. I mean, obviously she loves color, classic style, and sometimes quirky quotes. And we can't forget gold bows. We're perfect for each other.
With Mother's Day just around the corner, I wanted to come up with something fun and easy and super cute – and I thought I'd make something that was inspired by all things Kate Spade. These Kate Spade Inspired DIY Key Fobs were so fun to make and came out so cute!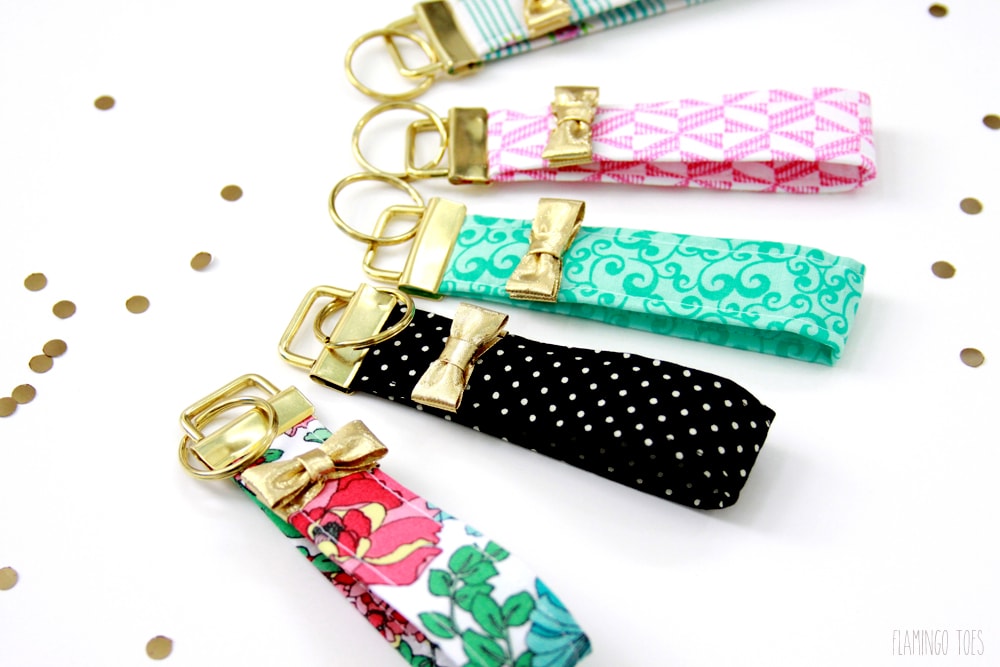 They are bright and colorful and they have the cutest little gold bows – I think Kate would approve don't you?
These little babies are so fast to sew up too. You can make one up in 15 minutes easy.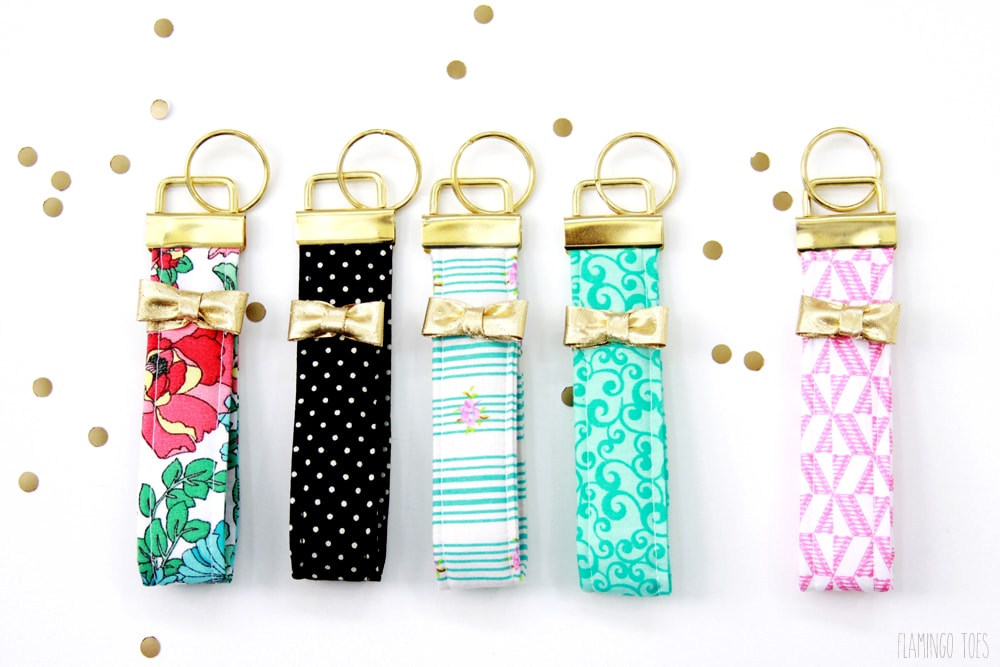 You could sew up a key fob for mom, one for you, and a few for your girlfriends in just an hour or so. Key Fobs for everyone! These are so easy to change up too – you could use silver hardware and go with vintage fabrics, or something more contemporary and geometric. It would all look great.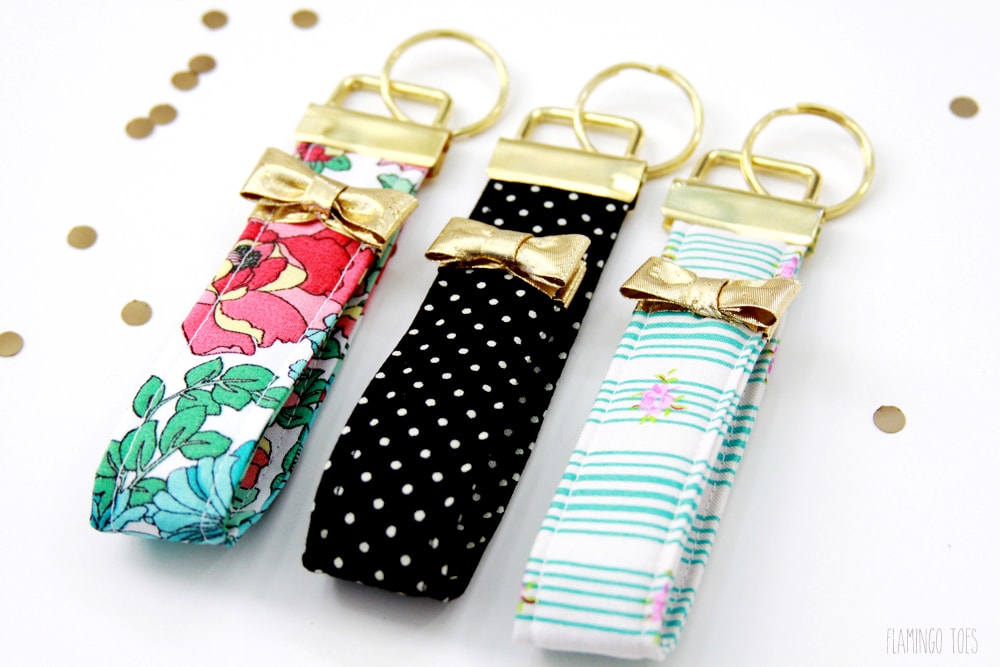 So let's get to the easy tutorial!
How to make these Easy DIY Key Fobs:
Materials (per key fob):
Fabric – 3″ x 10″
Fusible Fleece – 2″ x 10″
Gold Bias Tape
Thread to match fabric
Needle
1 Key Fob Clamp and Ring (I found mine on Etsy)
Pliers
Sewing Machine & Iron
Begin by ironing your fusible fleece to the wrong side of your fabric. Center it in the middle of the fabric piece.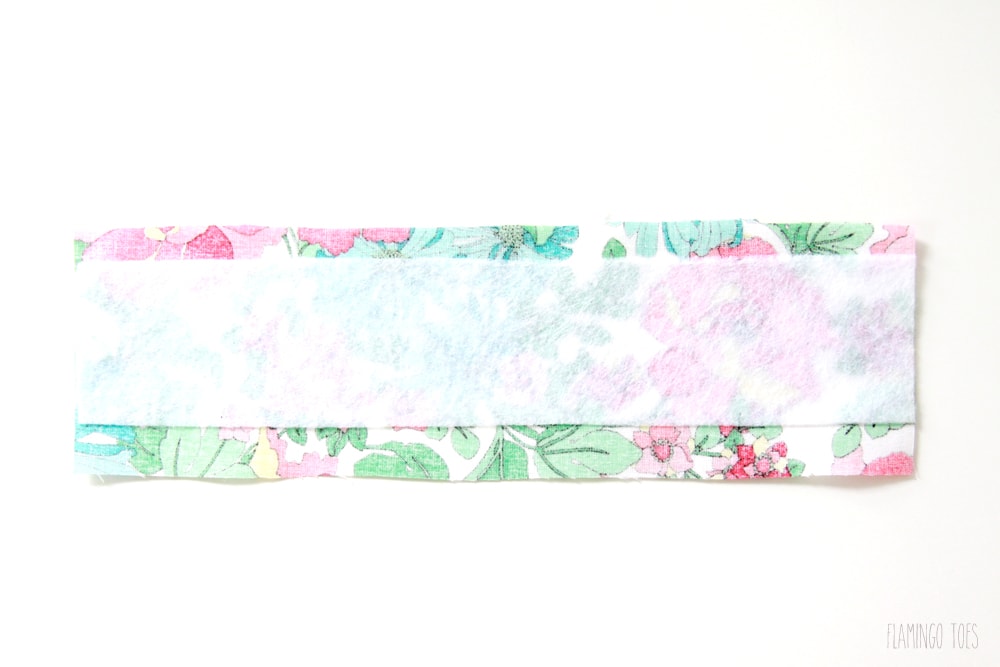 Fold the long sides of the fabric strip in ⅜″ on each side. Press these folds in place.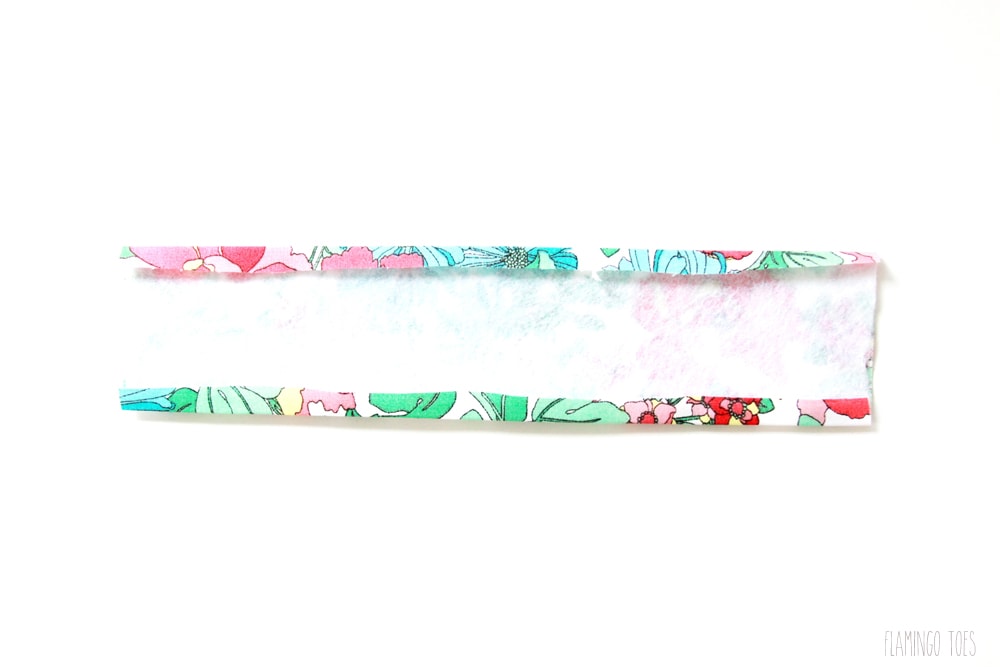 Fold the fabric in half so the long edges are together. Press in place.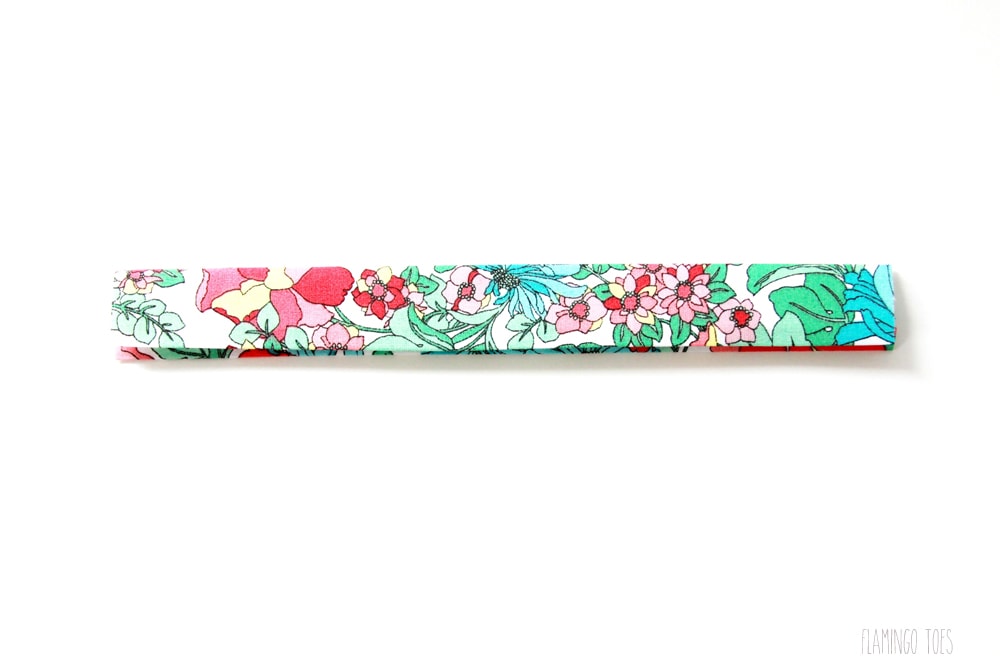 Create a small bow about 1″ wide from the gold bias tape. Sew it together by hand.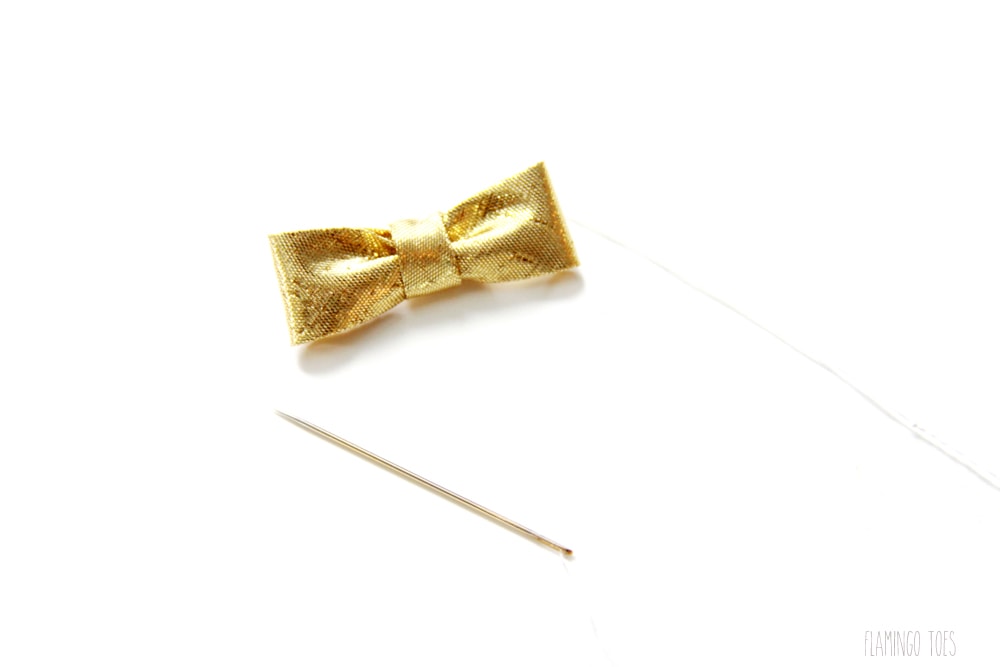 Cut a length of gold bias tape about 4″ long. Measure down on the fabric strip 1 ½″ and place the strip so the ends will fold into the open section of the fabric and the tape will wrap around the fabric. Sew the bow in place on top of the bias tape.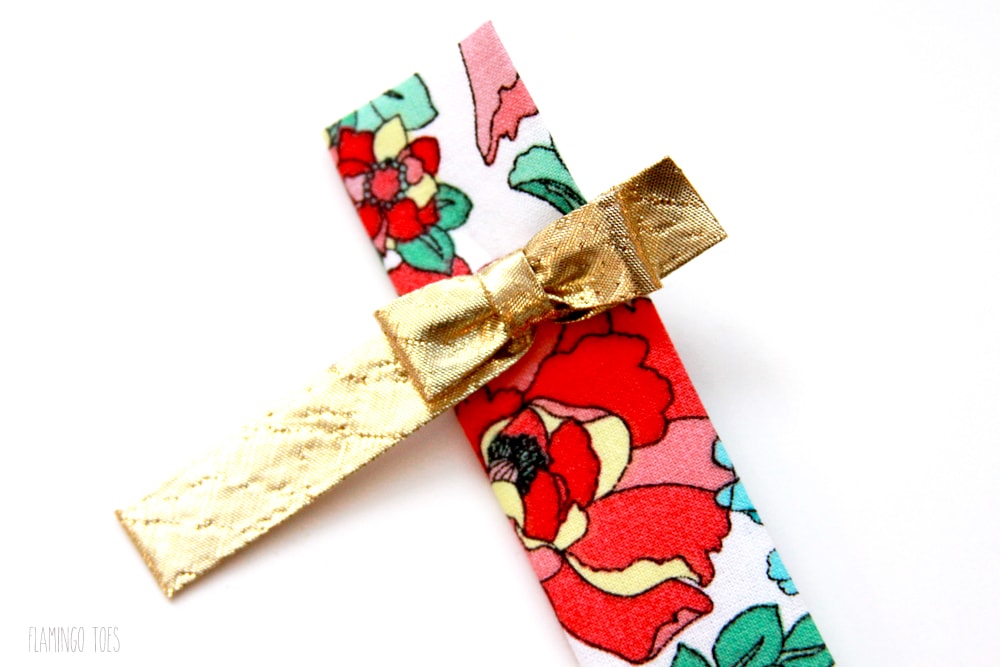 With the bias tape tucked into the center of the fabric, pin the opening closed. Sew down the edge of the fabric strip, sewing the opening closed at the same time. Turn the fabric piece and sew up the folded edge as well. Make sure you move the bow as you sew so it's not sewn down.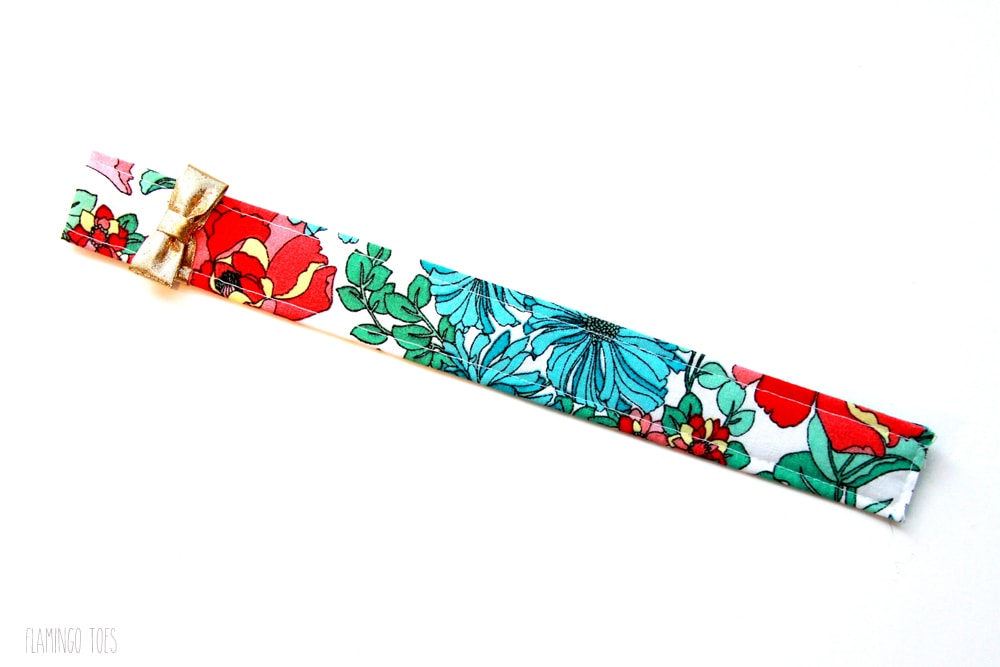 Fold the fabric strip in half, bringing the two short ends together. Tuck the ends into the key fob clamp.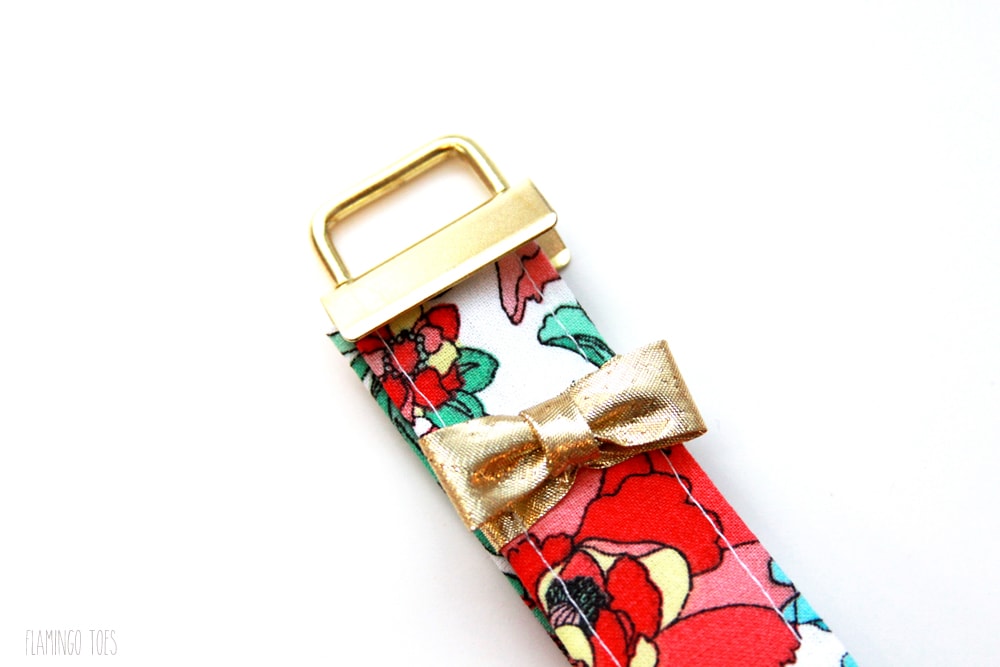 Clamp the hardware closed. You can use a key fob clamp, or regular pliers. If you use regular flat nose pliers, wrap some felt around the pliers to protect the hardware.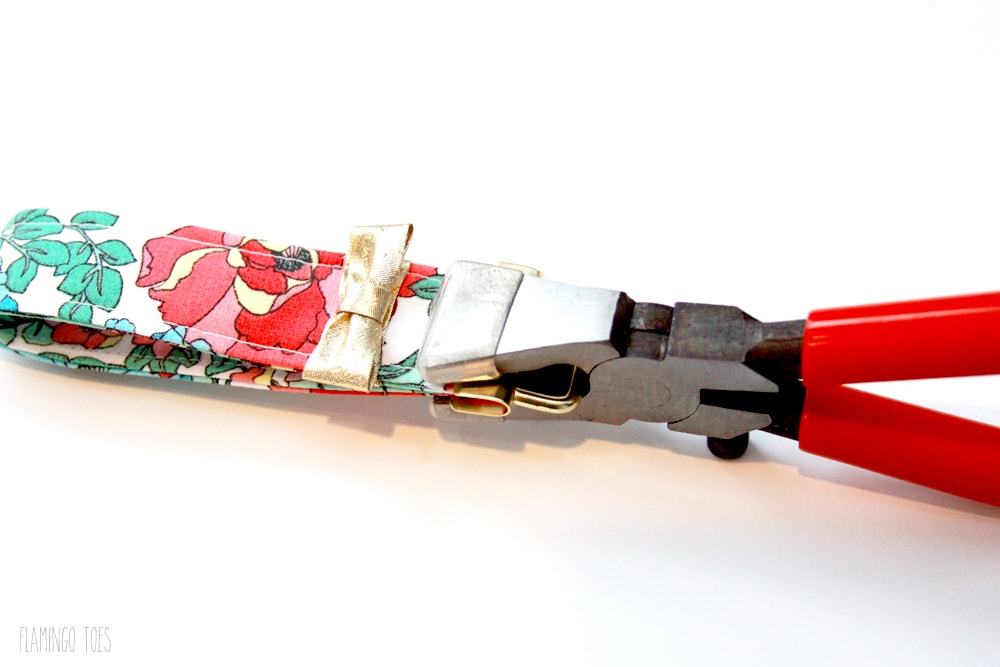 Now you have a super cute little floral Bow Key Fob!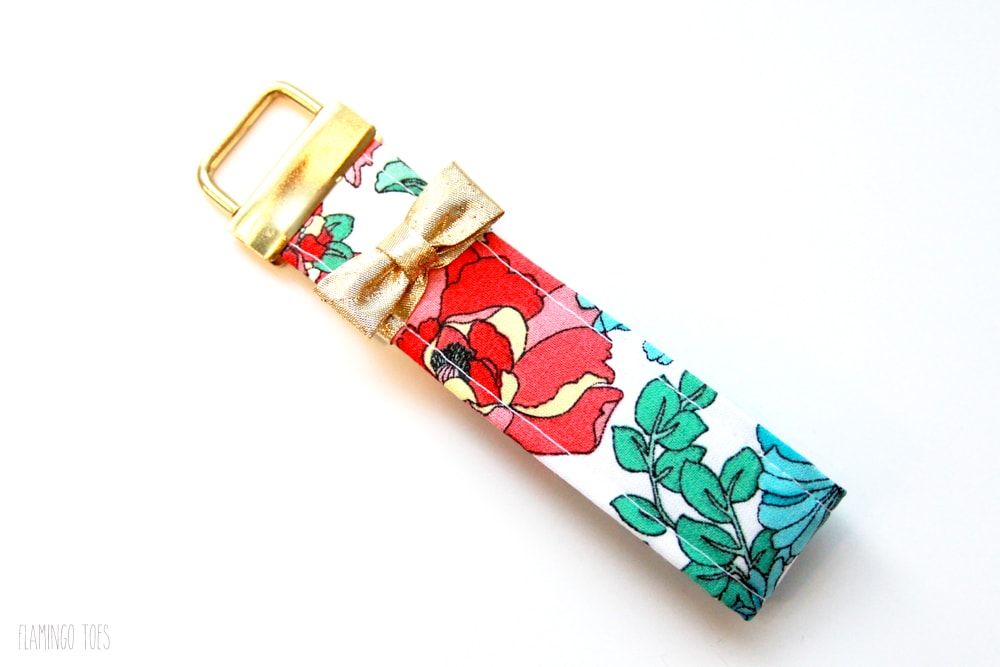 These are so addicting and quick – you will be wanting to make up more before you know it.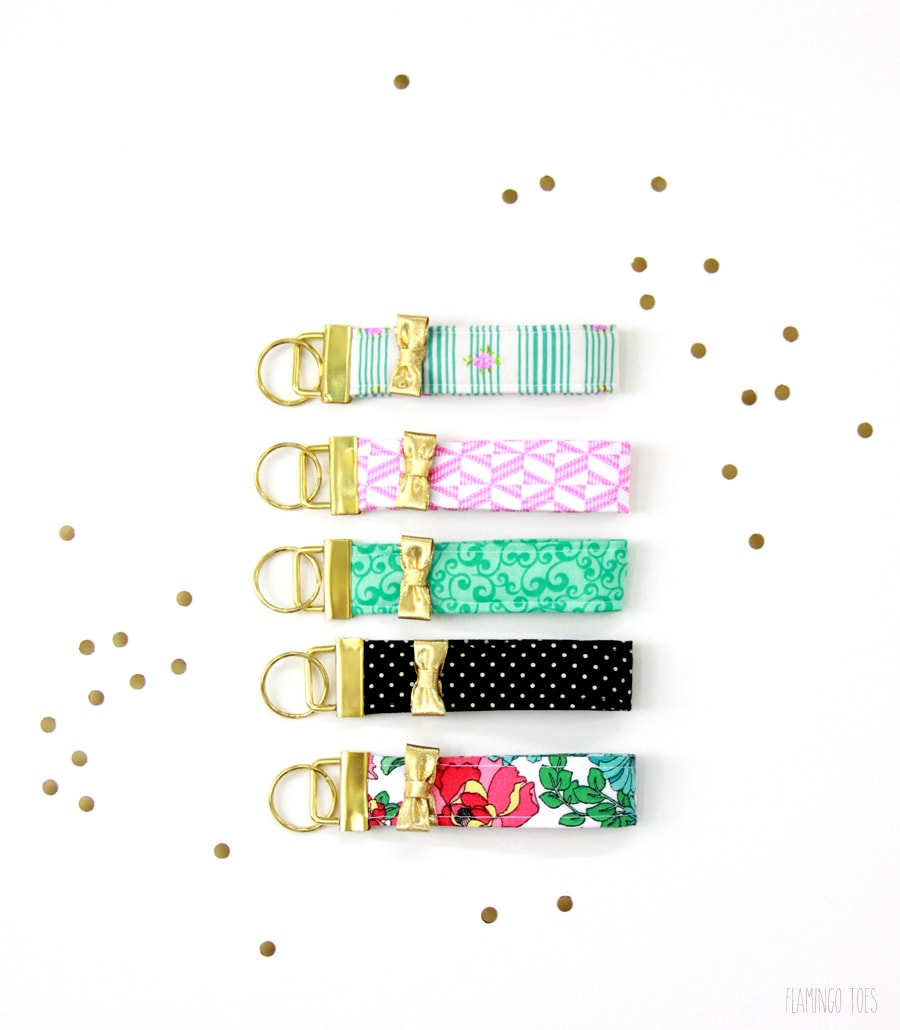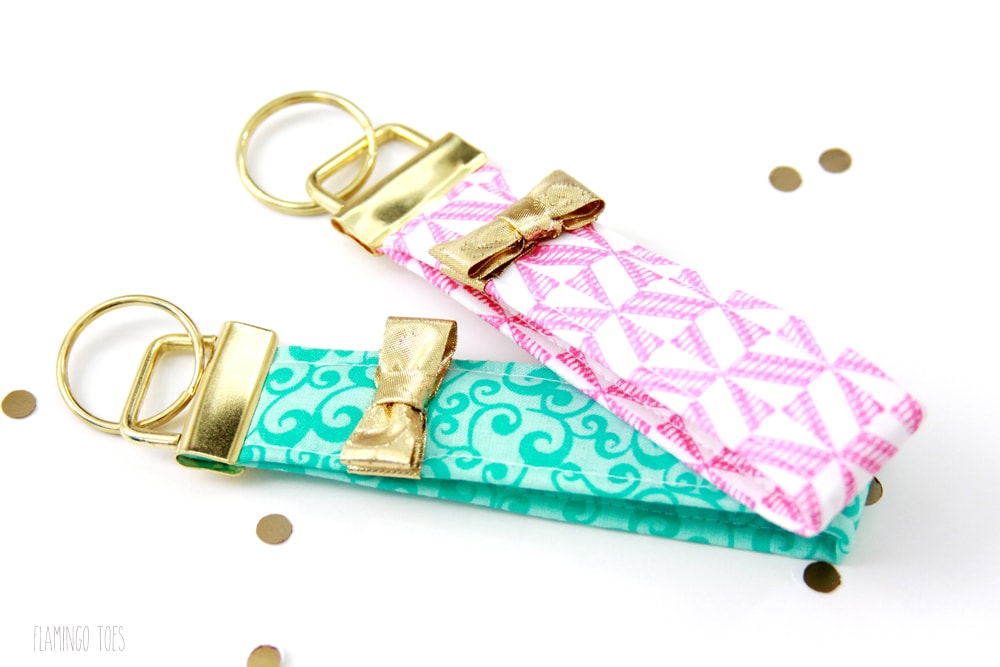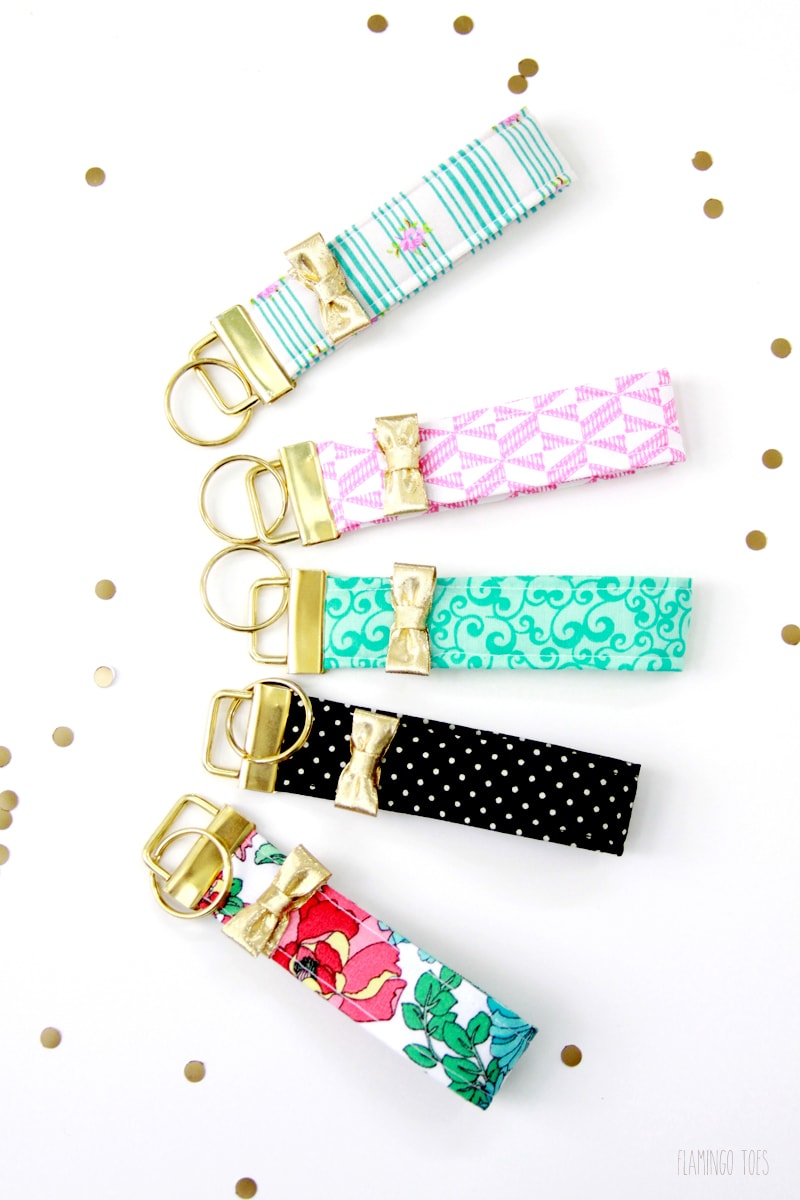 I'd love to see a photo if you make some up!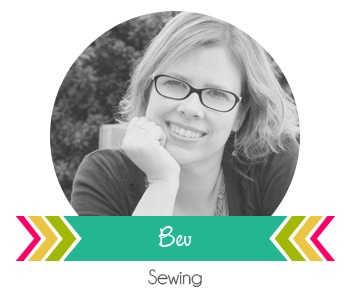 ————————————
OH. MY. GOODNESS! I'm dying at the cuteness of these Key Fobs!!
I love them, Bev! GREAT JOB!
For more wonderful creations from my friend, Bev, head on over to Flamingo Toes.
For more simple Mother's Day gift ideas, be sure to check out: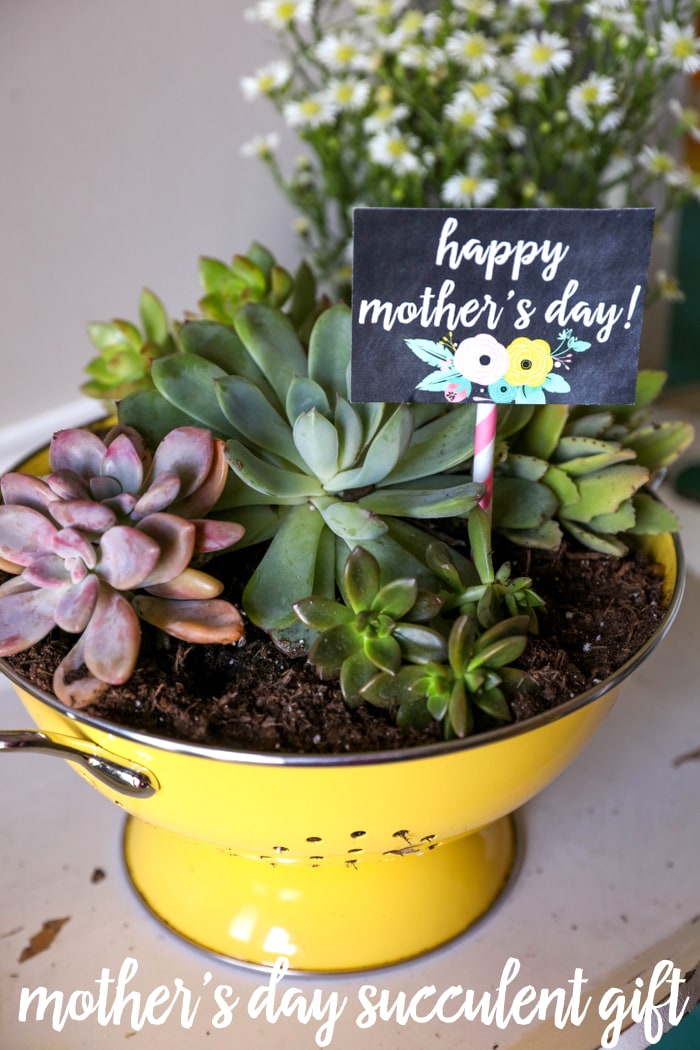 For all Mother's Day Gift ideas on the site be sure to go HERE.
For all Gift ideas go HERE.
And get weekly emails with monthly freebies by signing up for the Lil' Luna newsletter. 🙂
For even more great ideas follow me on Facebook – Pinterest – Instagram – Twitter – Periscope – Snapchat.
Don't miss a thing – Sign up for the Lil' Luna Newsletter today!
ENJOY!