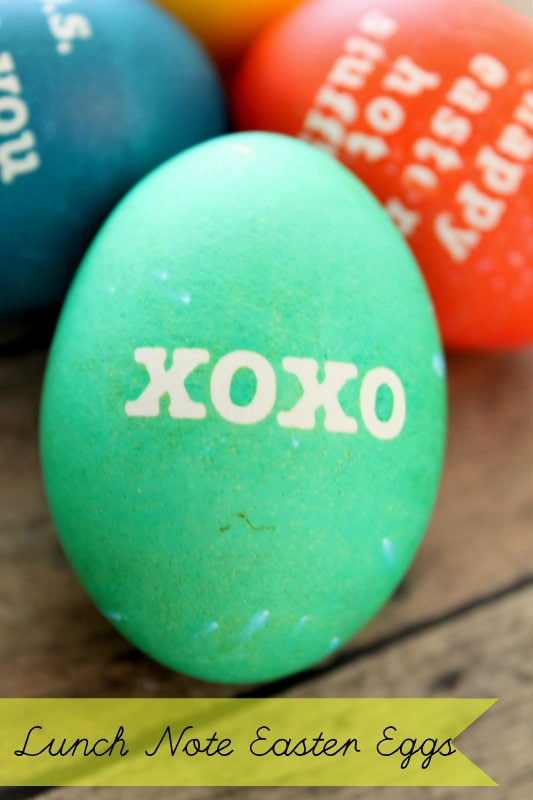 As you can tell from this week's posts, we've had a TON of hard-boiled eggs around the house!
Well, funny thing is, the hubby and I LOVE hard-boiled eggs but haven't had them for years. Just this week we were reminded how much we like them and that we should make them more often. My hubby went on to say that they were one of his favorite things to eat as a kid, and it made me think "Hmmm… will make some to put in his lunch for work." And then I got an even better idea!
TODAY: LUNCH NOTE EGGS
That's right! I thought I would send him with some messages on his eggs. Awhile back I started writing notes to him on his bananas and thought this would change things up. 🙂
I LOVE how they turned out. You can make these for your spouse, for your kids, or for whoever! It's just a nice little way to send your loved ones a message during the day without using an electronic device – lol!
Like some of the other decorated eggs I did this week, they're simple!
SUPPLIES:
-Hard-boiled eggs
-Dye Kit
-Vinyl or stickers
DIRECTIONS:
1. Boil your eggs. There's a great tutorial HERE. Let dry.
2. Design your vinyl. Cut, peel, and add adhesive to vinyl.
3. Add vinyl/stickers to eggs. Make sure they stay really well by pressing on.
4. Add eggs to dye cups (instructions on dye kits). Let set in there for awhile. Pull out and let dry.
5. Peel off vinyl. Messages will be there (maybe not perfect but close enough).
Some of the notes I did included:
XOXO
p.s. i love you
have an egg-cellent day
happy easter hot stuff!
I kinda wanted to embarrass him with that last one, and I think it will do the trick. 😉
(He gets embarrassed so easily – lol!)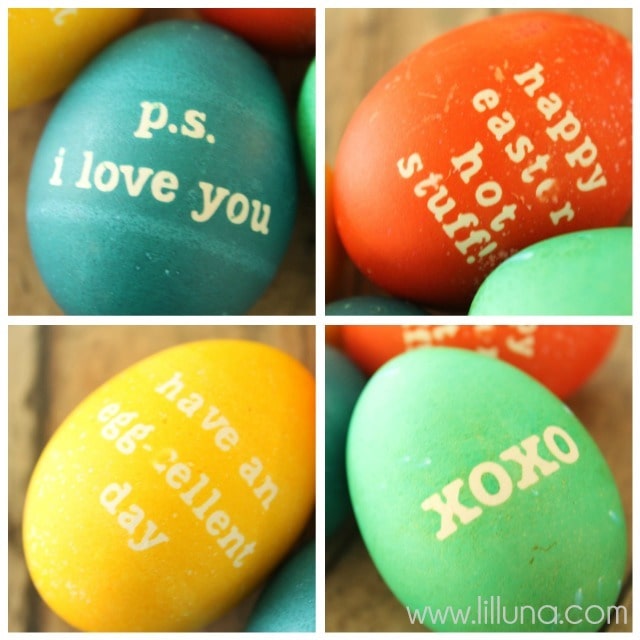 So fun and so easy and it allows you to get some egg-dying on without the kiddos, which is super fun!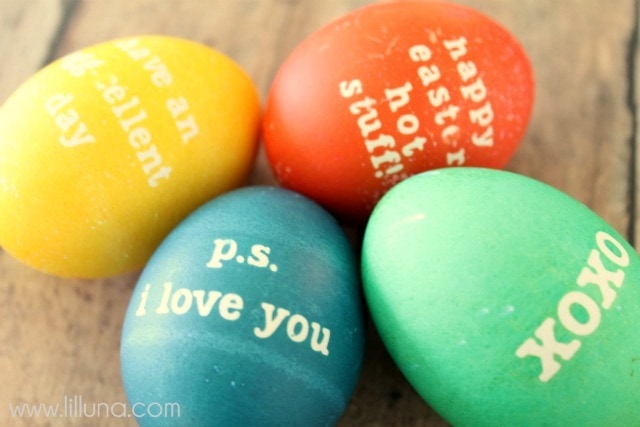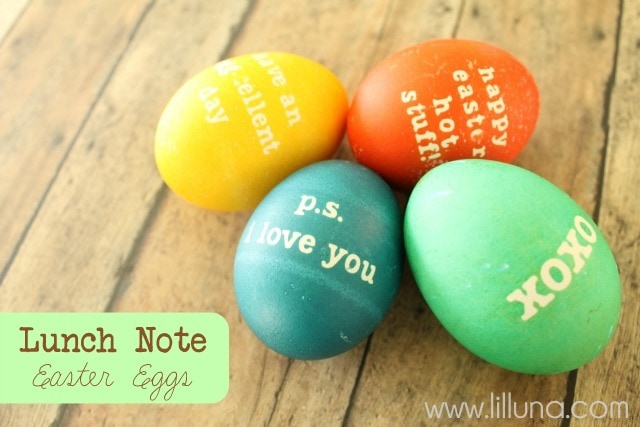 What saying will you put on your eggs?
For more Easter Egg ideas be sure to check out: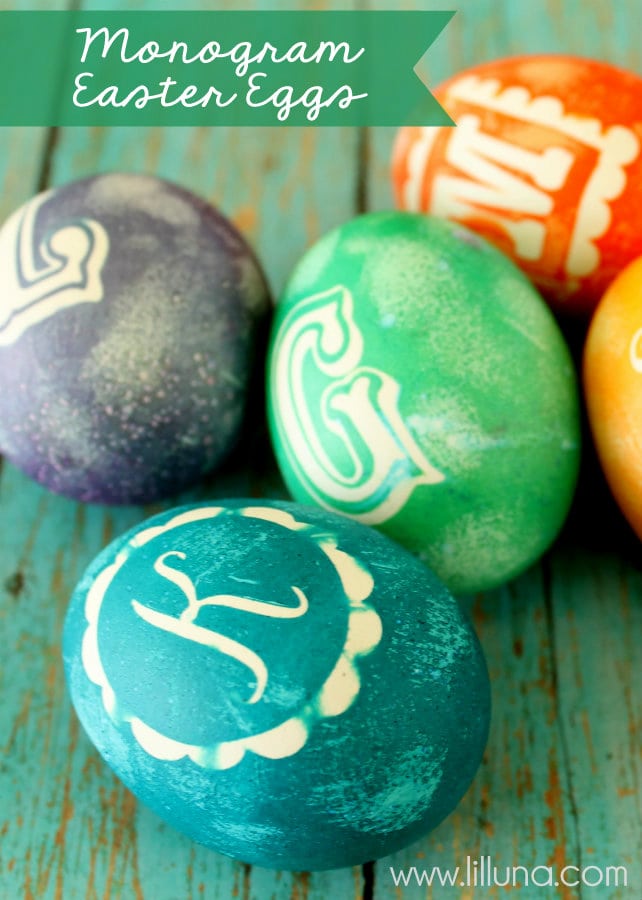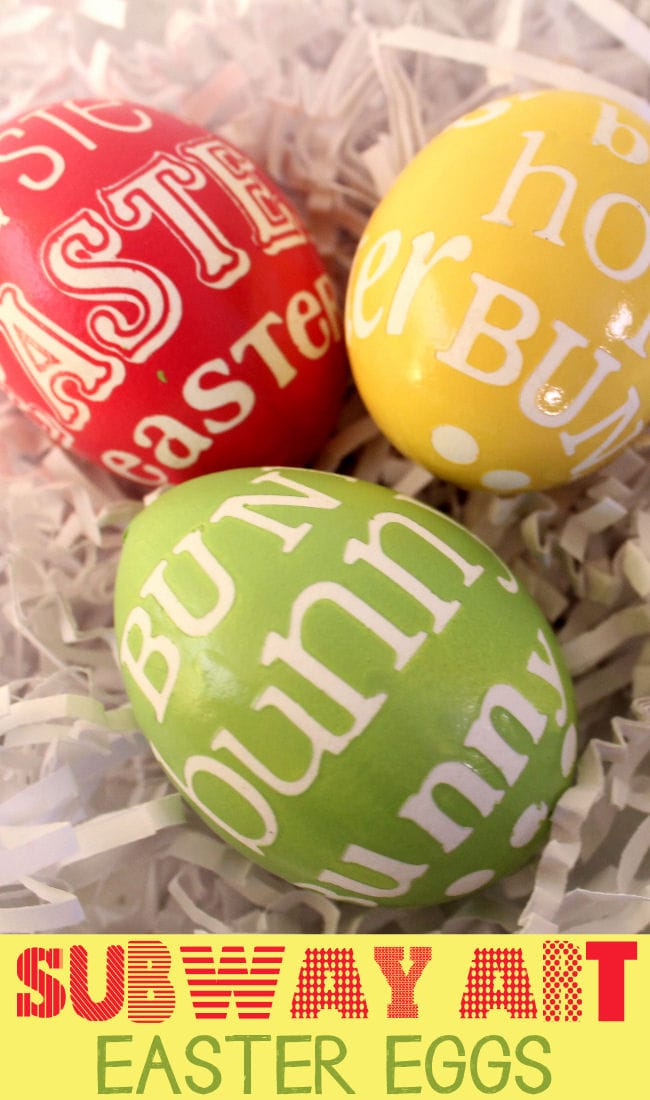 Subway Art Painted Easter Eggs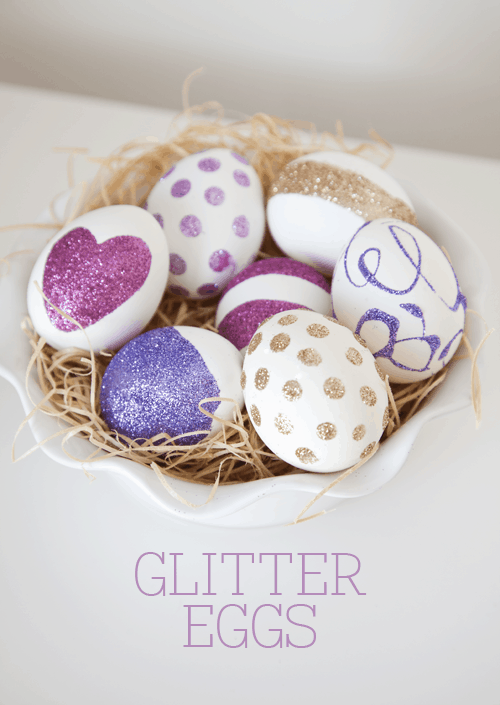 For all Easter ideas go HERE.
For ALL Holiday ideas go HERE.
And get weekly emails with monthly freebies by signing up for the Lil' Luna newsletter. 🙂
For even more great ideas follow me on Facebook – Pinterest – Instagram – Twitter – Periscope – Snapchat & YouTube.
ENJOY!
This post is brought to you by: