Happy November 1st!!
As a blogger that means I'm in full Christmas mode, and that's to make sure you have all the ideas and recipes early to help YOU get ready for the holidays. 🙂
It also means it's the Michael's Dream Tree Challenge time. If you remember from last year, I shared an Advent Christmas Tree that was perfect for our home and kids. This year I've gone more neutral and decided to do a Black, White and Silver tree that was decorated with pictures and words that remind me of why I love the holidays so much. Not only is it a time to celebrate the birth of the Savior, but it's a time to serve others, to give and to spend time with those you love. Looking at my tree right now it makes me smile because it's filled with pictures of my little family and that makes me SO happy. The words MERRY, JOY and PEACE also adorn the tree, and those are some of my favorite Christmas words. It reminds me that Christmas is a time for merriment and JOY and a time to not only feel Peace but a chance to bring Peace to those around us.
I had so much fun creating the tree, and although it may have caused some confusion for the kids (they kept asking if it was Halloween or Christmas – lol), it's helped me get into the spirit of the holidays. Here are some more close-ups of the tree…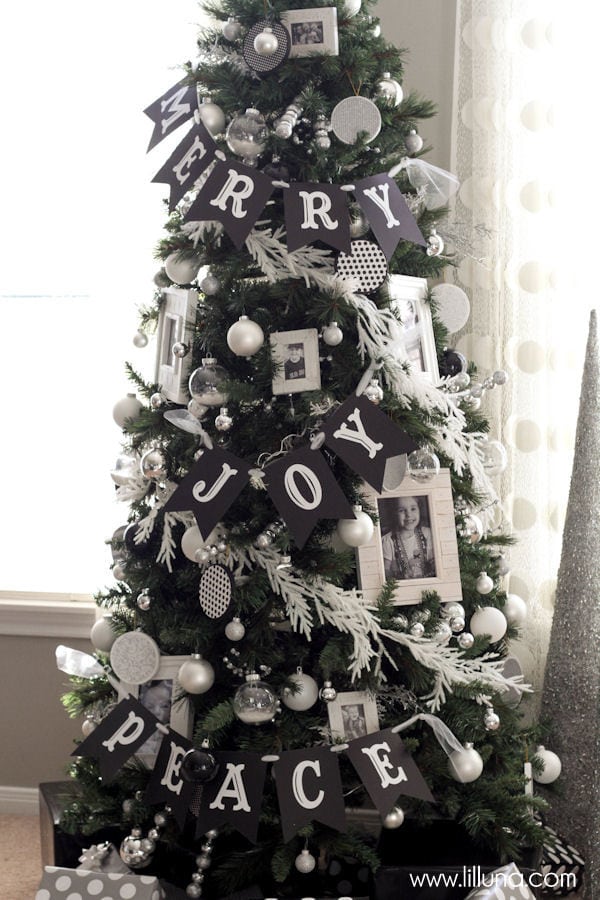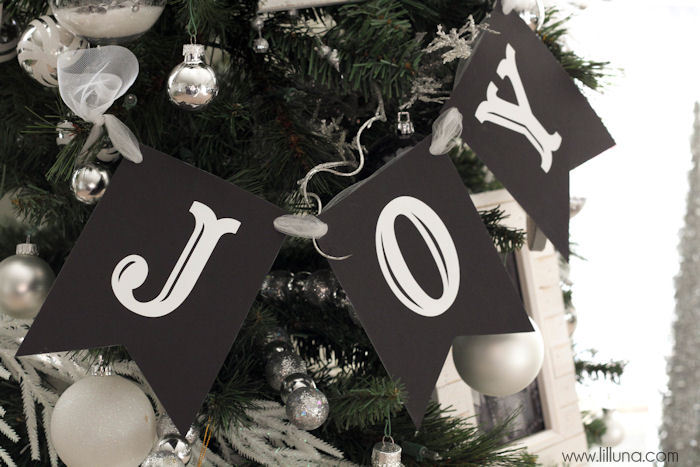 I may have a slight obsession with bunting banners. I decided to make them by cutting out some pennant shapes from some black cardstock and then adding some White vinyl letters (using the Captain Howdy font). I also rubbed some chalk along the sides and used a tissue to smear it around a bit to look a little chalk-ish.
I then punched holes in the top corners and strung it with some white tulle.
I LOVE how it turned out!!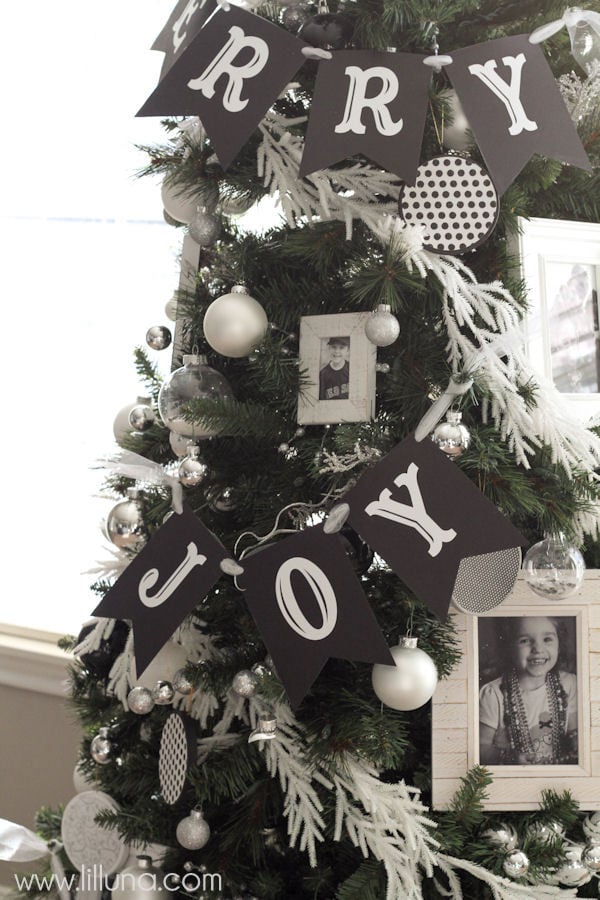 I also bought a series of White Frames from Michael's and used them as "large ornaments" and placed them all over the tree. I printed some of my FAVORITE pictures from 2014 and made them Black & White and added them to the frames.
I thought it would be fun for it to be a little bit of a "Highlights from 2014" tree and these pictures helped accomplish that. The kids love them too!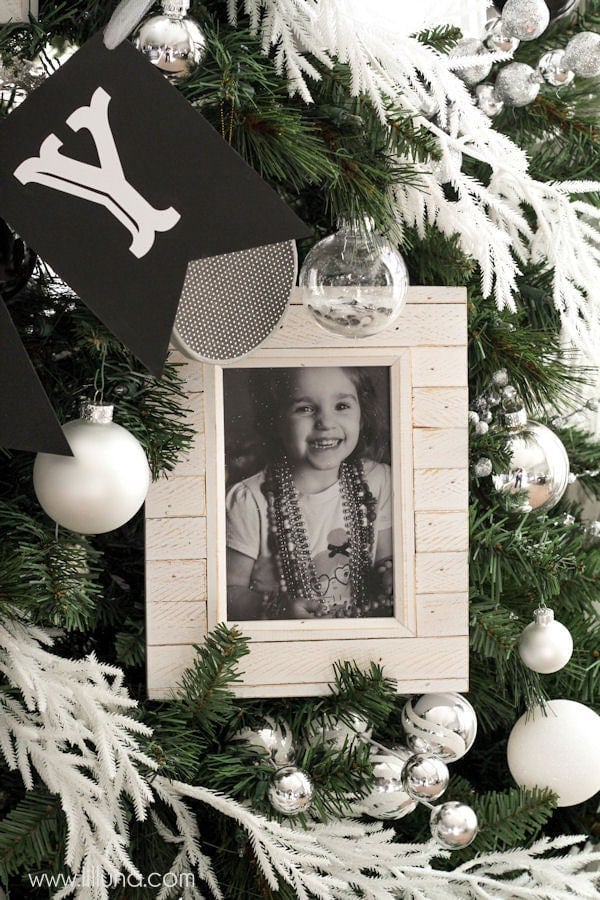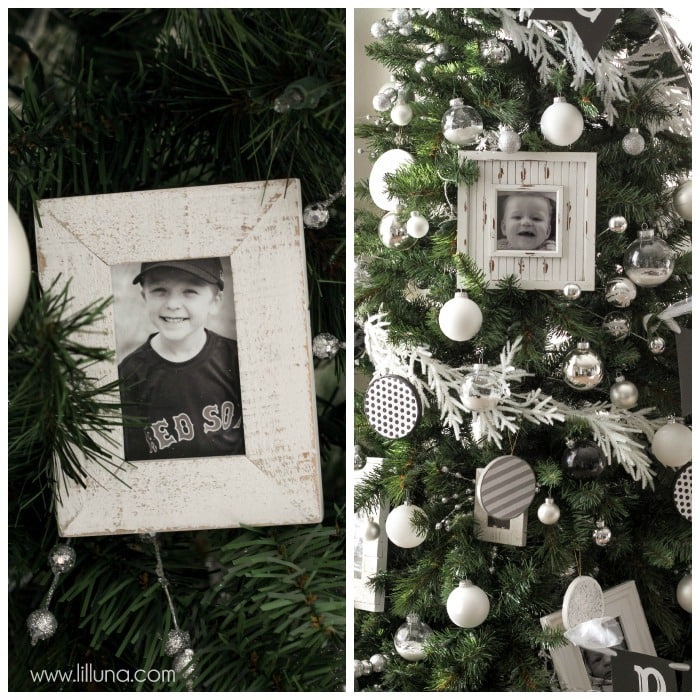 I also made a few ornaments to adorn the tree.
I first bought some plastic clear Ornaments from Michaels (the have glass as well but with tons of littles, plastic is more practical). I filled them with white glitter and also some Black, White and Silver Circles (made with a hole punch and scrapbook paper).
I also made some more ornaments like last year and bought the Paper Mache Circle Ornaments from Michaels. I painted the sides and then cut out circles from scrapbook paper that were just slightly smaller than the fronts. I then mod podged those to the front.
For a more detailed tutorial on them go HERE.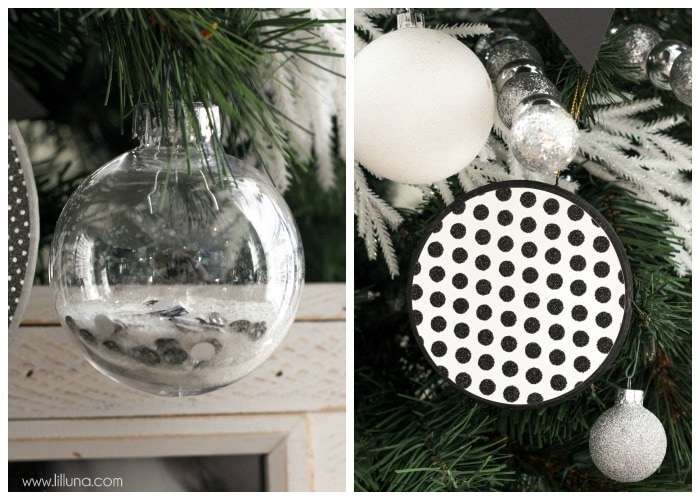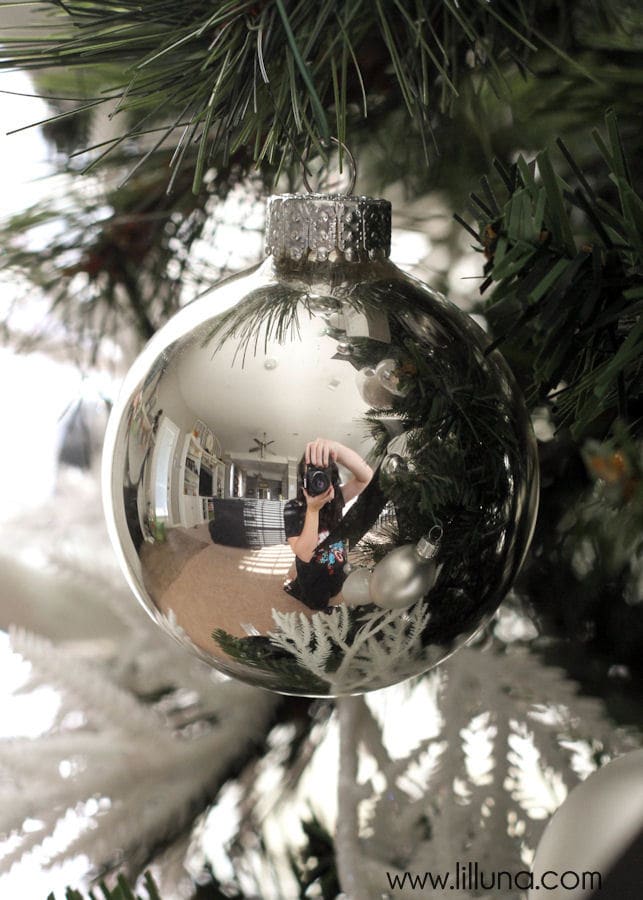 I just had to snap a "SELFIE" as well. This is me in my comfy clothes (having just had baby #5).
Don't mind the messy house in the background. 😉
Again, I LOVE how simple and pretty this tree is. It will be going in our living room and our tree with our more sentimental ornaments will be in the family room. We will be decorating a bit early this year, but that's because I have tons of Christmas Decor Ideas I want to share with you guys.
No, We're not forgetting Thanksgiving – I just don't have much decor for that holiday. 😉
LOVE this fun Christmas tree of mine!!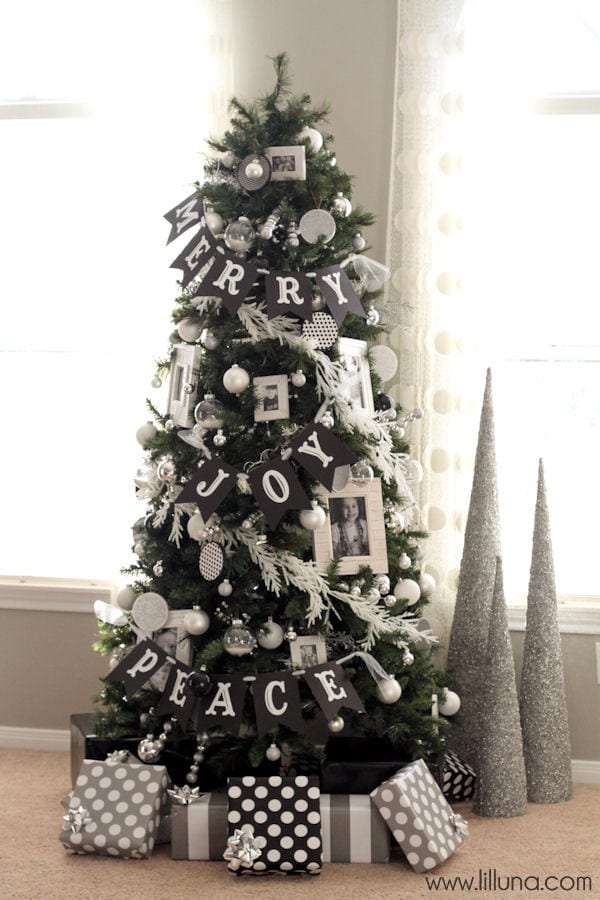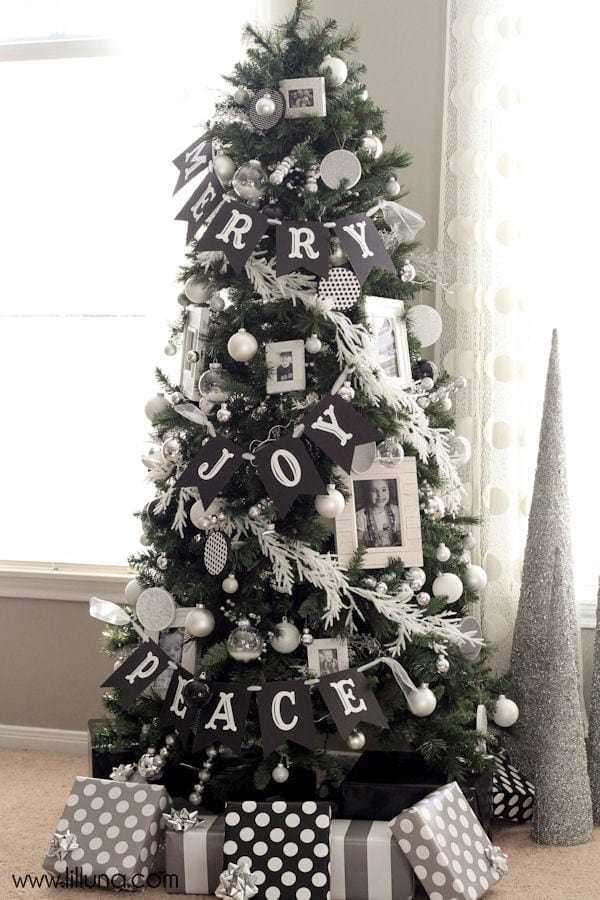 What do you think?
I'm usually ALL about COLOR but wanted to change it up this year. 😉
With it being the start of the holidays, I wanted to make sure you knew about all the fun going on at Michaels…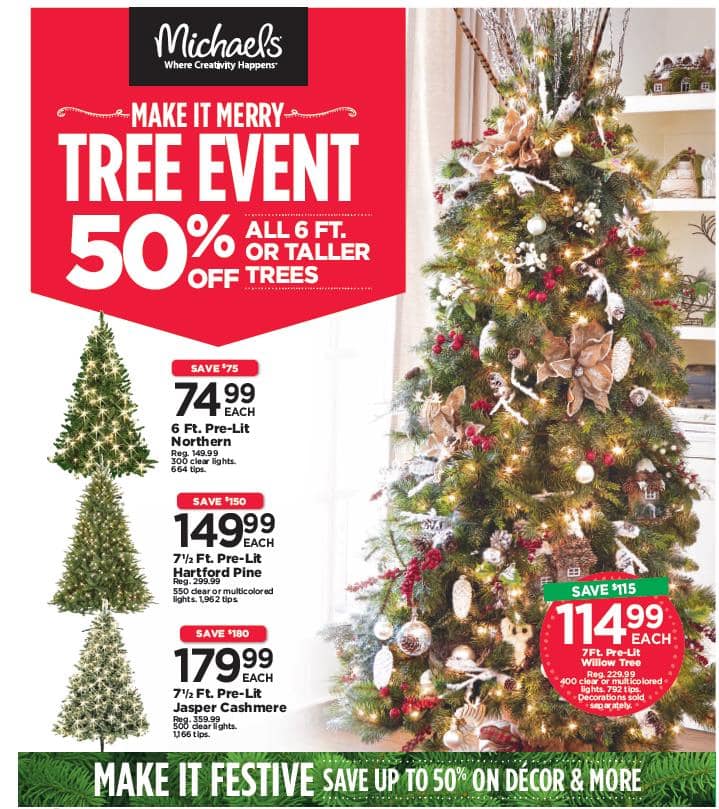 Stop by Michaels' blog, The Glue String, to see the full Dream Tree Challenge and all of the fabulous trees that were created this year by the Michaels Makers

Head into Michaels 

Nov. 2 through Nov. 8

 for the Make It Merry Tree Event  – 50% off all trees 6 ft. or taller!!! <image attached>

To kick off the holiday season, make sure and check out of Michaels' Make it Merry 

 

inspiration book or all kinds of holiday tips and projects.
To check out all the trees from this year's challenge, check out:

<!– end InLinkz script —>
To check out last year's tree go HERE…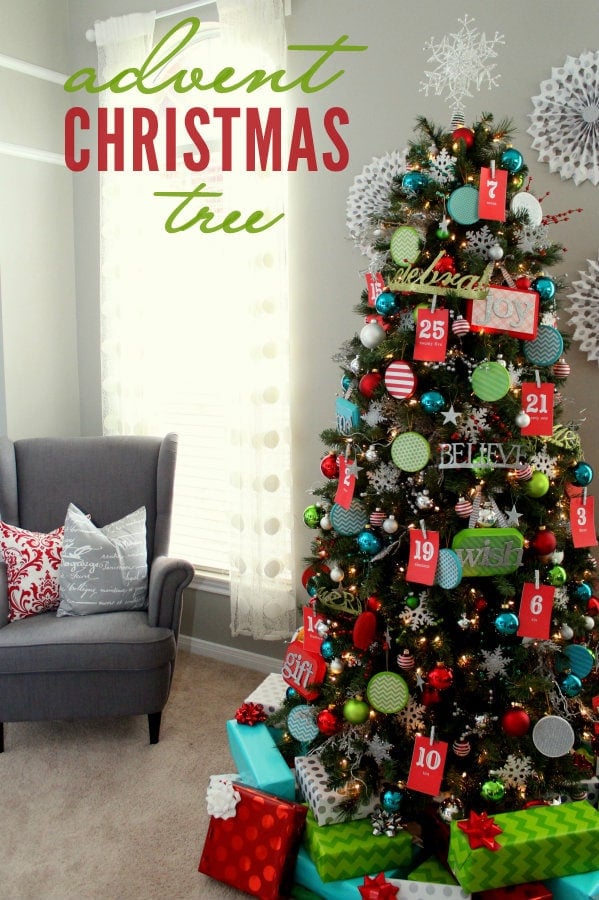 And, for some ornament ideas check out: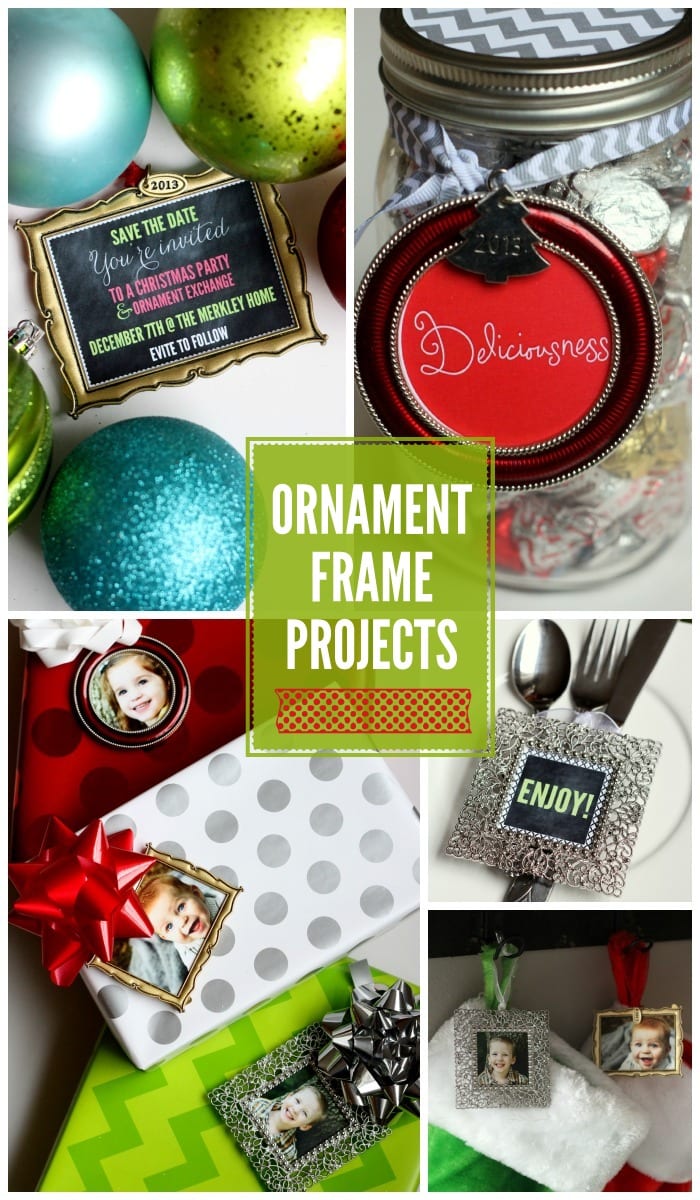 For all Christmas ideas on the site go HERE.
For all crafts & tutorials go HERE.
And get weekly emails with monthly freebies by signing up for the Lil' Luna newsletter. 🙂
For even more great ideas follow me on Facebook – Pinterest – Instagram – Twitter – Periscope.
ENJOY!
 BEHIND THE SCENES AT LILLUNA.COM: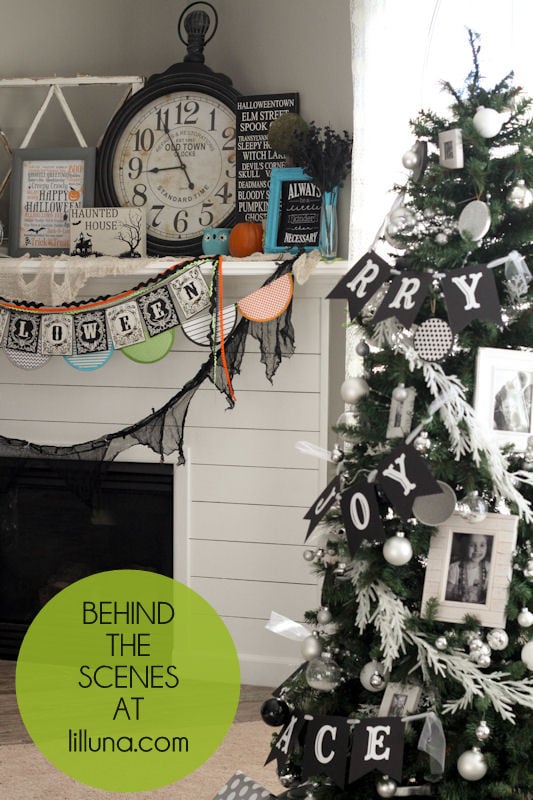 "Is it Christmas or is it Halloween?" – Merkley Kiddos
The life of a blogger… 😉