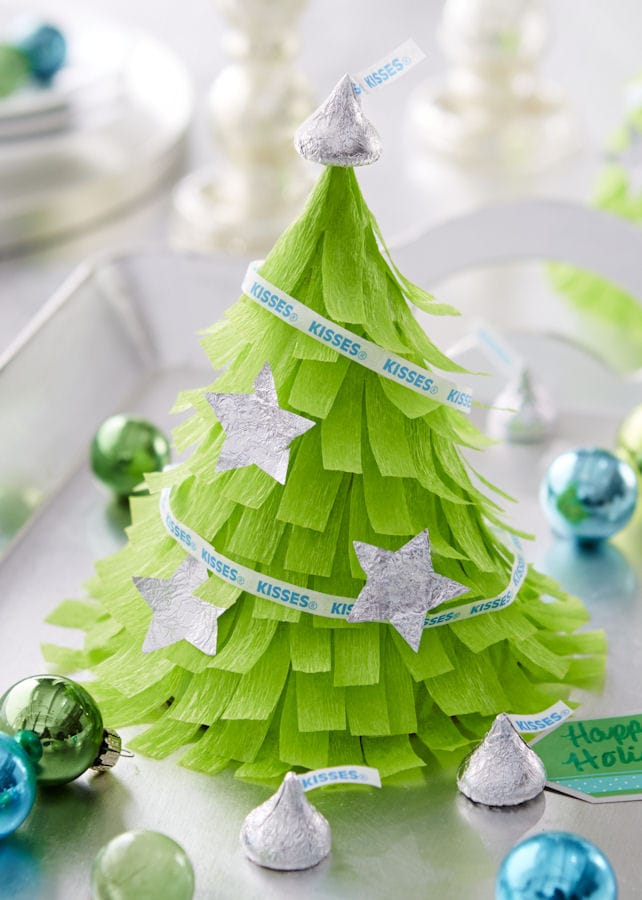 Last fall, I was invited to do some crafts for HERSHEY'S. You may remember the XO Wedding Favors I posted in June which were part of the challenge HERSHEY'S gave me. The second part of the challenge was to create a cute Christmas Craft using Hershey's Kisses. I knew exactly what I wanted to do and made a cute Mini Christmas Tree Piñata that could be a great Christmas party favor or even decoration that acted as a little treat for a Christmas or Holiday Get Together (wouldn't they make great centerpieces?!)
I LOVE how they turned out and want to show you what you'd need to make them as well. 😉
Supplies
2 bags (11oz) of HERSHEY'S KISSES Brand Milk Chocolates in Holiday Foils
1 party hat (any color)
Double-sided tape
1 roll green crepe-paper streamers
1 piece of green cardstock
Scissors
Glue stick
Holiday gift tag
Instructions
Begin by tracing the bottom of the party hat onto a piece of cardstock.
Cut out the circular cardstock shape.
Fill the party hat with one bag of HERSHEY'S KISSES Brand Milk Chocolates.
Tap the circle cardstock cut-out to the bottom of the party hat to seal in the chocolates.
Laying out the crepe-paper streamer horizontally, cut small slits into the streamer vertically about 2/3 of the way in so pieces are still attached. Continue cutting the slits for approximately 2 ½ feet of streamer. This will help make the tree piñata resemble an Evergreen Christmas tree.
Using double-sided tape, attach the crepe-paper streamer to the party hat by wrapping around one layer at a time. The party hat should be entirely covered.
Once the party hat is wrapped, cut off remaining streamer if needed and discard.
Unwrap 10-15 HERSHEY'S KISSES Brand Milk Chocolates. Set the chocolates aside but save the foil wrappers and plumes.
Glue plumes together at the ends to create one long streamer.
Use the plume streamer as garland for the tree, taping to the bottom and wrapping around the tree to the top. 11. 11. Secure at the top with additional tape.
Make stars out of the HERSHEY'S KISSES Brand Milk Chocolate foils by folding each foil in half and cutting into a star shape.
Attach stars to the tree using tape.
Top the tree with one large star if desired.
Add a holiday gift tag and gift to a family member, neighbor or friend.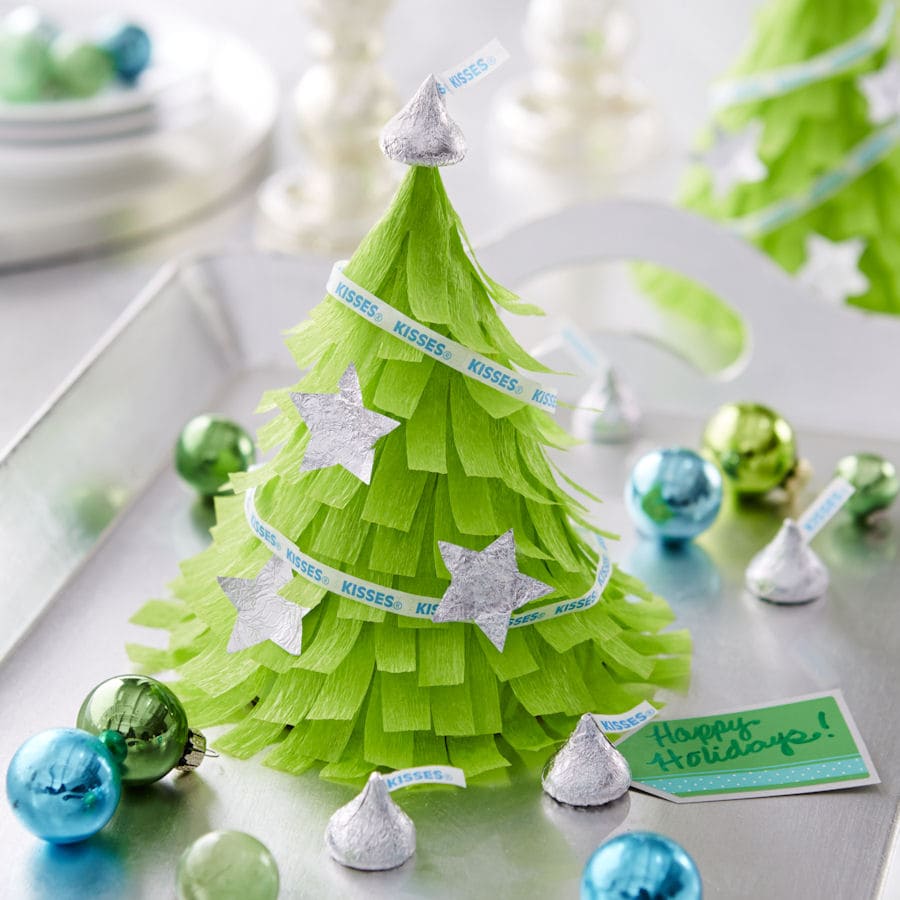 Super cute, right?!
For more great projects using Hershey's Kisses be sure to head HERE.
ENJOY!