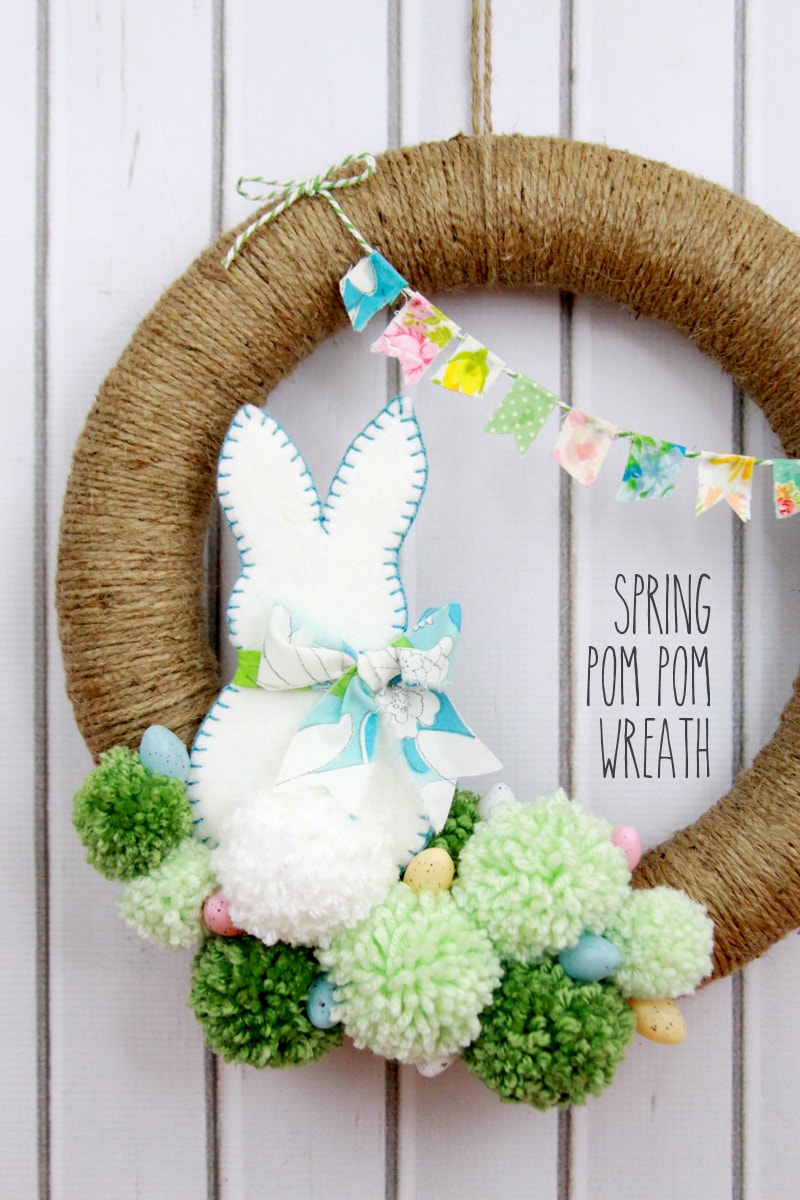 I don't know what it's like where you live but but here in East Tennessee I am ready for some Spring weather! I've had just about enough snow and rain! It doesn't seem to be ready to leave yet though, so I thought I better just make my own Spring. Even if it's chilly and wintry outside I can decorate with fun Spring colors to brighten things up inside!
This darling Spring Pom Pom Wreath is super easy to make with it's sweet felt Easter bunny, pom poms, mini eggs and a tiny little fabric bunting to finish it all off.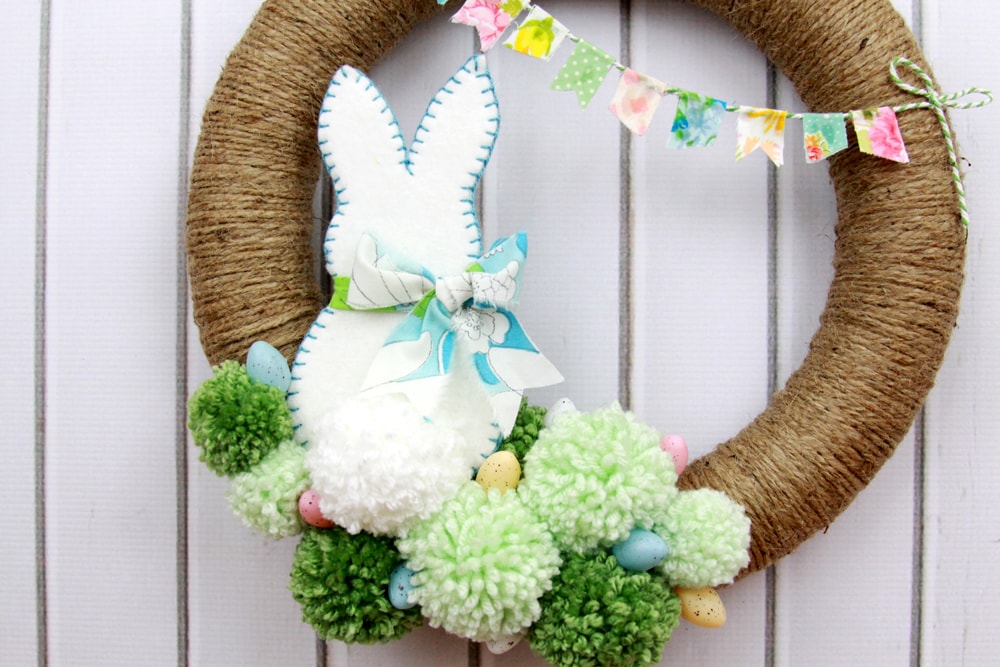 I had to add in a few vintage fabrics – cause that's what I do, but you could decorate with any little fabric scraps you have – this project is perfect for using up odds and ends of your fabric and yarn.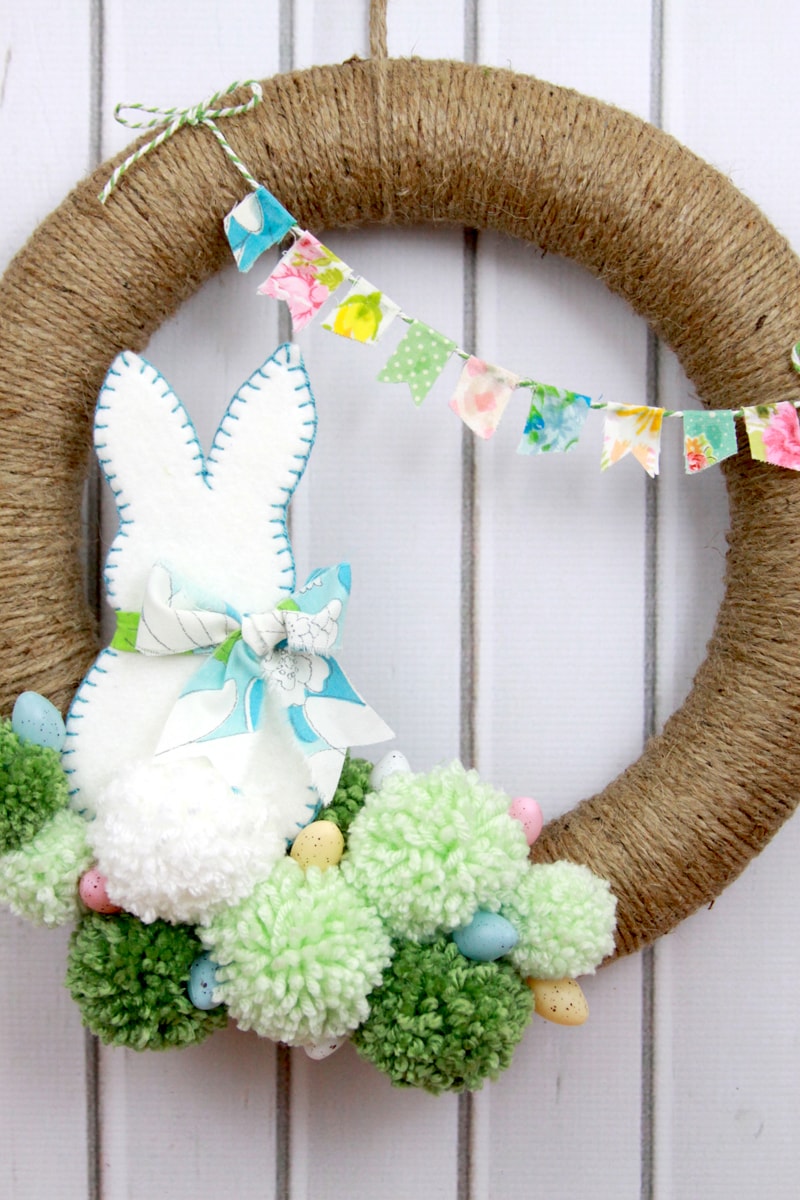 So let's get started!
How to make a Spring Pom Pom Wreath
Materials:
Yarn – Lt. Green, Dk. Green, White
White Felt
Blue Embroidery Thread/Needle
Fabric Scraps
Baker's Twine
Mini Easter Eggs
Hot Glue
Jute
Wreath Form
Begin by wrapping the wreath entirely in jute.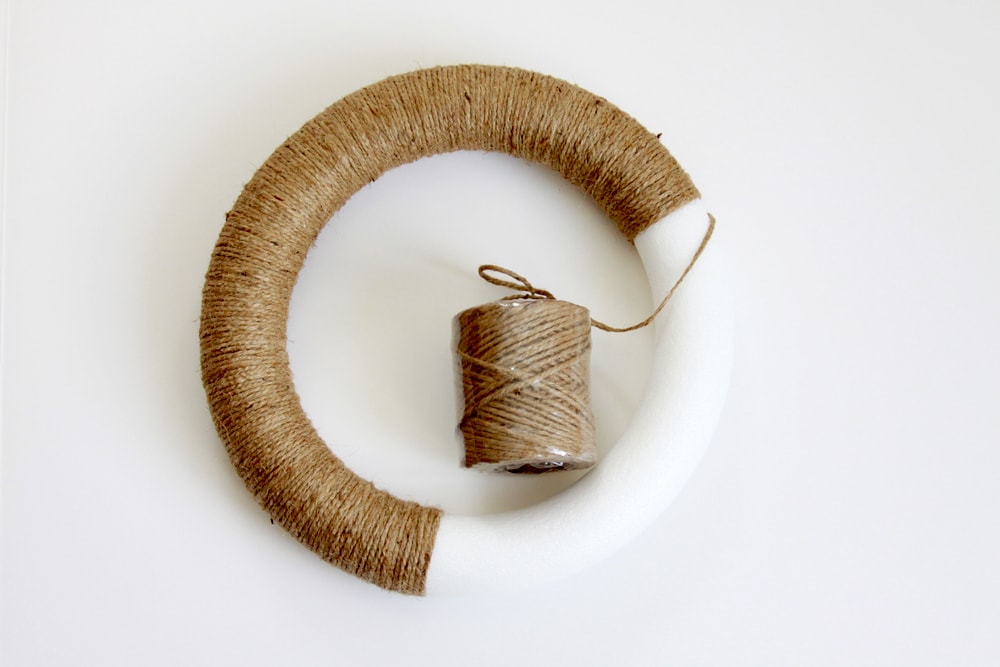 Cut out two bunny silhouettes from felt. Sew the two pieces together with a blank stitch. You can find Embroidery Stitch instructions here.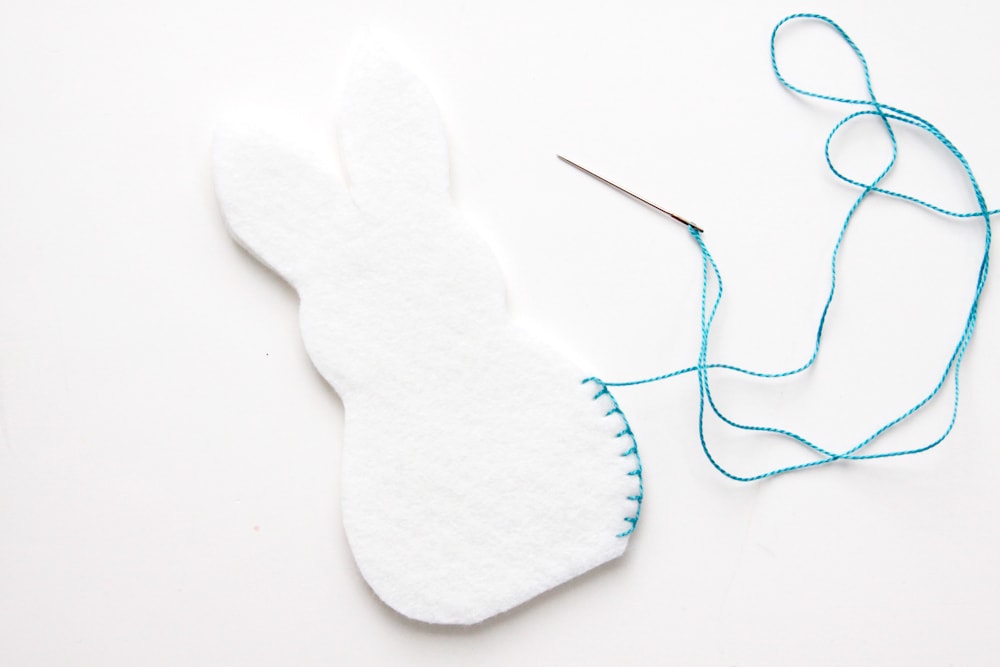 Continue until your bunny is all stitched together. If you don't want to use embroidery, you could do an easy running stitch or just glue the pieces together. You don't need to add a face, since this is the back of the bunny.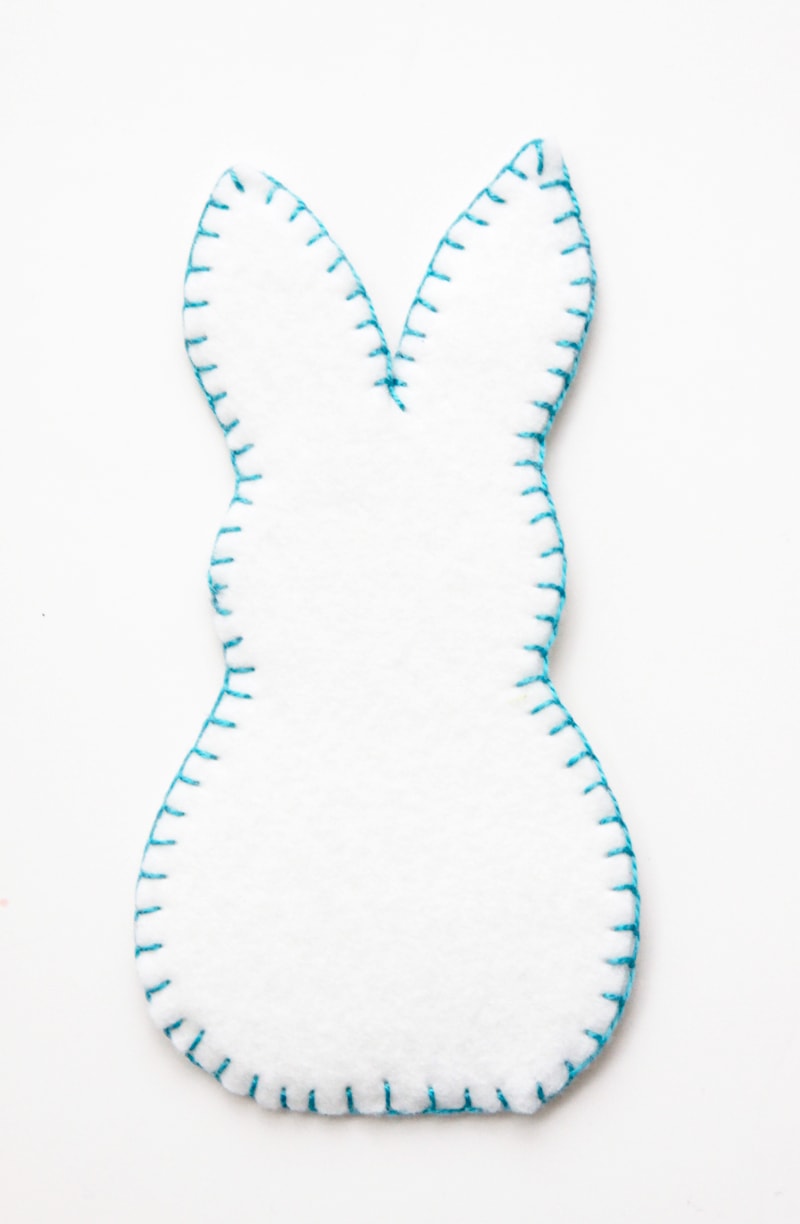 Create pom poms from your green yarn in two different sizes. Create one white pom pom for your bunny tail.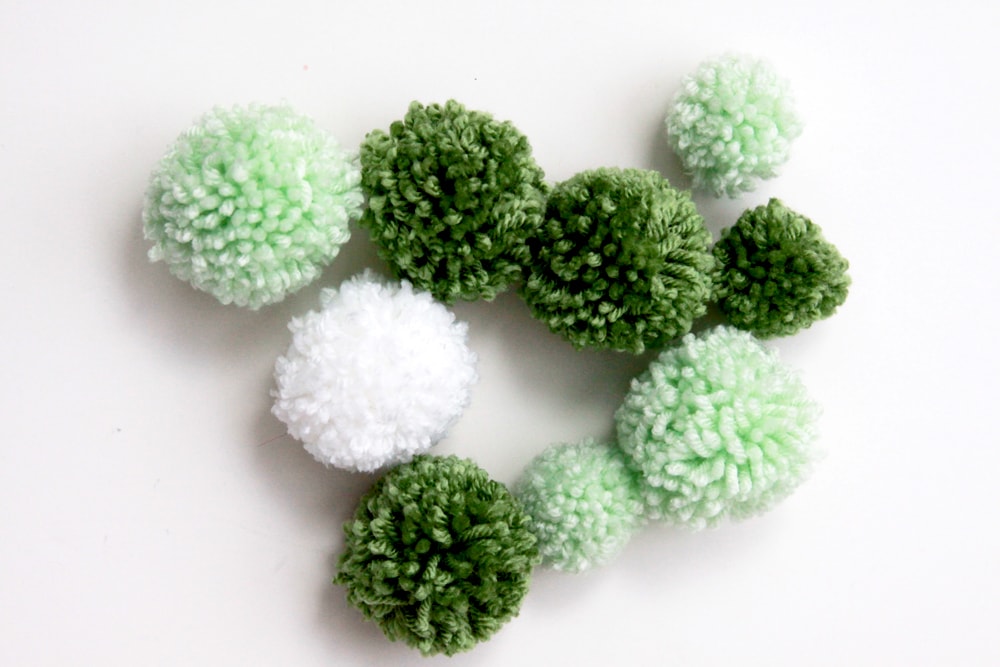 Wrap a piece of scrap fabric around your bunny's neck and tie a bow. Place the bunny on the side of the left wreath and glue the pom pom tail in place. Place the green pom poms around the bunny to form the grass. You can glue these in place or use pins to hold them to the wreath form.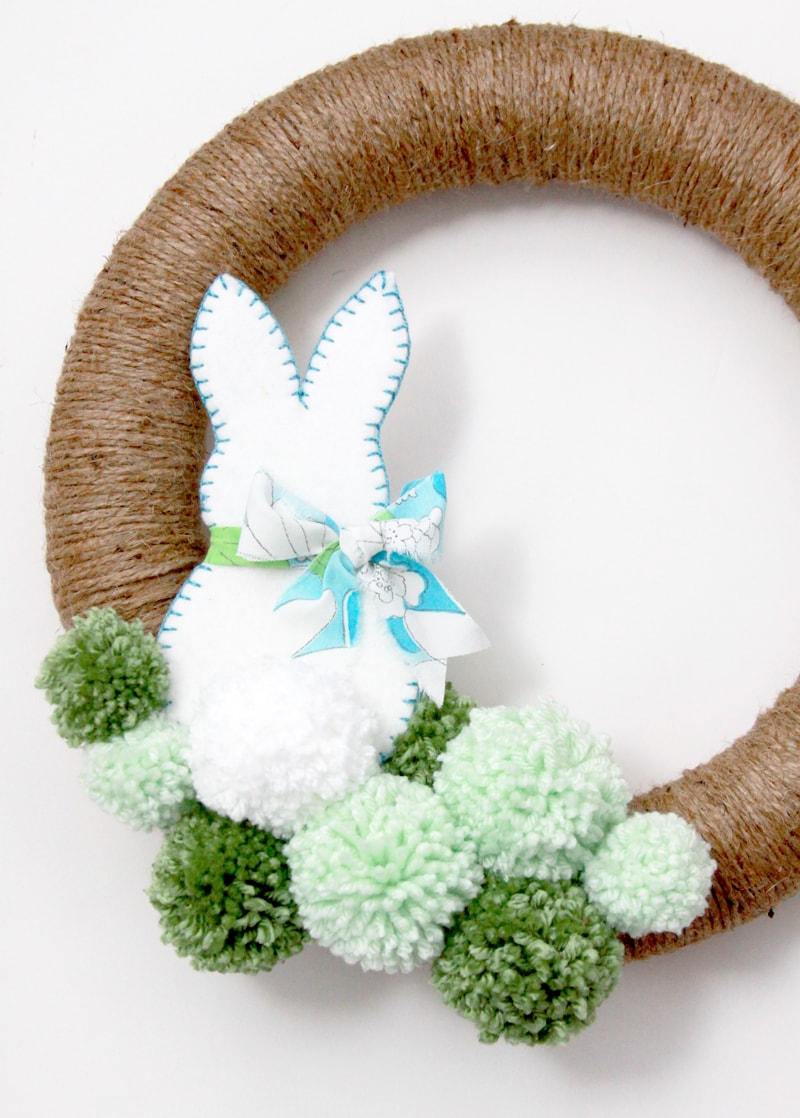 Add in the Mini Easter Eggs around the the pom poms.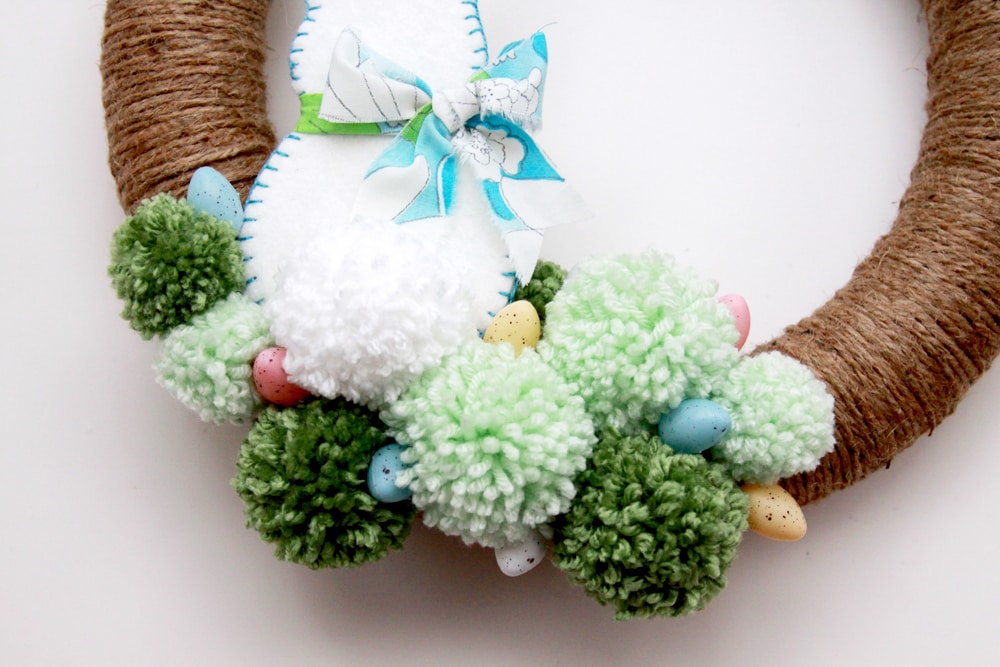 Cut more fabric scraps into a mini bunting and glue the pieces along a piece of baker's twine. Tie a bow in each end of the baker's twine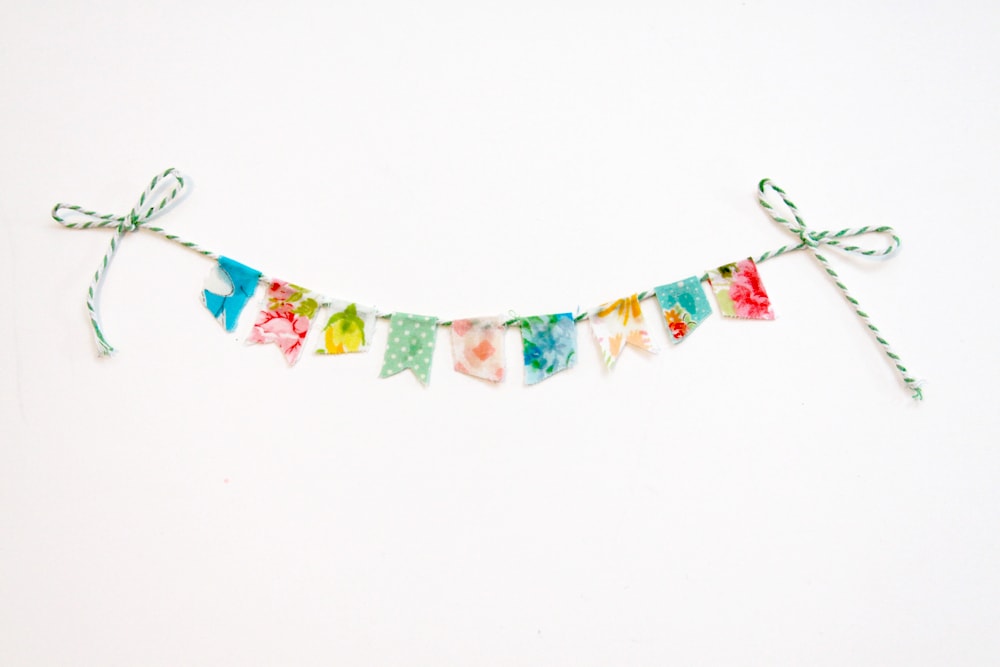 Glue the bunting in place along the top, right side of the wreath to finish it off!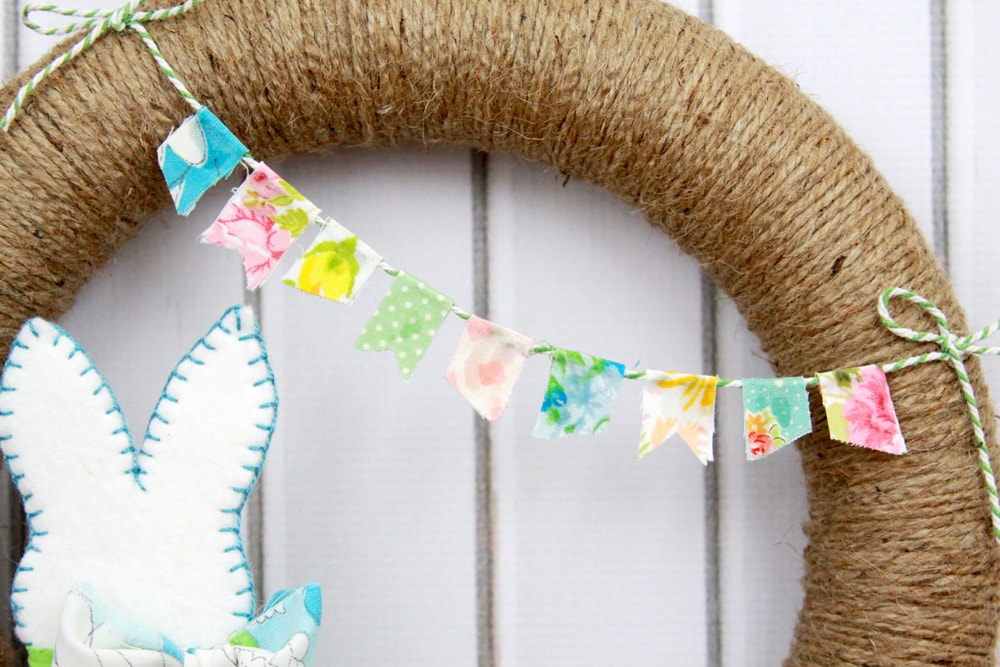 Now you have a cute Spring decoration – no matter what the weather is like outside!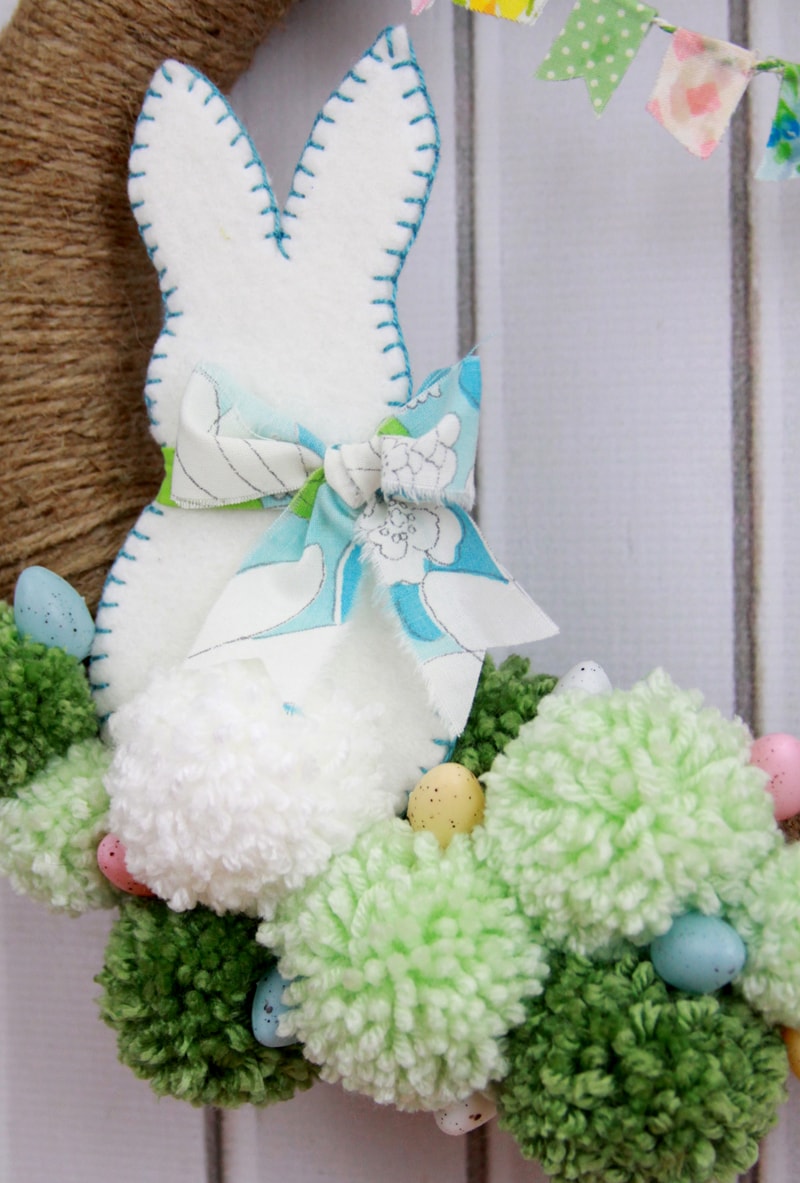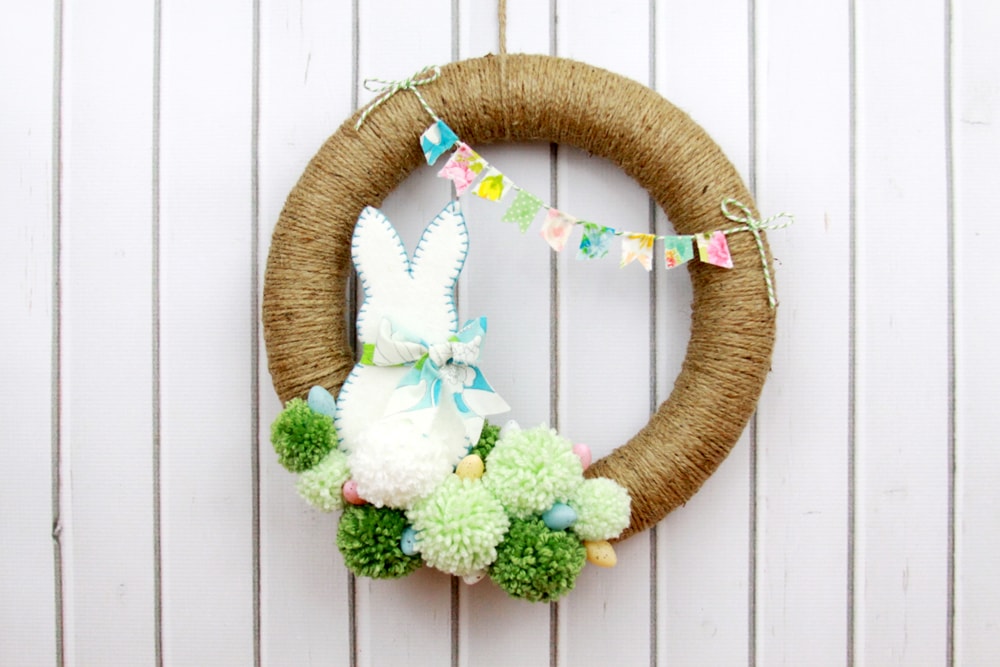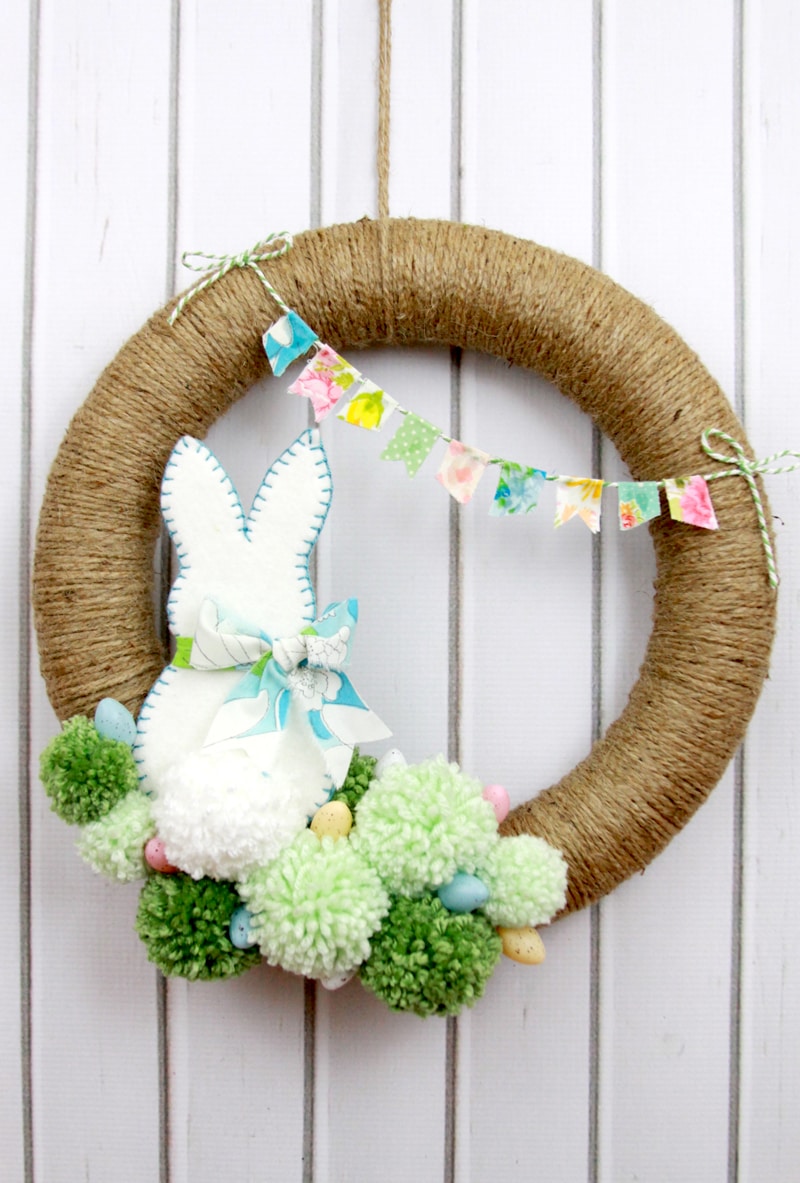 I hope you give it a try!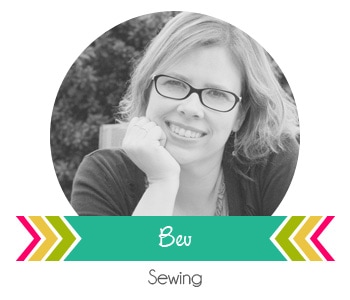 ————————————–
I am in LOVE with this Spring Pom Pom Wreath! It's seriously adorable ( just like EVERYTHING Bev makes).
For more great projects from her, head on over to Flamingo Toes.
For more great projects from Bev, be sure to check out: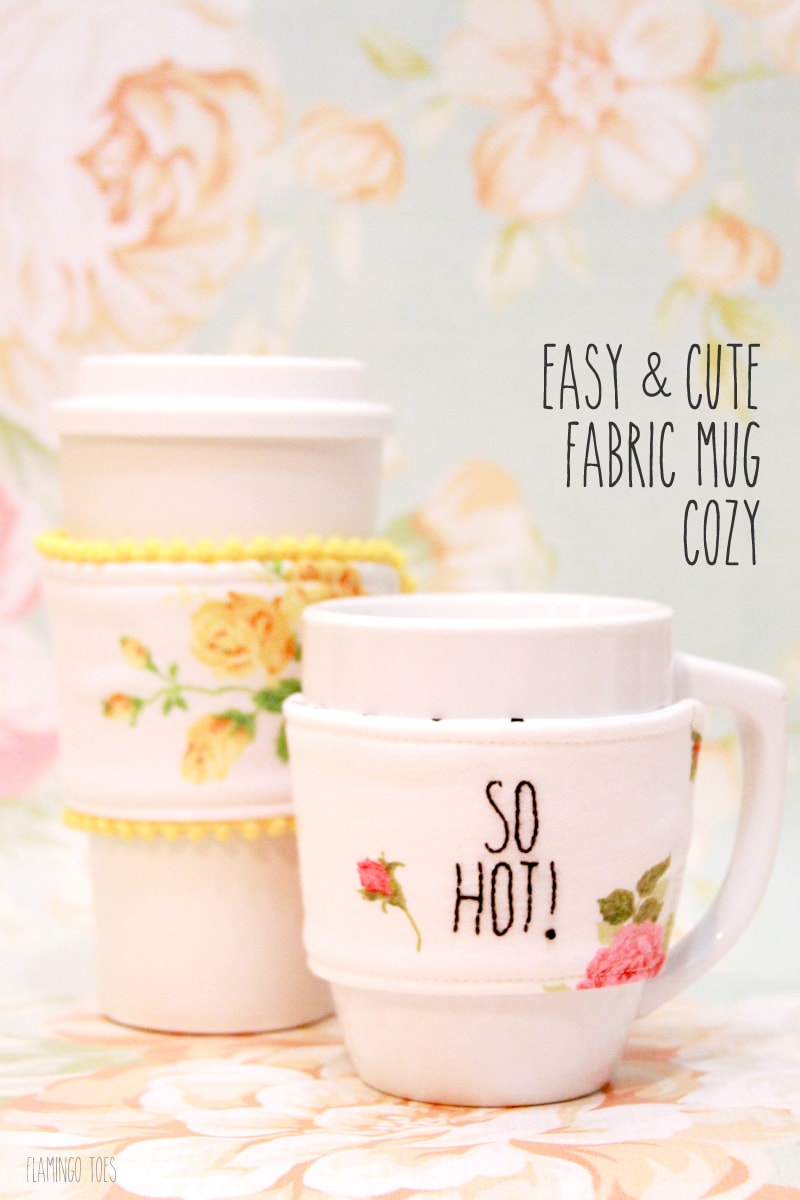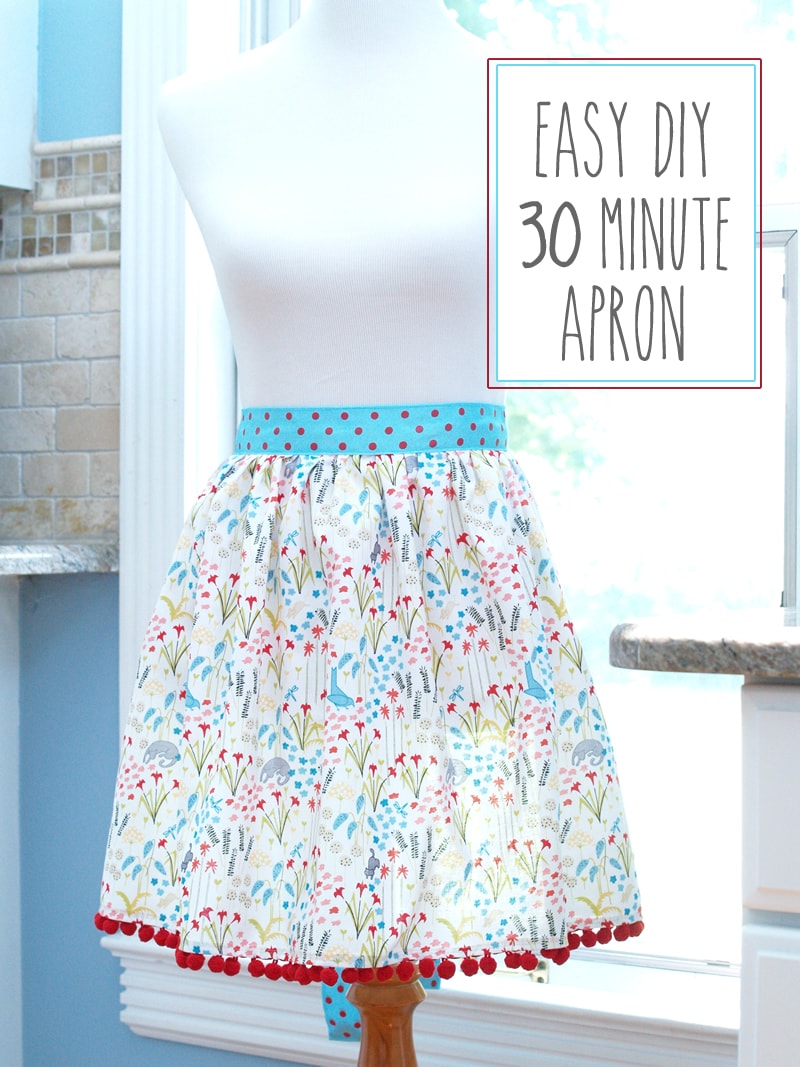 And for a great wreath to make, check out: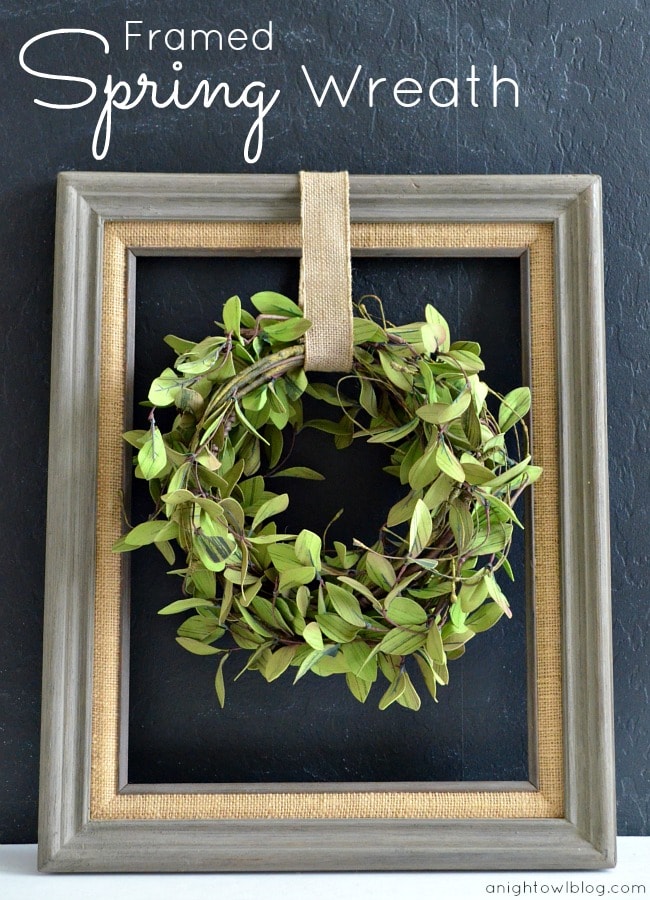 ENJOY!